If you are looking for a fine quality dinnerware set that you are in the right place. Of course these days it is hard to know what is made where and whilst not all products made overseas are of poor quality there's nothing quite like homemade.
Fortunately, there are quite a few companies producing high-quality dinnerware right here in the USA. It's always great to support local companies and jobs so we decided to take a look at the best dinnerware sets made in the USA.
1. Lenox Eternal Gold-Banded Fine China 5-Piece Place Setting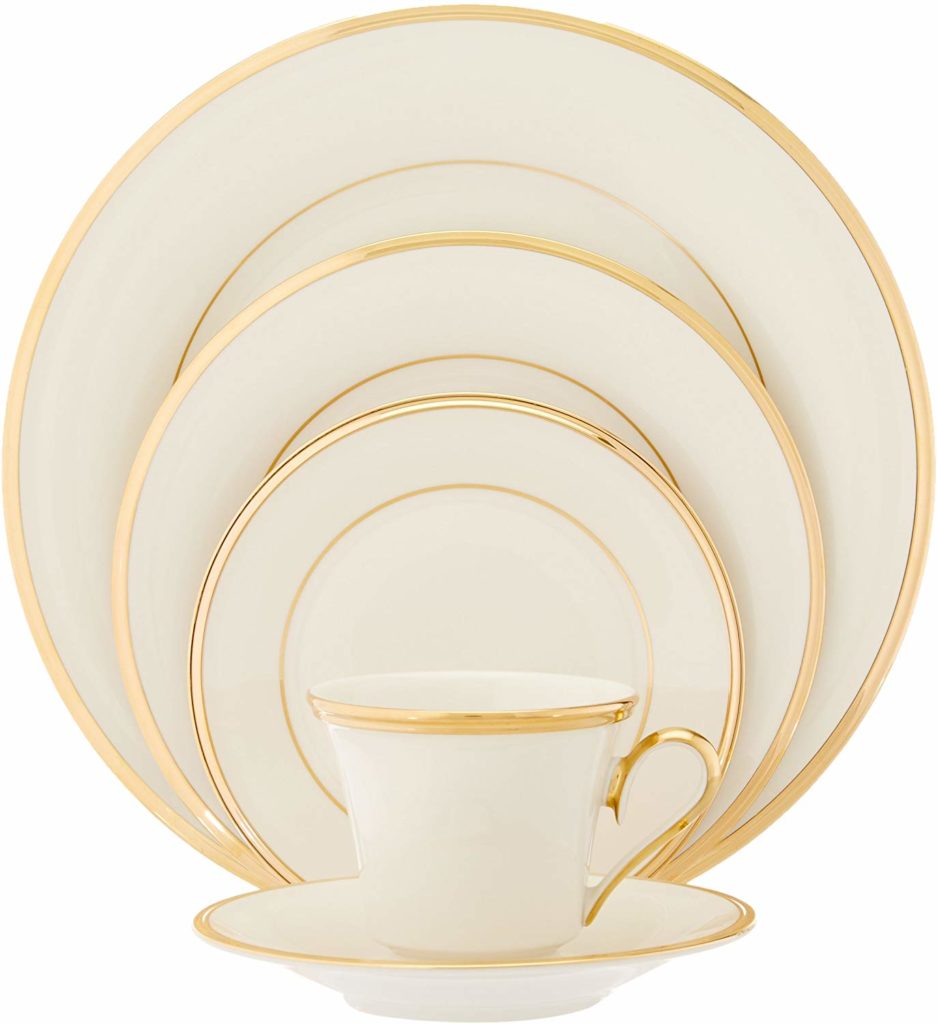 Lenox is one of those companies that everyone knows as they have been around for 130+ years now. In that time they have become industry leaders in producing fine china and were the first American china to be used in the White House. That tradition has carried forward over the years and many Presidents have had Lenox china during their time in office.
They offer a huge range of dinnerware with a massive variety of styles and patterns to choose from.
This classic and timeless design would look stunning in any home. It is made from classic ivory fine china with 24-karat gold banding. This is a 5 piece set but you can get pretty much everything to go with it if you wanted a full set for the household.
This is a 1 place setting so remember to order as many as you need. It includes a dinner plate, salad/dessert plate, bread and butter plate, teacup, and saucer. Is id dishwasher safe and covered by Lenox's lifetime replacement policy.

2. Lenox Marchesa Gilded Pearl 5 Piece Place Setting, White – 855307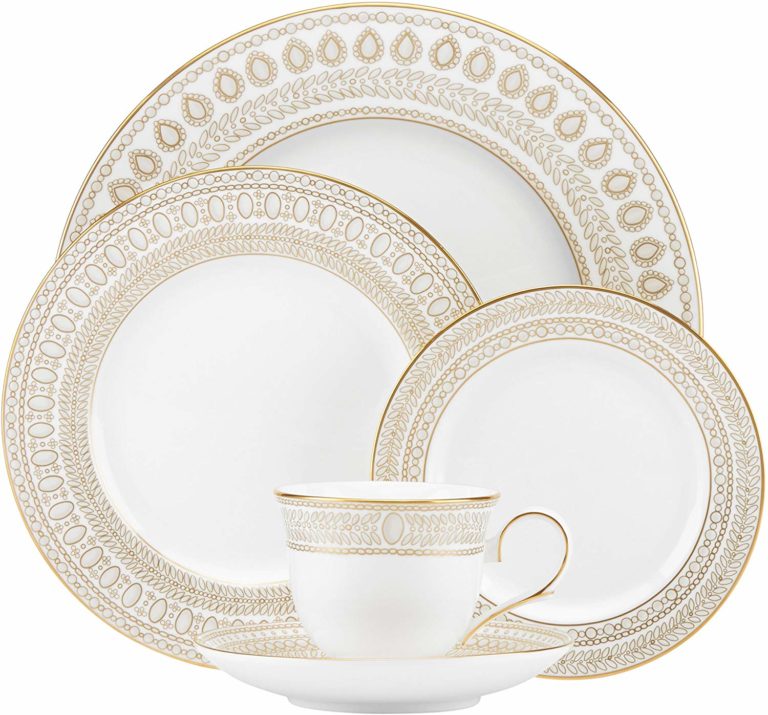 Designed by fashion designers Georgina Chapman and Keren Craig of Marchesa this item is really high quality and had to get their full approval before it went into production. Designed to reflect the beauty of their evening gowns this is a truly stunning dinnerware set.
Again this is a 1 place setting so order as many as required. It includes a 10 3/4″ dinner plate, 8″ salad plate, 6″ butter plate, 5 3/4″ saucer and a 6 oz cup. All dishwasher safe and of course made in the United States of America.
The handcrafted quality of Lenox has never been more prevalent than it is in this set. A truly beautiful dinner set.

3. Kate Spade New York Library Lane Platinum Dinnerware 5 Piece Place Setting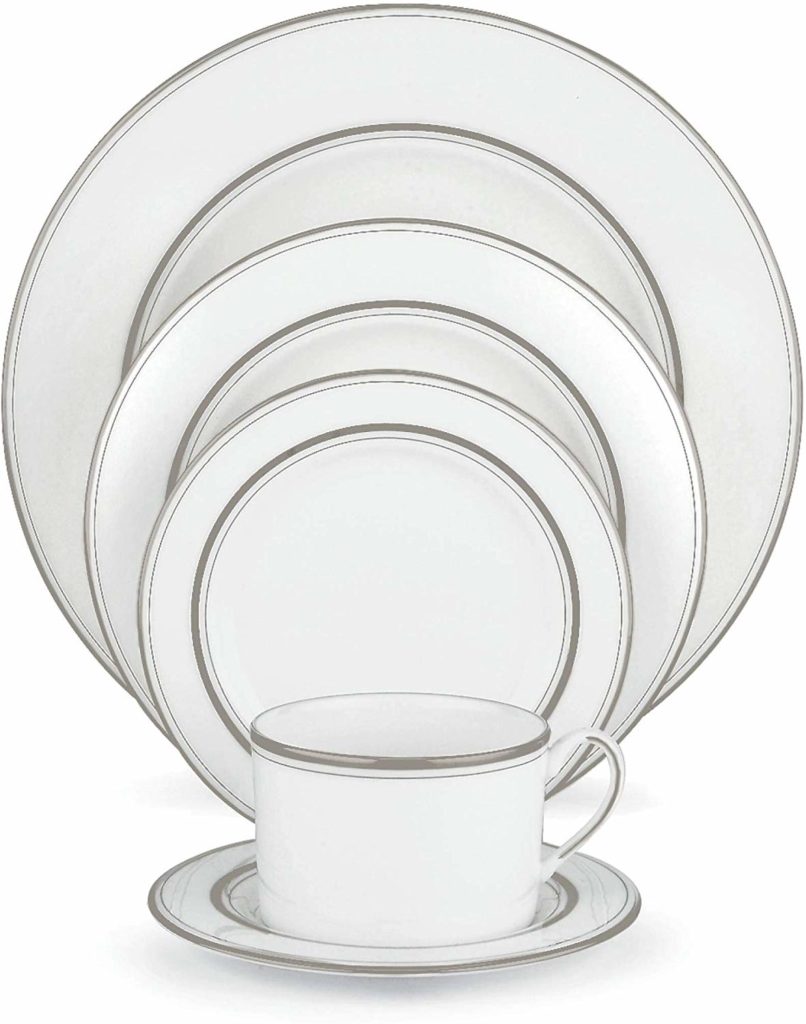 Kate Spade is another fashion designer who is getting in on the dinnerware scene and we absolutely love the simple but elegant designs she has gone for. Kate Spade designs are part of the Lenox collection.
This set features white bone china with a platinum banding. It is also available in a navy and gold banding but we much prefer the clean color of the platinum.
This is a 5 piece set and comes with a dinner plate, salad plate, bread plate, cup and a saucer. It's all dishwasher safe although with all fine china sets we would recommend hand washing. They are delicate and not cheap so if you want them to stay at their best for a long time hand washing is the way to go.
Check the price at Amazon here. 
4. Kate Spade New York 792058 Sonora Knot 5 Piece Place Setting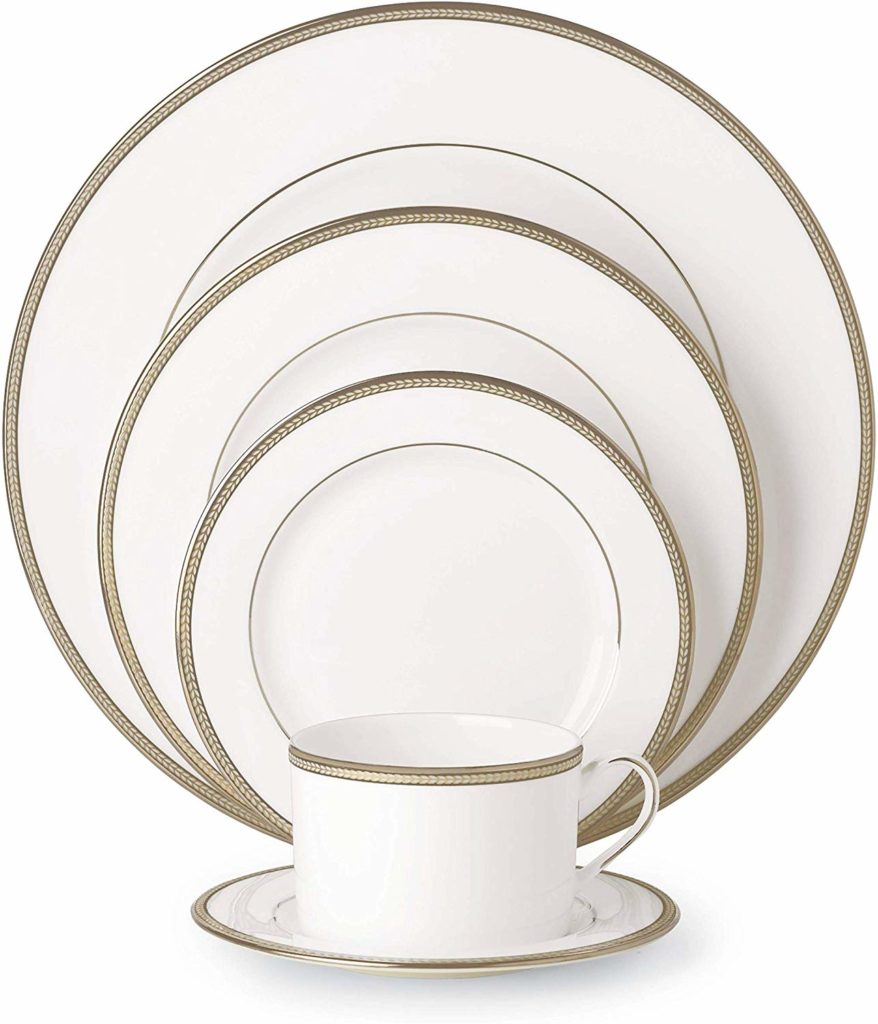 This set is another stunner from Kate Spade and this pattern is available across a huge range of other items like platters, servings bowls, sugar bowls and much more. So you can get everything you ever wanted all matching!
This set comes in white bone china with a delicate Sonora Knot banding design. It is chip resistant and dishwasher safe.
Again a really simple but elegant style that could be used for best but not look out of place for everyday use either. Just like the New York design above it comes with a dinner plate, salad plate, bread plate, cup and a saucer.
Definitely one of our favorite designs this one. 

5. Fiesta 4-Piece Place Setting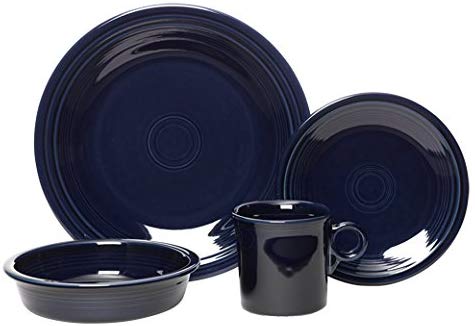 Fiestaware is produced by Homer Laughlin China Company out of Newell in West Virginia. If you aren't familiar with the name we are sure you are familiar with Fiestaware designs. These iconic art deco designs have been popular for many years and continue to be a very popular seller in the United States.
The Homer Laughlin China Company has been producing china dinnerware for 148 years now and they have contracts with the U.S Government to supply china and dinnerware to a range of functions.
What's great about Fiestaware is the huge range of vibrant colors the sets come in. There is something to please everyone here.
They are also lead-free which is another highly sought after property in dinnerware. They are very hard wearing and much more robust than fine china. They are dishwasher, microwave, and oven safe. You even get a 5-year chip resistance warranty.
For an everyday set that looks great and is really hard-wearing you will struggle to find better than Fiestaware. They are becoming really collectible too so if you have sets that have been handed down they are worth holding on to.

6. Corelle 78-Piece Service for 12, Chip Resistant, Winter Frost White Dinnerware Set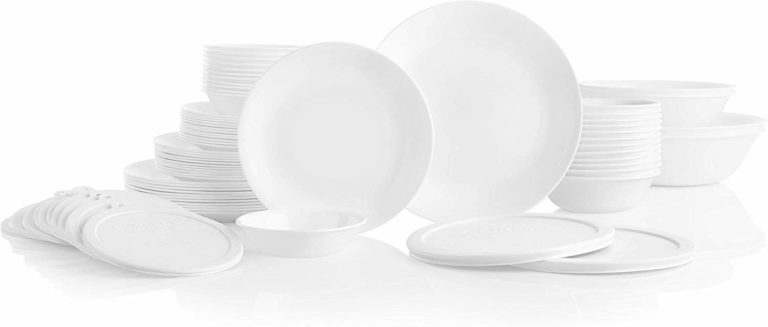 Corelle is another huge company manufacturing high quality dinner and glassware. Operating out of their Rosemont, Illinois Headquarters since 1991, they employ over 3000 people. This set is made in Corning, New York.
This is a 78 piece set with enough pieces for 12 people so for the price you really are getting an enormous amount of stuff here. The set includes 12 dinner plates, 12 lunch plates, 12 side plates, 12 large bowls with lids, 12 small bowls, 2 two-qt serving bowls and 2 one-qt serving bowls with lids
With an absolutely timeless design, these would look amazing in any setting. A crisp 'Winter' white with no pattern is the example we are using here but there are other more vibrant patterns available in this set. The price varies slightly depending on which design you go for.
They are hard wearing and chip resistant. They are also dishwasher, microwave and pre heated oven safe. These are glass plates but extremely strong with a triple layered build, they are also really lightweight. Ideal for every day use and they stack away very neatly so you don't need to worry about having loads of space to store this great set.

7. Corelle 18-Piece Service for 6, Chip Resistant, Simple Lines Dinnerware Set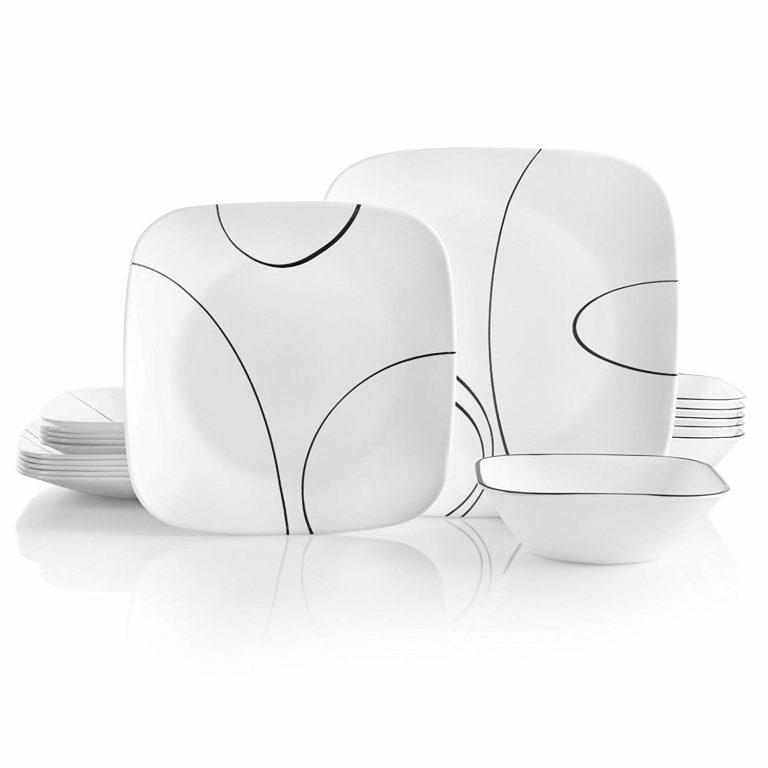 Another option from Corelle is these sleek square shaped plates that give a more contemporary look and feel. This is an 18 piece set so enough to set the table for 6 people. It includes 6 dinner plates, 6 lunch plates and 6 medium bowls.
Like the previous set these are lightweight, triple-layered glass plates that are designed to resist chips and cracks. They are also nonporous making them very hygienic.
Very easy to clean and will continue to look great for many years to come. There are tons of styles and patterns to choose from in the Corelle range. You can check out more of their offerings here.

Buyers guide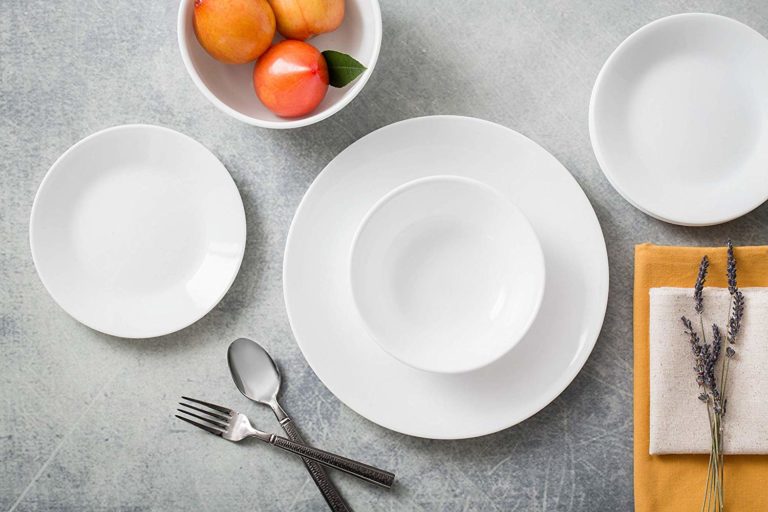 Depending on whether you are choosing for everyday use or special occasion will ultimately determine your choice but there are a few nice sets that fall somewhere in between. We have tried to include some of those above. The Lenox sets perhaps come closet to achieving that but it is quite pricey. The Corelle sets offer the best value for money, with sharp modern designs and all the toughness you need from daily dinnerware.
Choosing your material
Earthenware
The oldest and most traditional form of dinnerware. It is made from unrefined clay and then fired at low temperatures to produce a hardwearing result. It needs to be glazed to ensure it is not porous. Definitely a more casual, everyday material with a natural look and feel.
Stoneware
Extremely affordable and more durable than earthenware, Stoneware is one of the most popular choices for a dinnerware set. Made from refined clay and fired at a high temperature makes it strong and resistant to chipping. Great for everyday use.
Porcelain
This is an extremely durable and practical choice. It is freezer, microwave, and dishwasher safe so ideal for a family kitchen.
Bone China
Despite its reputation for being easily broken bone china is perhaps the strongest material used for making dinnerware. It is extremely resistant to chipping. Generally more expensive and still considered for best only but these days a lot of bone china is safe even for the dishwasher so don't be scared to use it.
Glass
Corelle uses a triple-layered glass that is really tough but still very lightweight. This is an excellent choice for day to day use.
Choosing a set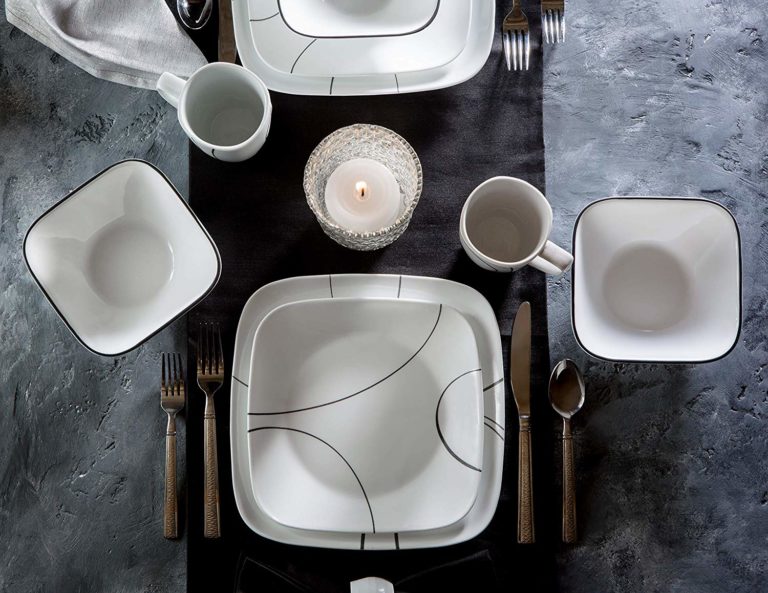 What pieces do you need – If buying for a formal setting you will need a dinner plate, a salad plate, a bread plate, a soup bowl, a cup and a saucer for every place. Most sets will include these items but it's always a good idea to check what is included.
For everyday use, you may wish to purchase additional items like matching mugs, pasta plates/bowls, serving dishes and cutlery.
Availability – Another thing to consider is the availability of the set. If you break or damage a piece in the future you will want to replace just that piece rather than the whole set. Make sure that this is an option before you buy it. Buying antique sets is great but if you break something there is usually no chance of a replacement. Mass-produced sets don't usually suffer from this problem unless the manufacturer stops making it.
Storage – Consider that while some really large sets can offer great value for money you will need somewhere to store all the pieces.
Microwave – Do you need your dinnerware to be microwave safe? Most modern households will want this at some point so an everyday set will probably need to be microwave safe.
Dishwasher – Whilst most modern sets will be dishwasher safe not all of them will thank you for it long term. It's usually a good idea to handwash your dinnerware if it is expensive to stop it getting faded or chipped. Everyday items will need to be dishwasher safe. You also need to make sure the plates will fit in your dishwasher before you buy them.
Color & Design
This comes down to your personal preferences but you should consider the occasion and if you already have place settings, table cloths, cutlery and glassware that will need to match up to your chosen dinnerware. Neutral colors are usually your safest option no matter the occasion. For formal settings white with a subtle banding like the Lenox sets above are a great choice.
Conclusion
We hope this guide has helped to identify some great sets that are worth considering. You really can't go wrong when there are companies like Lenox and Corelle making amazing dinnerware sets right here in America.
There are some really stunning designs on offer no matter what your budget happens to be. We were huge fans of the Kate Spade collection from Lenox. The Lenox Marchesa set was also absolutely stunning. These sets are quite expensive if you need to buy for a large setting but consider they will probably last you a lifetime.
For everyday family sets Corelle is a great option as is the Fiestaware. We love the homely feel of Fiestaware and the fact that you can get it in any color that takes your fancy. Matching up to your existing kitchenware will be no problem at all.
Let us know in the comments what type of dinnerware set you have and what you think of it. Also, let us know if you bought American and why that was important to you.