America has a long tradition of high-end glassware production so we wanted to celebrate that by taking a look at some of the best glassware currently available that is still made right here in the USA.
Firstly we are going to take a look at some of our favorite products and then at the end of the article, you can read a little bit about the companies who are making these products.
Here at Cook Logic we love a glass of wine so let's get started with some of the best wine glasses.
Wine Glasses
Libbey Classic White Wine Glasses, Set of 4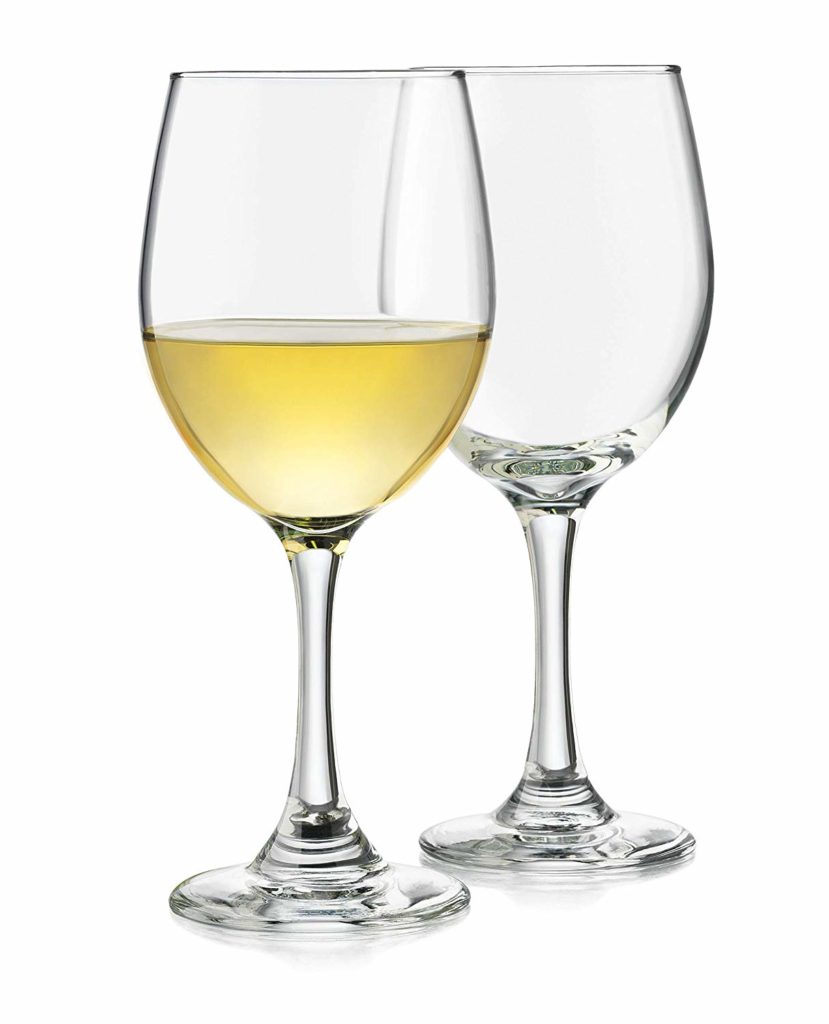 This is a classic and timeless glass design that has become an icon the world over. A best seller for more than 50 years they still look amazing to this very day.
These are sturdy built glasses with a solid base and quite thick sides. They aren't as dainty as some glasses but perfect for everyday kind of use. They feel great in the hand and will stand up to repeated use over many years. At this price you are getting a bargain as Libbey are one of the finest glass producers in the US.
The stems are roughly 3.75 inches long and the glasses are 14 ounces. The glasses are lead-free and are dishwasher safe.

Anchor Hocking 15-Ounce 4-Piece Stemless Wine Glass Set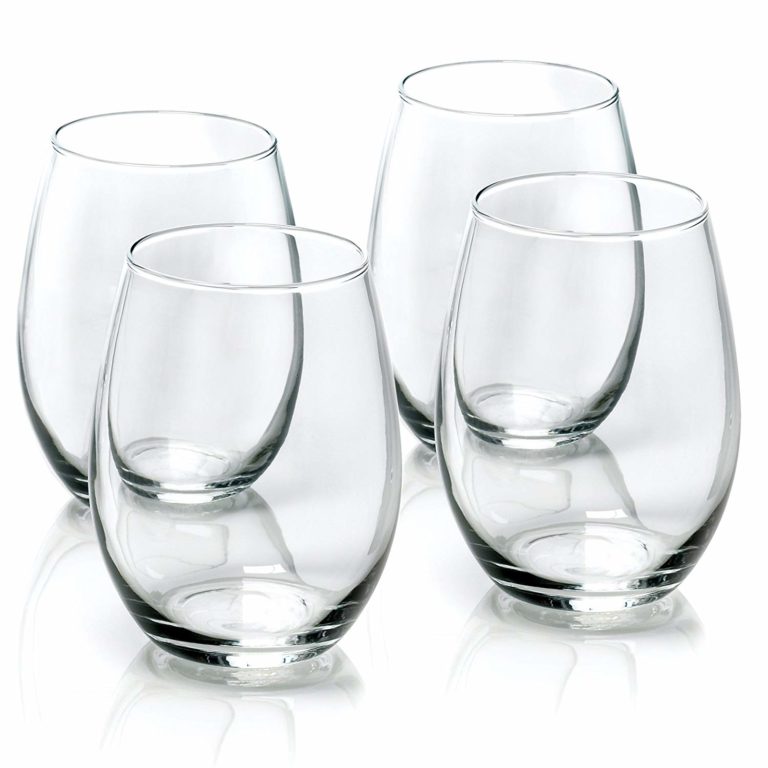 We often form an image in our mind of a stemmed glass when thinking about wine glasses. That is why I love stemless glasses so much for serving wine. Its just that little bit different from the norm. These are super comfortable in your hand and are much less likely to get knocked over when compared to stemmed glasses.
These are quite thick at the base giving them a very sturdy feel. They definitely aren't going to break easily like a lot of wine glasses can. Perhaps these have more of a manly look than many wine glasses but I think they are great for anyone. Great for parties where wine glasses usually suffer multiple losses!
Anchor Hocking are a superb glass manufacturer and of course all their glassware is produce right here in the USA. These are a fantastic price for such a high quality glass.

Beer Mugs
Libbey Heidelberg Glass Beer Mugs, 16-ounce, Set of 4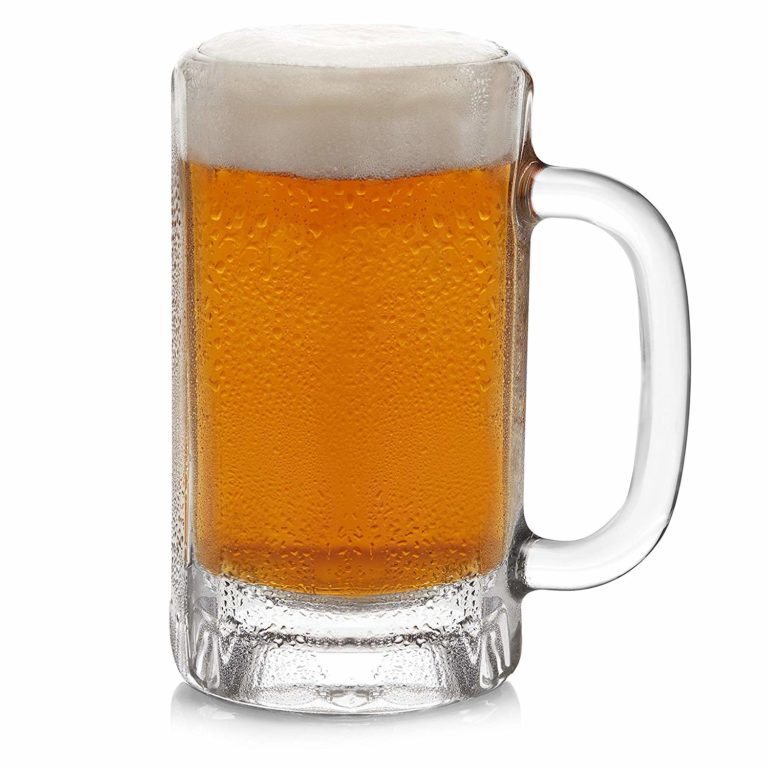 Another superb product from Libbey here with this classic beer mug. These beer mugs are made of really thick glass which makes them extremely durable and sturdy. It also means you can stick them in the freezer before you use them to help keep your beer colder for even longer. Although they have an angled exterior they are perfectly rounded on the inside.
When I say these are heavy I'm not kidding around. This is a heavy glass even when empty.
They are lead free and dishwasher safe. Perfect for all kinds of drinks. These glasses are one of the best sellers in this range.

Anchor Hocking 93001 Beer Mugs Set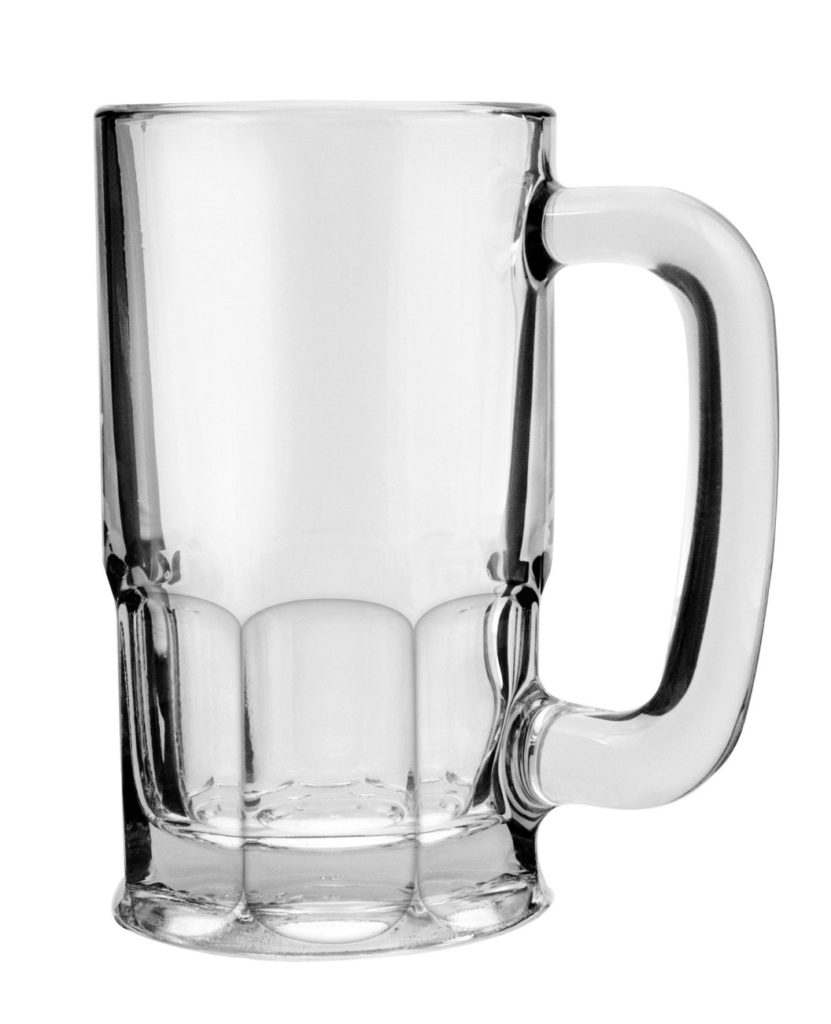 These are bigger than the Libbey mugs at 20oz and they are just as well made. Thick sides and heavy bottomed.
Again these are perfect for the freezer, just get them out when you are ready to use them. Just be careful not to expose them to any heat when coming directly from the freezer or they may crack. Under normal circumstances these are suitable for hot drinks.
Like the Libbey set these are heavy glasses and perfect for beer. The extra capacity comes in handy but not really a huge advantage over the 16oz Libbey. When choosing between these glasses it really depends on which design you like best.
Dishwasher safe for easy clean up.

Whiskey Glasses
Taylor'd Milestones Glassware Whiskey Glass Set of 2 -10 oz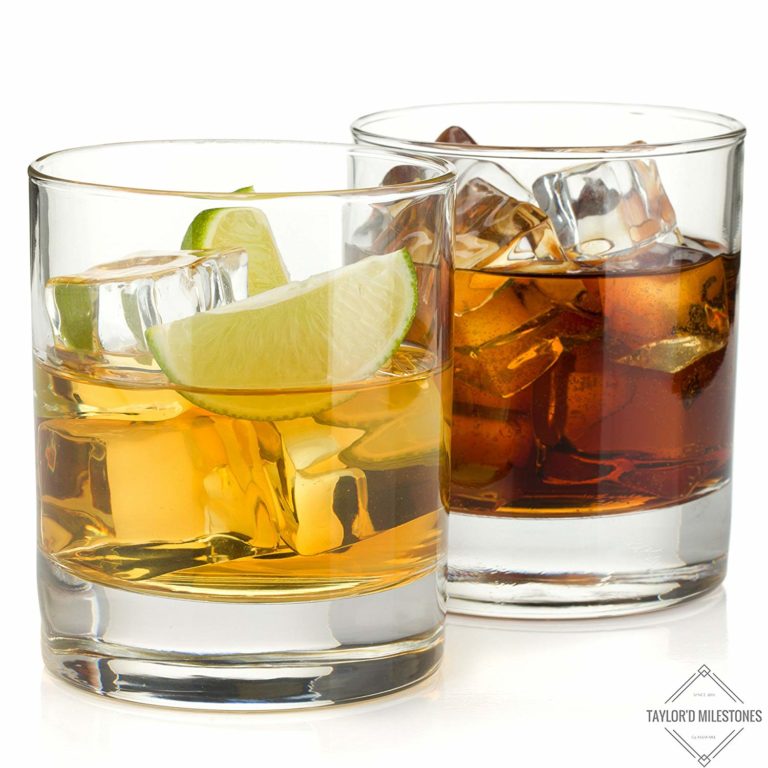 These glasses have been a really popular seller lately and they are more than worthy of making it into our All American glassware list. A family run company who makes their glassware in the USA, established in 2015. We couldn't find much more information on this company at the time of writing as their website appears to be down. We will come back and update this article when we find out a bit more about them.
These whiskey glasses are lovely though, very sturdy and have a high quality feel in the hand. They are built to be resistant to chips and scratches and are popular for hotels and pubs because of their durability.
This company has a personal tocuh with reports of the owner himself reaching out to customers to correct faulty or broken glasses.


Libbey Craft Spirits Single Malt Glasses, Set of 6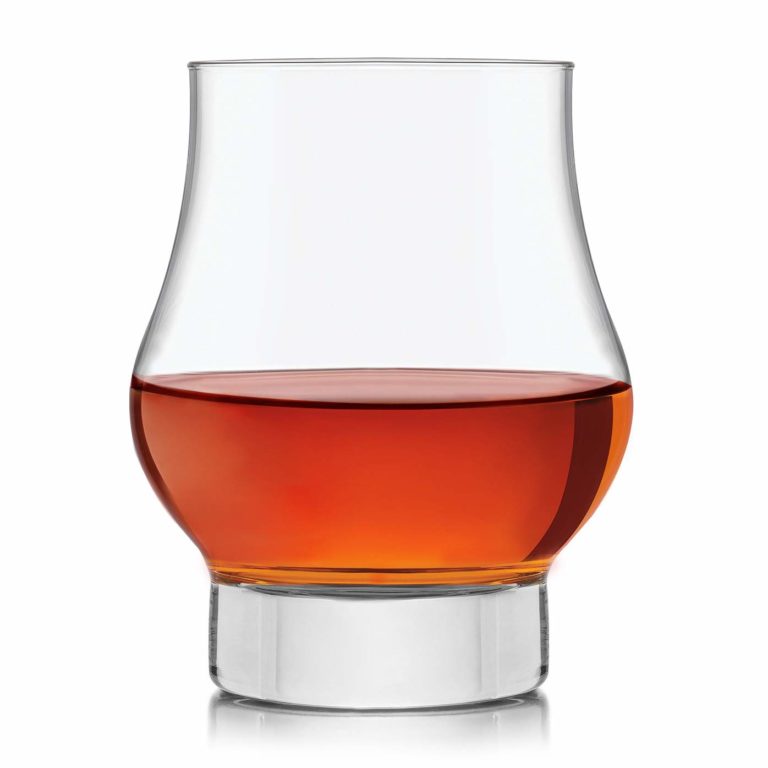 I absolutely love the shape and design of these glasses. The heavy bottomed base gives these a nice balance and feel in the hand. It offsets the lighter top of the glass which is nicely shaped and feels good when putting the glass to your mouth.
The glass is high quality as you would expect from Libbey. It is of course lead free and dishwasher safe.
10oz glasses are perfect for Whiskey and other shorts. Considering the unique design and high quality these glasses are very reasonably priced.
Libbey do a ton of different designs in their Whiskey glass range so you are sure to find something you like. Click here to see a few of the different designs they offer. 
Anchor Hocking Heavy Base Rocks Old Fashioned Whiskey Glasses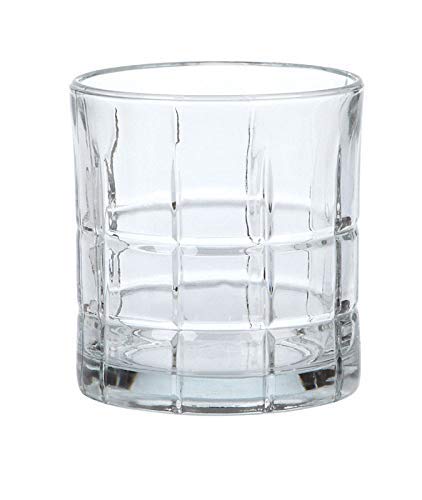 These are an interesting design from Anchor Hocking. A 10.5 ounce size makes them just the right size in my view.
The base is weighted giving them a sturdy feel and the unique pattern in the glass gives them a unique look. There are 4 glasses in this set. Anchor Hocking do a much simpler, cleaner design which you can find here. The simpler glasses come in a set of 12 and are fantastic value. They aren't quite as nice as these Manchester Rocks sets though but it's an alternative if you are looking for a larger set at a lower price.
Nicely made and feel nice to drink from. What more can you ask for?

Tumbler Glasses
Libbey Heavy Base Tumbler Glasses, Set of 8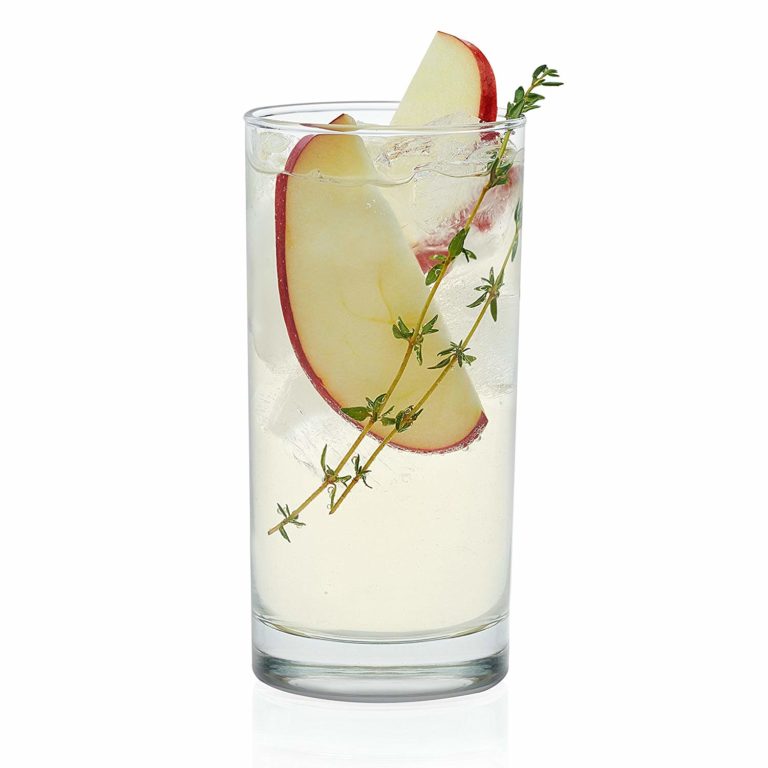 If you are looking for a traditional tumbler lead free glass made in the USA then look no further than this set from Libbey.
With a weighted base they are not easily tipped over the 15.5oz capacity is perfect for most types of drinks. Glasses of this type are often susceptible to clouding and scratching when used in the dishwasher but after quite a few trips through ours they still look as good as new. The sides aren't super thick but they are well made and stand up to general day to day use very well. These glasses always look really clear meaning they look great when filled with a nice drink.
They were packaged really well and of course they came direct from Libbey themselves.

Anchor Hocking 68332L8 Manchester Drinking Glasses, Set of 4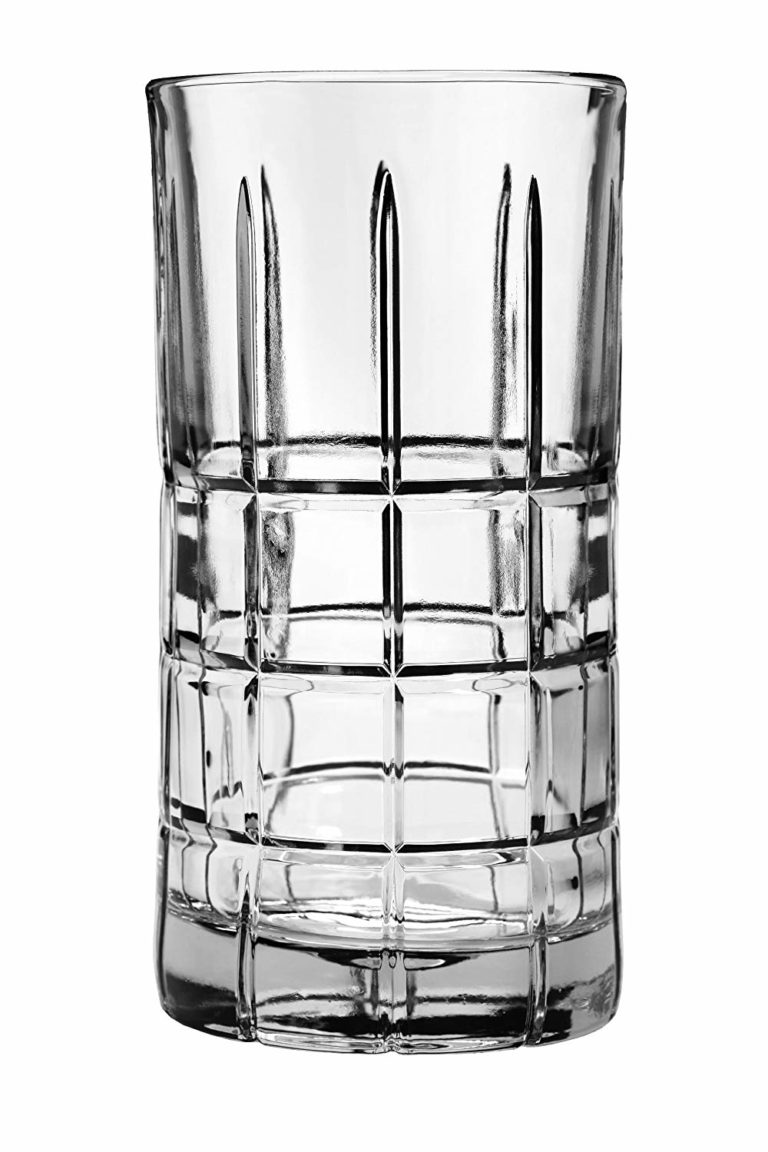 These match the Manchester whiskey glasses we talked about earlier. Same pattern and build quality.
These feel very sturdy in the hand and I expect they would stand up to quite a lot of abuse. I personally prefer the Libbey design in this range of glasses but I have included these as I know that not everyone likes a simpel design and the quality is excellent.
These do come in larger sets if you need them with 8 and 12 sets available.

Anchor Hocking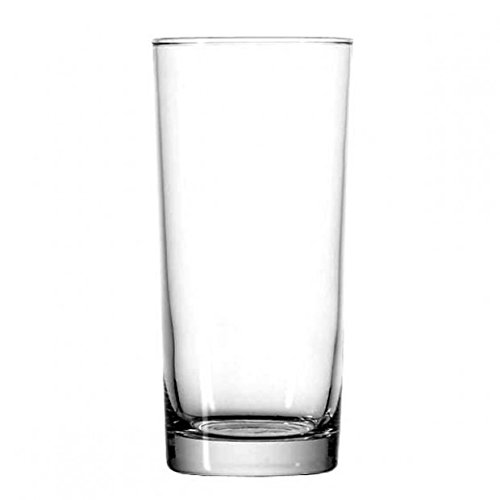 With over 100 years of glass making under their belts, Anchor Hocking is one of the great American glassware manufacturers. Founded in 1905 by Isaac J. Collins and E.B. Good and operated out of Lancaster, Ohio. Anchor Hocking was one of the major produces of depression glass.
Today Anchor Hocking produce a huge range of glassware which includes drinking glasses, glass jars, mugs ,bowls, bakeware and much more. One of their most popular products is their Montana Glass Jars. These jars come with a sealed lid which keeps the contents fresh, this makes them the perfect glass cookie jar! Check them out here. 
One of their most popular drinking glasses is the Heavy Base Highball. A classic design that will never go out of fashion. Despite this being lovely quality, the price is incredibly low. This is a 12 piece set. Dishwasher safe and will not absorb colors or stain in any way. The weighted base gives them a sturdy feel. The sides are quite thick too so even with prolonger dishwasher use you shouldn't see any wear in these.
Only problem with these is that they are only available in a set of 12 but if you are looking for a smaller set then check out the Rio design which comes in a set of 4.
Check out the huge range that Anchor Hocking has to offer here. 
Libbey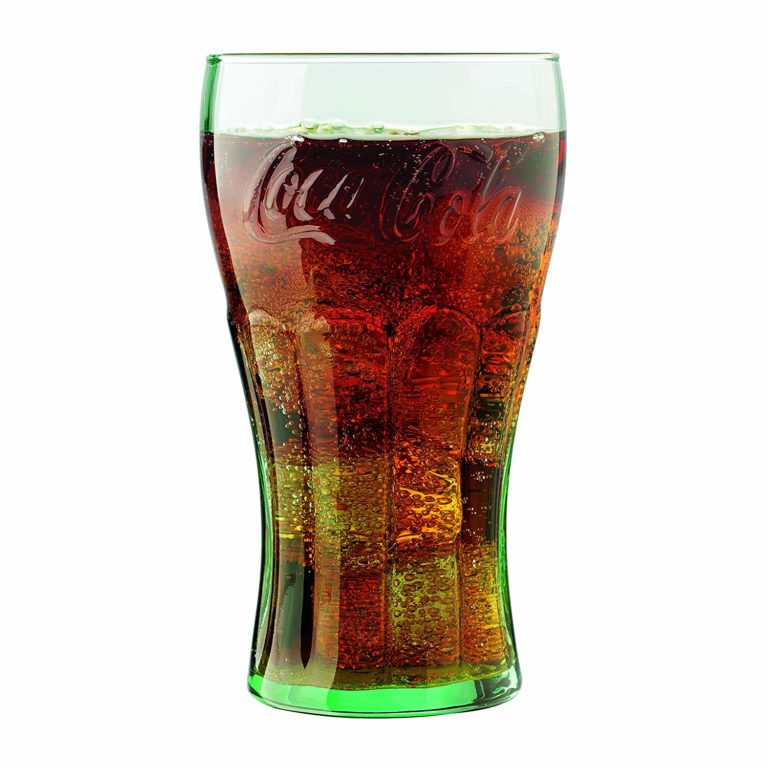 Libbey have been making glass for over 200 years now. Originally called the New England Glass Company, which was founded in 1818. In 1888 Edward Drummond Libbey who had inherited full control of the company in 1880 moved the business to Toledo, Ohio. Toledo became known as the Glass City due to its huge natural gas resources and easy to large deposits of high-quality sand. This made it the perfect place for glass companies to prosper. In 1892 the company was officially renamed to The Libbey Glass Company.
Since then Libbey have gone on to be a powerhouse in the glass industry and have pushed the industry forward with new techniques and designs. They have acquired and partnered with other companies over the years and today are still producing some of the finest glass in the world.
One of their most famous pieces is the Coca Cola glass. It's a classic and timeless design which everyone will be familiar with. These are style after the traditional glasses in their original georgia-green color. This set includes 6, 16.75-ounce glasses at a very reasonable price.
The glasses are lead-free and of course, made in the USA. They are shipped directly from Libbey's manufacturing facility too.
Another favorite from Libbey is their classic Gibraltar Rocks glasses, which have been one of the best selling glasses for over 50 years now. These are an iconic American piece.
Check out the full range of Libbey Glassware here.
Tervis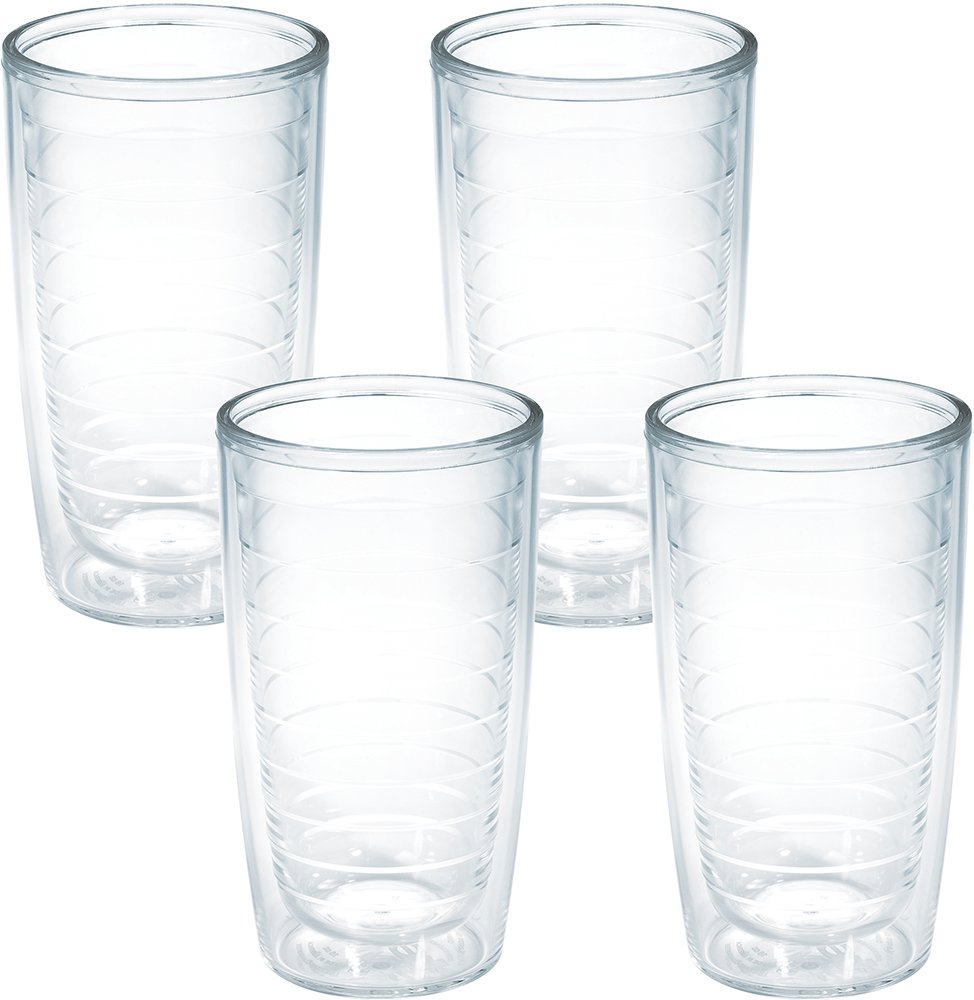 Whilst Tervis does not make glass they are drinkware specialists operating out of the USA.
Founded by Frank Cotter and G. Howlett Davis in 1946, Tervis were able to change the drinkware industry forever with their insulated tumblers. The company name comes from taking the last 3 letters from both of the founder's surnames. Cotter and Davis harnessed the natural insulating powers of air to create a double-walled glass. This tumbler allowed drinks to retain their temperature for a longer period of time. So cold drinks stay cold and hot drinks stay hot.
Originally from Detroit, Michigan, the company was bought by an entrepreneurial family who moved the company to their home state of Florida. Today Tervis employs more than 900 people. Their manufacturing plant is located in Venice, Florida and all their drinkware is made there with the exception of their stainless steel products which are made overseas.
Tervis have been involved with conservation efforts and have given away thousands of reusable tumblers to try and cut down on peoples reliance on single-use plastics. They have been involved in efforts to clean the beaches of Siesta Key.
Tervis' classic tumblers are still one of the most popular sellers and are made with BPA and Melamine free materials. They are extremely durable and are Microwave, freezer & dishwasher safe. Perfect for kids who are more likely to drop and break glasses.  Check out the Tervis tumblers here. 
Summing Up
The 2 major players in the US glass industry are Libbey and Anchor Hocking. They are both producing superb glassware from their US bases and are utilizing decades of experience. It was a bit disappointing not to find more glassware manufacturers that we could talk about. There are more American glass companies obviously but we wanted to focus on those still making their products here in the USA. Companies that are supporting local people and jobs.
We'd lvoe to know more about Taylor'd Milestones and have reached out to them for some more info. They are making their products in the US and are a small family run business. If we are able to find out more we will update this article accordingly.
If you know of any more glassware manufacturers that make their products in America then please get in touch with us so we can include them in this write up. Check out our article on the best stainless steel cookware made in the USA too.