Updated: October 2022
Slow cookers are pretty amazing, they are an easy way to delicious healthy meals. Just put in your ingredients and leave it to slowly cook you are fantastic meal while you are out for the day. Come home to have your meal ready and waiting to be eaten. Slow cookers are right now being left in the shadow of the amazing Instant Pot but slow cookers still hold their place in many peoples hearts. Of course whatever kind of cooking we are doing we want to make sure it is healthy for our family and that no toxins are finding their way into our food. This can be a concern with some slow cookers, it's unlikely to be a risk but if you want to be safe then you need to look for one with a stainless steel or lead free clay vessel. There is a concern with some ceramic vessels that the lead glaze they use could slowly leak into food at high temperatures.
Slow cooking is considered safe by the USDA but not all slow cookers are made equally.
Unfortunately it is becoming more and more difficult to find a slow cooker that meets all the safety requirements we would like. When we first wrote this article 3 years ago there were quite a few products on the market that were considered to be lead free. However they are now mostly out of stock or not being manufactured any more. Some brands pulled their "lead free" ranges when it was discovered that lead was indeed present in independent tests.
California's Proposition 65 means that companies have to inform their customers about any potential exposure to chemicals that may cause cancer, birth defects, or other reproductive harm. Most reviews will not mention this but dig a little deeper into these products and you will see them declare their Prop65 warnings as required by law. If you have a vintage or imported slow cooker or any other cooking device it may be worth having it checked. Contaminated ceramics are no joke and can lead to serious illness. Check out this consumer reports article. You can find information on where to find EPA approved lead testing kits here on the EPA website.
Who knew that buying a slow cooker was so complicated.
Currently we only feel comfortable recommending one slow cooker that is detailed below. Fortunately it is a very good product although it is quite pricey.
Wolf Gourmet Programmable 6-in-1 Multi Cooker with Temperature Probe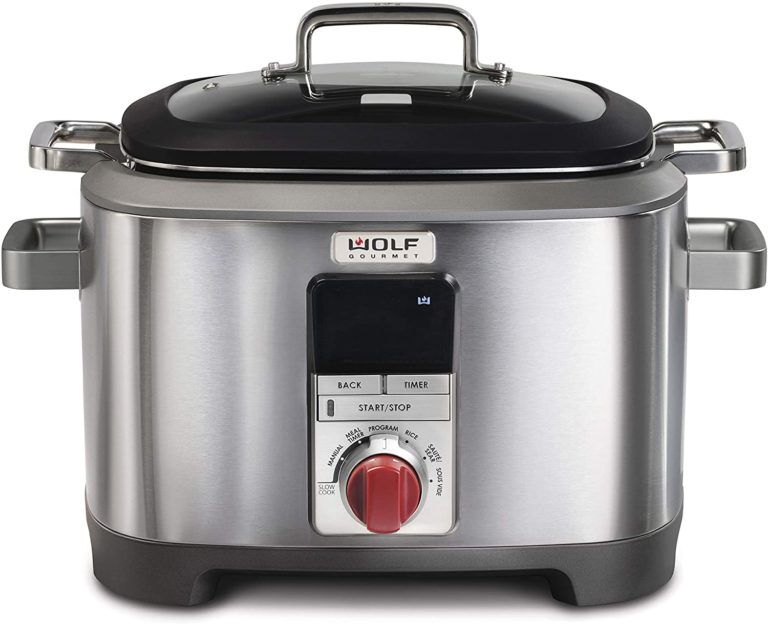 If you are looking for fantastic quality then look no further. Whilst this is much more expensive than some of the other items on the list you are undoubtedly getting a fantastic product here. The design of this product may not be to everyone's tastes, it's definitely got an industrial look but even by looking at the images of this item, you can see how robust it is. You get a 5 year warranty with this product too.
This is a very versatile product and does much more than slow cook. Features include slow cooking, rice cooking, sauté, sear, and sous vide.
One of my favorite features of this cooker is the ability to set a serve time. This allows the cooker to automatically adjust so that it is finished cooking exactly when you want to serve. You can still cook manually too and slow cook on 3 different levels for up to 24 hours.
The inner pan is made from stainless steel so there is no concerns about toxic materials or non-stick surfaces starting to peel away. So perfect for our list as it provides safe and healthy cooking. The vessel is 7 quarts so quite a good size allowing you to cook a wide variety of meals, it's also removable for easy cleaning.
It comes with a temperature probe too so you can check how well your meat is cooked before serving. There is a huge range of cooking options here.
Overall this product is fantastic. Expensive but you are getting a product that do a huge amount and one that should last many years.

Vitaclay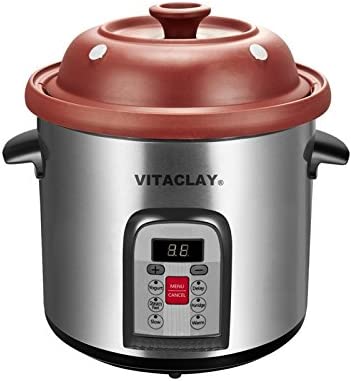 There are a few Vitaclay products on the market and this company has always prided itself on it's lead and chemical free products. Some online independent tests recently claimed that they were not lead free, a allegation refuted by Vitaclay. The independent testers never provided any details on their test methods, calibrations or test conditions. Therefore it is impossible for them to be verified. You can read Vitaclay's comments on the tests here.
We found the Vitaclay range to be fantastic at slow cooking. The products have some excellent features and the food tasted great.
Therefore we leave it up to you to decide whether you wish to go for one of their products or not. Keeping in mind that no official tests have been done or at least there have been no official reports of problems with this product.
Conclusion
There really isn't much information out there on ceramic and lead free slow cookers in the market at the moment. While it is likely that most are safe, some of them may not be. The only way to ensure that we are cooking without contamination is to avoid ceramics altogether. That leaves our choices pretty thin on the ground and currently only one product meets the standards we set for this article.
Let us know which one you went for and what you think of it. Also let us know if you know of another ceramic free slow cooker and we will update this article again.