Updated: February 2022
Slow cookers are pretty amazing, they are an easy way to delicious healthy meals. Just put in your ingredients and leave it to slowly cook you are fantastic meal while you are out for the day. Come home to have your meal ready and waiting to be eaten. Slow cookers are right now being left in the shadow of the amazing Instant Pot but slow cookers still hold their place in many peoples hearts. Of course whatever kind of cooking we are doing we want to make sure it is healthy for our family and that no toxins are finding their way into our food. This can be a concern with some slow cookers, it's unlikely to be a risk but if you want to be safe then you need to look for one with a stainless steel or clay vessel. There is a concern with some ceramic vessels that the lead glaze they use could slowly leak into food at high temperatures.
Let's take a look at our top picks for non toxic slow cookers.
1. Wolf Gourmet Programmable 6-in-1 Multi Cooker with Temperature Probe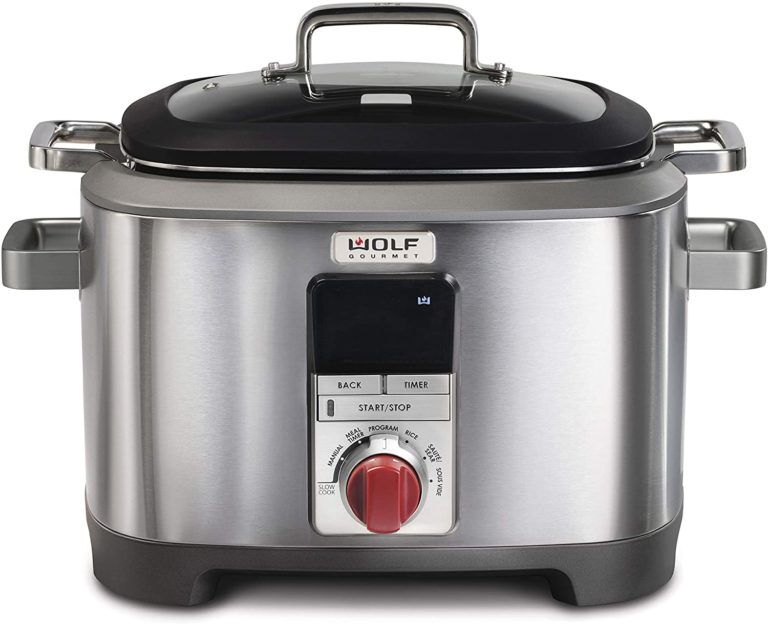 If you are looking for fantastic quality then look no further. Whilst this is much more expensive than some of the other items on the list you are undoubtedly getting a fantastic product here. The design of this product may not be to everyone's tastes, it's definitely got an industrial look but even by looking at the images of this item, you can see how robust it is. You get a 5 year warranty with this product too.
This is a very versatile product and does much more than slow cook. Features include slow cooking, rice cooking, sauté, sear, and sous vide.
One of my favorite features of this cooker is the ability to set a serve time. This allows the cooker to automatically adjust so that it is finished cooking exactly when you want to serve. You can still cook manually too and slow cook on 3 different levels for up to 24 hours.
The inner pan is made from stainless steel so there is no concerns about toxic materials or non-stick surfaces starting to peel away. So perfect for our list as it provides safe and healthy cooking. The vessel is 7 quarts so quite a good size allowing you to cook a wide variety of meals, it's also removable for easy cleaning.
It comes with a temperature probe too so you can check how well your meat is cooked before serving. There is a huge range of cooking options here.
Overall this product is fantastic. Expensive but you are getting a product that do a huge amount and one that should last many years.

2. 360 Cookware Gourmet Slow Cooker and Stainless Steel Stock Pot with Cover
This one is a bit special. Straight away you will notice it looks a lot different to most slow cookers. The vessel sits directly on the base so there is no heat coming from the sides. As the vessel is 3 ply stainless steel the heat is very evenly distributed around the pot. The stainless steel sandwiches a layer of aluminium for excellent heat distribution that eliminates any chance of you burning food. The pot is really high quality and very well made.
You will notice there are no fancy controls on this, just a simple knob that goes from 1 to 4. This is quite misleading as it suggests that it only has 4 settings however the numbers are merely a guide. The dial turns smoothly like a volume control dial allowing you to raise and lower the heat much more accurately that 4 locked in settings.
It's really easy to clean and we found that nothing really stuck to the inside of it so it was easy to wipe clean.
You can also use this for vapour cooking. This is a pricey item but well worth the investment if you are looking for something really high end. Of course with it being stainless steel there is no danger of any toxins leaking into our food.

3. High-Fired VitaClay 2-in-1 Rice N Slow Cooker in Clay Pot
This slow cooker uses all natural clay for its vessel. VitaClay have all their slow cookers independently tested for lead content to ensure that they are lead free and non toxic. You can read about this on their website here. The vessel is not glazed anyway but they make extra sure by having their products tested.
The vessel has its own lid as well as the lid that is attached to the slow cooker. This double lid design mean the cooker is 50% more efficient than most slow cookers on its energy use.
This slow cooker is also quite versatile as it is great as a rice cooker as well. It works as a rice cooker, slow cooker, digital steamer and low-temperature artisan yogurt maker.
As the vessel is clay it is susceptible to being broken but you can buy replacement vessels on Amazon. 

4. Chefman Slow Cooker, All Natural / Chemical-Free / Glaze-Free Pot
As the name suggests this one is completely chemical free. It doesn't use a glaze so there is no danger of any lead contamination. It uses a natural non-stick, PTOA, PTFE surface that is Paleo friendly.
The vessel can also be used over an open flame if you want more intense cooking and you can also put it in the oven for roasting and other cooking.
It is dishwasher safe for easy cleanup but the natural non-stick surface wipes clean pretty easily anyway.
Stoneware is susceptible to cracking if exposed to sudden temperature changes so while you can put the vessel in the fridge or freezer make sure it is returned to room temperature before you do.
In the description for this product Chefman state that it contains 70% less lead than other slow cookers. This is a bit misleading as it makes you think there is lead being used here. There is no lead or other chemicals added to this slow cooker. The lead content according to Chefman is 0.0011% and this is because it uses a natural stoneware pot. Lead (trace amounts) occurs naturally in stone and many other things. You will find a higher lead content than this is most foods. There is no artificial glaze on the pot like some slow cookers that can potentially leach chemicals.
One of the best things about this one is the price. It's a bit of a bargain.

5. Crockpot 2.5-Quart Mini Casserole Crock Slow Cooker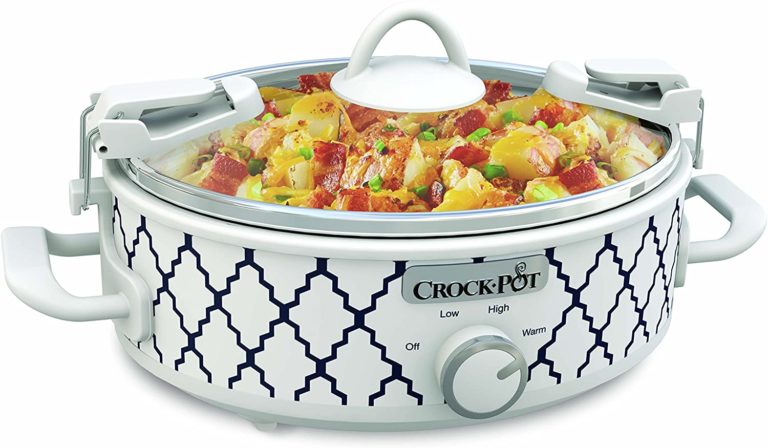 Here's a new one for our list. We somehow overlooked this one previously but it definitely deserves to make this page. This slow cooker from Crockpot doesn't have a huge capacity unfortunately but it still will make a good amount for a family meal.
The inner pot is  stoneware. We mentioned this above but it's worth repeating, stoneware is a natural material and lead occurs naturally in most things at very small levels. So while we can't call this 100% lead free it is completely safe and poses no toxicity risk to you or your family. Here's a comment from Crockpot, "Newell Brands, the distributor of Crock-Pot®, tests for lead and other toxic metals on its products to ensure they are safe for consumers. In addition, we periodically use accredited third party lab testing to reveal that our slow cooker stoneware is far below the U.S. FDA and California Regulation Prop 65 requirements for extractable lead and cadmium in ceramic wares, thus supporting our results."
The inner pot has a 2.5 quart capacity and it is removable for easy cleaning, it is dishwasher safe. You can also use it in the oven if you wish.
The controls are pretty basic on this with a high or low setting for cooking and keep warm setting. There is no timer or automatic switch over to keep warm but this is pretty standard for most slow cookers.
The unit itself has a lovely patterned design which we admit you will either love or hate. It's blue and white even though it looks black in the photo. It is priced very competitively and definitely not a purchase you will regret if you decide to go for this model. Just make sure it is big enough for your needs.

Conclusion
There really isn't much information out there on ceramic slow cookers in the market at the moment. While it is likely that most are safe, some of them may not be. The only way to ensure that we are cooking without contamination is to avoid ceramics altogether. That leaves our choices pretty thin on the ground however the 3 options above are all great choices. Which one you go for may depend on your budget. The 360 stainless steel slow cooker at number 1 is pretty amazing but it is pricey. The Chefman comes at the other end of the price range but it still comes with the toxic free cooking we are looking for.
If we had to pick one then we would probably go for the VitaClay at number 2 on the list. It is incredibly versatile as it can cook rice and yogurt as well doing all your traditional slow cooking.
Let us know which one you went for and what you think of it. Also let us know if you know of another ceramic free slow cooker and we will update this article.