Hot pots are becoming more and more popular and we get asked all the time about which the best electric hot pot to buy. The best hotpot pot you might say! Well we decided to answer this question and give a run down of some of the very best available to buy right now. So let's get started!
1. Dezin Electric Hot Pot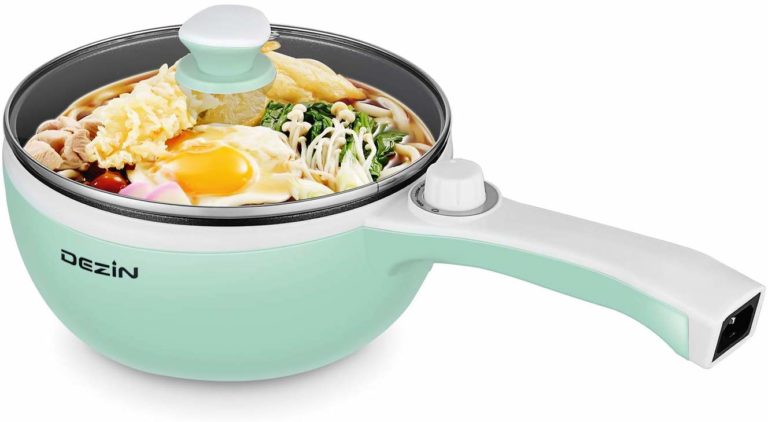 One of the great things about this hot pot is that it can be used on any surface. The bottom of the pot only gets warm so it is safe to use anywhere. Meanwhile, the inside of the pot gets very hot indeed meaning you can use this for a wide variety of cooking. You can use it to sauté too and the non-stick surface makes it the perfect device for this type of cooking.
It has 2 power modes which are easily selected with a control knob located on the handle of the pot. There is 150W for stews etc and 600W for faster cooking and sauteing.
It's pretty small at only 1.5L so ideal for small kitchens or for traveling. If you don't plan on using this every day then this size pot is probably a good choice as it is easily stored away and won't take up to much room.
The non-stick coating makes it really easy to clean and it is a surprisingly good non-stick surface as well. Food sliding straight off the pan even when cooking eggs which can often trip poor non-stick surfaces up.
This is a nice little hot pot with plenty of versatility, you can cook pretty much whatever you want in this thing and the price is very reasonable indeed. Unfortunately only available in the green color as far as we know. Give this one a close look!

2. Sonya Shabu Shabu Hot Pot Electric Mongolian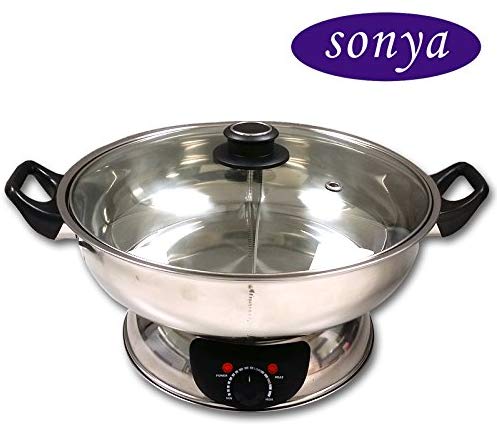 This is a much bigger pot than the previous item. With a capacity of 5L this can cook a lot of food at one time and the internal divider means you can do two dishes at one time.
This is pretty powerful too with 1500W worth of power, this means it heats up fast and cooks food fast. It gives it a huge range of possibilities for cooking different dishes as well.
The pot can be lifted away from the base making it very easy to prepare and serve food. The handles are heatproof so they don't get hot even after the pot has been in use for an extended period of time. The pot is stainless steel and really easy to clean.
The only problem we have with this one is that it not very stylish, it looks like a product from 10 years ago but you can't argue with the way it performs. It is one of the best selling electric hot pots on the market as well so that tells you that it is pretty good at what it does.

3. Aroma Housewares ASP-137 3-Quart/10-inch 3-in-1 Super Pot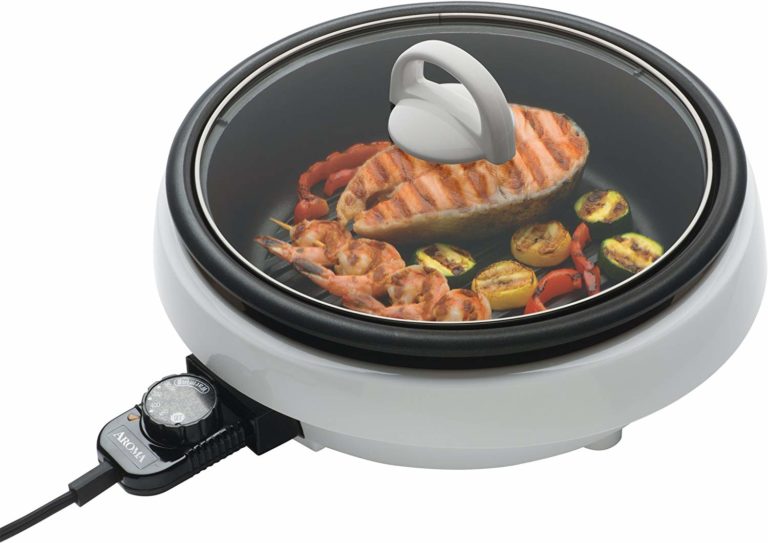 If you are looking for a bargain hot pot then this little gem might be one you want to take a closer look at. The price at the time of writing is extremely cheap. Yes, it's very basic in what it does but most of these electric hot pots are. They don't have fancy features or functionality, they just get hot and cook delicious food!
This one is only 3 quarts but there are larger versions of this pot available with a 4-quart and 6-quart option. They are both reasonably priced as well but they are more than this 3-quart version. It has 1200W of power so it is up there with the more powerful pots on this list and it's this power that allows this pot to act as a multifunctional device. It can be used to grill, simmer, slow cook and steam meaning you can cook pretty much anything you fancy using this device. Most importantly it really excels at making hot pots which is of course why we are interested in it.
The control dial sits rather awkwardly on the power cable, it feels a little bit strange to have it there but it doesn't affect the use of the device in any way. The temperature goes all the way up to 450 degrees. The post is cast aluminum and that allows it to heat up very fast and very evenly.
If you don't have much room where you live or you want something to cook with while traveling then you will do well to beat this pot. If you are looking for a nice simple pot to cook a hotpot then you are also onto a winner, it's cheap, it performs superbly and it is easy to clean. What more can you ask for!

4. Topwit Electric Hot Pot Mini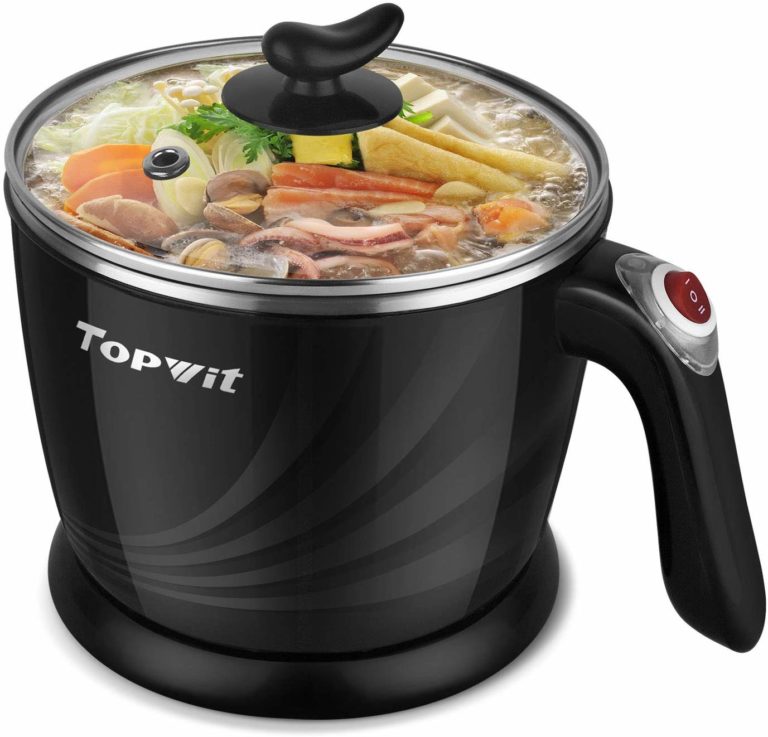 Another option in the mini variety now and this one is a little beauty. This one has a kettle-style design with a large handle on the side that allows it to be lifted from the base with one hand. It can be used as a kettle as well as this thing will boil water easily but there is no auto shut off.
It has a 1.2L capacity and a dual power supply with options of either 200W or 600W giving this little hot pot a nice bit of variety. The controls are as simple as they come with a simple switch on the handle that is either at 200W, 600W or off.
You can use this to cook a huge range of foods and it's ideal for simple things as well as more complex dishes. For example, people living in student accommodation or anyone camping would find this thing super useful because of this variety and its size. It's great for cooking noodles and warming up soup. It's also really handy to have around your regular kitchen as well as it can be easily stored out the way when not in use.
The interior is food-grade stainless steel and the outer surface is a cool touch exterior. The body of the device has a double-wall design which means it is cool on the outside but it keeps food hot inside for a long time. The handle stays completely cool even when in use.
Like I said earlier it lifts off the base like a kettle which makes it easy for cleaning. The pot can be placed on the base in any way, it is a 360-degree rotating base. Although there is no auto shut off for boiling water there is a safety auto shut off and boil-dry protection. So you won't damage the device if you leave it on to long.
It also comes with a free egg holder so you can cook up to 6 boiled eggs at a time. This is a superb little hotpot that can be used for loads of food in loads of different settings. It is also really cheap and in our opinion a complete bargain!

5. Maple-Enjoy Suki & BBQ/ Hot Pot-MH8208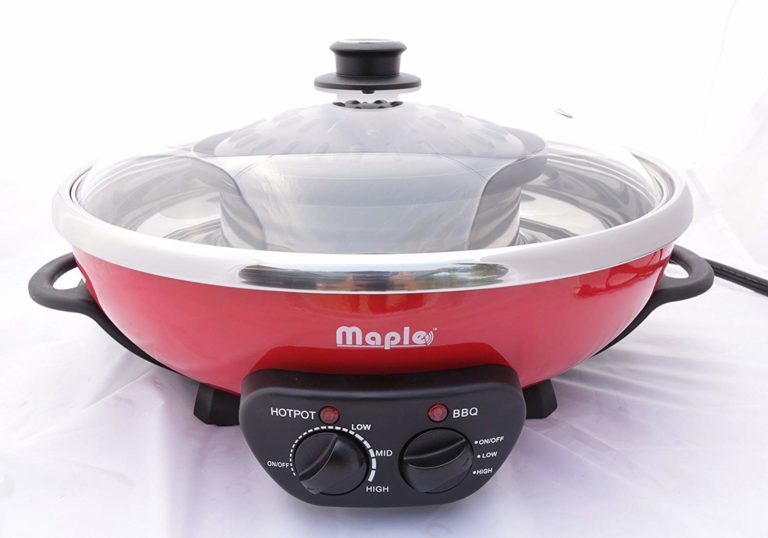 This hotpot allows you to grill at the same time as stewing your hot pot! With a nifty little aluminum grill that sits above the main pot, you can get the best of both worlds and cook complementary foods to go with your hot pot.
It will comfortably make enough food to feed 6 people with a 4.75-quart capacity. The grill is non-stick but we found thinner meats did stick a bit but you can just spray it with some Pam spray or equivalent.
The grill and the pot both have separate controls so you can use one at a time if you wish or both at once. It heats up relatively quickly and gets nice and hot as you would expect. The design makes it very easy to serve from and you can even place it in the center of your table so people can help themselves. It's a lot of fun to use, the kids had a great time every time we used this. Everyone gathers around the table to eat together when you cook with a product like this which makes it worth buying for that alone.
It's really easy to clean and the grill removes to make that bit easier to clean. Note that removing the grill does not make more room in the lower pot.
Maple are renowned for their excellent customer service as well so if you have any problems you are in good hands.

6. Carote 11 inch Double-Flavor Hot Pot with Divider and Glass Lid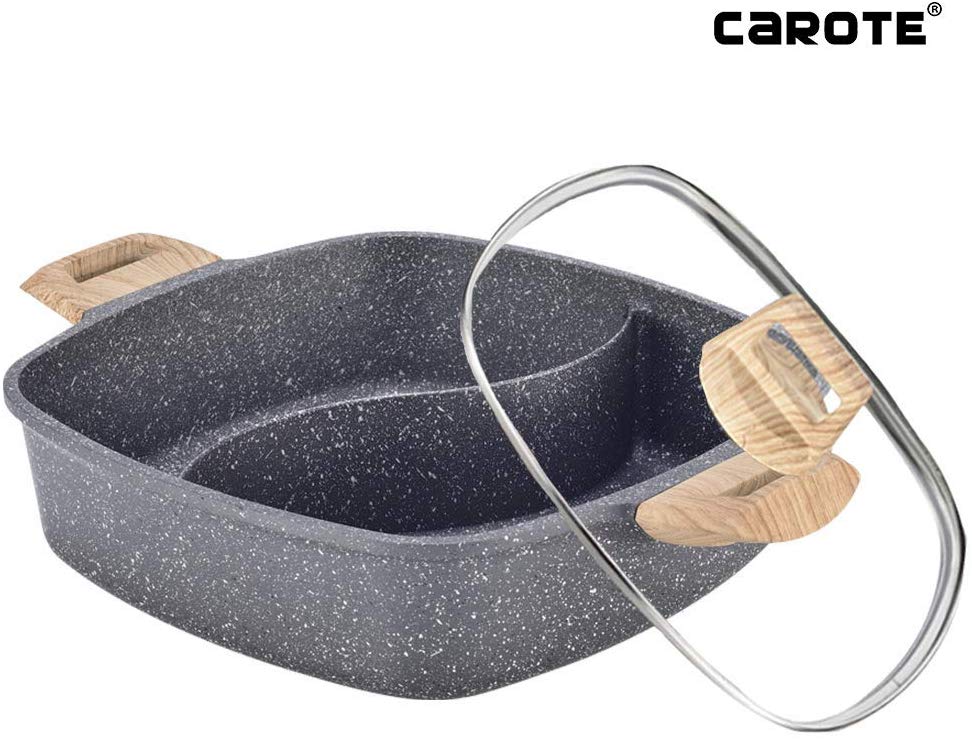 Ok so this one isn't electric but if you have a cooktop in your home then this one simply sits on the cooktop when you want to use it. It works with induction cooktops as well which makes for a great combination with this hot pot.
Made using an eco-friendly stone derived coating that uses imported swiss granite, it's a really high-quality product and it looks and feels that way too. It's PFOA and PTFE free and a completely non-toxic item. Underneath this coating the pot is made from an aluminum alloy, it heats up really quickly and evenly because of this.
The handles are Bakelite with a wood effect, they stay cool when in use and they clean up very easily too. There is an s-shaped divider inside the pot that allows you to cook 2 dishes at once much like the Sonya pot earlier in this list. Unfortunately, the divider is not removable which is sort of irritating if you only want to cook one dish.
It will work on any cooktop type including induction but you can't place it in the oven. It's also not safe for dishwasher use.
Pots like this are a great option if you already have a good cooktop or portable induction burner. They allow for greater versatility as you have more control over the heat when using your cooktop. Overall this is a nice looking pot that is really high quality, it makes great hot pots and is ideal as a Shabu-Shabu pot as well. It also comes with a 12-month warranty.

7. Joyfulsky Electric Hot Pot 1.5L 110V 600W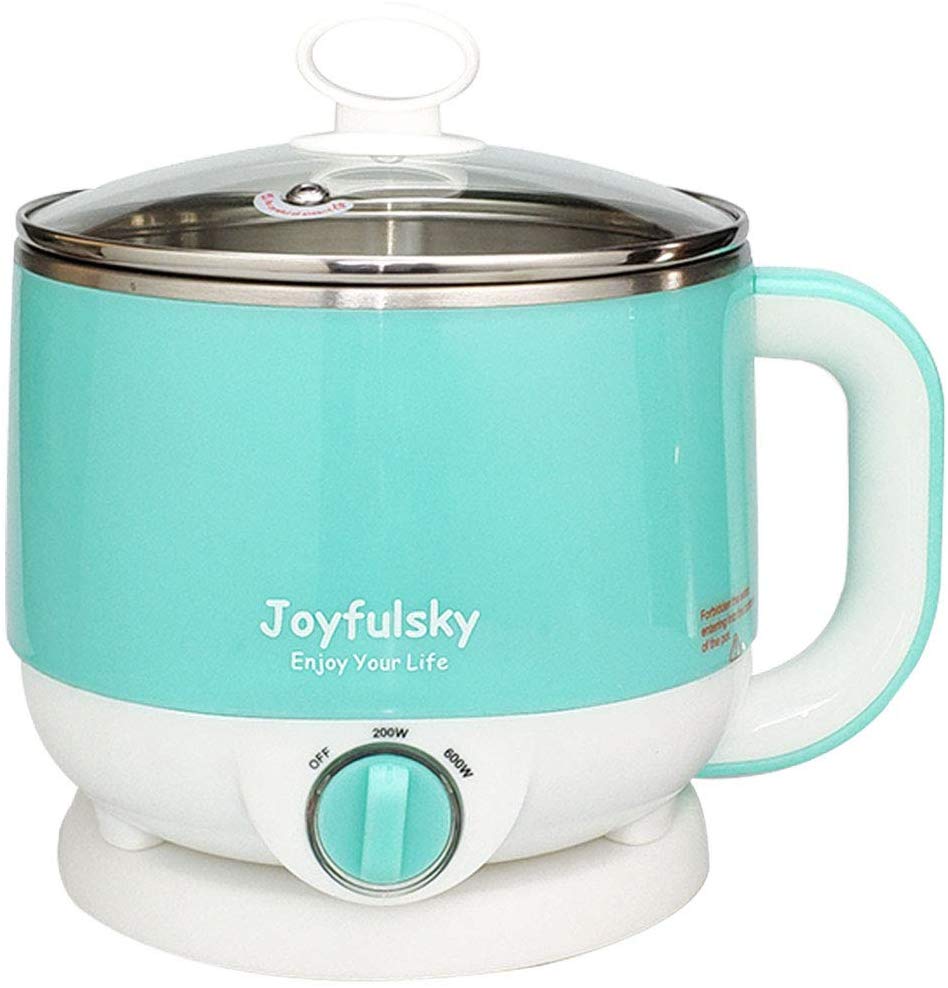 Another electric product now and again this one uses the kettle design. There are loads of hot pots available that use this design but this one has a range of sizes available.
Again like most of the other hot pots you can buy in this style it has 2 power settings of 200W and 600W. 600W is enough for cooking most types of hot pot so you shouldn't worry about this very much. It's nice to have a lower setting as well as it gives the pot a bit of versatility. It heats up really fast so you can get cooking almost straight away, I was quite shocked at how fast it heated up.
The inside of the pot is made from food-grade stainless steel but it can't be removed to clean, this isn't really a problem as it is relatively easy to clean anyway. Again you can cook noodles, boil water, boil eggs and it does a decent job as a Shabu-Shabu hotpot. Ours came with an egg holder but the product states that some people will receive an egg holder and others will receive stainless steel support. Both can be used for eggs. You need neither for hotpot so it isn't really a big deal but a bit odd that you might not get the egg holder.
This pot is 1.5L but it comes in smaller versions as well. I wouldn't recommend going smaller than 1.5L though as this is compact enough for any situation in my opinion. This is really simple product with simple controls. It's been a really popular seller in the electric hot pot range and continues to be one of the most popular hot pots in its price range. For this price, you really can't go wrong.

8. Zojirushi EP-PBC10 Gourmet d'Expert Electric Skillet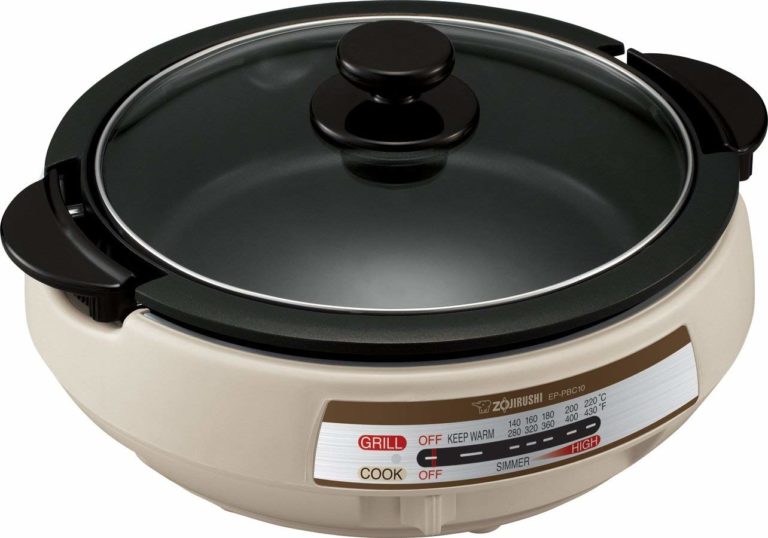 Ok, I will be honest, I am not a fan of how this one looks. The exterior looks old fashioned and not very nice but this thing is a really excellent bit of kit. It's really versatile and being made by Zojirushi you know you are getting a well-made quality product.
It's pretty large with a 10.5-inch diameter so can cook a large amount of food. You will need plenty of counter space for this one.
The temperature controls are adjustable from 176°F (Keep Warm) to 430°F. The stay warm feature is something that a lot of these electric hot pots have overlooked so it is nice to see that functionality here. With the temperature being fully controllable you can leave your hot pot to stew for hours if you wanted which makes this pot stand out over its rivals. It means the food is ready when you and your family are.
You can switch between grill and cook with the touch of a button. The surface of the pot is a ceramic with titanium enhanced non-stick coating. It works well and we didn't really encounter any problems with food sticking even when using the grill. The handles stay cool during use making it easy to move and serve. You can even remove the main skillet when it is hot using the stay-cool handles.  The second set of handles allows you to move the entire pot.
Stick to wooden or silicone cooking utensils with this one to avoid scratching the non-stick coating. It holds up pretty well but overtime metal utensils will chip off the non-stick.
This is another great item that gets the family gathered around the table but it's also great for camping and traveling if you have access to electricity. Overall this thing is a complete star. It obviously costs a little bit more than some items on this list but it's not what I would consider expensive considering what a top-quality product this is. A true gem for hot pot cooking.

Conclusion
There are loads and loads of great hot pots to choose from. In order to pick the one that is right for you, you will need to consider a few things like style and size. The smaller items tend to be in a kettle-style making them ideal for occasional use or student dorms. With them being so versatile they make ideal gifts for students as you can cook pretty much anything in them and the clean up is easy.
If you want something for home then a larger round hot pot is the way to go. The Zojirushi EP-PBC10 is hard to beat here as the temperature controls give it an edge over its rivals. It's really easy and fun to use as well and guaranteed to get everyone sat around the table enjoying a meal together. The other option is the Sonya which is good for Shabu Shabu hot pots and the separator means you can do two dishes at once. We also have a soft spot for the Maple with its sperate grill surface, again this made for a great centerpiece at mealtimes.
The other option is to get a hot pot that sits on your cooktop and is not electric. This gives you a bit more control as you obviously have great controls over your cooktop temperature. However, you are tied to the cooktop with these so they have a little bit less flexibility if you want to use your hot pot away from the kitchen.
Let us know in the comments which hot pot you decided to go for and what you like about it.