If you are just getting into smoking food then you might not want to make a huge investment straight away. Electric smokers are definitely the way forward if you are on a budget and finding a decent one for less than $200 is not that difficult. The popularity of smoking has really taken off in the last few years so manufacturers new and old have brought cheap products on the market which has allowed more and more people to take up this hobby. With that in mind we decided to take a look at the best smokers for under $200 on the market right now.
1. Masterbuilt Smoke Hollow SH19079518 Digital Electric Smoker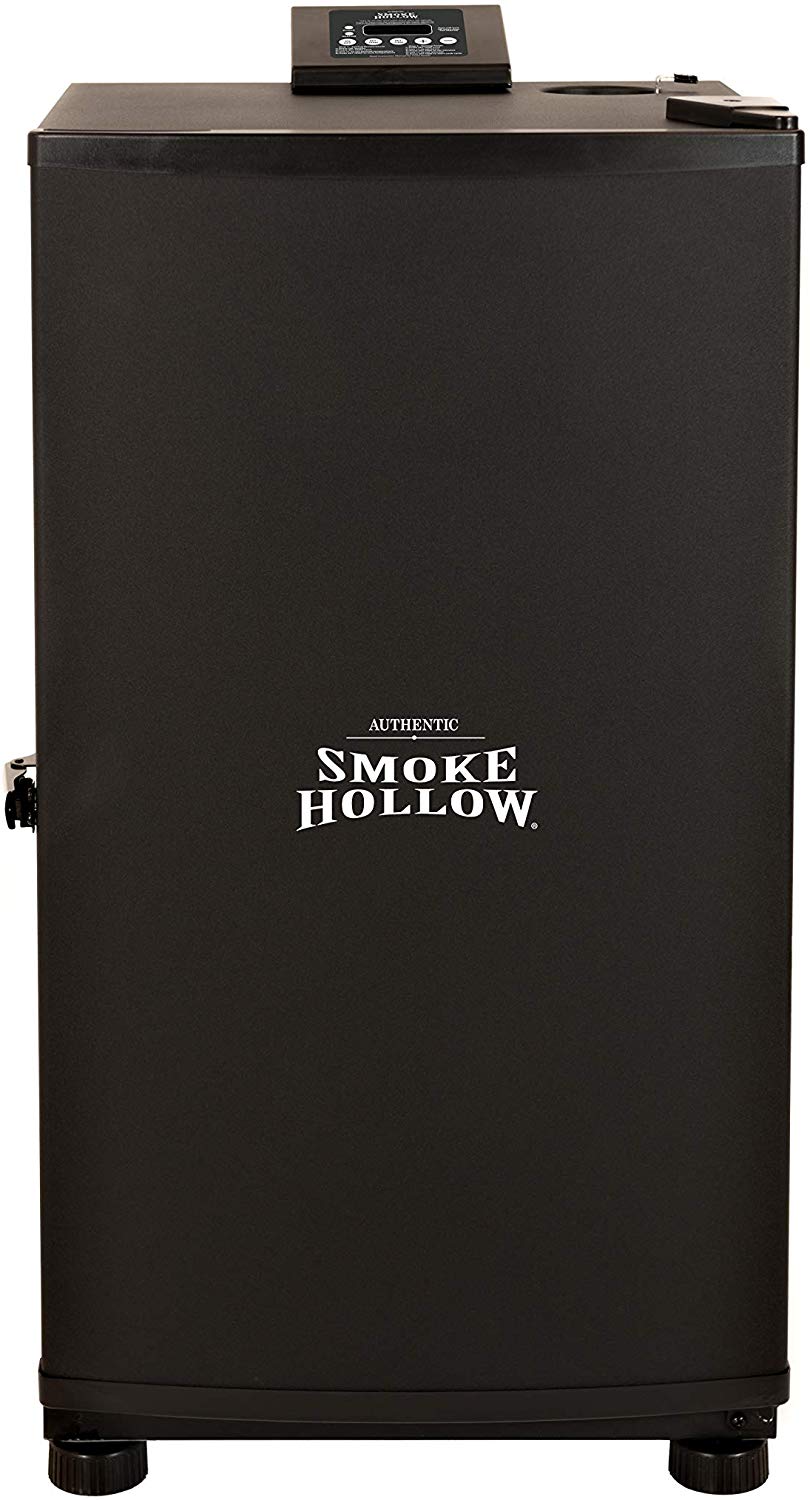 Let's kick things off with the product that has been awarded Amazons Choice for "electric smoker". So not only is this a cheap product at well under $200 but it is also considered one of the best overall. The reviews however are a bit more polarizing, people either love or hate this smoker. One of the main complaints people have is about faulty control panels, whist ours was functional it did feel pretty cheap but it did what we needed it to so it's hard to knock it to much for this price.
This is a 30″ smoker so there is ample room inside, probably more room than you will ever need. There are 3 chrome coated racks inside and you could smoke enough meat in this thing to feed 30 people.
The quality of the body is pretty good and it is fully insulated, it promises even temperatures for even cooking and in our tests it produced excellent results. One problem with this smoker is that when you need to refill the wood chips you have to open the main door which obviously lets all the smoke out. This might prove problematic depending on what you are smoking, it certainly doesn't help if you want a very even cook. A side loading chip compartment would have been nice and definitely something to consider if you are looking to use this on a regular basis.
The control panel as we mentioned isn't the best but it responded to our commands and everything heated up as expected. This smoker doesn't get very hot on the outside when in use due to it's fully insulated body. This was an appreciated feature for us with kids running around. You will still want to be vigilant of children going near smokers though.
Overall this is perfect for a first time smoker, there's huge amounts of room, it's easy to use and the results are excellent.

Dyna-Glo DGO1176BDC-D Charcoal Offset Smoker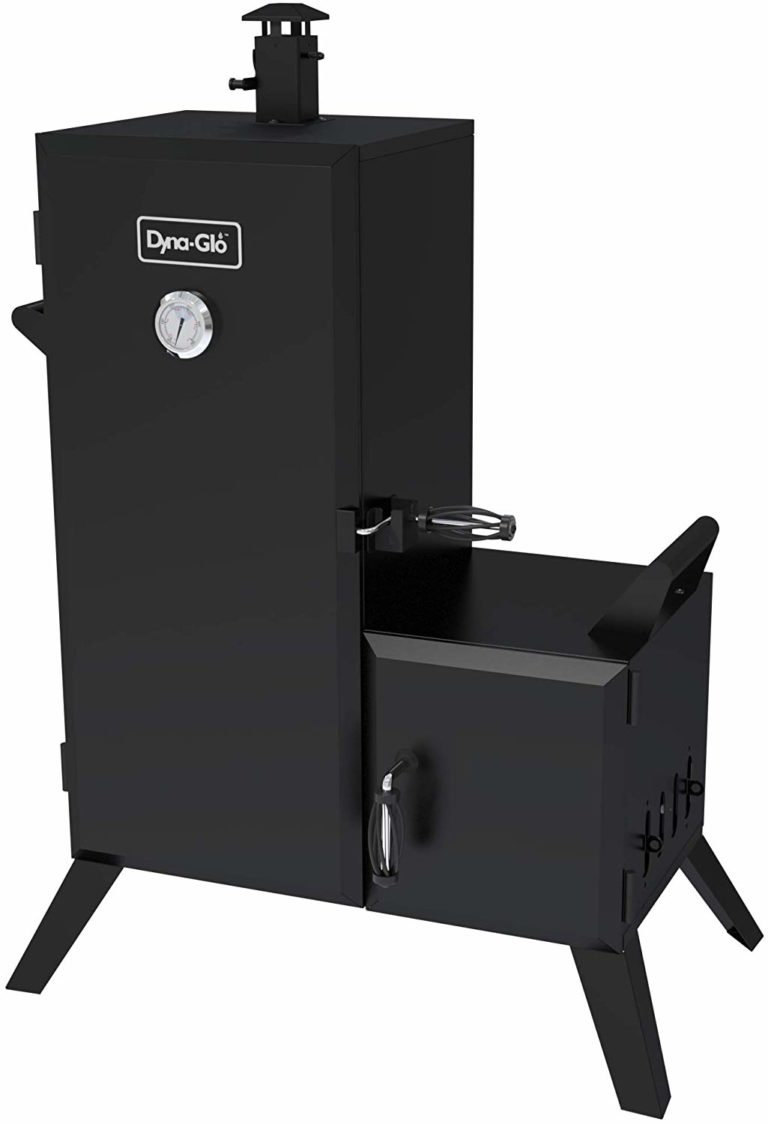 This smoker wins the Amazon choice award for all smokers so that should tell you it's pretty darn good, especially for this price range. With a nice big temperature gauge on the front door it's easy to see the status of your smoker at a glance with this model.
We love the fact that it has a side section for the wood chips. This keeps the majority of the smoke in if and when you need to stock up on wood chips. This side section is not only there to help keep smoke in but also helps to offset the heat. With all the wood burning going on in this side section the heat is more controlled in the main body of the smoker allowing the smoker to better do its job. As well as wood chips you can use charcoal with this smoker which opens up a new world of flavor, especially if you like a really smokey taste.
There are 6 adjustable cooking grates inside and plenty of room overall (1,176 square inches of cooking space) so you can smoke quite a lot of food with this. If you need more space there is a wider version too which takes the cooking space to 1,890 square inches. The wide version does take us slightly over budget though.
This smoker is heavy duty and really well built with a 15,000 BTU cast iron burner.
With this smoker being so popular there are a few guides on YouTube on little upgrades you can do with this model. They aren't needed but if you are an enthusiast it can be quite fun to make little upgrades to these smokers.


3. Cuisinart COS-244 Vertical 36″ Propane Smoker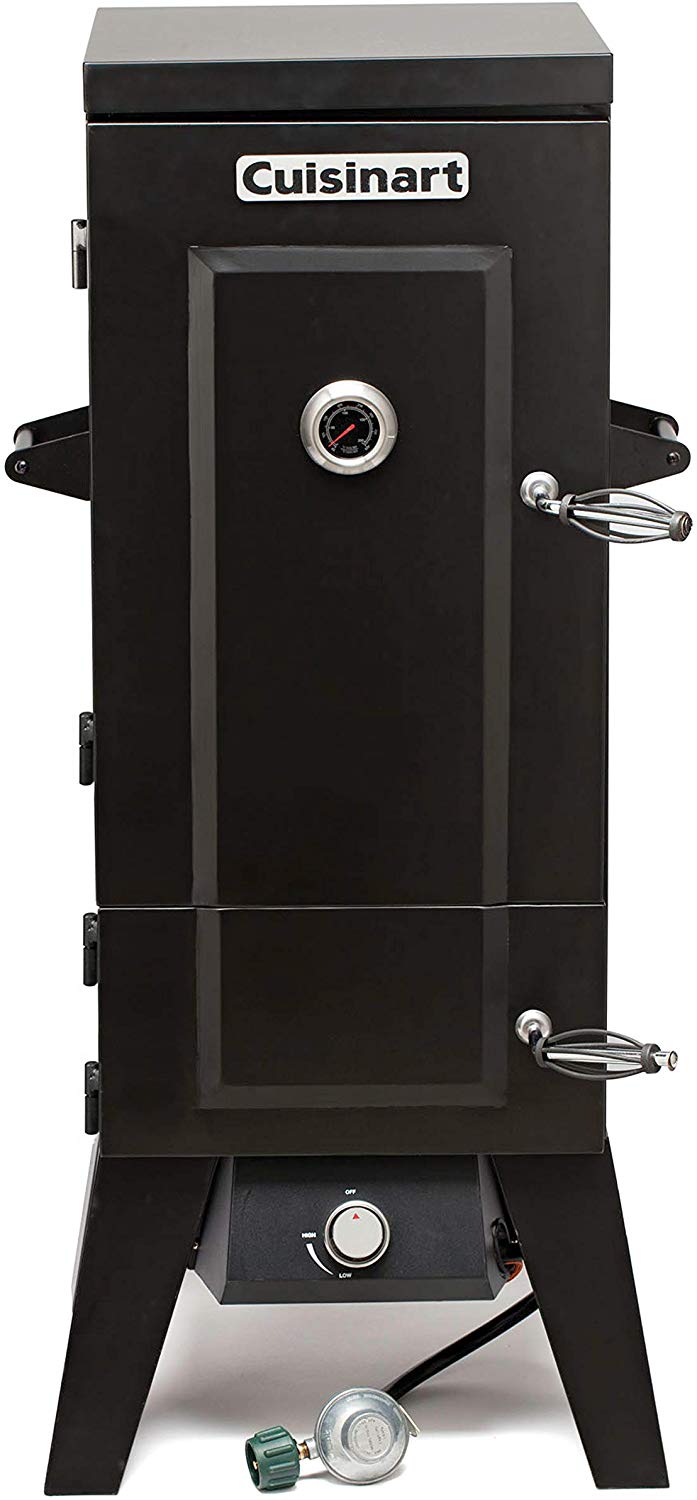 Cuisinart seem to make everything these days so it is no surprise to see their name slapped on a smoker. They always seem to have great products and this smoker is no exception. This is a propane smoker so you obviously need a propane tank to go with this one. This makes it more portable as you don't need to be hooked up to the electric to get it going. You add a few wood chips at the bottom and you are good to go. It's not really as fun as having a proper wood fire going and a lot of people will not go near a propane smoker as they want that traditional flavor and the fun that comes with it.
It definitely does make things easier though as there is no need to constantly monitor the fire which can be an all day job if you are smoking something bi.
We had to include this one on the list as it is a fine smoker that is well built and cooks food really well. As soon as you unpack this smoker you get a feel for the build quality and solid parts, it fills you with confidence straight away and the results you get from this are really great.
One of the interesting and great things about this smoker is that the wood chips never come into contact with the flame, this allows the chips to burn at a consistent temperature throughout the whole process. They also burn a lot slower as well. If you have used a more traditional smoker where the flame is in contact with the wood it can be a lot more uneven as the chips start to burn unevenly. It makes cooking times a lot harder to predict but there are no such problems here.
There are 4 ranks inside that are all removable if you want to put something large in there like a Turkey.
This smoker is great for beginners and pro smokers alike. Don't let the propane put you off as the results and experience really are excellent and it's a lot easier to use and maintain.


4. Char-Broil Analog Electric Smoker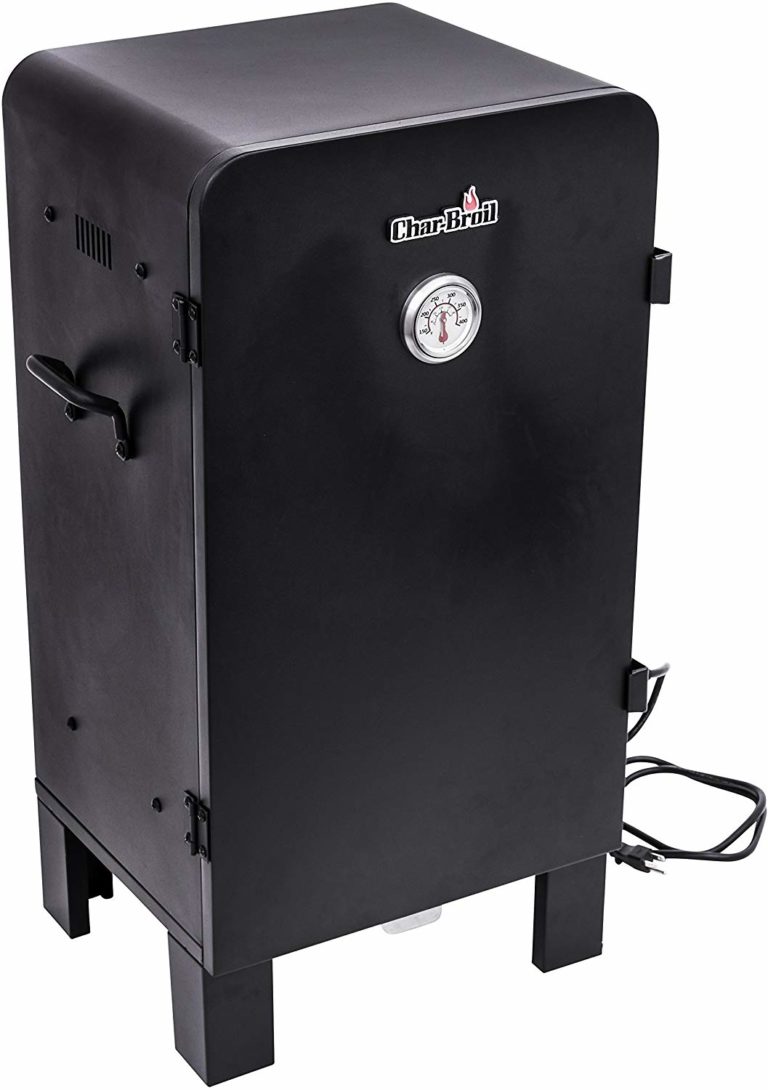 A simple but solid electric smoker from Char-Broil. Obviously with it being electric means it's not as portable as some smokers but it does mean it's ready to go at a moments notice.
It's pretty spacious inside too. There is room for 4 cooking racks but for some reason it only comes with 3, you can buy another one separately if you wish. Seems a bit odd to us but an extra rack is pretty cheap if you need it.
There is no side loader here though I am afraid so you do have to open the main door to reload on chips which is a little annoying. The temperature recovers quickly though so it's not too much of a worry. The wood chip tray could do with being a little bigger and refills are needed more often than some of the other smokers on this list but more general use it isn't a deal breaker.
It's not as big as some of the others but it still has a 544 square inch capacity and that is a lot of food space.
There is a water pan at the bottom which prevents your meat from drying out, it helps to keep it juicy on the inside which is great. The food we cooked in this came out great. There is also a drip tray at the bottom which makes clean up a breeze. Any drips from the meat are caught in this removable tray which you can then easily wash and replace it when done. Little features like this are definitely welcome.
Overall a great little smoker that will not disappoint.

Conclusion
So there aren't loads of options in this price range but the value for money is really high with all these smokers. You can of course spend a lot more but if you are just getting started with smoking then I would advise picking one of the above or keeping it around the $200 mark. Even enthusiasts will appreciate these smokers as they all do a fantastic job at cooking food.
We definitely prefer smokers with a separate place to load wood chips as you don't really want to be opening up the main door. It doesn't really affect the overall cook but it's nice to keep the smoke inside an it makes it a lot cleaner job when you don't have to.
One of the major decisions to make is whether you want wood, charcoal, electric or propane. Propane and electric definitely have the advantage of even performance and ease of use but for a traditional smoker experience get a wood or charcoal burner. For me it's part of the charm and fun of smoking food.
Overall I really loved the Dyna-Glo DGO1176BDC-D with it's side loading section, great build quality and the fact it allowed me to use charcoal as well as wood. It was a stand out performer for me but they were all great and it's really hard to pick an overall winner, it really depends what you want from your smoking experience.
Let us know in the comments which smoker you have and what you think of it.