Plastic getting into our drinking water is becoming a concern. There is a lot of research being carried out as to its affects on the human body. Obviously some plastics are worse than other depending on what chemicals have been used to make them but it's far healthier and safer to eliminate plastic altogether.
A kettles are designed to boil water they obviously get very hot on the inside. Over time this heat can cause the plastic to break down and allow small amounts of plastic to get into our water. We want to avoid this so we are going to look at the best electric kettles without a plastic interior.
This Secura model has a double-wall insulation design meaning the outer surface stays completely cool even when the water is boiling inside. Ideal if you have children. The most important feature is that it has a 100% stainless steel interior. It is BPA-free and has no plastic in contact with the water so you can confidently enjoy safe and pure water.
The design isn't exactly anything special but it does come in a range of vibrant colors.
It is made with premium 18/10 stainless steel and even has a stainless steel filter on the inside to make sure the water is as pure as possible.
Fast boiling with an easy on/off switch. This kettle also auto shuts off when it reaches boiling point. It boils very quickly even when full.
This kettle also lifts away from a corded base for easy use around the home and kitchen. It holds a lot of water and has Amazon reviewers are overwhelmingly positive about this product.


Absolutely no water contacts plastic with this one so perfect for our plastic-free list!
We love the design of this kettle, the exterior is really sleek and stylish and it comes in black and red. Like all the kettles on this list, the lack of a window is a little frustrating as you can't see how much water is in the kettle without opening it however to be completely plastic-free this is just something you have to accept.
This kettle uses a British Strix control Water Boiler. This unique design means the kettle can have a completely flat bottom. This is great because it means it ensures dry cooking protection. It also has an automatic shut off as expected. The patented Strix design is also one of the most accurate when it comes to temperature meaning you get a great tasting cup of tea or coffee every time.
The double insulated design also means the outside remains completely cool to the touch even right after use. This is a superb kettle and one you should give great consideration to.

This kettle has a 100% stainless steel interior. So it is exactly what we are looking for from that point of view. It also has a stainless steel spout and lid so there is no chance of our water becoming contaminated with plastics.
Like all good tea kettles it has an easy on/off switch and will automatically shut off when the water reaches boiling.
The base is corded but the kettle itself is not so you aren't tied to using the kettle near the plug. You can boil your water and carry it anywhere you need.
It takes about 4 minutes to boil water when completely full but can you can save time and energy but only filling it up with the amount of water you need. The kettle is well insulated so the water stays hot for a long time afterward.
The kettle does have some plastic parts but the parts that come into contact with the water are 100% stainless steel.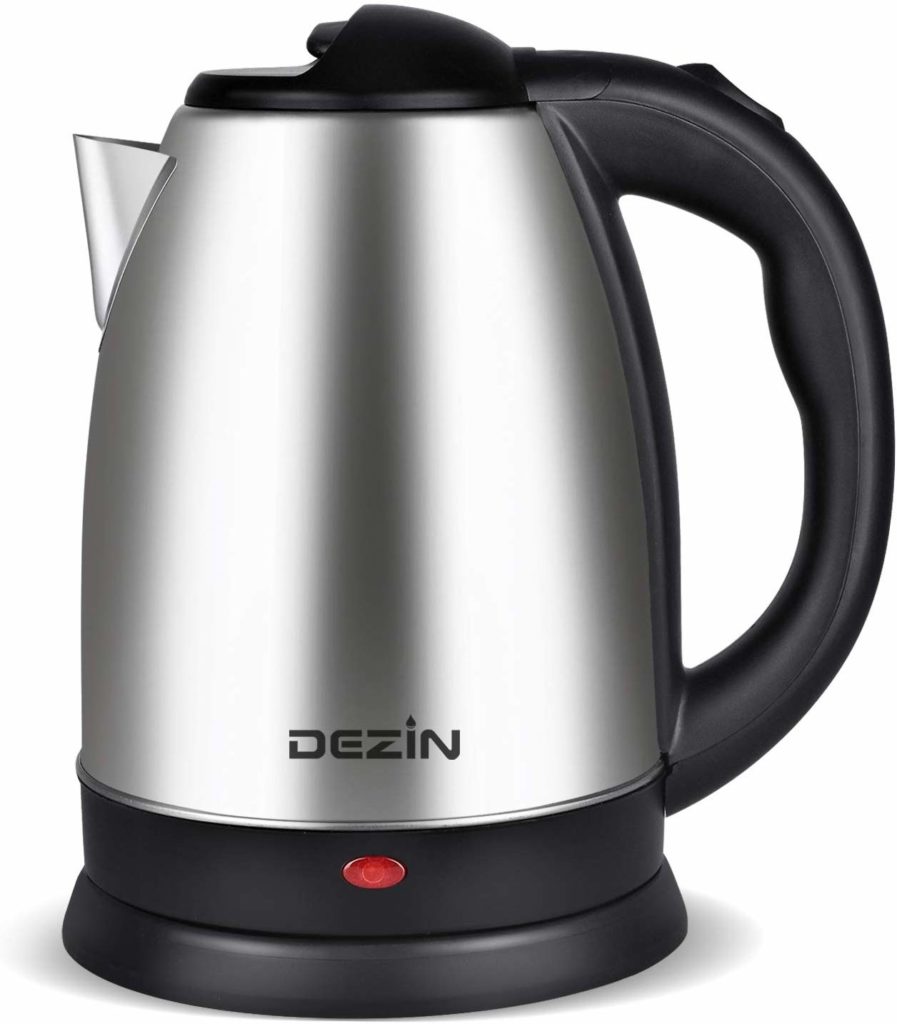 This large capacity kettle is perfect if you often make tea for larger groups. Despite its large size it is very quick to boil.
It is 100% stainless steel on the interior and no plastic ever comes into contact with the water. It features many safety features like auto shut off, dry boil protection, heat resistant handle and a safety locking lid.
This kettle is one of the quietest kettles on the market not that we have ever found the noise of another kettle bothersome but it's a nice feature all the same!
It has a money back guarantee so if you aren't happy you can return no questions asked. This kettle is very good value and is one of the cheapest on our list. The only thing we don't like about it is the oversized logo on the side.

This kettle comes in a black and white finish but of course has a 100% stainless steel interior. It also has a BPA free exterior which stays cool to the touch even after boiling.
At 1.5L it is one of the smaller kettles on our list but it still holds enough water to make 4 or 5 cups at a time.
It is very quick to boil and only the base is corded for cordless convenience. It brings water to a rolling boil so you will need to shut it off when it reaches temperature.
It lacks a lot of the features of the other kettles on the list so it wouldn't be our first choice but still a nice kettle.


Conclusion
These are probably the best 5 no plastic kettles you can buy right now. Obviously the exteriors feature plastic but as long as there is no contact with the water then we consider them safe from plastic contamination. If you are looking for a completely plastic free solution then you may need to look at a cook top kettle. Plastic is an essential safety feature on electric kettles as it provides insulation from electric shock.
We have put together a list of the best induction compatible kettles which you may wish to consider if you are looking for one for the stove top.
All of the kettles on our list have excellent reviews on Amazon and any would be a good choice. We would look for one with auto shut off and a corded base.
The best value kettle is number 4 on the list but our favorite was definitely number 1, the Secura. We loved the various color selections and it had all the features a good kettle should.
Have you got one of the kettles on our list or have you spotted one we have missed. Let us know in the comments.