Peeling fruit and vegetables is one of those things we take for granted but for some people, it can be hard work. Senior citizens can struggle with this job. Fortunately, there are a few products on the market that can make the task a little easier.
So we decided to take a look at some of the best products out there that can help us peel potatoes, apples and other fruit and vegetables with ease.
1. Starfrit Rotato Express 2.0 + 6 Replacement Blades | Updated 2017 Model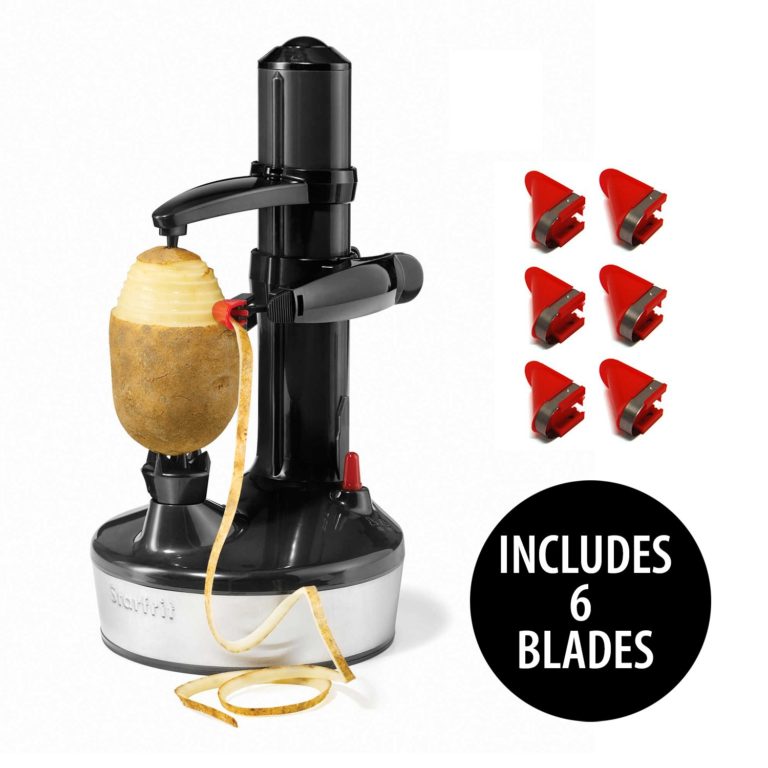 This product is the current holder of the prestigious Amazon's Choice award for "electric vegetable peeler". So straight away we know it's a good product.
It comes with 6 replacement blades so you won't have to buy any replacements for a while. Each blade will last a good few months depending on use. Occasional use will see a blade last as long as a year. Further replacements are not expensive, you can get a pack of 4 here for a low price.
As you can probably tell from the image there is no human interaction required once you have placed the vegetable on the device. It rotates and peels for you at the touch of a button.
It's incredibly quick as well, much quicker than anyone could do it the old fashioned way with a handheld peeler. So even if you don't have any issues peeling yourself these are an incredible product to have around the kitchen.
It uses a 6V power supply so you don't have to worry about the batteries running out. Handily though you can use it with batteries as well so if you need to take this with you on vacation or use it in an RV it is ideal.
It keeps waste to a minimum when peeling and produces less mess than a hand peeler too. This is an incredible product that we think should be pride of place in every kitchen!

2. Inkach Electric Vegetable Peeler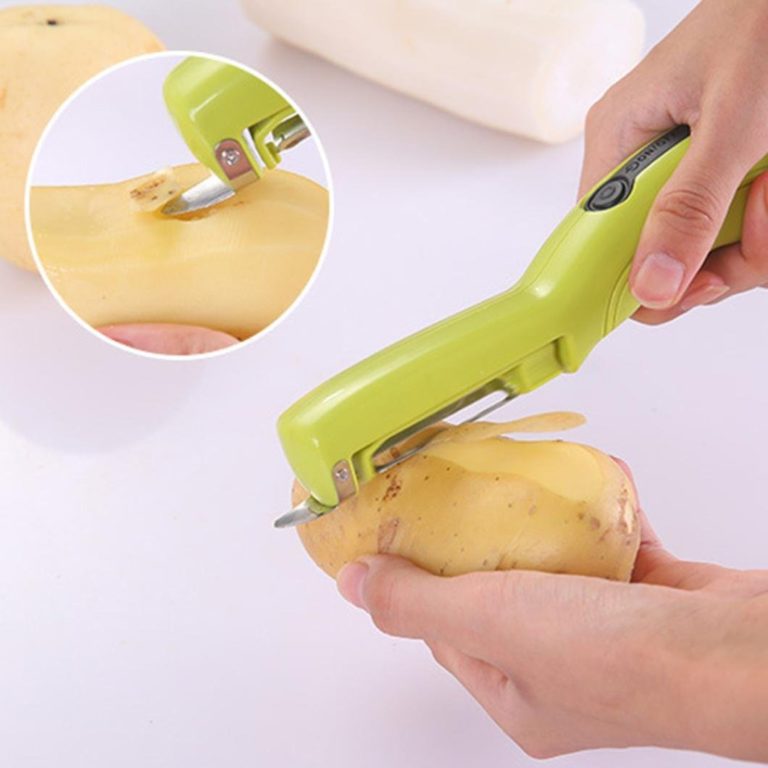 This one is a bit different to the Strafrit because you do have to be able to hold the peeler and move it over the surface of the vegetable. The blade moves quickly from side to side and it makes peeling really easy gliding through potato and apple skins with ease.  This one is probably going to be no good for older hands but it is a really cheap option for anyone else who wants to make peeling a little bit easier and quicker.
It takes 2 AA batteries so you will need some spares to hand in case they run out. Although it can be used as a regular peeler if the batteries are dead. This one will struggle with citrus fruits like oranges and lemons so don't bother looking at this one if you need it for peeling those.
Definitely not as easy and quick as the rotating peelers but it's a very cheap option that is handy to have in the kitchen drawer for quick peeling jobs.


3. Pelamatic Orange Peeler Professional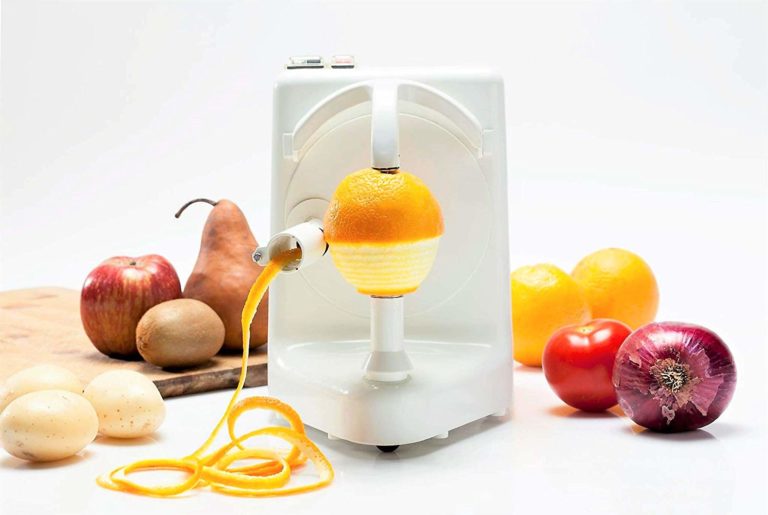 Despite the name, this product can peel much more than oranges. It does, however, excel in this area. Many peelers can struggle with the tough skins of oranges and lemons but the Pelamatic glides through them with ease.
This peeler is incredibly fast as well and you can get through a dozen apples in less than 3 minutes. Perfect if you are cooking something that requires you to do a lot of peeling beforehand. This will shave a lot of time from your preparation and you get to avoid having a sore hand and wrist later in the day.
This one is quite expensive but if you want something that can take the skin off an orange quickly and effortlessly then this the product you need to be looking at. Peeling an orange can be tough for a young person with no movement problems so you can imagine how much tougher it can be for someone with low strength in their hands. It's nearly impossible. A simple device like this can restore a little bit of independence so easily. That's why we love it so much.

4. Judge Potato Peeler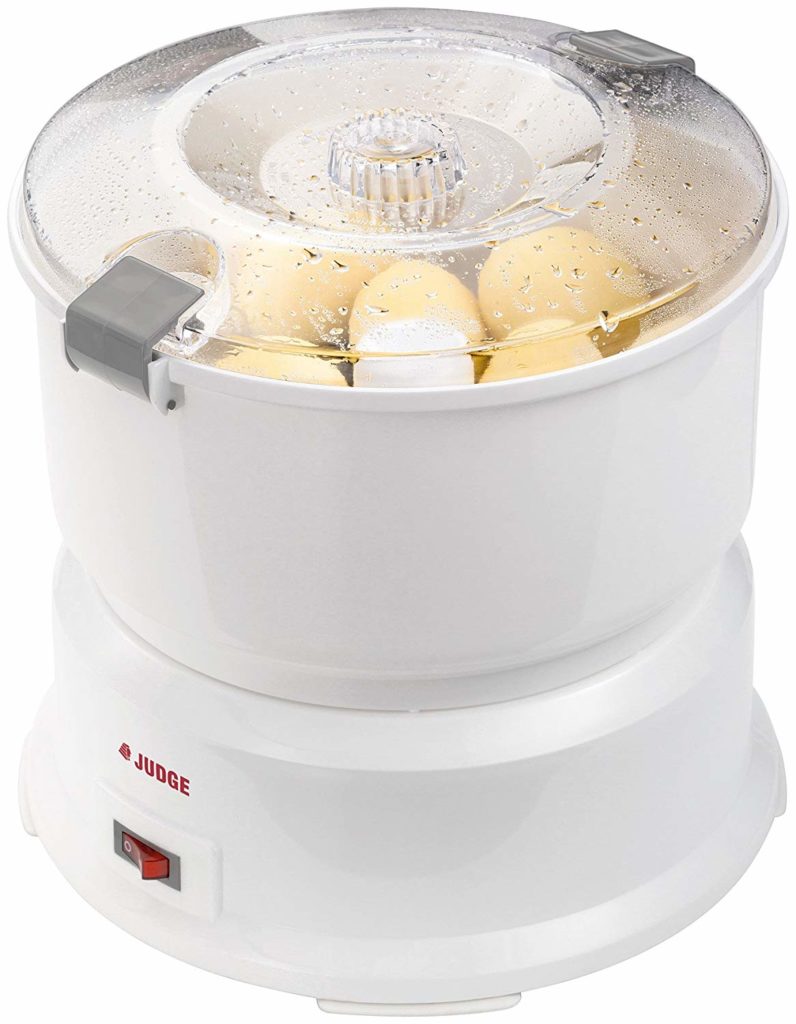 This one if specifically for potatoes so it's no good if you need to peel anything else. The great thing about this one is that you can load all your potatoes in one go and let the machine do its work.
It works by adding a small amount of water to the potatoes and then a blade at the bottom will start to rotate. The potatoes rotate with the blade and the skins come off very evenly. It is essentially scrubbing them as opposed to peeling them but it works very effectively with small potatoes. It wasn't very good with larger potatoes though unfortunately.
These products are more popular in Europe and this is actually a European import so you will need a step down transformer to go with this. That adds to the cost a little bit.
Great with small to medium sized potatoes but a bit rubbish with everything else.
5. Dash DAP001GR Rapid Electric Potato Peeler Tool + Fruit Skinner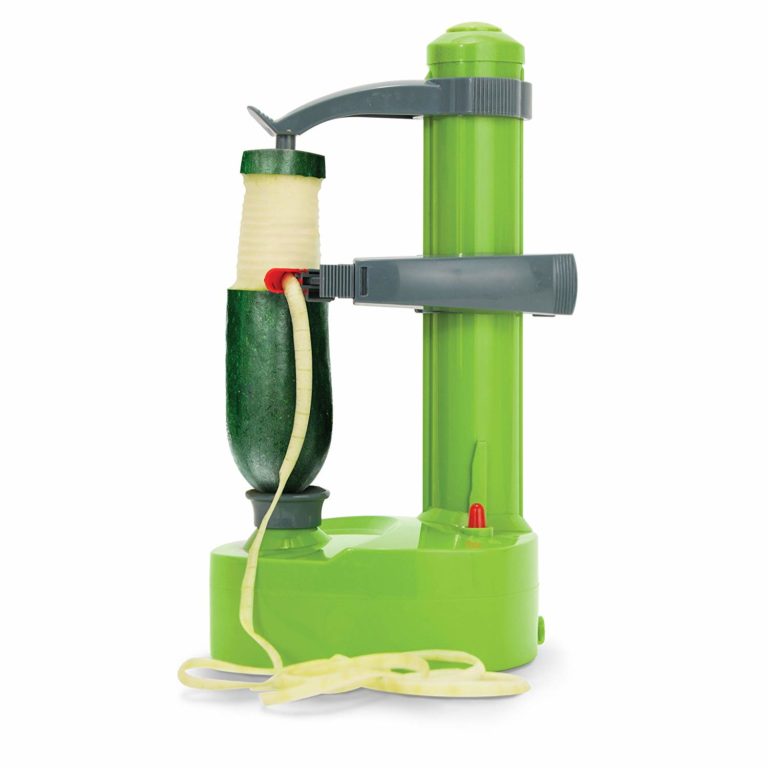 Very similar to the Starfrit Rotato in design and functionality. This one is a bit cheaper and only comes with 2 replacement blades.
It's made by Dash and is called Rapid so you might not be surprised to learn that this peeler is fairly quick! It makes short work of any fruit or vegetable you give it. These rotating models are quite hypnotic to watch as a long stream of skin is peeled from the fruit. It's very satisfying.
This one comes in 4 different colors, we love it when companies bother to do this. The colors available are Aqua, Green, Red, and White.
It comes with an AC adapter but you can use this one with 4 x AA batteries as well.
It comes with a 1 year manufacturer warranty and the plastic used on the device is BPA free. There's a handy storage compartment in the bottom of the device for storing your spare blades. A bit of bargain at this price but if we had to pick between this and the Starfit (number 1 on this list) we would go with the Starfrit. Just felt a little bit higher in quality and the extra spare blades are a bonus.

Conclusion
Although there are many different peelers to choose from the stand out performer was the Starfrit Rotato that features at number 1 on this list. It was fast, durable and did the job we expected of it. The blades last ages and it's very easy to use.
For anyone with older hands/wrists then this is the best option.
The Inkach works well and is very cheap but it is no good if you have trouble with your hands. However for everyone else it is a great little item to have in your kitchen drawer as it makes peeling so much easier. If you are going to be doing a lot of peeling though go for the Starfrit, you won't be disappointed.
The Pelamatic orange peeler is also excellent and can peel just about anything but it is very expensive for a peeler.
Let us know in the comments below if you have an electric peeler and if so, which one you decided to buy and what you think of it.