We love oatmeal! It's quick and easy to make, especially with an oatmeal cooker, and it's super tasty. Oatmeal cookers are essentially rice cookers but there are so many rice cookers on the market now that it can almost be impossible to know which is the best to buy for cooking oatmeal. Luckily quite a few of them have started to include settings and features for making great oatmeal so let's take a look at some of the very best currently available.
Article updated November 2022
1. Rapid Oatmeal Cooker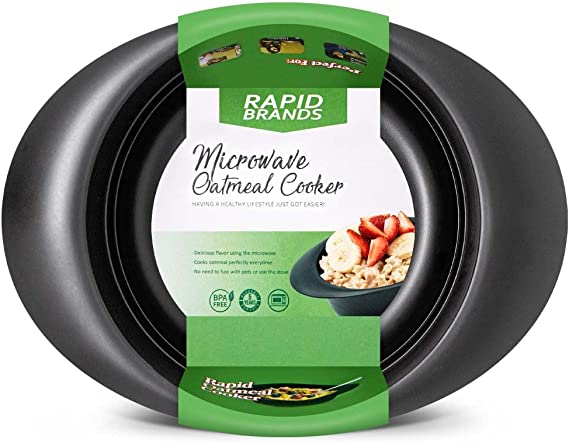 Let's get started with the most simple option. It's almost the cheapest by far. Fancy electronic cookers like the ones below are great and have a ton of features but let's face it, Oatmeal is a pretty simple dish and you may not want another device taking up a load of space in your kitchen. Obviously a dedicated cooker will do far more than Oatmeal as they can do rice, grains, vegetables and tons of other stuff. If, however you are just looking to cook some oatmeal then look no further than this. Perfect oats in 2 minutes with this microwavable dish.
It's BPA free so no nasty chemicals are going into your food when it's cooking. It's dishwasher safe so incredibly easy to clean up.
You can't make oatmeal faster and it comes out perfect every time. All you have to do is fill the container up to the marked line with oats or instant packets. Then add water to the top up line and finally put it in the microwave for one minute and thirty seconds. Once it comes out you give it a stir and you have perfectly cooked oatmeal. Did we mention how easy this was? This is a must have for students living in dorms.
2. ICOOK 5-Cup Uncooked 10 Cup Cooked Rice Cooker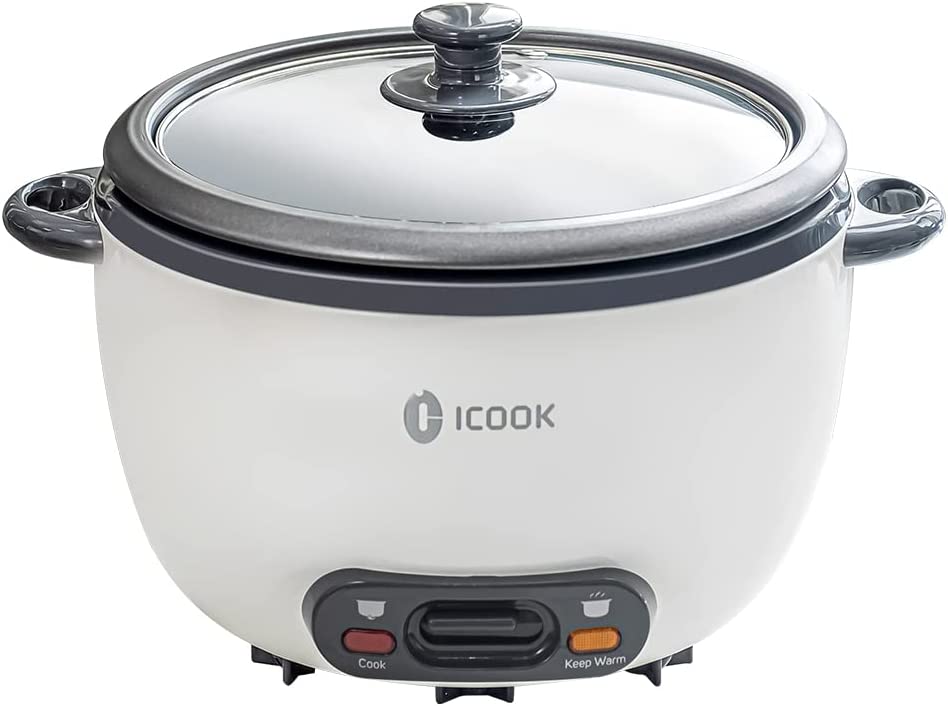 This is a very simple product but it's also a very popular one. There aren't a ton of options here but this rice cooker is a lovely little oatmeal cooker.
This is a two function device with options for cook and keep warm. So there are no complicated programs to go through, you just put your ingredients in the pot and hit the on button. There is a removable non stick pot that is also dishwasher safe. Ideal for those of us that don't like washing up!
It comes with a measuring cup and spoon. Once you get the hang of how much oatmeal to use and how long to cook it for you will be good to go. There is a always a little bit of experimentation with devices like this to get the food 'just right' but the process is worth the effort as then it will be 'just right' every single time.
The tempered glass lid allows you to keep an eye on the contents as they cook.
There are a ton of great reviews for this product which you can read about yourself by clicking the button below. The only negative with this one is that it is a bit plain looking so we like to keep it stored away in the cupboard when not in use. This by no means diminishes from the main purpose of the device though. It makes great rice and lovely oatmeal. Pretty good option for those on a budget too. Although still not as cheap as the Rapid Oatmeal Cooker!
3. Aroma Housewares ARC-5000SB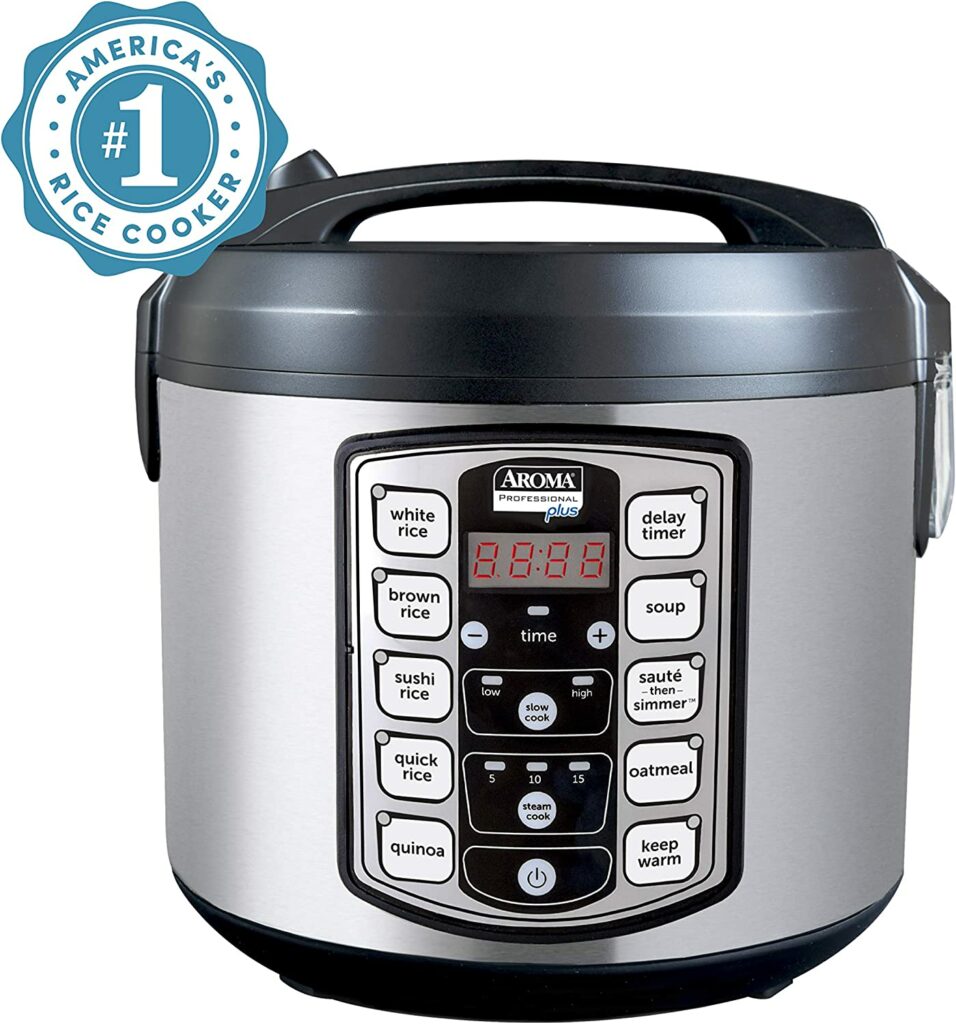 This model from Aroma is one of the best selling rice cookers on the market and they even advertise this one as "America's #1 Rice Cooker". The previous model in this range used to come in a range of colours but unfortunately this one only comes in silver at this time.
Much like an Instant Pot this device can do so much more than oatmeal but it does have a special setting for oatmeal making this an excellent choice for our list. Although there is no steel cut option.
This is a 10 cup(uncooked) model so we are going bigger again. With this being a larger device it has even more versatility than the others on the list, for example you can cook a small chicken in this if you like.
Again the inner pot is non stick and removes for easy clean up in the dishwasher. The lid on this one isn't clear so you can't peek in and see how things are going, of course the machine knows when the oats are done cooking and will shut off or go into keep warm mode meaning that your oats are ready when you are. This is really handy feature for people who are busy on a morning, you can turn the cooker on and come back to perfect oats waiting to be eaten.
Really versatile and very competitively priced. Definitely worth a look.
4. Zojirushi NP-GBC05XT Induction Heating System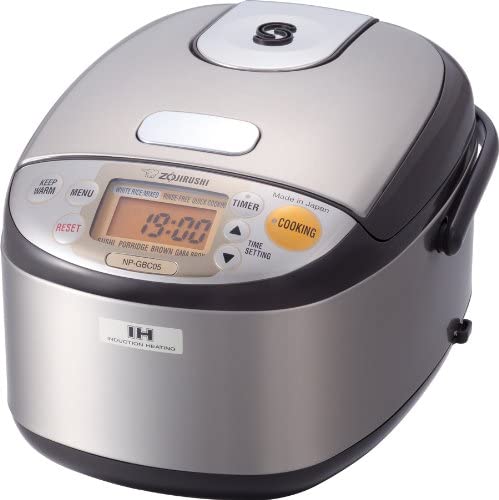 Stepping it up a bit now both in terms of cost but don't let that put you off as this is one of the best rice cookers out there. We've talked about Zojirushi products on this site many times in the past and they always review really well. They are really well made devices and they make some of the best rice cookers in the world.
This is a 3 cup model and it comes with a range of automatic settings for various foods. These include: white/mixed rice, sushi, porridge (oatmeal), brown rice, GABA brown rice. Like the Hamilton Beach model it comes with a nice handle on which comes in handy at serving time. The power cord detaches as well so you don't have to trail that to the table.
The inner pot is removable for easy cleaning.
This model has 2 settings for a delayed start time so you can prepare your oats in advance and have the machine start cooking at the perfect time for you. When it is finished it will automatically switch to keep warm mode too. Although there is no setting for steel cut oats this will cook those perfectly you will just need to experiment with the ratio of oats to water. We found that using a 1:4 ratio of oats to water was pretty good. This model comes with a measuring cup, we filled that half full and it worked out really well.
There are also measurements on the inside of the inner pot which is a handy and often overlooked feature on many of these electronic rice cookers. It's such a simple thing to include but comes in so handy when cooking.
Overall this is a superb oatmeal cooker and whilst it is more expensive than the others on this list the quality is really high. This device should last you many years and is probably worth the investment if you are looking for something high quality.
Conclusion
As there are so many great rice/oatmeal cookers on the market you will have a ton of choice when coming to pick one. If you already have a rice cooker in your house then you will be able to make oatmeal in it, you will need some trial and error experiments to get the best result though. If you are in the market for a specialized oatmeal cooker then any of the above on the list will do a great job. Depending on your budget and what else you want to use the cooker for will ultimately determine your decision.
Let us know in the comments which oatmeal cooker you have and what you think of it. Do you think you have the best model?