A lot of cookware is made in China these days and finding cookware that is made in America is becoming more and more difficult. Fortunately, there are still some great companies out there that are producing high-quality cookware right here in the USA.
We thought we would celebrate the great products we make by taking a look at some of the best products available. Of course, buying American helps boost our economy and keep local people in jobs. So let's get going!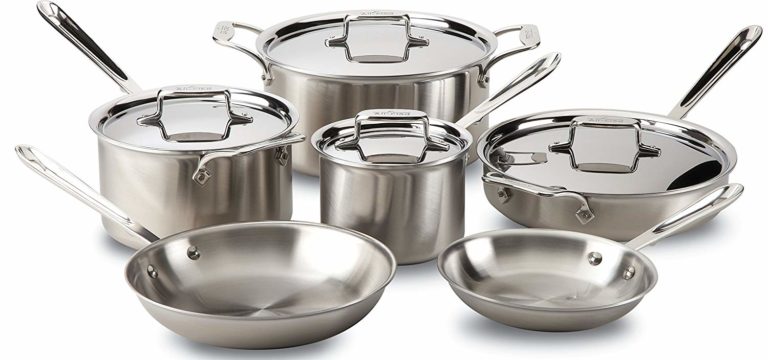 All-Clad are one of the great American cookware manufacturers. We have talked about All-Clad many times on the website as they are definitely one of our favorite manufacturers. ALl-Clad are producing some of the finest cookware in the world. Their founder John Ulam perfected the metal bonding process over many years and won a contract with the U.S Mint to produce dimes, quarters and half-dollars. In 1971 he established All-Clad and used his expertise in metals to start creating professional quality cookware. Today, all All-Clad cookware is still handcrafted in Canonsburg, Pennsylvania using the same traditional methods.
The D5 set is one of their very finest sets using 5-play bonded stainless steel and aluminum to create a pan that heats evenly, quickly whilst having warp free strength. It is highly polished to look incredible but also gives the cookware a fantastic stick resistant surface without the use of chemicals. It's very easy to clean and the materials used will not react with food in any way.
These pans are highly sought after by professional chefs all over the world.
This is a 10 piece set but it is also available in 5, 7 and 14 pieces sets. This set includes 8" and 10" Fry Pans, 1.5 Qt. & 3 Qt. Sauce Pans with lids, 3 Qt. Saute Pan with lid, and an 8 Qt. Stockpot with lid.
It's quite expensive but the quality is unrivaled and you can expect this set to last you a lifetime. All-Clad are not just one of the finest cookware manufacturers in America but one of the finest in the world. The D5 is one of their finest sets making this one of the best cookware sets anywhere.


360 Cookware is another company that has stuck by American workers and harnessed years of experience and expertise. Bryan Hurley and his father started the company with many workers from another cookware company who had been left out of work when their jobs were moved to Asian manufacturing facilities. Together they started 360 Cookware which today produces exceptionally high quality cookware right here in America. Their products are hand crafted with care by expert craftsmen and each and every product is a matter of pride for the workers at 360.
This set uses surgical grade Stainless Steel. At 110 gauge it is one of the thickest cookware sets on the market, so as soon as you get this set in your hands you can feel the quality and craftsmanship.
This set is waterless capable which is something that 360 have become experts in over the years. Waterless cooking is a method of cooking that works by creating a sealed environment. This allows steam to build up and help cook the food. Because of the steam, heat is applied from every angle meaning faster cooking. This means less energy and less time is needed to cook. It also traps in flavor and nutrients that would otherwise be lost.
360 Cookware is super high quality and you can expect a set like this to last a lifetime if looked after properly. It comes with a lifetime warranty and 360's motto "The Last Cookware You Will Ever Buy."
360 Cookware is manufactured in West Bend, Wisconsin.

USA Pan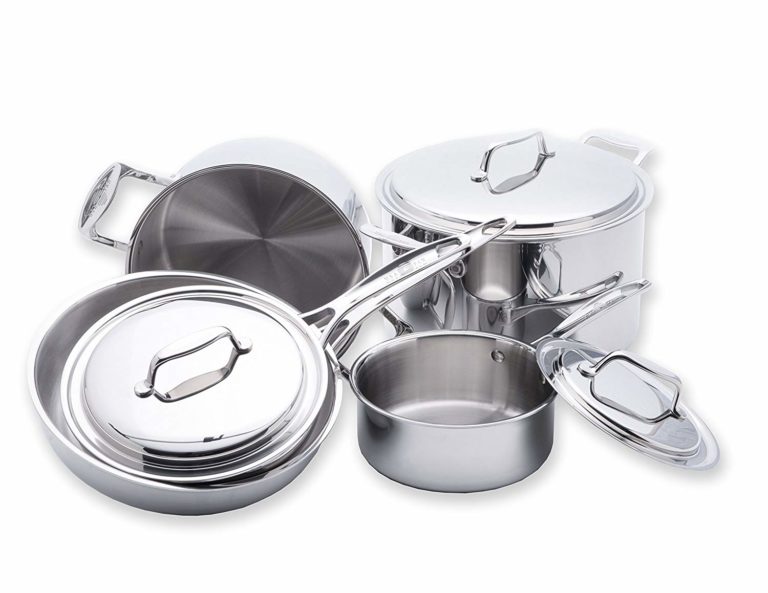 is another proud American company that still produces all of its products on U.S soil. Founded in 1959 by brothers John Sr Bundy and Russell T. Bundy, this is family run business that has grown hugely over the years. Today it is run and owned by four generations of the Bundy family out of Pittsburgh, Pennsylvania.
You can expect high quality when you buy a USA Pan and that is demonstrated perfectly in this beautiful set.
Like the 360 set is this cookware is capable of waterless cooking which as we know gives healthly, energy efficient cooking. As well as giving much faster cooking times than non waterless cookware. With waterless you don't need to use any oil or grease in your cooking so it's ideal if you are looking to make your cooking more healthy.
These pans are dishwasher safe but as always we recommend hand washing your cookware to keep it looking great for longer. They are induction compatible too so you won't need an induction converter with these pans.
Set includes a 7-inch sauce pan, a 4 Qt. stock pot with cover, an 8 Qt. stock pot with cover, an 8-inch skillet, and a 10-inch skillet.
This set is hand polished to achieve its extraordinary shine. USA Pan say that every pan in this set goes through an 18 step process to ensure the highest quality. This is a company that uses expert craftsmen making products by hand. The attention to detail is amazing and this company prides itself on that.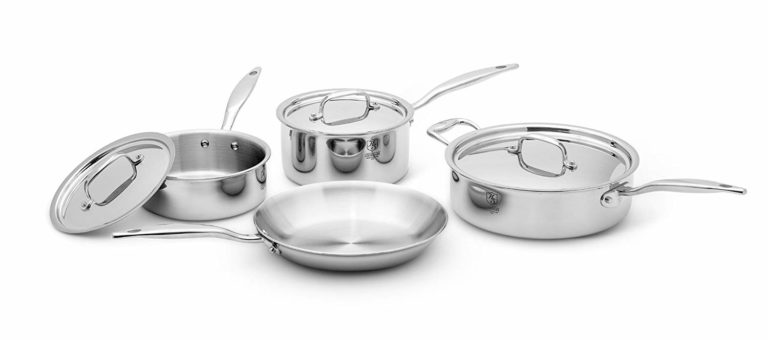 Hammer Stahl is part of the Heritage Steel family. New Era acquired Hammer Stahl Cutlery in 2008 and later started producing cookware using the German steel and manufacturing process that they had used to produce Hammer Stahl cutlery. In 2019 New Era and Hammer Stahl consolidated under the Heritage Steel brand. The history of these companies is a long one but today Heritage Steel produces their Hammer Stahl cookware in Clarksville, Tennessee. Using expert American craftsmen with years and years of experience, Heritage Steel are producing first-class cookware.
This is an incredible 7-ply set giving the pans a remarkable construction quality. It has superb heat conduction which is even and fast making for a great cooking experience. The handles are 'stay cool hollow handles' that are also designed around your hands and the weight of the pan, so handling these pans feels great.
This set includes a 2-qt saucepan with cover, 3-qt saucepan with cover, 4-qt deep saute pan with cover and a 10.5-inch fry pan. All the pans are induction ready too.
The 7 layers of metal go right throughout the pan and not just the base. This means that you get even heat from all side of the pan. The cooking surface layer is actually a 'titanium-stabilized 316Ti steel' that is better at resisting corrosion than regular 300 stainless steel. It also claims that because of this 316Ti steel that the cooking surface is more inert than other pans leading to a cleaner authentic flavor in your food.
This is a fantastic set.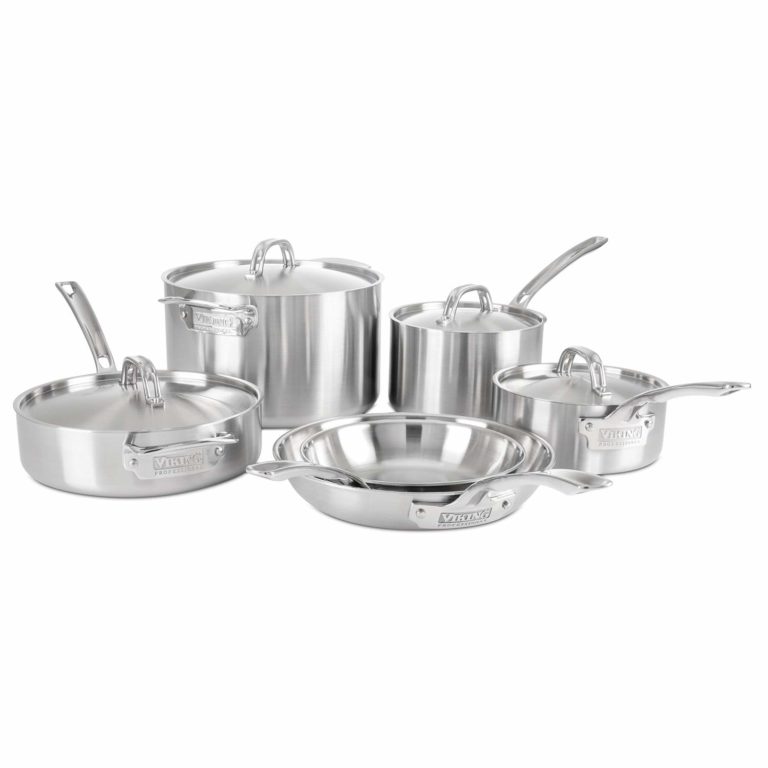 Viking was founded by Fred Carl Jr in 1987 and they operate out of Greenwood, Mississippi. in 2013 Viking was purchased by the Middleby Corporation. The Middleby Corporation is a large American company who own dozens of commercial cookware brands from all over the world. I was unable to determine if all Viking Cookware is still made in America but this and many of their other sets definitely are. They are clearly marked on the base with Made in the USA and are produced by expert craftsmen in their Mississipi headquarters. In 2016 Viking was voted the best place to work in Mississippi
This set includes 8 inch and 10 inch fry pans, 2-qt and 3-qt saucepans with lids, an 8-qt stockpot with lid and a 3.4-qt sauté pan with lid.
Built with 5-ply construction this set feels sturdy and solid in your hand. The quality is obvious as soon as you get hold of them. They are oven and broiler safe up to 600°F, which is 100 degrees more than most of the pans on this list, that tells you how well constructed these pans are. Like most 5-ply pans these are 2 layers of stainless steel sandwiching a triple-core of aluminum alloys. It's a tried and tested design that gives strength, warp resistance and great even heat distribution.
The interior of the pans have capacity markings on them meaning you won't need always measuring jug to hand when using these pans. It's a simple but convenient feature that we miss when using other cookware. The handles stay cool when in use but as always watch out if they have been inside the oven.
Viking produces some truly remarkable cookware that is world-renowned for its quality.

Conclusion
There are still some amazing companies in the USA producing unrivaled cookware quality. Whilst many cheaper brands have moved their workforce abroad for cheaper labor and materials these companies have stuck by their American workforce and dedicated themselves to producing world-class cookware. Yes, some of these sets are quite expensive but they are still fantastic value. Any of the above sets will last you a lifetime if cared for properly. They are handmade by people with decades of experiencing utilizing modern and traditional production methods.
You will not have any regrets with any of the above choices.
There are other great American cookware companies too and we will write about those in upcoming articles. This article is focused on stainless steel sets. There are some other fantastic all American cookware companies producing cast iron, copper and other sets. Keep an eye out for our articles on those.
Let us know in the comments what cookware you use and why you love it. Got another great company from the USA that we haven't mentioned here? Let us know.