An omelet (or omelette) is one of the very first things most people learn to cook. It's such a simple dish that everyone has at some point had a go at making one. Of course, like many simple dishes, it can still be super tasty if done right! All you need is a couple of eggs, maybe a bit of seasoning and of course a decent omelet pan. The pan can make or break your omelet so choosing the right pan is essential if you are serious about cooking your eggs just right.
Let's take a look at some of the best pans available right now and then take a look at things we need to consider in our decision-making process.
1. Calphalon Triply Stainless Steel 8-Inch Omelette Fry Pan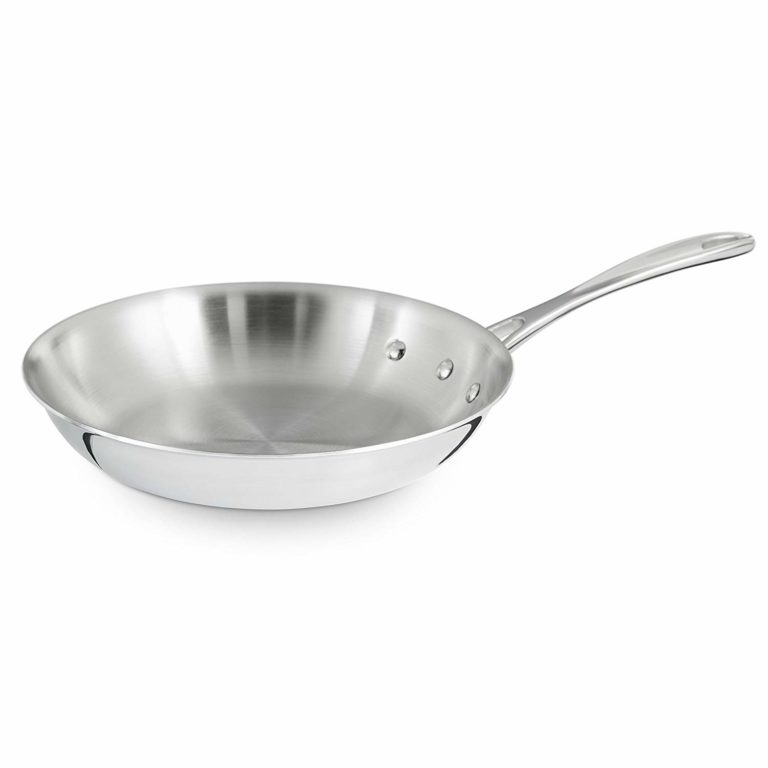 One of the main things we want from our pans when cooking eggs is even heat distribution. Eggs are so easily over or undercooked that even and consistent heat is a must. Triply pans are all about even cooking so straight away we are on the right track with this one. This pans aluminum core between 2 stainless steel layers provides even heating and therefore even cooking.
It has a nice wide bottom too so there is plenty of room to cook a decently sized omelet. Depending on your cooking style you may wish to toss or roll your omelet in the pan, the sloping sided design allows this to be done very easily.
Of course, this pan excels when cooking more than eggs. It's a superb pan and if you are looking for a good frying pan in general then you won't regret getting this.
This isn't a non-stick pan but we had absolutely no issues with food sticking to it at all.
This pan is compatible with Gas, Electric, Halogen, Ceramic and Induction stove tops. If you combine it with an induction cooktop you will get excellent results when cooking omelets because induction cooktops are great for even heat distribution. It's dishwasher safe too for an easy clean up.
Overall this is a truly superb pan and absolutely perfect for cooking omelets. It has everything we want and need to cook them perfectly. It's also one of the best selling pans on Amazon.

2. Nordic Ware Italian Frittata and Omelette Pan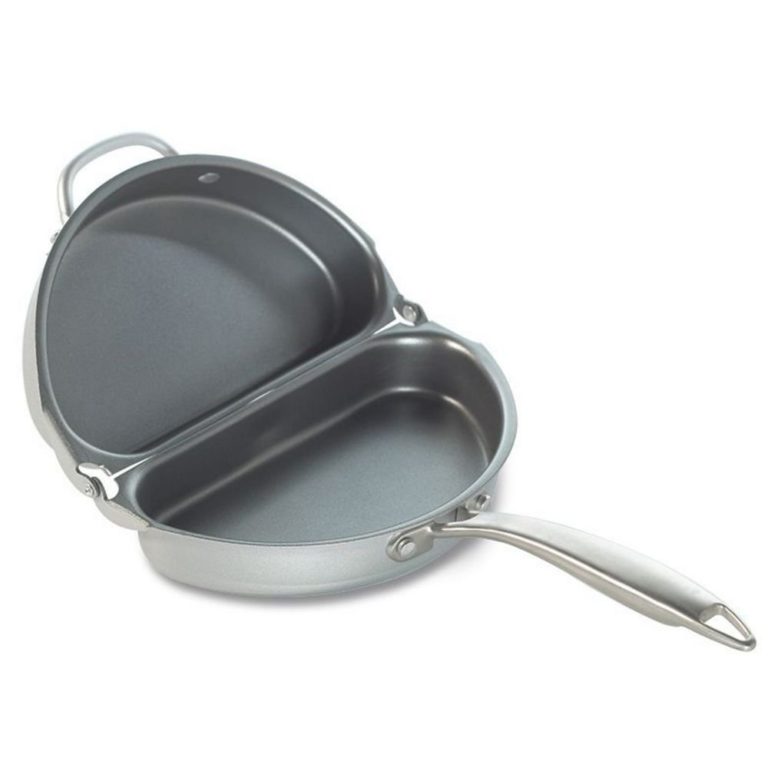 You might have seen these folding pans before and dismissed them as a gimmick. Yet another pointless product that we just don't need. However, we had to try it out for ourselves before we dismissed it and we were pleasantly surprised. In fact, this thing is pretty damn good.
If you haven't used one of these before the idea is too put your beaten eggs on both sides of the pan then when the eggs start to turn white you add your ingredients to one side and quickly close the pan up. The shape of the pan means you get consistent results in terms of appearance. You don't need to flip your omelet because we have cooked both sides separately. It takes a bit of getting used to, you have to know the best time to close the lid but once you get a feel for it you can get great results time and time again.
It still feels a bit gimmicky but we can't deny it produces good results and because of that, we had to include one of these pans on the list.
One of the main problems with this pan is that the flip handle gets really hot when you are using it. I guess this can't really be avoided due to the design but you need to keep it in mind.

3. Iwachu 410-555 Iron Omelette Pan, Medium

Check out this unique design specially made for cooking omelets. It's a Japanese design and it really is a thing of beauty. Pulling this out of the packaging had us pretty excited to start cooking eggs. Visually it looks fantastic and it feels right in your hand too. The ergonomics of this pan is something that a lot of pan manufacturers could learn from.
It's cast iron so it has a bit of weight about it but not so much that it feels cumbersome to use. You can see on the handle that they have removed any unnecessary iron to make this nicely balanced in your hand. Cast iron is, of course, great at distributing heat so you get great results generally with cast iron and omelets but this pan takes that to a new level. The sloping and curved design just makes it really easy to cook with, it's really a joy to use.
It comes pre-seasoned so you can start using it straight away but to keep it in perfect working order you will need to treat it right and give it a seasoning every now and then. It's pretty simple to do but this does put a lot of people off buying cast iron cookware.
The handle design also means it doesn't get hot! Most cast iron pans will get a really hot handle but this one somehow has avoided that issue. We love this pan.

4. TeChef – Tamagoyaki Japanese Omelette Pan/Egg Pan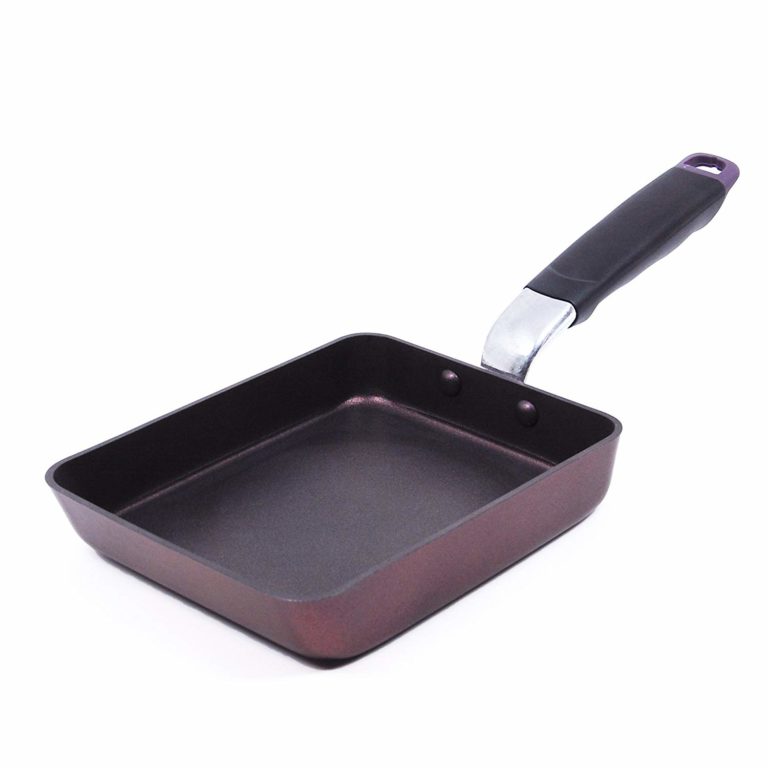 It always feels a bit weird when a pan is square but these Japanese pans are excellent. It's actually made in Korea but the design comes from Japan. Tamagoyaki pans are becoming really popular and are known for their quality as well as being great to use.
This is a non stick pan so if you are looking for a pan that is non stick then pay close attention to this one. This is a 'New Teflon' nonstick coating and it's made without using PFOA. It's known as a Dupont Teflon.
The unique sloped shape allows for easy flipping of omelets as well as other foods you might choose to cook in this.
This pan comes in two sizes, a medium which is 5.5 inches wide and a large which is 8.5 inches wide. Neither is overly heavy and both feel great in your hand. The aluminum construction and stainless-steel bottom allow for even heat distribution and nicely cooked eggs.
Most importantly they are superb at cooking eggs. The nonstick surface is excellent, just make sure you look after it to keep that nonstick surface working for a long time. We always recommend hand washing nonstick pans.
The color is "Aubergine Purple" which might be a sticking point for some but it's quite a subtle color so I wouldn't let that put you off. There are of course dozens of these Tamagoyaki pans for sale in all different colors but if you do decide to get a different one make sure it's a good brand and made with good quality materials by a decent and reputable manufacturer.

5. All-Clad BD55108NSR2 D5 Brushed 18/10 Stainless Steel 5-Ply Bonded Dishwasher Safe Nonstick Fry Pan

Firstly we have to mention the price of this one. It's pretty expensive compared to the other pans on this list but it is an All Clad pan. All Clad cookware is generally expensive and that is because the quality is beyond most other cookware on the market. All Clad cookware is superb and you definitely get what you pay for. They look great, they work great and they will last a lifetime. The fact that they come with a lifetime warranty tells you that we are not exaggerating here.
Do you need to spend this much on an omelet pan? No, you don't, but if you like top quality cookware then you have to be giving this one your full attention.
We mentioned earlier in this article about how triply is great because it gives you superbly even cooking. This pan is 5 ply. It's 5-ply bonded construction with alternating layers of stainless steel and conductive aluminum. This gives is superb strength, it won't warp no matter how long you have this. Plus you get a really really good cooking experience with even heat distribution that can't be matched.
The handle is heat resistant and like most All Clad pans it is riveted to the pan body.
This is another nonstick pan and it uses a 3 layered coating that gives you a great nonstick experience. We wouldn't say it was notably better that the TeChef for nonstick but it is a very good nonstick surface.
Oven safe up to 500 degrees F and optimized for induction. This pan is dishwasher-safe although again we recommend handwashing to maintain the nonstick surface. It comes with a limited lifetime warranty and is Made in USA.

Conclusion
We've tried to choose a variety of different styles for our list as you can probably tell. There are many other pans in these styles but these are the stand out performers. We would be hard pushed to choose one of these designs over the other but the best all-rounder is probably the Calphalon Triply. We say this because this pan is excellent for a wide range of cooking as well as being great for omelets.
The flippable omelet pans are great fun and provide surprisingly good results and as we were looking at the best pans for omelets we had to include one. However, you can't do much else with this pan. The other pans on this list will come in handy for cooking a huge range of foods. These flippable pans might be something you buy, use a couple of times and then they get relegated to the back of the cupboard.
The All Clad is, of course, excellent but it's pricey too.
Here are some things you need to consider when making your choice.
Material
The right material is essential. Eggs are easy to cook but it's also really easy to over or undercook them as we mentioned earlier. Also if you have a bad pan you can end up with some cooked parts and some raw parts. This happens because your pan isn't distributing heat evenly. A triply pan will give you the heat distribution you need to avoid this problem. A quality induction compatible pan will also see you get fantastic results and avoid a soggy omelet. Aluminum and cast iron pans are excellent for eggs.
Shape & Size
This one might come down to personal preference. If you like to make omelets that use a lot of eggs then obviously you will want a decent sized pan. That might make the Iwachu a non-starter which is a shame because it is a really good pan.
The Tamagoyaki pan comes in 2 sizes so you get the best of both worlds here. Both small and large are catered for.
There's no real benefit to having a round pan or square pan in our opinion but you need to look for one with nicely sloping sides as that makes turning your eggs a lot easier.
Durability & Maintenance
Of course when investing your money in anything you want it to last and this is especially true with cookware. The All Clad will genuinely last a lifetime if you look after it, although the nonstick surface will likely fade over time. The Iwachu is cast iron and that, of course, will also last for many many years but you need to season them regularly to keep them in great condition. None of this affects the end result with your omelet but it is worth thinking about.
Need a lid?
In our opinion, you don't need a lid to cook an omelet and that is why none of the pans on our list has a lid. Of course, you could argue the flippable pan acts as a lid. If you are planning on using your pan for other cooking then you might want to consider a pan with a lid. In that case, we can recommend the Calphalon 1932340 Classic Omelette Fry Pan. In fact, Calphalon makes a lot of really good omelet pans for some reason, maybe they are as passionate about eggs as we are!
Let us know in the comments below which omelet pan you have and why you love it.