Lately there has been quite a bit of attention around the levels of lead in our drinking mugs. Shockingly it seems to be quite a common problem and there are reports of people being sick because of it. Lead accumulates in your body so even small amounts can lead to problems over a long period of time. It is particularly important that children and pregnant women avoid lead.
Lead has been a commonly used material in ceramics for many years particularly in glazes. Using lead allows the glaze to have a smooth glass-like finish that looks really beautiful. However if it becomes corroded over time or there is a fault in the glaze it can be harmful to use. It's impossible to tell by looking at your ceramics if lead has been used, it needs to be tested by an expert (there are home testing kits for lead but they aren't designed for dishes are not reliable), however there are some common types of dish that are more likely to have used lead:
Homemade tableware
Traditional terracotta dishes made in Latin America
Antique dishes
Where decorations are on top of the glaze rather than beneath it. Raised to the touch.
Highly decorated items
A dusty or chalk like residue after washing can be an indicator of lead. You should immediately stop using any items displaying this symptom.
Drinks like coffee can be quite acidic and lead to small amounts of lead getting into your system. This isn't something that we want happening long term so when I heard about this I decided to make sure all my mugs were lead free. Lately we have been looking at the best products made in the USA so I figured I would combine this article and look for the best lead free mugs made in america.
1. Anchor Hocking Café Glass Coffee Mugs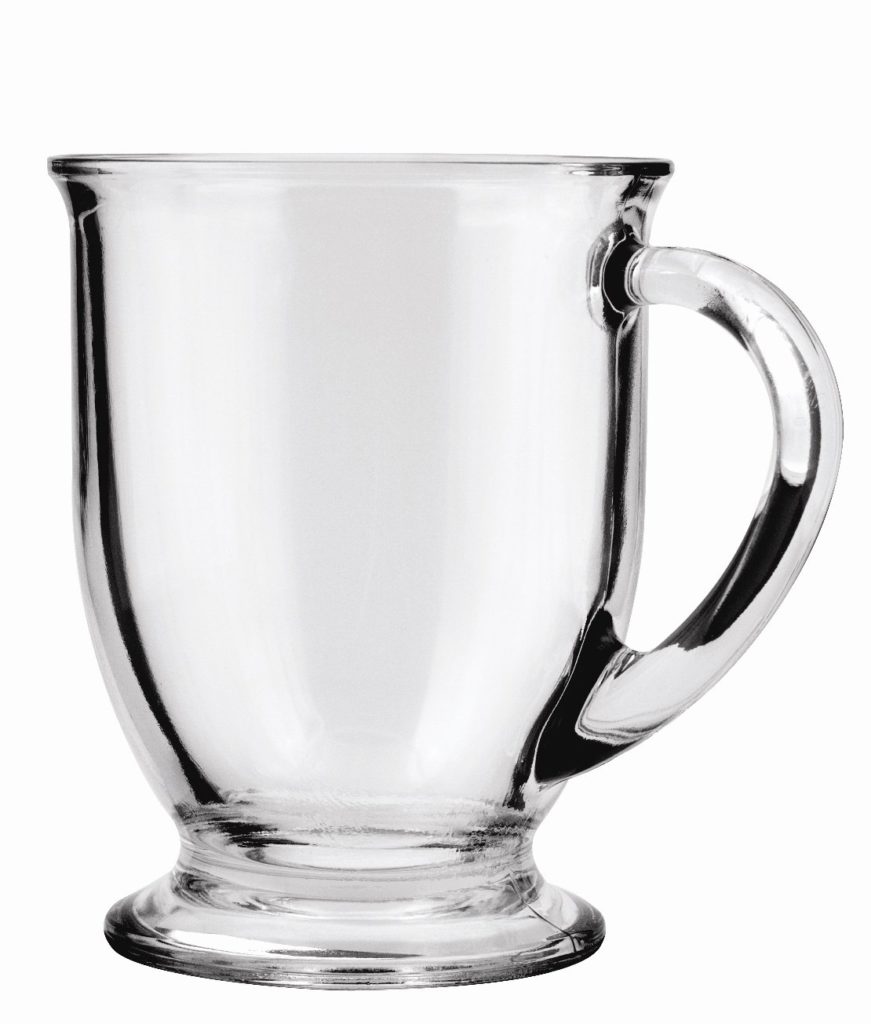 We talked a lot about Anchor Hocking in our article on the best glassware made in the USA. Anchor Hocking glass is lead free and is free chemicals. It will not leach anything into your drinks. It will also not retain smells or discolor.
These mugs are heavy at the base and have thick sides meaning they are well balanced and sturdy. They are not easily knocked over. They also have a thick handle which feels great in your hand. They are comfortable to hold for a long period of time.
They are suitable for hot or cold drinks and are safe to use in the dishwasher or microwave. Like all Anchor Hocking products they are made right here in the USA.

2. American Mug Pottery Ceramic Bistro Style Coffee Mug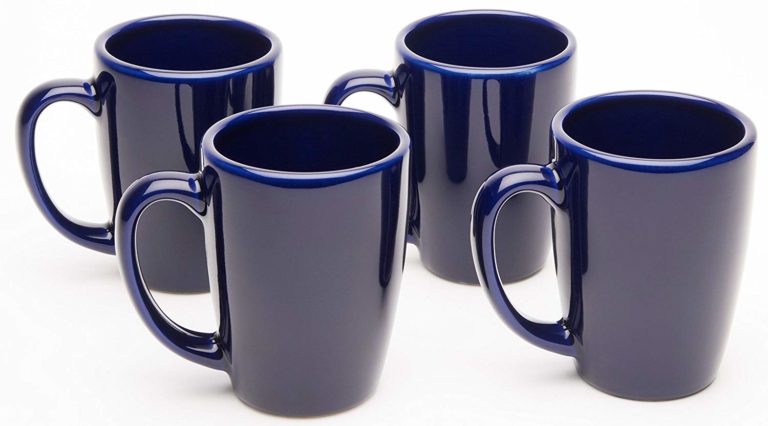 These mugs are lead and cadium free. The walls of the mug are quite thick so they are great at insulating your drinks, keeping your coffee or tea warmer for longer.
They are 14oz in size when filled to the brim, this is a typical size for a mug and ideal for most people.
The cobalt blue color is nice and vibrant but I appreciate this won't be for everyone. Unfortunately these mugs are not available in other colors at this time, which is a shame. They come in a pack of 2 or a pack of 4. The 4 pack is better value but its nice to have the option of a smaller set.

3. Libbey Crystal Coffee Mug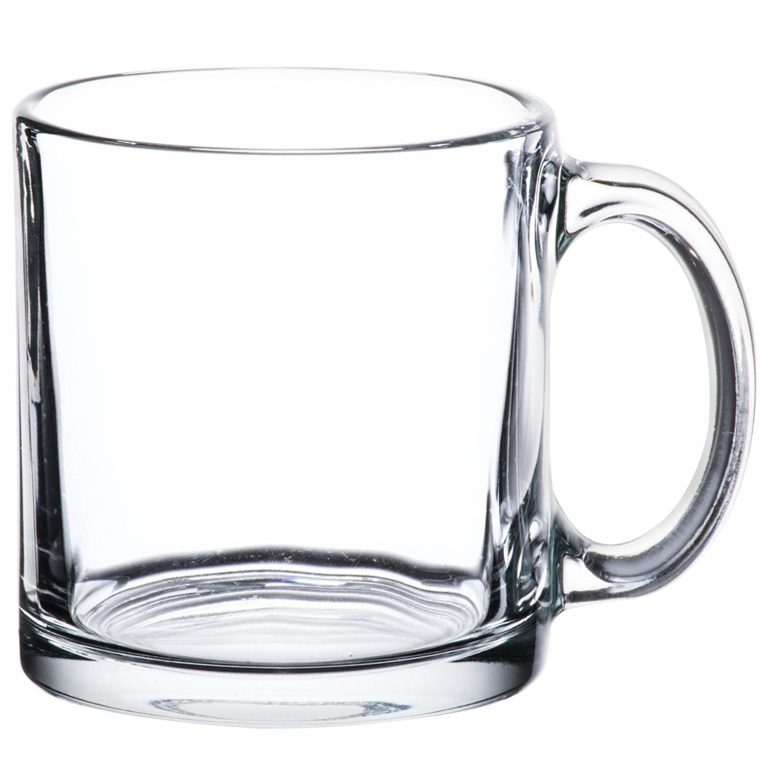 Like Anchor Hocking, Libbey is an all american glassware producer. Their glass is lead free and high quality. They do a wide range of different glass mugs but we particularly likes these ones. They also do Irish coffee style mugs if you prefer, which you can find here.
You can 4 mugs in this set and at this price point these are a bit of a bargain. They are 13oz mugs and are crystal clear giving them a really stunning look especially when filled with your favorite drink.
They are very sturdy glasses which are microwave and dishwasher safe.

4. Tervis 1049866 Clear & Colorful Insulated Tumbler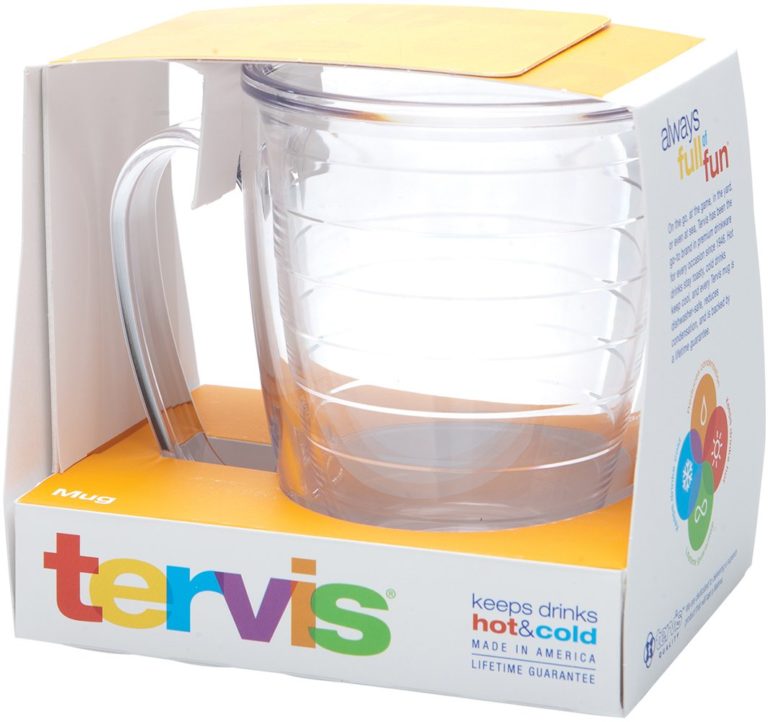 Tervis are another great company that make their products right here in the United States. Their insulated tumblers are superb at keeping hot drinks hot and cold drinks cold. They will keep your tea and coffee hotter for much longer than any regular mug. This mug has been a hugely popular product and highly rated by reviewers everywhere.
It's microwave and dishwasher safe. Made with a Co-polyester BPA and Melamine free construction. Whilst these are plastic they are very safe and made from safe for humans materials.
Another great thing about Tervis products is that the insulated designs means there is barely any condensation so you can put these down anywhere without worrying out water rings.
Tervis make all kinds of drink-ware so you are sure to find something you like in this fantastic range.

5. American Mug Pottery Ceramic Square Handle Coffee Mug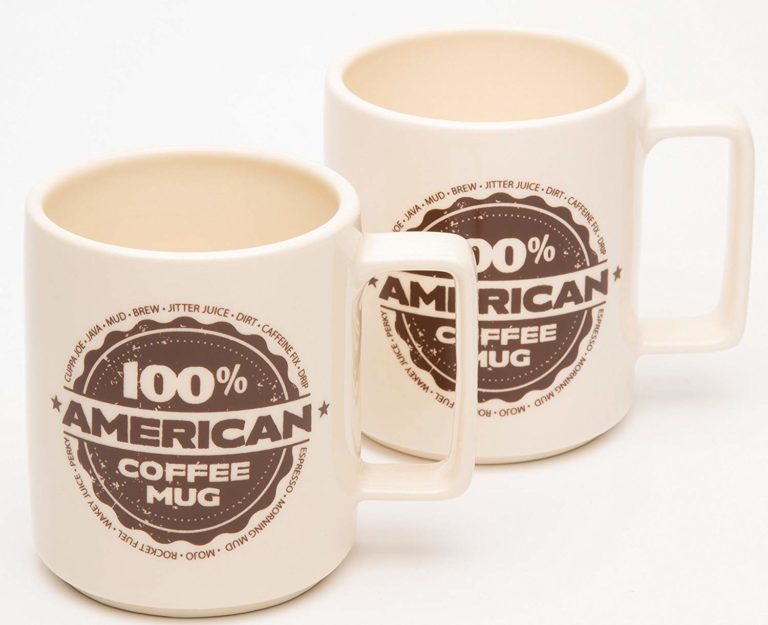 It doesn't get much more American than this! It literally says 100% American on the side. Fortunately it's not just a slogan and these are made in the USA. All American Mug Pottery is 100% made in the US, from the production to the packaging. Made out of East Liverpool, Ohio.
These are pretty big at 17oz but still nicely balanced thanks to the large square handle. They feel great to hold.
They are microwave and dishwasher safe. They are lead and cadmium free. These mugs would make a great gift, the packaging is amazing as it is adorned with the Star Spangled Banner and Made in USA is stamped clearly on the box.

Summary
The safest practice when it comes to lead is to avoid it where possible. If you are unsure if something contains lead then it's probably best not to use it on a regular basis. For items you are using every day like coffee mugs and other dishes then get products that are marked lead free. This is even more important if children or pregnant/nursing women are going to be using them. Lead can be particularly harmful to unborn and new babies.
If you are unsure then here are some tips to stay as safe as possible:
Do not heat food or drink in items that may contain lead. Heat speeds up the leaching process. Avoid microwaving them.
Don't store food in them. The longer the food is in contact with the dishes surface the higher the chance there is of leaching occurring.
Don't use in the dishwasher. This can more quickly erode leaded glazes.
Avoid using acidic food and drinks in items that may contain lead. The acid in the food can break down the surface of the pottery allowing lead to leach.