A great way to support the economy and reduce carbon footprints, buying appliances that are made in the US is becoming more and more popular for many Americans. But finding out which brands source American materials and labor is tricky, so we've done all the hard work for you.
In this guide, we've put together a list of the best refrigerators made in the United States, what their benefits are and why we think you'll like them.
Best Overall Refrigerator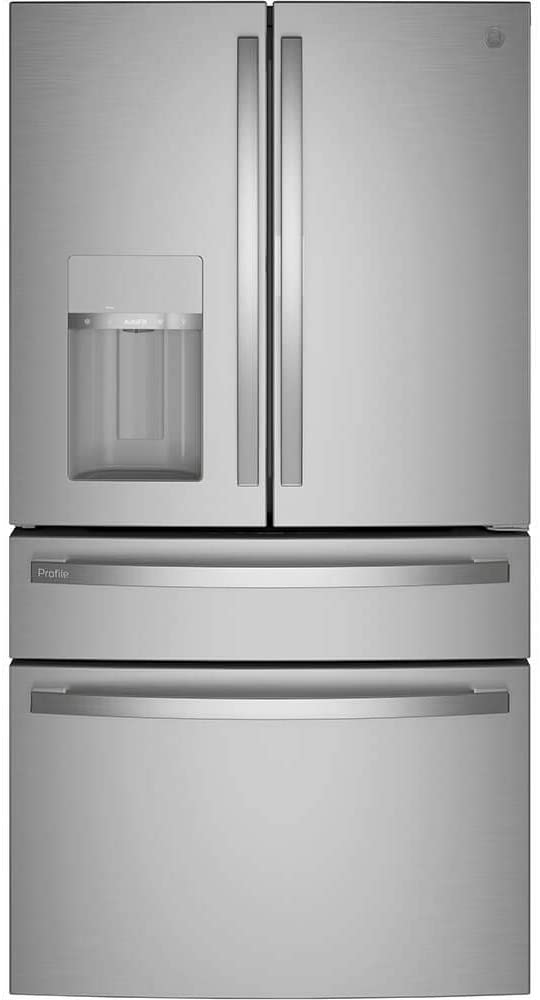 If you are happy to spend plenty of buck on your bang, this refrigerator has lots of great features. Near the top end of the market, this is not a cheap option but you still get plenty of value for money here and a very well made product.
One of the most popular and reliable brands in the U.S., we've chosen the GE Profile PVD28BYNFS French Door Refrigerator as our best overall refrigerator for a number of features. First up, 84% of its components and materials are sourced in the U.S., as are 100% of the facilities and manufacturing involved in creating it. So that's a great start! An additional bonus, the striking aesthetics of the GE model make it an attractive option too, perfect for adding a bold, contemporary look to any kitchen. With a sleek, fingerprint-resistant, stainless steel façade, it really looks the part and would complement a range of home styles.
Moving on, inside the LED-backlit interior of this French door refrigerator, there is 10.2 cu. ft. fridge capacity and 4.11 cu. ft. freezer capacity. Among its list of appealing extras, it has satisfyingly smooth sliding drawers, an ice and water dispenser on the exterior, smart features (like open door and temperature alerts), and a flexible drawer with custom temperature control. It also has a cool app-enabled turbo freeze option (great if you are looking for more hands-on function), removable bins and spill-capture shelves. And, an increasingly popular feature of high-end fridges, this particular model has a door-in-door feature, splitting the door into an outer and inner portion. This design allows you to quickly access shelves without having to fully open the door and let out cold air. What's not to like?
Of course, in terms of functionality, there are other refrigerators out there that have more intricate smart systems and more complex features, but if you are willing to spend a bit extra on a good, reliable addition to your kitchen, this is the one for us.
Approx. Dimensions: 69.88" x 35.63" x 36.75" (H x W x D)

Best Value Refrigerator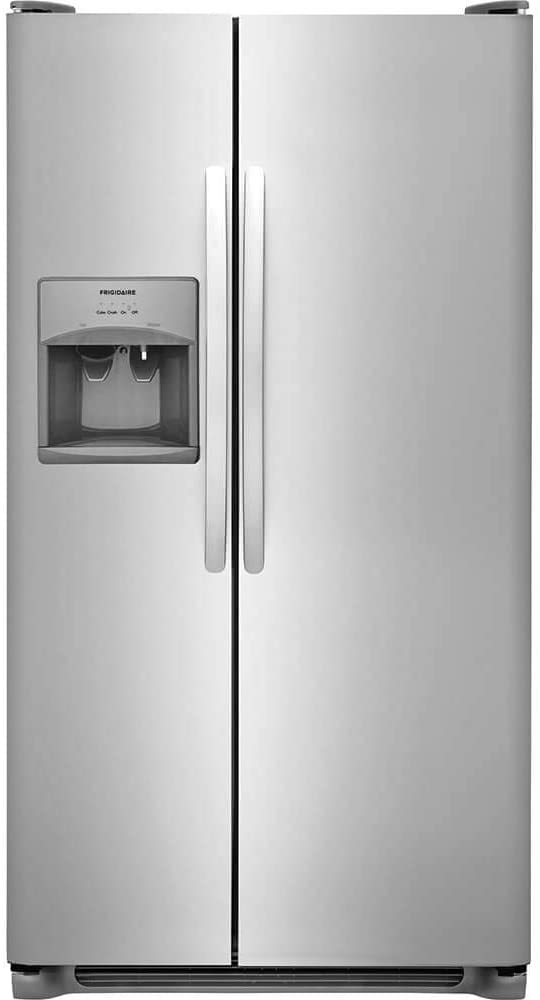 With a name that's a bit of a mouthful, the Frigidaire FFSS2315TS Refrigerator gets our vote as the best value refrigerator made in the US.
Another well-known name in America, Frigidaire consistently turns out superb appliances for kitchens, so it's no surprise one of their newest models has turned up on our list. A side-by-side refrigerator, this model has an array of features that make it a strong contender for any kitchen. With a lustrous stainless steel exterior that rivals some of the higher-end refrigerators on appearance, it is also available in ebony black and pearly white, easily fitting into both traditional and contemporary homes. Adding to its more expensive look, the exterior also boasts a neat dispenser, with functions for cube ice, water, crushed ice and light control.
Inside, the FFSS2315TS is LED-lit and has a total 22.1 cu. ft. capacity in total allowing for plenty of space. Both the fridge and the freezer sections have good shelf space, as well as more storage in the doors which is really handy for extra produce. With adjustable storage, this model benefits from over 100 ways to organize your goods into distinct sections, keeping dairy, meat and fresh produce all in their own compartments. In terms of mod-cons, the dispenser is about as flashy as this model gets, but if you are not looking for something too complicated, we don't really see this as a major flaw.
Functional, reliable and with a generous amount of space, it would be hard to find another US model of this caliber for the same price.
Approx. Dimensions: Height: 69.5" x 33″ x 32″ (H x W x D)

Best Family Refrigerator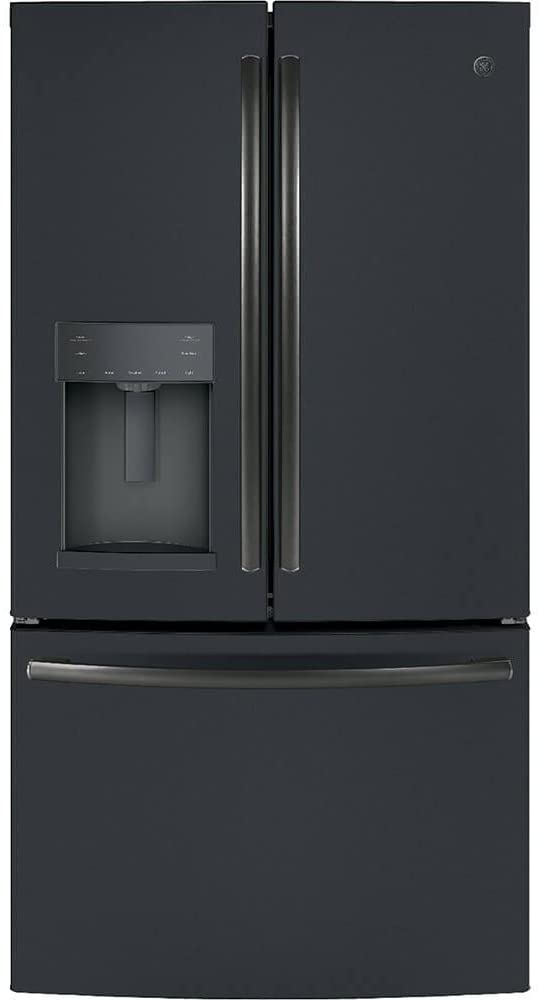 A brilliant all-rounder, the GE GFE28GELDS French Door Refrigerator takes some beating if you've got a family with youngsters.
Heading back to the GE brand, we've already discussed some of the benefits of these American-made refrigerators that keep turning our attention back to their collection. There is something about the GE GFE28GELDS though that really appeals to us for family use, and not just for its whopping 18 cu. ft. fridge capacity and 9 cu. ft. freezer capacity either! Visually, it has a really bold look about it with options in a black slate color, stainless steel, and slate – all fingerprint-resistant too, great for when sticky fingers are at work! While some people may find this palette a little heavy, we feel it makes a refreshing change from other more paired-back looks and think this model would look first-class in a modern home.
On a more practical level, the GE GFE28GELDS has some terrific features that make it worthy of its price tag. Illuminated by its showcase LED lighting, the interior of this refrigerator has humidity-controlled drawers and TwinChill™ evaporators that create separate climates in the fresh food and freezer sections, helping to keep foods fresh. Its advanced water filtration uses an RPWFE replacement filter and reduces trace pharmaceuticals from both water and ice, and it has both a space-saving icemaker and a nifty second icemaker option too. Really earning its title as best family fridge are its spill-proof shelves and external controls with actual temperature display and door alarm. Our favorite function in this family edition is the GFE28GELDS' child-lock, preventing any accidents!
This model is both ENERGY STAR® qualified and ADA compliant, which means that it's accessible and easy to open and use by people of varying ability.
Approx. Dimensions: 70" x 35.75" x 36.25" (H x W x D)

Best Mini Refrigerator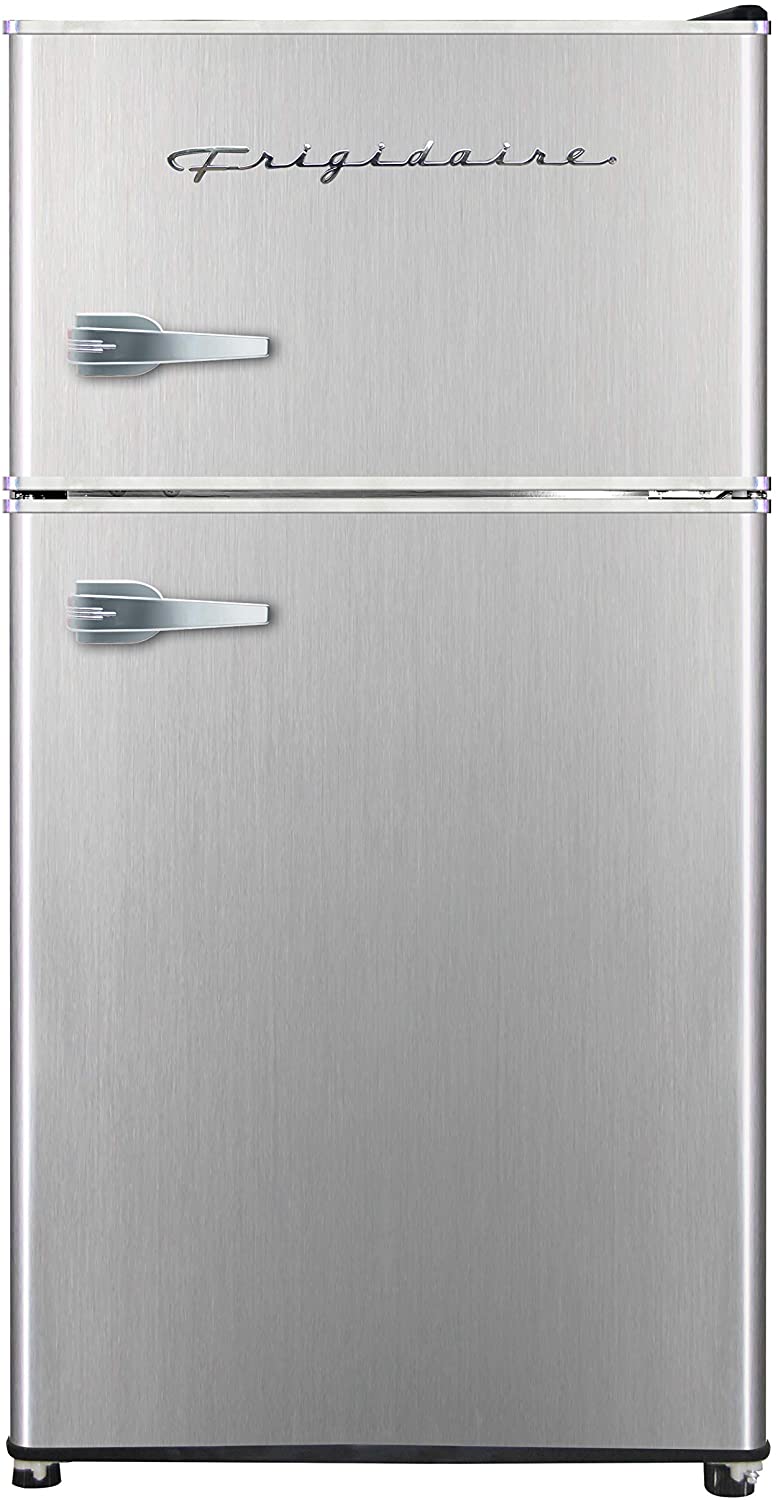 A mini-refrigerator that packs a punch, the Frigidaire EFR391 fridge and freezer is ideal for apartments, studios, and offices.
We understand that not everyone wants or needs a massive refrigerator, which is why we have looked at some of the more compact options for flats, apartments and suites. More than just a mini-fridge, the spacious Frigidaire EFR391 two-door refrigerator has a 3.2 cu. ft. capacity, featuring a good amount of storage space for both fresh goods and frozen products. Without taking up too much space in the home, its adjustable leveling legs can be altered so it can easily slide under worktops or provide a cute feature for a room. And, with a reversible door, we really like how this design allows you to create the perfect set-up, installing the door to open from the left or right depending on what best works for you.
Sporting a cool, retro-inspired exterior, the interior of the Frigidaire EFR391 offers a practical solution to food storage. Inside, LED lighting makes it easy to use throughout the day, while the soft lighting provides a gentler solution to some of the garish lighting of other refrigerators. Adding additional space for food, jugs, bottles, and cartons, the integrated door shelving and storage makes the most of every inch of space, while there is also a large vegetable crisper and two full-width shelves in the refrigerator itself. With easy clean shelves that can be taken in and out of the refrigerator, it won't be a hassle trying to mop up any spillages in here either. At this price point and being ENERGY STAR® qualified, this model is good for the environment and easy on the wallet!
Ultimately, the Frigidaire EFR391 offers limited capacity, but if you are looking for something small, aesthetic, and neat, it's the ideal solution.
Approx. Dimensions: 34" x 22" x 20" (H x W x D)

Best Affordable Refrigerator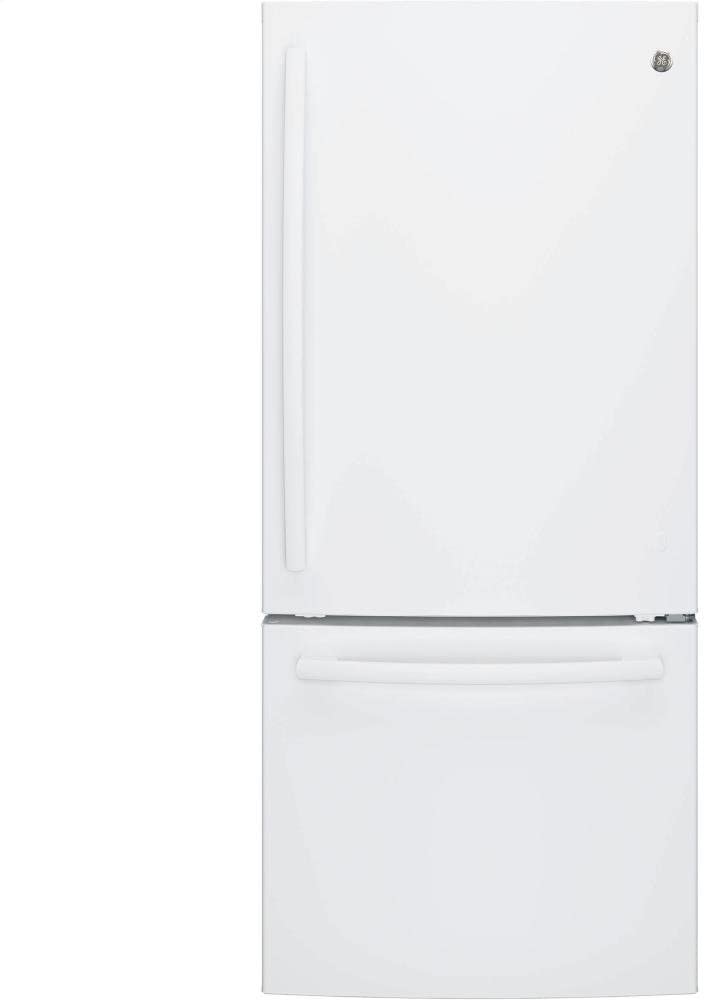 If you want your refrigerator to be, well, just that, then the GE GBE21DGKWW Bottom Freezer Refrigerator ticks all our boxes.
Coming in at the lower end of the market for a full refrigerator and much cheaper than some of the other items on this list, the GE GBE21DGKWW Bottom Freezer Refrigerator is the kind of trusty companion any kitchen would benefit from. Without all the fancy additions of more high-end refrigerators, it boasts an unfussy simplicity that will appeal to many. Coming in three different colors including white, stainless steel and black, this model doesn't rely on features to sell itself and certainly isn't for those looking for anything other than an effective storage solution. That said, with its contoured high-gloss exterior with color-matched handles and adjustable hinges, its 30"-wide frame will fit into any home and prove handy for singles, couples and families.
Split into fridge and freezer sections, the GE GBE21DGKWW is lit by crisp LED lighting. A useful addition for spring and summer, the refrigerator can be equipped with an optional icemaker, although this is at an extra cost. Two clear drawers offer easy viewing, while adjustable glass shelves provide a range of configurations to best suit your needs. Moderated by a multi-flow air system with electronic sensors, another wallet-friendly feature that makes this model a favorite with us is its ENERGY STAR® rating, meaning it'll be cheaper to run as well. Allowing you a level of control over temperatures, an electronic dial is located inside the refrigerator.
For an efficient answer to your food storage solutions without the extra mod-cons, the GE GBE21DGKWW Bottom Freezer Refrigerator is a great option with a decent amount of space.
Approx. Dimensions: 70" x 29.75" 35.5" (H x W x D)

Conclusion
While we don't currently have many brands still making refrigerators in the United States, we still have some great products to choose from. Depending on what style you require or have your heart set on will ultimately decide which of these is best for you. Let us know in the comments which American made fridge you have and why you love it.
We've also recently looked at other American-made products like glassware, and dinnerware, so be sure to check those articles out too.