Boning knives are one of those things that need to be done right. De-boning can be fiddly tiresome work, especially when using a poor knife. Having a good tool for the job is essential.
In this article, we created a list with some amazing boning knives that will help you figure out which one is the best for you. After reading this article you should have no problem finding the best boning knife to suit your needs.
Before going any further though please note that these knives are really really sharp. If you have never used one before you need to be aware of that and I fully recommend getting some cut resistant gloves to wear when using these. You can find a really nice pair of gloves here.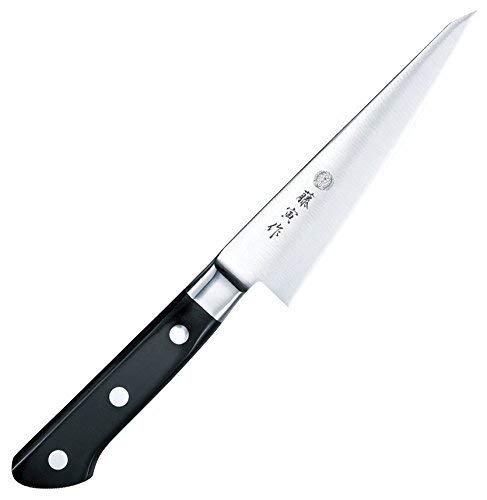 There are many things to like about the Tojiro Fujitora DP Honesuki. It comes in 3 different sizes, so you can easily find the right model to suit your needs. On top of that, it's designed to convey the best possible experience and quality on the market. To make things even better, the grip is extremely durable and reliable, not to mention the blade is made using VG 10 stainless steel which is really sharp and durable. It keeps a sharp edge for a long time.
This is a very popular boning knife, it's seamless, very easy to use and adaptable to your own requirements. This knife doesn't come with a sheath or a blade guard, so you will have to buy accessories separately if you want or need that protection. That being said, the overall performance provided by the product is second to none. Its blade is very polished, the handle is seamless, and overall you will have a great cooking experience with it. The spine is quite thick and not very smooth in your hand so it can become a little uncomfortable when used for long periods of time.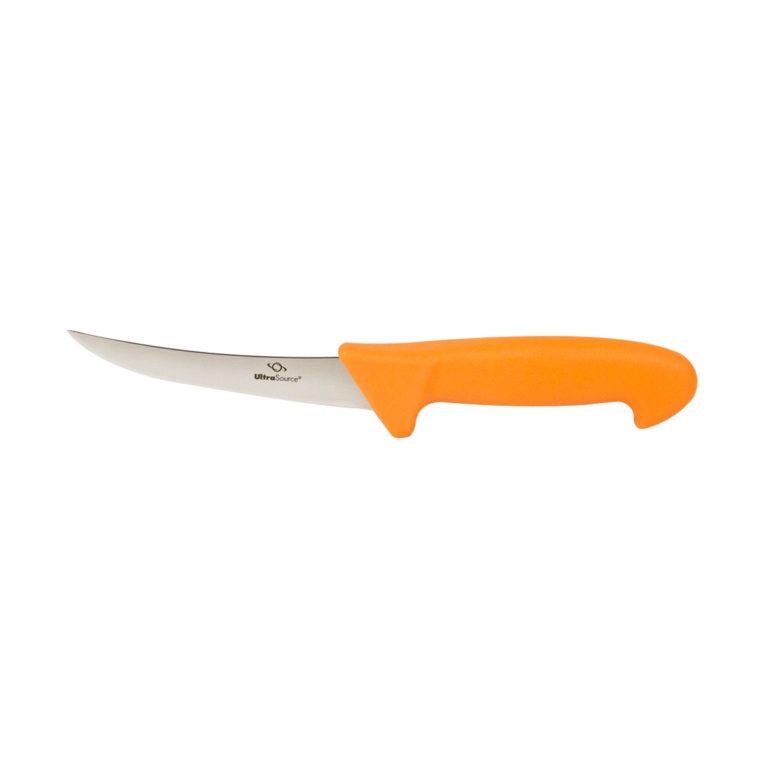 The UltraSource Boning Knife is one of those very convenient utility knives everyone should have in their kitchen. This little beauty comes in handy for all kinds of jobs.
UltraSource have 3 levels of flex on their range of knives – stiff, semi-flex and flex. This one is a semi-flex meaning it's great for deboning pork, beef, poultry and fish. If you are dealing with very small bones though you might want to get one from their flex range. This is a great all-rounder.
The ergonomic handle is antibacterial and liquid welded where its blade meets the composite handle. This means the knife is extremely sanitary as no food can get into the join between the blade and handle.
What is most important here is the blade, and they have used high carbon molybdenum for the blade. As a result, it cuts very well and with great accuracy. It's also one of those materials that can resist rust, not to mention it retains the edge for a long time.
It's really easy to clean thanks to that antibacterial handle too.
This knife is really well balanced in the hand. That is important as it prevents hand fatigue if you needed to use this knife for long periods. Best of all this knife is really cheap, it's a real bargain. You are getting a super versatile tool here. Highly recommended.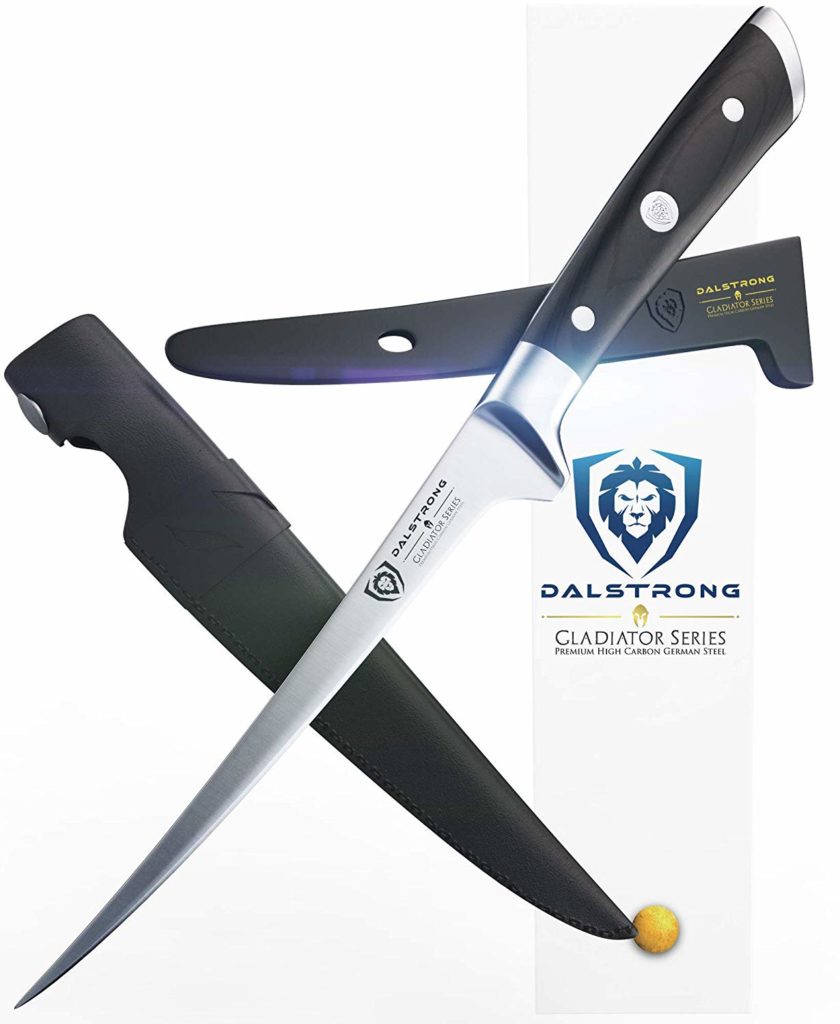 I really feel like this is one of the best boning knives on the market right now. They aren't cheap, let's get that out of the way straight away. For a boning knife, they are quite expensive but you are paying for a top quality product here.
These knives are razor sharp and are made with high carbon steel. The blade is really thin too at just 1.5mm. All this leads to a great experience when it comes to actually using the knife, especially when de-boning. These knives excel in just about every area from preparing, filleting, skinning, trimming and butterflying.
The handle is a luxury pakkawood, it's really comfy in the hand and provides the perfect balance to the blade. The wood is laminated so that is sanitary and won't start to fade and wear like exposed wooden handles can.
The blade shape brings great maneuverability too, not to mention minimal to no slicing resistance and great flexibility. That's exactly what you want from the best boning knife. Plus you get two sheaths with these knives and you will need them as these things need to be sheathed when not in use. You really don't want to be accidentally grabbing the blade on these.
Pricey but these are professional level knives.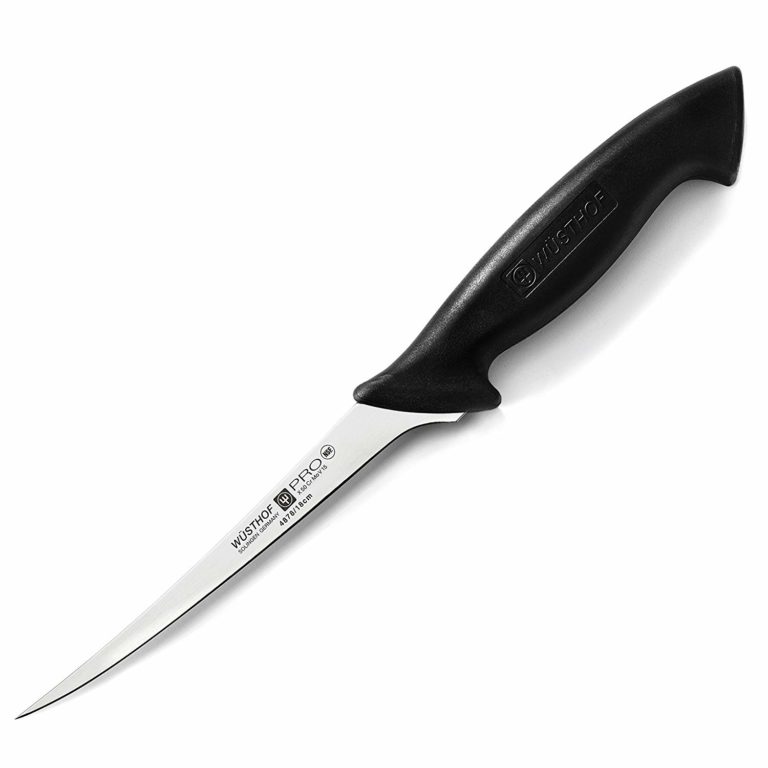 Wusthof are known for their high-quality products and they have not disappointed with this boning knife. I think every Wusthof product I have ever handled has stood out for being amazing quality and great value. This isn't the cheapest knife on the market but it's a great buy.
The blade is tough, sharp and flexible. The shape and design of the blade allows for really easy use when de-boning. I really liked the feel of this in my hand when I was using it. Nicely balanced and no issues with hand fatigue here.
It's hand wash only so don't be throwing it in the dishwasher.
This is a superb boning knife and is a lot cheaper than the Dalstong. At under $30 at the time of writing this is really a superb buy. This knife also comes in a 9 inch version.
Don't overlook this little gem.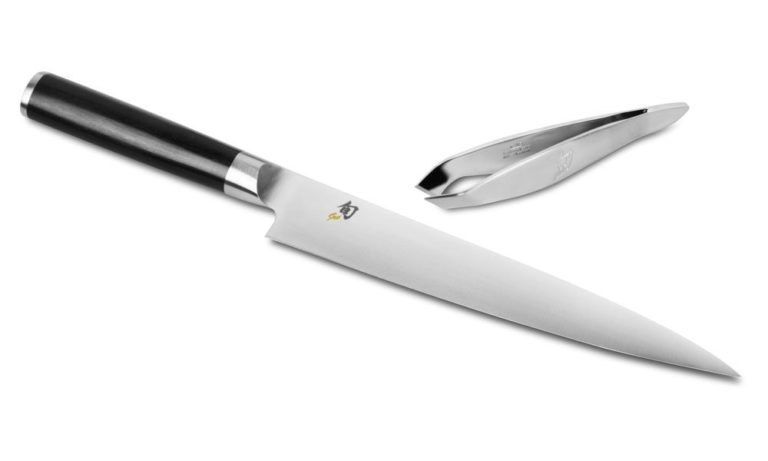 Ok let us address the price of this one before we go any further. It's really expensive! There is a reason for that though and it's because this knife would be used by a professional sushi chef in Japan. That is the level of knife we have here.
A super high-quality blade that is great for de-boning and filleting all kinds of meat and fish. It also comes with a pair fo tweezers for those, particularly small and fiddly bones.
This also comes with a pakkawood handle and is long and smooth. The knife is balanced to perfection meaning no hand fatigue here.
We felt we had to include something from the Shun range on our list but we realize that most people won't want to spend this much on a boning knife!

Conclusion
Depending on your budget will determine which of these knives you decide to go for. They are all excellent but we really liked the Wusthof and the DalStrong for the best all-rounders with a great price range to match. No matter which you decide to get we reccoemnd gettign the UltraSource knife as well, it's so cheap you might as well get one. It's just one of those knives you will constantly reach for no matter what the purpose is. It's a really versatile thing to have in your kitchen and I wouldn't be without mine now.
Quick reminder: Don't forget to get some cut protection gloves for when you are using these knives.
Let us know in the comments which boning knives you have and what you think of them.