Making your own beef jerky can be super satisfying and a really tasty hobby but without a proper dehydrator you probably aren't going to get the results you are craving. A proper beef jerky dehydrator will open up a huge range of recipes and new tastes to explore. For the jerky enthusiast they are a must have gadget. There's financial gains to be made too as making your own jerky costs about one third of the store bought variety.
Fortunately, there are quite a lot of dehydrators on the market that are ideally suited to jerky and they don't cost a fortune either. So let's take a look in detail at some of the best dehydrators available to buy right now.
1. COSORI Premium Food Dehydrator Machine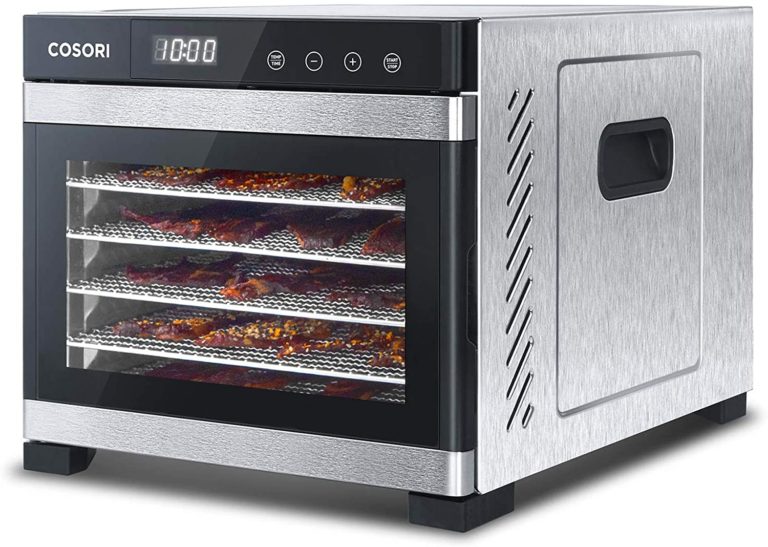 Let's start with one of the most popular dehydrators around, the COSORI Premium. This machine has literally thousands of 5 star reviews and has been one of the top-selling dehydrators for quite some time.
With 6 food-grade stainless steel shelves, there is ample room for a lot of beef. Each self is 12 x 13 inches. You should be able to dry around 4lbs at a time which makes for a lot of jerky! With a clear window, you can see exactly what is going on with whatever you happen to be dehydrating. After a bit of practice though the timer will suffice as you get used to exactly how long you need to leave your beef. The timer is set in 30-minute intervals and has a max setting of 48 hours. Once the timer is up the machine will automatically shut off so you don't need to be around when the process ends.
Temperature settings range between 95º-165ºF so you get a great deal of flexibility here.
It also has an automatic safety shut-off in case of the machine overheating. The trays are 100% BPA-FREE so you don't need to worry about any chemicals getting on your jerky.
One of the best features of the COSORI is how quietly it runs. Some dehydrators can be a bit noisy and I know quite a few people who have been put off getting a food dehydrator because of this. This one though is really quiet and runs at 48dB according to COSORI, that is the same level of noise you would find in a library, so pretty quiet.
You also get a free recipe book with this that has 50 recipes for you to try. You can dehydrate loads of things and even make your own dog treats.
Product Dimensions: 13.4 x 17.8 x 12.4 inches
This device really excels at beef jerky though and although there are cheaper dehydrators available, this one offers a huge amount of value for money.

2. Cuisinart DHR-20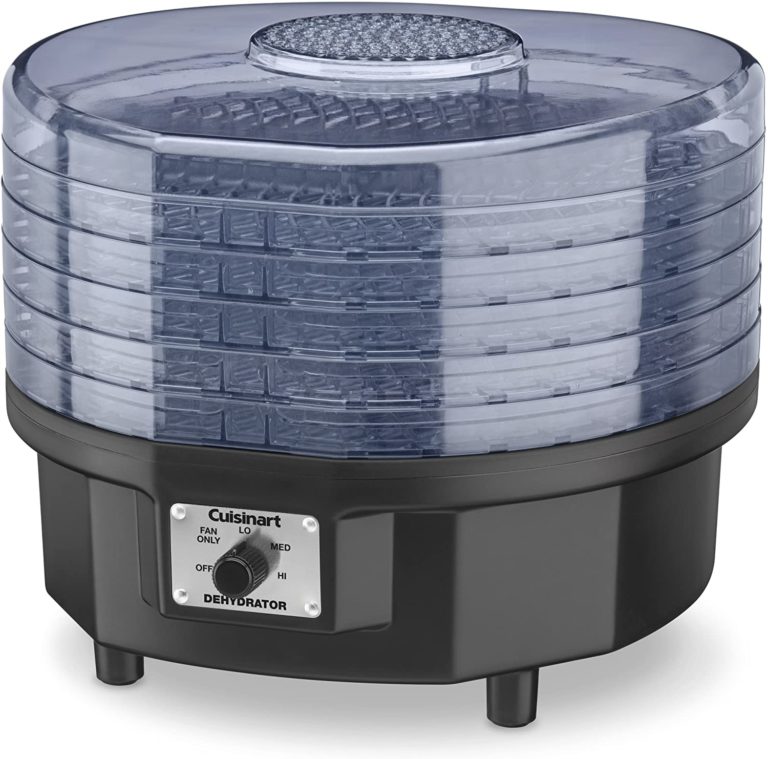 Cuisinart makes pretty much everything for your kitchen so I'm sure you will be familiar with this brand name. They've made a gem of a dehydrator here too and of course, the price is superb value.
Although I'm not a huge fan of how this looks when compared to the COSORI, the design does come with some advantages. It comes with 5 shelves as standard but it's been designed in such a way that you can buy extra shelves and simply stack them on top. You can have a maximum of 9. Obviously, this is an extra cost if you wish to expand but doing it this way it keeps the price of the initial purchase low and you only have to buy extra space if you want it. However, you may want to check these are available before you decide to buy this dehydrator. At the time of writing, I was unable to find anyone selling them. The trays are also quite flimsy compared to the stainless steel trays you get with the COSORI.
Despite the overall size of the machine being comparable to the COSORI you don't get as much dehydrating space. The 5 shelves this comes with took about 2.5lbs of beef. It has 552 square inches of dehydrating surface area.
It comes with a 620-watt motorized fan so it dehydrates food pretty quickly but there is no timer here. Considering you have to leave these things going for quite a few hours this is a disappointing omission. You will need to set your own timer which is easy enough but it does mean you need to be around to shut the machine off when the timer is up. There is no auto shut off here.
Product Dimensions: 13.38 x 15.63 x 12 inches
So less features and convenience than the COSORI but that is reflected in the lower price. Plus this is very easy to use and there is no denying the end result is some seriously delicious jerky. Ideal for beginners.

3. COSORI CO165-FD Food Dehydrator Machine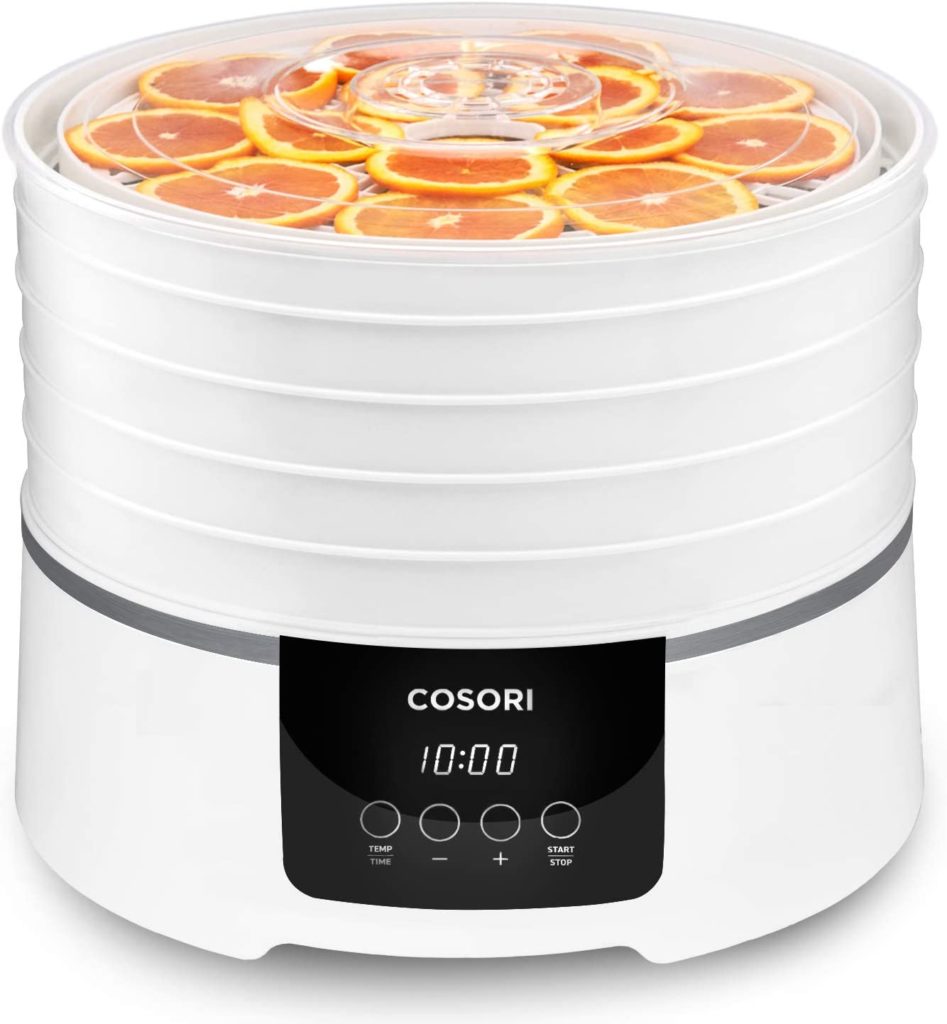 Another offering from COSORI now but this one is a bit more compact that the first dehydrator we looked at on this list, although still a considerable . This one has 5 x 13 inch trays so there is still plenty of room for jerky. The trays are plastic this time so not as sturdy as the stainless steel of the first COSORI we looked at but they are sturdy and well made. They are also dishwasher safe and fit in the plate rack quite nicely. Cleaning your dehydrator will bot be your favorite job so this is a feature you will appreciate. This also makes the whole unit a lot easier to store when not in use.
Again this one is really quiet running at around 48dB. Features are similar too with a 30 minute interval timer, 48 hours max and a temperature range of 95ºF-165ºF.
Safety measures include an auto shut off when the timer is complete as well as if the unit overheats. All the trays are BPA free too.
Touch buttons on the front of the unit makes the unit feel a lot more modern than the Cuisinart, which only has a basic dial.
Product Dimensions: 13.8 x 11.8 x 13.8 inches
This is a really nice dehydrator at a really good price. It makes excellent jerky as well as a lot of other tasty treats. Definitely one you should consider, especially if you favor the design and style of this unit.

4. Magic Mill 10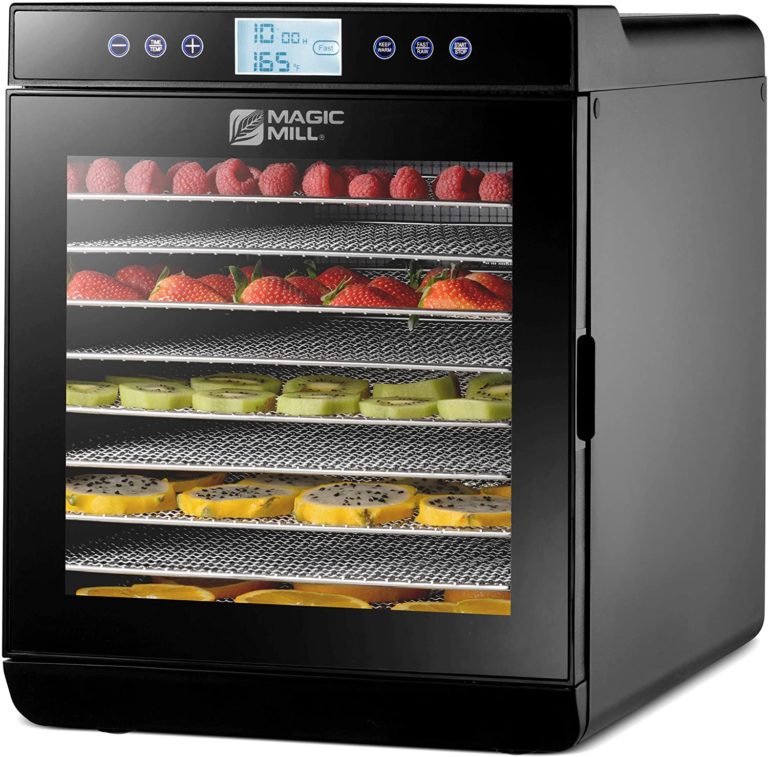 The first thing you will notice about the Magic Mill 10 is that it is aesthetically quite nice. It's a lot more modern looking than some dehydrator designs, more like a wine cooler. So it's not going to look out of place sat on the worktop in your kitchen, in fact it will look quite nice.
With 10 stainless steel trays (measuring 13″ X 12″) there is plenty of room for dehydrating beef jerky or anything else for that matter. The fans in this unit are located at the rear, this allows for much more consistent and even drying. There is no need to rotate the shelves like you do with dehydrators that have their fans located at the base of the device. You can set this up and leave it to do its thing. Of course you can keep a close eye on the process through the front window.
The large capacity of this device allows for around 11lbs of food to be dehydrated at once.
As well as the 10 trays this comes with a hanging rack especially for jerky. The digital thermostat and timer can be worked using the tocuh buttons on the front of the device. Everything will automatically shut off when your timer completes.
Everything is very easy to use and very easy to clean. The trays are dishwasher safe and fit comfortably in your average dishwasher. The liners and trays are also easily removable and these too can be put in the dishwasher.
Safety features include auto shut off in case of overheating and BPA free trays.
Product Dimensions: 18 x 14 x 17 inches
This unit it considerably larger than some of the others on this list so it will take up more room. However this obviously allows it to hold more food at once. This is a superb dehydrator that works amazingly well. The fact that you don't have to rotate your trays means a much easier process with much more consistent results. Really easy to use and produces amazing results with delicious tasting jerky. You won't be disappointed.

5. NESCO FD-75A, Snackmaster Pro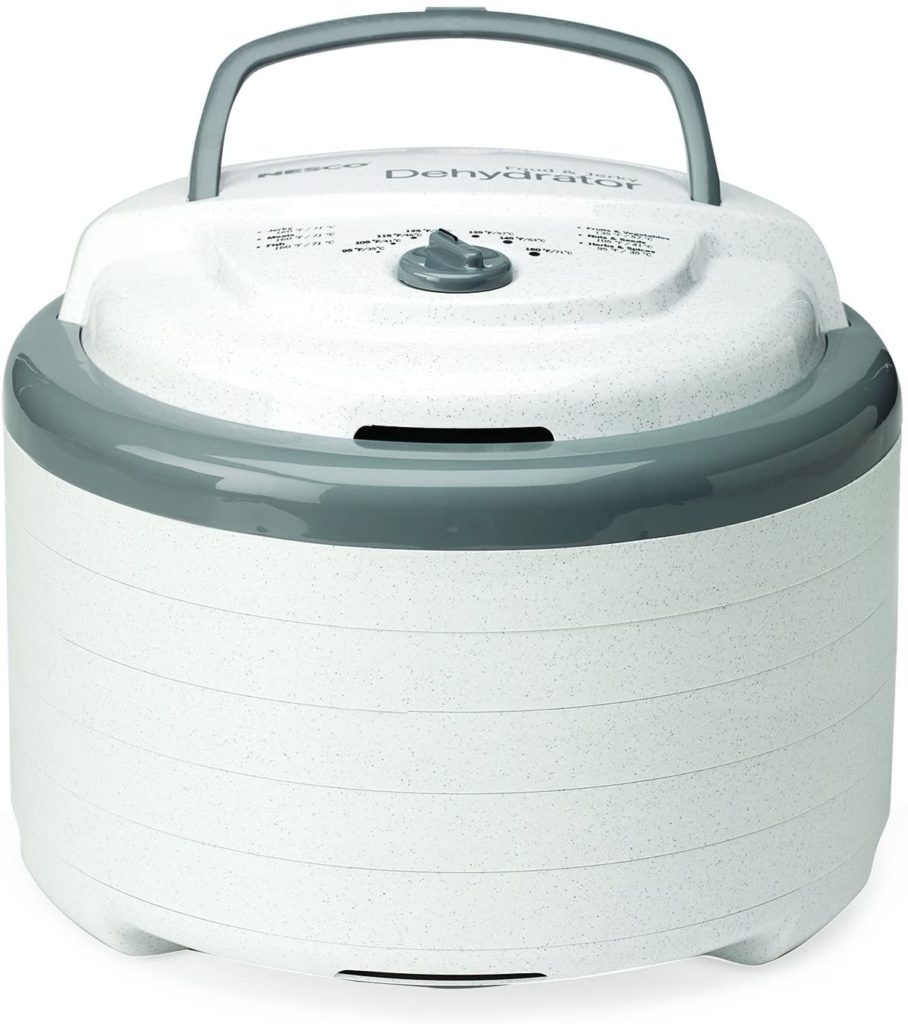 This dehydrator has been a hugely popular item but it is a bit dated compared to the other items on this list. We have included it because so many people have this item and therefore it gets recommended to them by friends and colleagues. This is still a great dehydrator but personally I find the design lacking and functionally it is not as capable as some of the others. There is no timer here for example.
Like the Cuisinart this comes with 5 trays but it is expandable if you purchase additional trays. You can add up to 12 trays here which leads to a very tall dehydrator but it does allow for a lot of food to be dried at once. Trays are 13 1/2″ in diameter, they are BPA Free. The trays do go in the dishwasher but as they are quite large you won't get much else in there with them.
The fan is on the top here but it has a unique design that forces the air down an exterior chamber and then horizontally across the trays. This avoids the need to rotate the trays and also means you don't get flavors mixing if you are attempting different recipes at once.
Most of this item is Made In the USA but the powerhead is not, that is imported from China. So confusingly, even though this is advertised as being Made In USA, the device is stamped with Made In China.
The controls are as simple as it gets with a single dial to select the temperature. The range goes from 95ºF-160ºF.
You get a nice little recipe book with this which gives you plenty of ideas on how to use this product.
Product Dimensions: 13.75 x 22.13 x 13.87 inches
Overall this is a decent device that produces excellent results thanks to the way it disperses air and heat. Tasty jerky is guaranteed but some of the other dehydrators on this list are a bit more technically capable and versatile.

6. Nesco JerkyXpress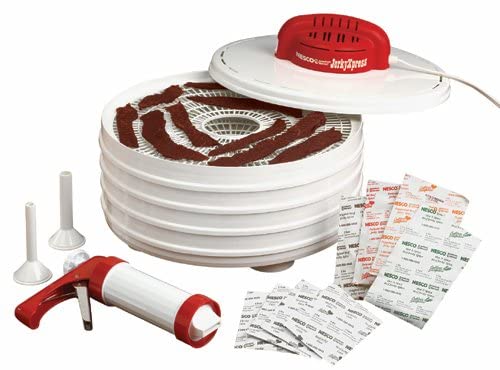 This is the budget choice and works as a great gift for budding beef jerky enthusiasts. It comes with a jerky gun and a range of flavors and spice packs so you have everything you need to get started making jerky straight away.
It really is as simple as it comes but it is pretty effective at what it does. 350 wattts of drying power is the most powerful by a long shot but its enough to produce some nice results. Although you will find it is quite slow compared to the other items on this list. It gets there in the end though.
It comes with 4 BPA Free trays and it too allows expansion, this time up to 7 trays. Each tray holds around 1lb of beef so with the full 7 trays you can make around 7lbs of jerky.
Much like the other Nesco it utilizes fan flow technology meaning you don't need to rotate the trays. That is pretty good considering the cost of this device. It's also pretty quiet though not as quiet as the COSORI devices.
Overall this is a great little gift for someone just starting out with making their own jerky but if you are more experienced and looking for something with a few more options then this isn't the one for you.

Conclusion
Once you start shopping around for a dehydrator you will soon see the huge range of options available. Most of them though, are quite similar in design and functionality. I would definitely go for one with a timer that automatically shuts off the device when complete, this for me is essential. The last thing you want is to be tied to your dehydrator as the process can take many hours to complete. Some, like the Magic Mill, have a keep warm function so even when it's done cooking you can come back to perfect jerky that is ready to eat.
Another consideration you will want to take is the size of the device. Some of these are quite large units so you will need a place to keep it. The size will also determine how much dehydrating you can do at once.
Overall the COSORI and the Magic Mill 10 really stood out as quality devices with a good range of functionality and flexibility. They look the part and produce amazing beef jerky and they don't make much noise either when they are on.
Let us know in the comments what food dehydrator you have and what you use it for.