Chicago Cutlery, Ja Henckels and Faberware are three companies we get asked about a lot when people are looking for a new kitchen knife set. All these manufacturers produce great sets, but which is the best?
Farberware manufactures a lot of different kitchen and cookware whereas Chicago Cutlery and Ja Henckels tend to specialize in knives.
Straight away that gives us a good idea that Chicago Cutlery or Ja Henckels are probably the brand to go for when looking at knife sets. It's what they specialize in and both do it really well. However, we can't just dismiss Farberware that easily!
If you are looking for a really nice, high-quality knife set that I would probably start your search here, looking at the different sets available from Chicago Cutlery. If you want something cheaper then look to Farberware, that being said Chicago Cutlery does have an excellent Essentials Set, which is superb value for money.
Ja Henckels stuff is a lot more expensive but you are getting extremely high-quality knives
We thought the easiest thing to do was take a look at the best sets all the companies have to offer and give each of them a quick review.
Chicago Cutlery 1134969 Malden 16 Piece Knife Block Set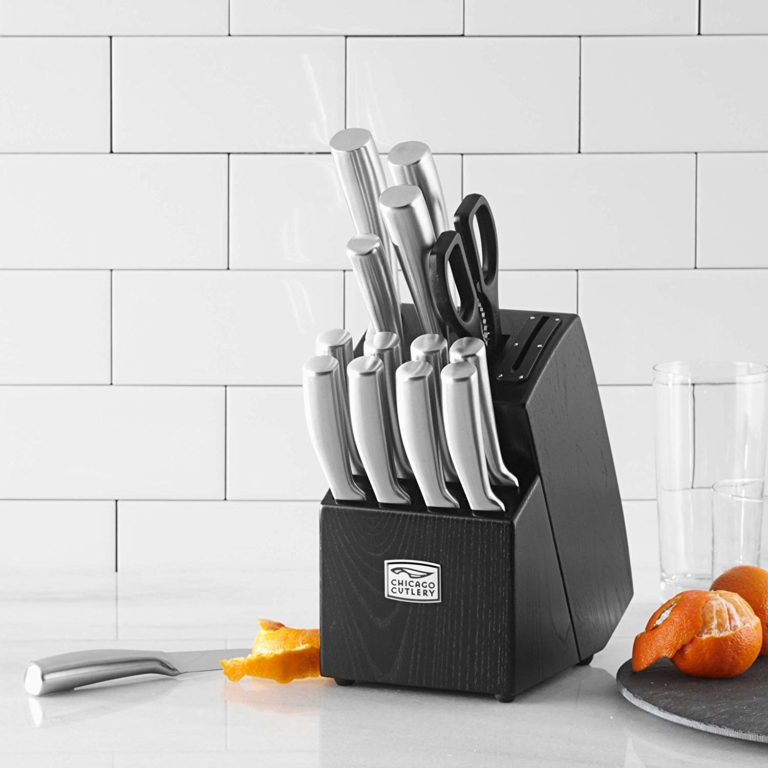 This is one Chicago Cutlery's most popular sets. This moderately priced set give you plenty of value for money. It's a 16 piece set and include: 8″ Chef, 6-3/4″ Serrated bread, 6″ Santoku, 4-3/4″ Utility, 3-1/4″ Paring, eight 4-1/2″ Steak knives, shears, chop assist and ebony-stain wood block. So it has everything you are probably going to need for every day use. 
The contoured handles look nice and they feel great in the hand. Good knife makers will think a lot about ergonomics and it is clear that has been given high consideration here. There is a nice balance in your hand when using these knives.
The blades are a high-carbon stainless steel, they are strong and stay sharp for a long time. They are also resistant to staining and rusting. You need to hand wash these to keep them in prime condition as with most decent knife sets.
This set also comes with a built in sharpener so you will always have really sharp knives at hand. No need to buy a separate sharpening stone or device. We love that they included this right in the block.
Looks great and the knives are excellent.

Chicago Cutlery C01034 Essentials -15-Piece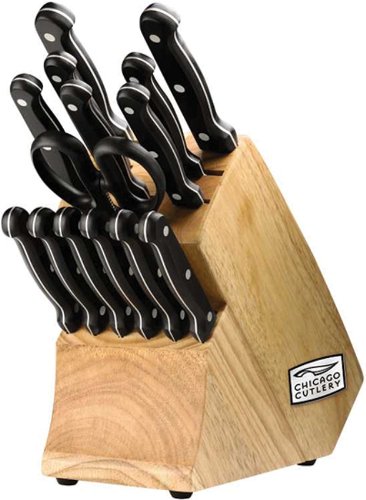 This is probably their biggest selling set, it's also the cheapest. This is the Essentials set I mentioned earlier, it's a great set that has every knife you could possibly want at a really great price. It's not as high end as their other sets but it's still pretty darn good.
This 15 piece set includes: 3-inch peeling, 3-1/2-inch paring, 4-1/2-inch serrated fruit, 4-3/4-inch serrated utility, 5-inch Santoku, 7-inch Santoku, 8-inch scallopped bread knives, kitchen shears, six serrated steak knives, and wood block. Not bad!
Again these blades are made with a high carbon steel so like the previous set they are long lasting, precise and resist stains/rust.
You get the standard handles on this set, not quite as fancy as the previous set but you will have undoubtedly used a knife with a similar handle so you know they fit well in the hand and feel and function as you would expect them to.
This set comes with a lifetime warranty which covers manufacturer defects only.
Price wise this is a bit of a bargain but the quality of the set is not as high as some others on this list.

Chicago Cutlery ProHold Dual Knife Block Set with Non-Stick Coating (14-Piece)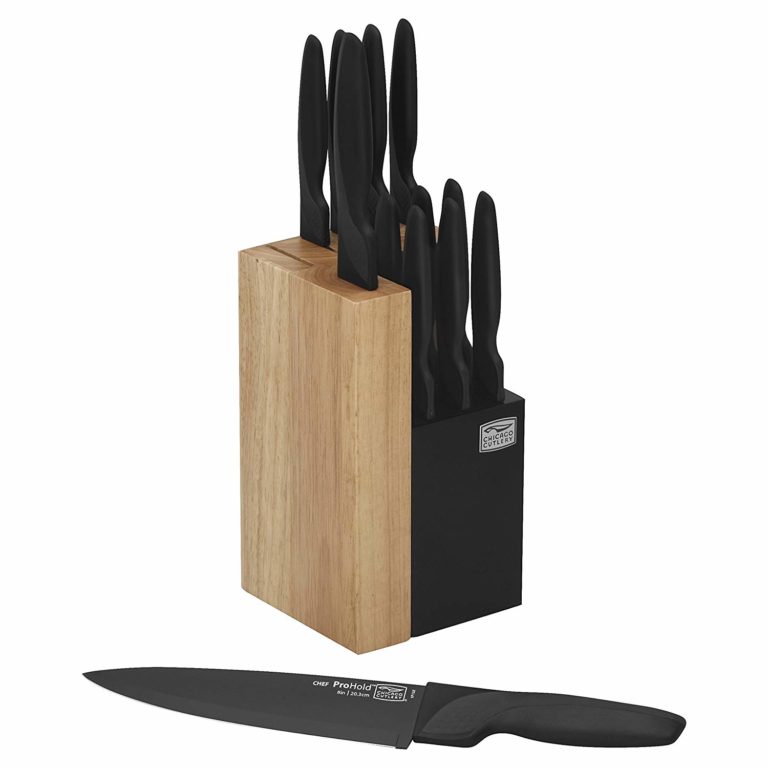 For our last Chicago Cutlery set we have picked out this non stick set. It's so different to all the other sets they offer it really stands out from the crowd. This set includes: 14-Piece Dual Knife Block Set includes: 8-inch chef knife, 8-inch bread knife, 5-inch serrated utility knife, 5-inch Santoku knife, 3-1/2-inch paring knife, 3-1/4-inch peeler knife, and six 4-1/2-inch steak knives.
I really love the design of these knives. Everything is black, even the blade, it just makes them look really modern to me. The blades are non stick too so they seem to glide through food and leave no residue on the blade at all. These are a pure joy to use!
The handles are nicely textured for a non slip grip and it feels really nice in your hand.
The block is a different design to usual as well, more modern and made with space saving in mind. This set comes with a full lifetime warranty. Hand wash to keep looking their best.
A real bargain these and priced not much more than the Essentials set.


J.A. Henckels International Definition 14-pc Self-Sharpening Block Set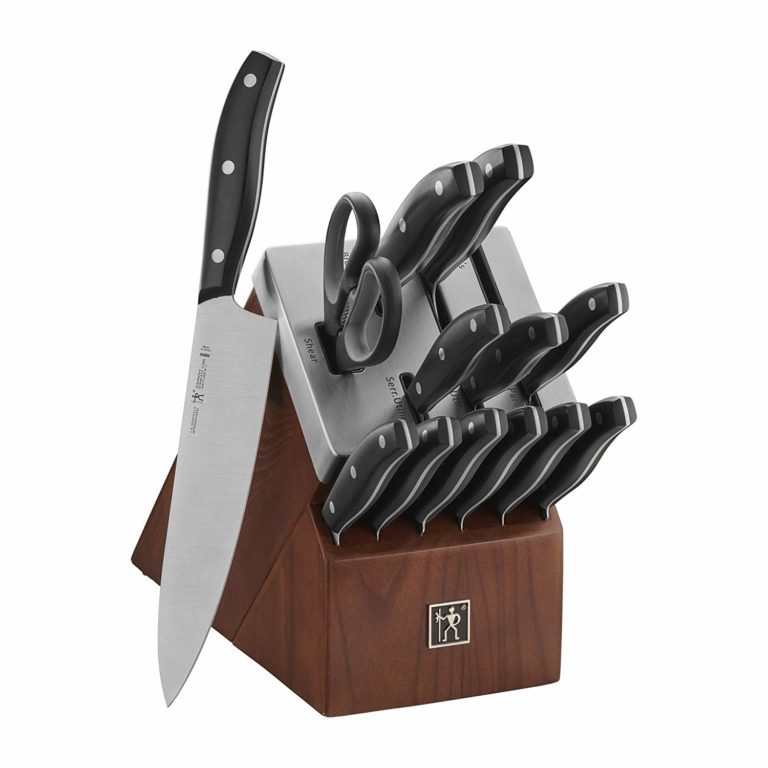 Now onto J.A Henckels with their super high-quality sets. The prices are not cheap but reflect the quality you are buying.
This set includes: 3″ Paring Knife; 5″ Serrated Utility Knife; 6″ Utility Knife; 7″ Santoku Knife; 8″ Bread Knife; 8″ Chef's Knife; 4.5″ Steak Knives (6); Kitchen Shears; Self-Sharpening Knife Block. ]
The slots on this block are self sharpening so as you pull the knife out and put it back in it runs over a sharpener meaning you never have to sharpen these knives and they are always in perfect condition. They just keep themselves right as you naturally use them. The slots at the bottom are for serrated knives, there are no sharpeners on these slots as the serrated knives never need sharpening. This is a really cool feature and it means you always have a knife in practically brand new condition ready to go.
The block on this set is also labelled so you can see at a glance which knife is which.
These knives are really sharp. So sharp it's to the point you wonder what you have been doing all your life with other knives. It is instantly noticeable the first time you use these. These are professional quality knives.
This is a truly stunning knife set and we think one of the best knife sets around.

J.A. HENCKELS INTERNATIONAL 15707-000 Fine Edge Synergy Knife Block Set, 17 Piece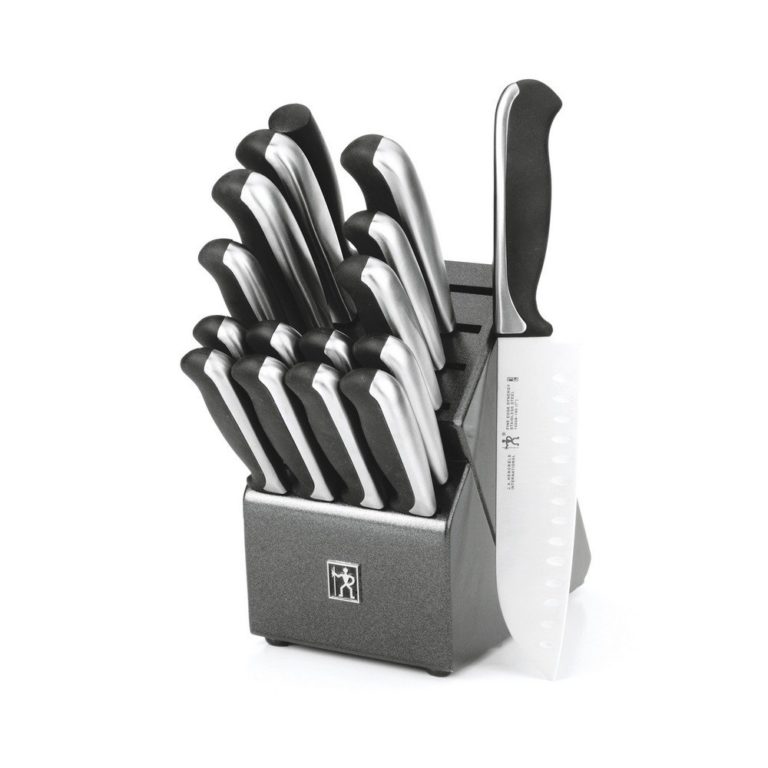 This is a fine looking set though it comes without many of the features of the last set. That is reflected in the price though as this is considerably cheaper than the set above. This set includes: 2.75-inch paring knife, 6-inch utility knife, 5.5-inch boning knife, 8-inch bread knife, 8-inch chef's knife, 8-inch carving knife, 7-inch hollow-edge santoku knife, Eight 4.5-inch Steak Knives, 9-inch sharpening steel and a hardwood knife block.
There's no built in sharpener with this one but it does come with a traditional sharpening steel. The block has 20 slots so you can add 3 extra knives if you wish. I found this a bit odd as when you first get the set it looks incomplete. The sharpening steel handle is different from the knife handles to which unbalances the whole set when not in use. A minor irritant in an other wise fine looking set of knives.
The handles are nice and sturdy and they feel nice enough in the hand. Not our favorite handles though, they seem to be lacking something in appearance.
The blades are excellent as you would expect, very sharp and very tough. They glide through food with consummate ease.
There are definitely better looking and more high quality JA Henckels sets out there but at a price like this we can't overlook that this is phenomenal value.

J.A. Henckels International Forged Premio 19-piece Knife Set with Cherry Block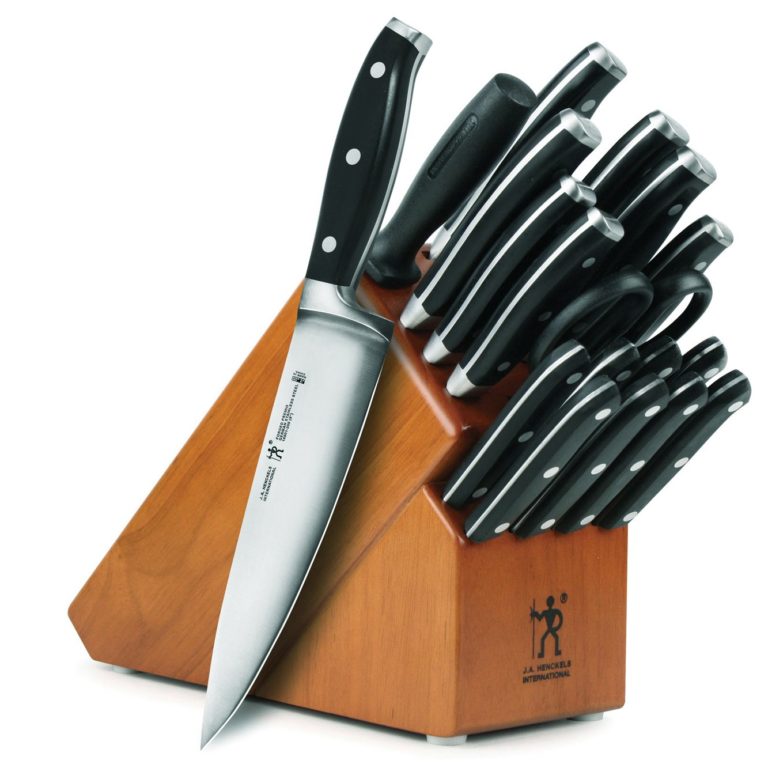 This is one of the most popular JA Henckel sets on the market and it isn't hard to see why. Straight away you can see how stunning the cherry block is. It really stands out compared to other blocks on the market. This set includes: includes 3″ Paring Knife, 3″ Hollow Edge Paring Knife, 5″ Serrated Utility Knife, 5.5″ Boning Knife, 6″ Utility Knife, 7″ Hollow Edge Santoku Knife, 8″ Bread Knife, 8″ Chef's Knife, Eight 4.5″ Serrated Steak Knives, 9″ Sharpening Steel, Kitchen Shears, 18-slot Wood Knife Block with Cherry Finish.
All the knives on this block (with the exception of the steak knives) are fully forged blades with a full tang. This method of construction gives super strong and sharp blades that retain a sharp edge for a long time. They also sharpen really well and can be returned to their original sharpness quite easily with a decent sharpener. These come with a lifetime warranty as well and that tells you its own story.
The handles aren't the most visually pleasing but they offer superb balance and are ergonomically superb. The handles are capped with stainless steel and the JA Henckels logo is right there on the end on each handle. They look the part and these blades are pure joy to use.
We absolutely love this set and would gladly recommend it to anyone looking for a super high quality set at a reasonable price.

Farberware 5169370 30-Piece Spin-and-Store Knife and Kitchen Tool Set with Rotating Storage Caddy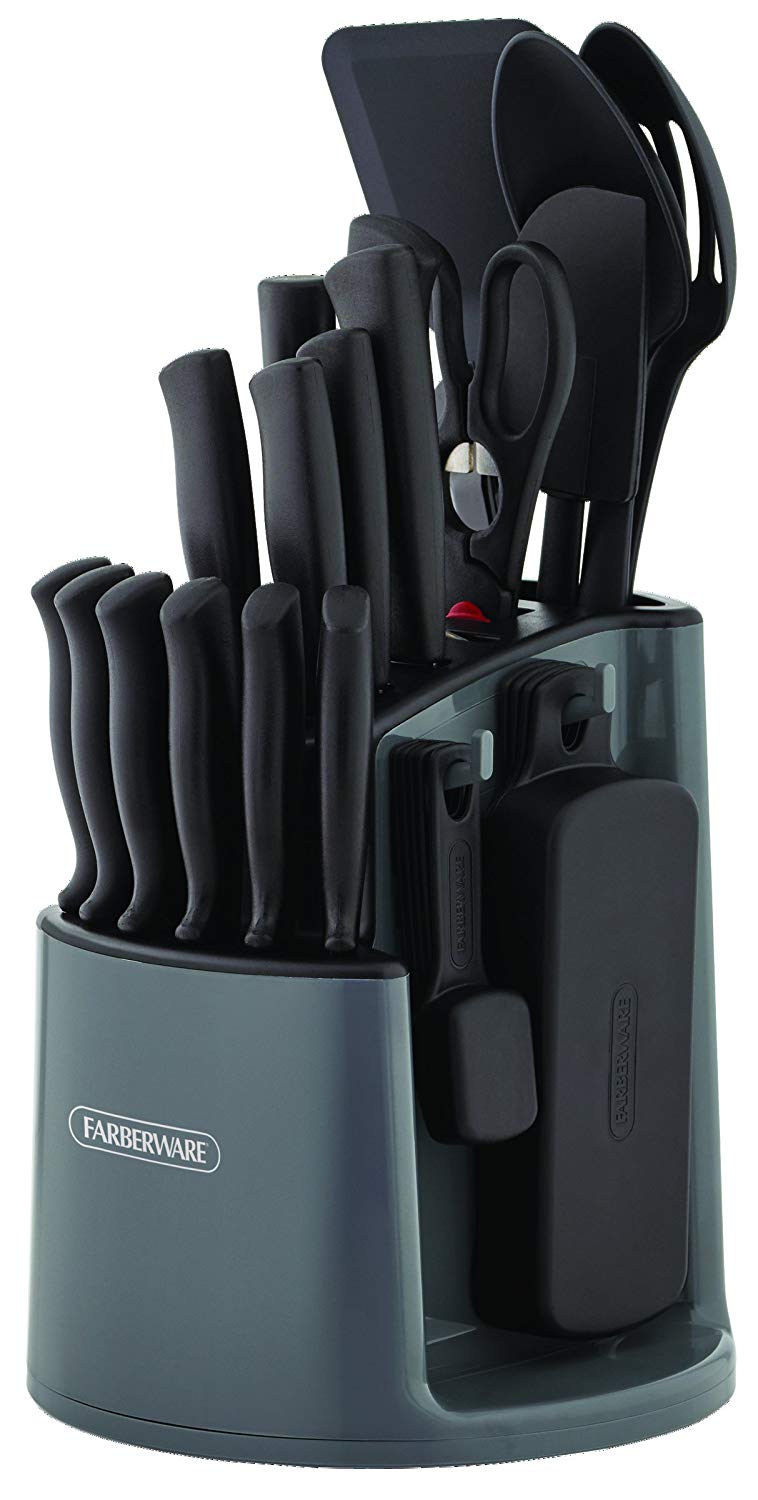 Now onto Farberware who offer some superb sets at great value for money. This 30 piece set for example offers you more knives than you will know what to do with! I won't bother listing them all but you can click on the image and it will take you to Amazon where the full list of knives is laid out.
They come on a rotating caddy which won't be to everyone's tastes but it is remarkable how they get 30 pieces into a relatively small space. Only problem here is that there are so many knives you have to keep pulling them out until you see the one you want.
It also comes with a can opener, measuring spoons and cups, some spatulas and a few other bits and bobs. You get every you can possibly think of here.  The fact that the caddy revolves is essential with their being so much stuff.
Despite the amount of tools you get here the price is remarkably low. This is tremendous value but of course the quality is not as high as the Chicago Cutlery or the Ja Henckels listed above. If you are looking for the best bang for your buck though, you will struggle to get better than this.


Farberware 5148965 15-Piece Forged Triple Riveted Knife Block Set, Black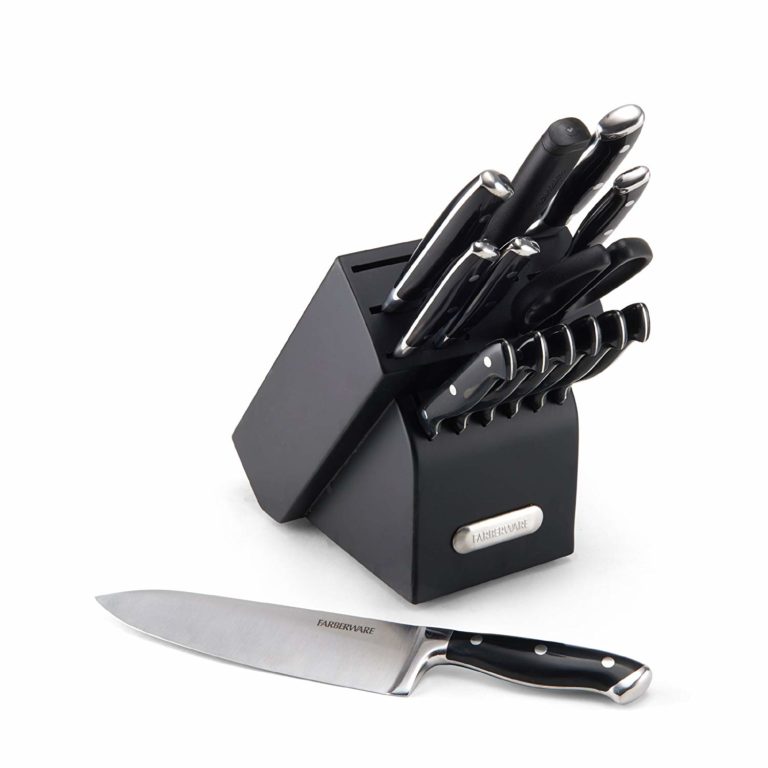 Next up for Farberware is this 15 piece set. This is more of a professional set and you get some great knives here. It comes with: 8-inch chef, 8-inch slicer, 7-inch Santoku, 5-inch serrated utility knife, 5-inch Santoku, 3.5-inch paring knife, six serrated steak knives, a pair of all-purpose kitchen scissors, an EZ-angle sharpening steel and a black wood storage block.
Like the Chicago Cutlery sets this one has high carbon stainless steel blades and you get all the ebeinfits that comes with that material. Sharp, long lasting, tough and resistant to stains/rust. Unfortunately a few other reviewers we spoke to had issues with rust with this set. We didn't experience any rust but these reports suggest the quality isn't as high as the Chicago Cutlery blades. Again though these are much lower priced.
Nice ergonomic handles balance the blades really well making these a pleasure to use in general. The set comes in 2 color options with black or red on offer. We much prefer the black as the red looks a bit odd against the wooden block. With the black set you get a black block.
Overall a nice looking set at a nice price.


Farberware 5183157 12-Piece Non-Stick Resin Cutlery Knife Set, Multicolor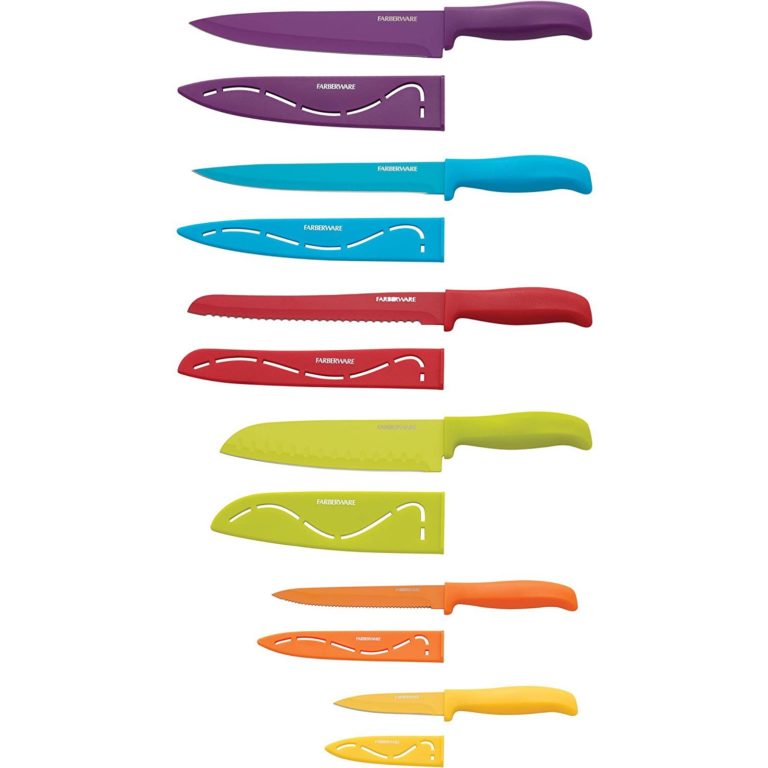 This set doesn't come with a block but you get a nice range of knives here and the quality is pretty good. We love the bright colors.
With their being no block each knife comes with a sheath to protect you from cutting yourself and keep the knife in great condition. They will have to spend a lot of time rattling around in your cutlery draw so it is good practice to keep the sheaths on to stop the blades getting notched and dull. Be careful with the purple sheath as it doesn't seem to fit as well as the others and you could cut yourself when removing it. We confirmed this problem with other reviewers who owned this set.
These knives are really sharp and they are non stick too. They glide effortlessly through food and are enjoyable to use. The multi color design won't be to everyone's tastes but it makes it really easy to see what knife you want. You don't have to pull a few knives from the block or search around the drawer to find what you need.
This set has been a huge seller for Farberware. The price is absolutely amazing as well. These are tremendous value for money. They might not last as long as some other sets but at this price who cares!

Conclusion
It's really tough to pick an overall winning set. There are so many great offerings here.
It really boils down to what you what to spend. If you are looking for a budget set then go for one of the Farberware sets. If want a set with block go for the 15 piece black set otherwise get teh multi colored block-less set. That is just insane value for money. It's probably worth picking those up anyway to go along with any set you do decide to buy. Just great to have these versailte knives in the kitchen drawer.
If you are looking to spend a bit more and want a set that is going to last you a long time then it's a choice between Chicago Cutlery and JA Henckels. Overall we felt the JA Henckels sets were a class above the rest and some of the sets they have on offer are ridiculously high quality. The International Definition set with it's in built sharpener is crazy, the knives are so sharp it really is an eye opener. JA also have some great quality sets at tremendous value too. Our favorites in the Chicago Cutlery were the Prohold non stick set. They look really modern and they are a joy to use, at the price they currently there are they are a huge bargain.
No matter what you choose I don't think you will be disappointed but for us the J.A. Henckels International Forged Premio Knife Set with Cherry Block had everything we wanted in a great set. They look amazing and they are amazing to use. What more could you want from a set of knives!
Let us know in the comments below which set you have and what you think of it.