Popular for their clean modern style, in recent years undermount kitchen sinks have become firm rivals of overmount sinks amongst homeowners, letters and businesses. Unlike overmount sinks, undermount sinks sit below the countertop, so that the edge is not visible from the surface and the elegant lines of the counter are not broken by an unsightly lip.
In a range of styles, shapes and sizes, there are plenty of undermount kitchen sinks to choose from, but how do you know whether they are right for you? Here are just some of the pros and cons of undermount sinks to think about:
Pros of Undermount Sinks
Aesthetic, clean lines great for modern and traditional kitchen
Slight increase of useable counter space
No unhygienic crumbs and liquid stuck around lip of sink
Easier to wipe mess directly into sink
Extra depth can be useful for washing large pots and pans
Often equipped with neat accessories
Cons of Undermount Sinks:
Can be more expensive than overmount sinks
Not as easy to fit and professional installation is recommended
Risk of chipping counter edges with clunky day-to-day use
If not properly sealed, water can leak through the gap between sink and counter
Only advised with non-porous, waterproof countertops
Water can overflow onto countertop if not paying attention
An important part of the kitchen, the merits of all types of sinks should be carefully considered before purchase. Afterall, these are items that should last for a long time. Having weighed up the options, if the clean lines, practical functionality, and modern design of undermount sinks are calling to you, here are some of the undermount sinks we can recommend.
The Top 5 Undermount Kitchen Sinks
1. KRAUS KWU110-32 Kore Workstation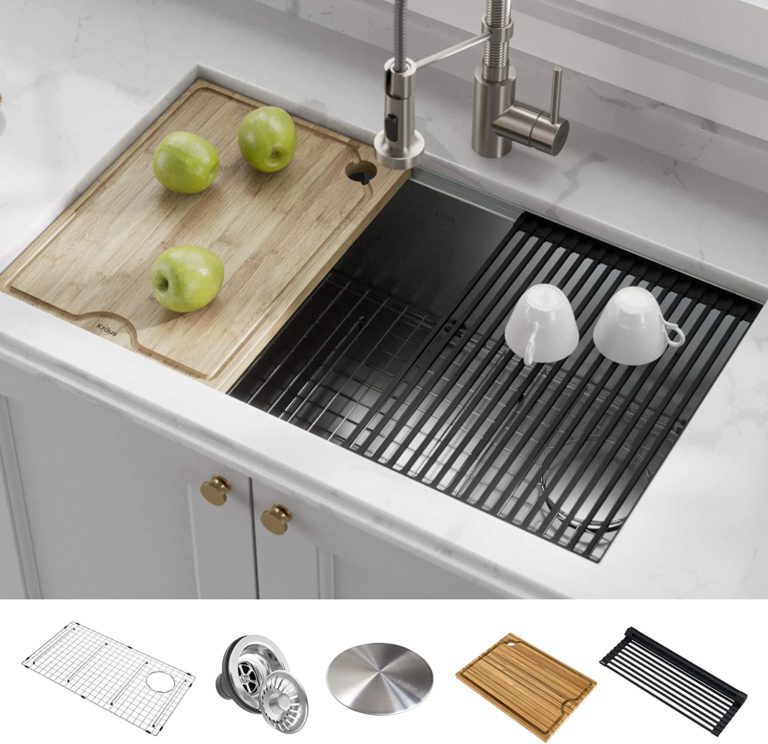 Kraus is a leading kitchen sink manufacturer using advanced technologies and premium materials to exceed industry standards. Created with fashion and function in mind, the Kraus KWU110-32 Kore Workstation undermount sink has a 32" L x 19" W x 10" D basin that can fit into any cabinet of 36 inches or more. Certainly expensive for the average budget, one of the benefits of this expertly crafted undermount sink is that it is made with TRU16, the thickest stainless steel on the market. Robust and durable, this sink is highly resistant to rust and dents which is important for busy homes and businesses. Designed with clean angular lines, its spacious single bowl has tight-radius corners and an offset drain for maximum working space whilst washing up large pots and pans.
With its undermount design creating a seamless transition from sink to countertop, the Kraus KWU110-32 Kore Workstation also makes the most of useable space above the counter, allowing you to work right over the sink. Making life even simpler, an integrated ledge is also a key feature of this undermount sink, allowing you to slide in custom accessories. As part of a five-piece set, this workstation includes a roll up drying rack, a bamboo cutting board, a dish grid, strainer and drain cover. A particularly useful addition, the stainless-steel bottom grid helps to protect the surface of the sink and keeps dishes elevated for better draining.
Engineered for easy draining, fully insulated with soundproofing and boasting a lifetime limited warranty, this undermount sink is well worth the investment for any home.

2. Ruvati RVH7411 Low-Divide Undermount Sink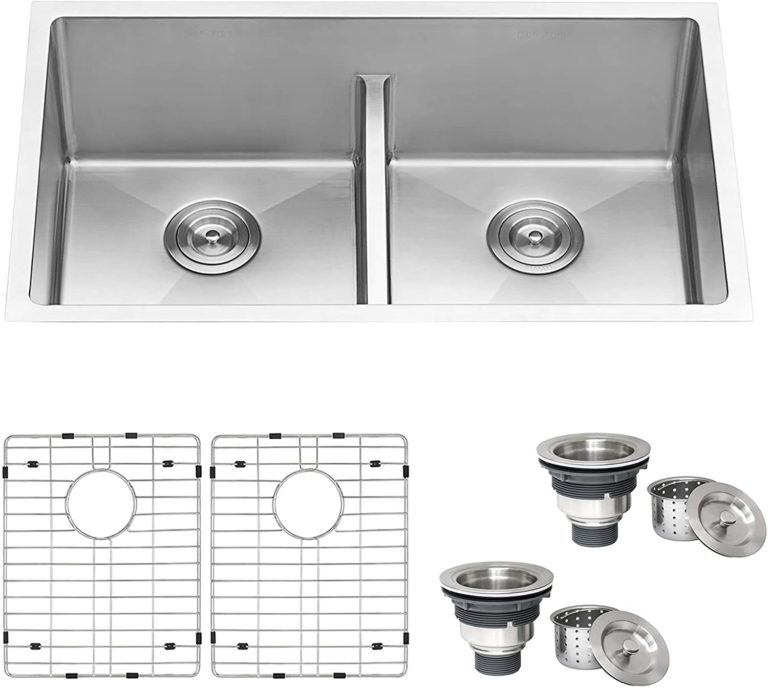 From one of the premier names in kitchen sinks, Ruvati sinks are synonymous with quality. With many of Ruvati's manufacturing and distribution facilities based in the US, customers can enjoy knowing that their undermount sink has been created by a trusted brand. With this particular model from the Gravena series, the Ruvati RVH7411 Low-Divide undermount sink features a smart design that offers the user divided functionality. Splitting a single bowl into a double sink, the left bowl is 14.5″ x 17″ and the right bowl is 14.5″ x 17″. While the overall depth is 10inches, the dividing wall of the sink is 4 inches lower than the top which means that you can keep things separate, yet still easily wash large pans without worrying about the water spilling over onto the worktop.
Constructed of T-304 grade stainless steel with a 18:10 Nickel:Chromium content, the Ruvati RVH7411 Low-Divide Undermount sink promises to be completely resistant to rusting. Fitting into any cabinet base over 36 inches, the Ruvati's 10mm radius inside corners create an elegantly curved design. Not only making it easier to clean than sinks with sharper angles, but this look also projects a neat, modern style. Like the KRAUS KWU110-32 Kore Workstation, the Ruvati Low-Divide Undermount Sink has heavy-duty sound guard padding and noise-proof undercoating to minimize jarring clatter.
This low-divide sink boasts quality and style. When you purchase your undermount sink, you also receive stainless steel bottom rinse grids, two basket strainers, a cut-out template, mounting clips, and an installation guide.

3. Kraus KHU100-32 Undermount Sink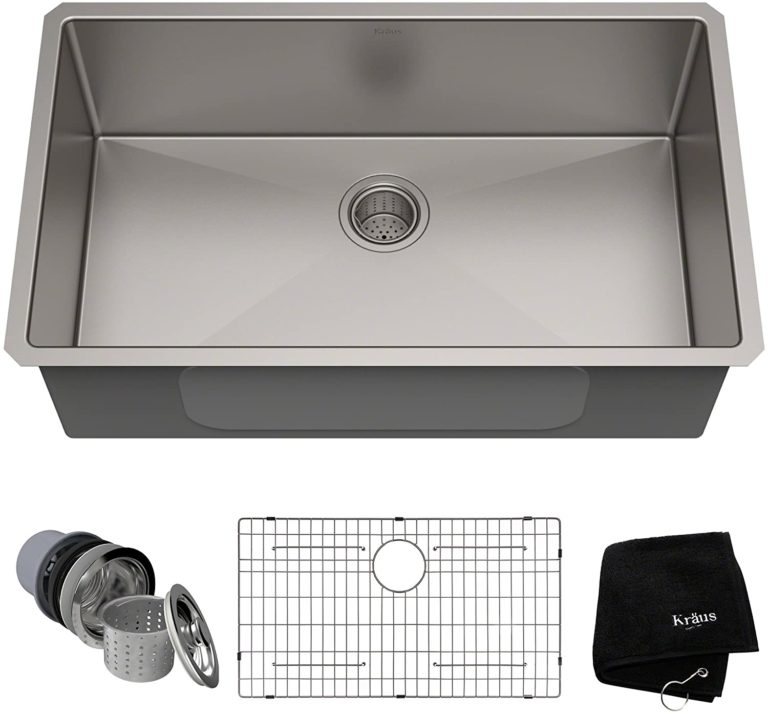 Thanks to Kraus, kitchen-lovers can enjoy the same high-end quality and similar contemporary design as the KWU110-32 Kore Workstation at much lower the cost. Featuring a number of different sizes in this range, our chosen KHU100-32 model has a 32″ x 19″ x 10″ bowl made from 16-Gauge T-304 stainless steel. Fitting into all cabinet bases of more than 336 inches, its oversized bowl can easily accommodate large washable cookware and is paired with a commercial kitchen faucet for a best-selling look. Easy to clean with slightly rounded corners, the sink's lustrous shine is easily maintained and, thanks to its high-quality stainless steel, is also rust and corrosion proof.
Another popular design feature of the Kraus KHU100-32 undermount sink is its optimized drainage. Engineered for total drainage, it has a softly sloping bottom that prevents leftover water getting left inside the bowl and becoming smelly. In addition, this gentle gradient also helps to keep glassware from falling over, too – good news for our fragile, non-machine washable wine glasses! Like the more expensive KWU110-32 model, this undermount sink features sound dampening technologies which is a welcome asset for busy kitchens. With extra-thick, sound-absorbing pads covering over 80% of the sink base, Kraus' bespoke NoiseDefend soundproofing absorbs vibrations and minimizes noises for a more peaceful kitchen experience.
If you are keen to invest in a quality undermount sink that will last you years of service, but don't want to splash out on the highest range products, this is the sink for you.

4. 3218A 18-Gauge Double Bowl Undermount Sink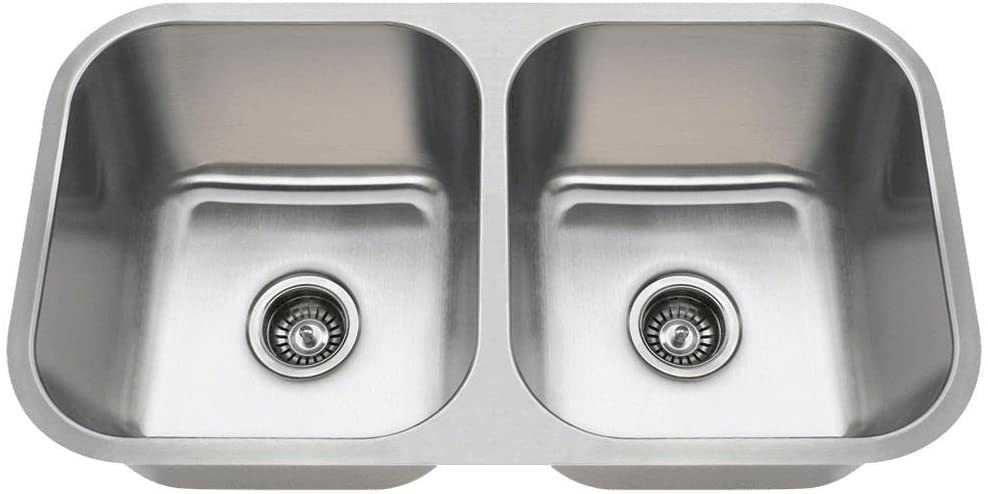 At significantly less of the price than other undermount sinks, the MR Direct 3218A 18-Gauge undermount sink is a great option for those who love this style but don't want to spend a great deal. In a double-bowl design, this sink features two equal 9-inch-deep bowls for balanced styling, each with wide curved corners for a soft, sleek look. At 32 1/4″ x 18″ x 9 1/4″ in dimension, the sink can fit into any cabinet base more than 33 inches deep, which is great for those with slightly less room to play with. Not only saving on water if you don't have a lot to wash up, but the double bowl also has multiple uses, allowing you to stack dirty dishes ready as you wash or perhaps leaving some to soak first.
Made to be durable, this undermount sink is comprised of premium-quality, 304-grade cold rolled stainless steel containing 18% chromium and 8-10% nickel and has an 18-Gauge thickness. Finished with a brushed-satin finish adding to its luster, this finishing touch also helps to masks minor scratches that may occur over time. Adding to the appeal for busy kitchens, this model also benefits from dense, sound-dampening pads and an insulation coating applied to its underside. Although the sound-proofing may not be as thorough as other models, it certainly helps to soften harsh clanking sounds and the drum of running water. For added protection against condensation, an anti-condensation spray coating is pre-applied to the exterior of the sink.
A great undermount sink that will fit into both traditional and contemporary homes, the 3218A 18-Gauge Double Bowl Undermount Sink is a sound, affordable option. Purchase comes with a limited lifetime warranty.

5. Ruvati RVM4350 Low-Divide 50/50 Undermount Sink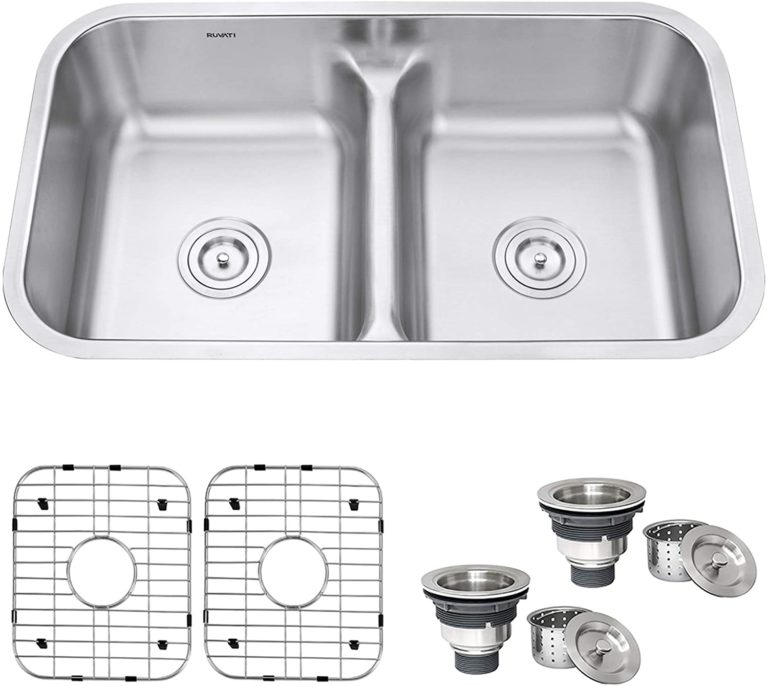 Another quality undermount sink model from Ruvati, this time part of the Parmi series, the Low Divide 50/50 undermount sink comes with a double bowl design in 16-Guage premium T-304 grade stainless steel. Showing off a classic look that would complement any kitchen, it blends simplicity, function and softened lines to create a piece of streamlined kitchen hardware that is both practical and aesthetically pleasing. Shining and smart to look at, its 18:10 Chromium:Nickel composite means that this undermount sink is also really durable too, weathering wear and tear thanks to its anti-rust technology and commercial grade brushed finish.
Easy to clean with its curved corners and preventing old water pooling in the basins thanks to its gently sloping bottom, this sink has plenty of benefits. With no lip edging the countertop, users can easily wipe crumbs and liquid straight into both bowls. Combined with added basket strainers that trap food waste before being emptied in the trash, this undermount sink's set up allows for maximum kitchen hygiene. And, though the bowls are slightly less deep than other models at 8 inches, there is still plenty of depth to soak, wash and drain plates, pots and pans separately or at the same time. Created with the high-quality craftmanship that has earned Ruvati so much acclaim, this sink is UPC and cUPC certified by IAPMO to meet US and Canada plumbing standards and is also equipped with heavy-duty sound guard padding and noise-proof undercoating – minimizing noise and providing superior thermal insulation.
If you're not already tempted, the offer of a lifetime warranty with the Ruvati RVM4350 Low-Divide 50/50 undermount sink will be a real draw. Included with purchase, users also receive two bottom rinse grids, two basket strainers, a cut-out template, mounting brackets and an installation guide.

Conclusion
Whether you are a homeowner or work regularly with food, installing an undermount sink may well be a brilliant addition to your kitchen. Though there are pros and cons to this design of sink, once you have made your decision, you will find a number of high-quality options out there. While many may feature similar looks with a metallic finish, it's always worth checking the grade and gauge of steel used and perhaps paying that bit extra for a quality, durable investment.