If rice is a staple part of many of your meals at home, you may want to consider purchasing a rice dispenser. A rice holder-come-automatic dispenser, these handy utilities have plenty of perks, especially useful if you have a large family to feed. Ideal for storing lots of rice to save on space and supermarket trips, rice dispensers keep your grains fresher for longer and provide extra protection.
So which is the best rice dispenser to go for?
Aroma Housewares ARD-125 Rice Dispenser (22lbs)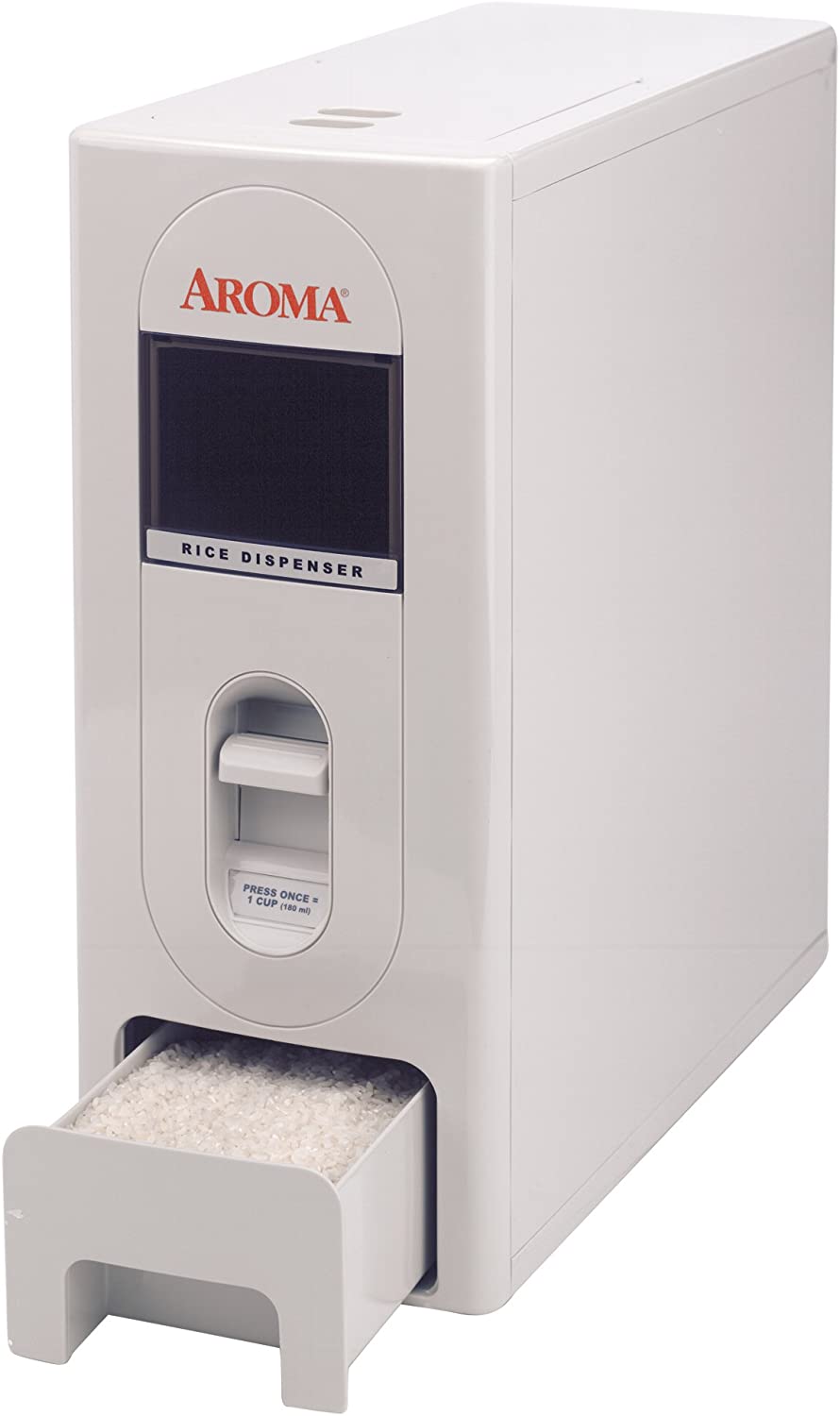 Among the most popular companies in the United States for cookware and small kitchen appliances, Aroma is a well-known American housewares brand. Founded by Peter Chang in 1977, it has become sought-after for its reliable products, notably its rice cookers. Naturally, one of the first brands we thought of for high quality rice dispensers, we homed in on Aroma's ARD-125 rice dispenser to see what it offered and how this particular model fared against other dispensers.
A no-brainer on our list, the 16.54 x 7.09 x 17.32-inch Aroma Housewares ARD-125 rice dispenser is ideal for reducing clutter in your kitchen, holding up to 22lbs of rice. Perfect for those who like to keep plenty of rice in stock, its stylish white aluminum body removes the need to store awkward, half-opened packets of rice (along with a range of other dry goods like whole grains, beans and lentils) and keeps its contents nice and fresh. Particularly convenient if you have a problem with unwelcome critters getting into your food packets, this model also helps to keep out insects too – although we haven't found any models that can guarantee 100% efficacy.
Featuring a compact design, the ARD-125 rice dispenser can sit atop worktops without taking up too much space, providing bulk storage without the bulky frame. If you prefer a more minimalist look, you can also easily stow it in cupboards and pantries too. The convenient dispensing system is really useful for portioning, measuring out 1 cup of rice per button push, meaning you don't have to bother with additional measuring jugs or weighing scales either. While other models may be susceptible to jamming too, the ARD-125's smooth funnel prevents clogging and allows easy dispensing of rice and larger grains and pulses, making your mealtime routines a whole lot easier.
Already set up with no need for tricky installation, this is a great option if you are looking for a reliable, uncomplicated rice dispenser that complements traditional and modern kitchens.

Tayama PG-25R 50lb Rice Dispenser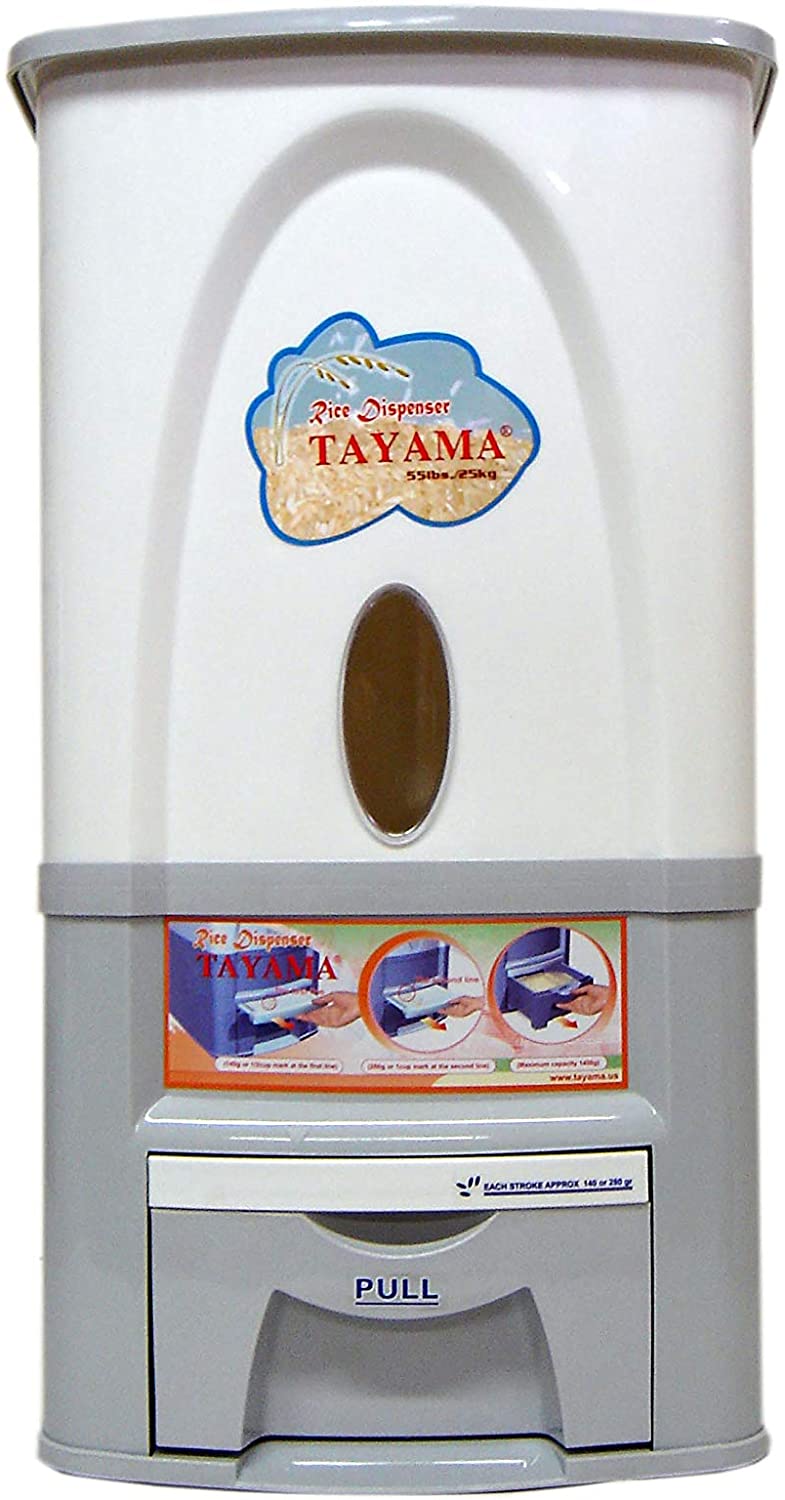 A Japanese company with a California HQ, Tayama is another well-known name amongst the kitchen appliance world. Along with their favorable reviews, we were particularly taken with one of their largest rice dispenser models: the Tayama PG-25R 50lb Rice Dispenser in white. Fashioned in durable white plastic, this next entry on our list comprises of a large 13 x 22 x 14-inch unit with a whopping 50lb capacity – perfect for large families with many mouths to cater for.
Kitted out with a removable top lip and pull-out lid for easy access, as well as a rice drawer/container for dispensing rice, the PG-25R is ideal for storing away significant amounts of dry food. Easily holding the contents of two 25lbs bags of rice or one 50lb sack, it even leaves a little room to spare. Slightly different to some other models, the PG-25R does not have a button, but uses a pull method to retrieve the rice. Equipped with a bottom container that holds up to 5 cups of rice and a slide-out shelf dispenser that has an option for 1 or 0.5 cups, you can easily dispense just the right amount for your meal.
As well as various rice varieties, Tayama's PG-25R allows you to stock and seal cereals, beans, and even dry pet food, creating easy storage and preventing spills – although it is a little more cumbersome when it comes to space. As well as keeping dried goods sealed, this model is also good at helping to prevent other elements getting in – like bugs, rodents and damp – so that foods are better preserved for longer.
Reasonably inexpensive and with a simple design, this rice dispenser is no fashion statement but will certainly make storing food and keeping your kitchen tidy a whole lot easier.

i Kito Rice Dispenser (26.5 lbs.)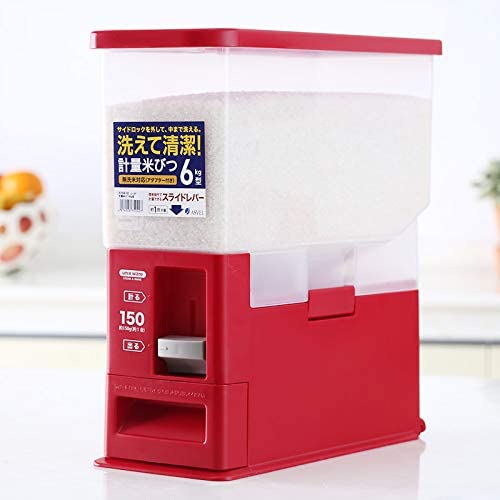 Designed to keep rice and other goods as dry, fresh and insect-free as possible, the i Kito 26.5lb Rice Dispenser is a multi-functional storage unit with lots of perks. Slim and lightweight, it measures 16.3 x 7.5 x 16 inches and boasts a 26.5lb capacity, creating a practical storage solution for rice, flours, beans, lentils and so on. Made of polypropylene and sporting an eye-catching red color, it can be placed on top of counters and on large shelves in pantries to keep a ready supply of everyone's favorite grain.
Priding itself on its no-spill technology, this simplistic Japanese dispenser is great for those who simply want a no-frills, effective kitchen appliance. With one push of a small lever, the i Kito dispenser releases roughly one cup of rice, which is dropped into a sliding drawer at the bottom of the unit. Although there is no option to increase or decrease the amount of rice, it at least provides consistency so you know how much you are getting. And, if you decide you have too much, then rice can easily be returned to the top of the container by lifting up the lid.
Like other models, a benefit of rice dispensers compared to other storage options like packets, jars, and Tupperware containers is that the rice can be easily topped up without having to worry about the old rice being used first. This first in, first out method helps to keep preserve the quality of rice, preventing it from degrading over time, and also helps to save on food waste. In addition, like other models, it helps to prevent bugs getting into the rice, although with this particular model, there is no specific damp-proofing technology.
A good multi-functional rice dispenser with an eye-catching color, this rice dispenser is great for its easy-to-use functions and compact frame. That said, if you choose this model, you will need to assemble it yourself when it arrives.

CookMax Rice Dispenser (50 lbs.)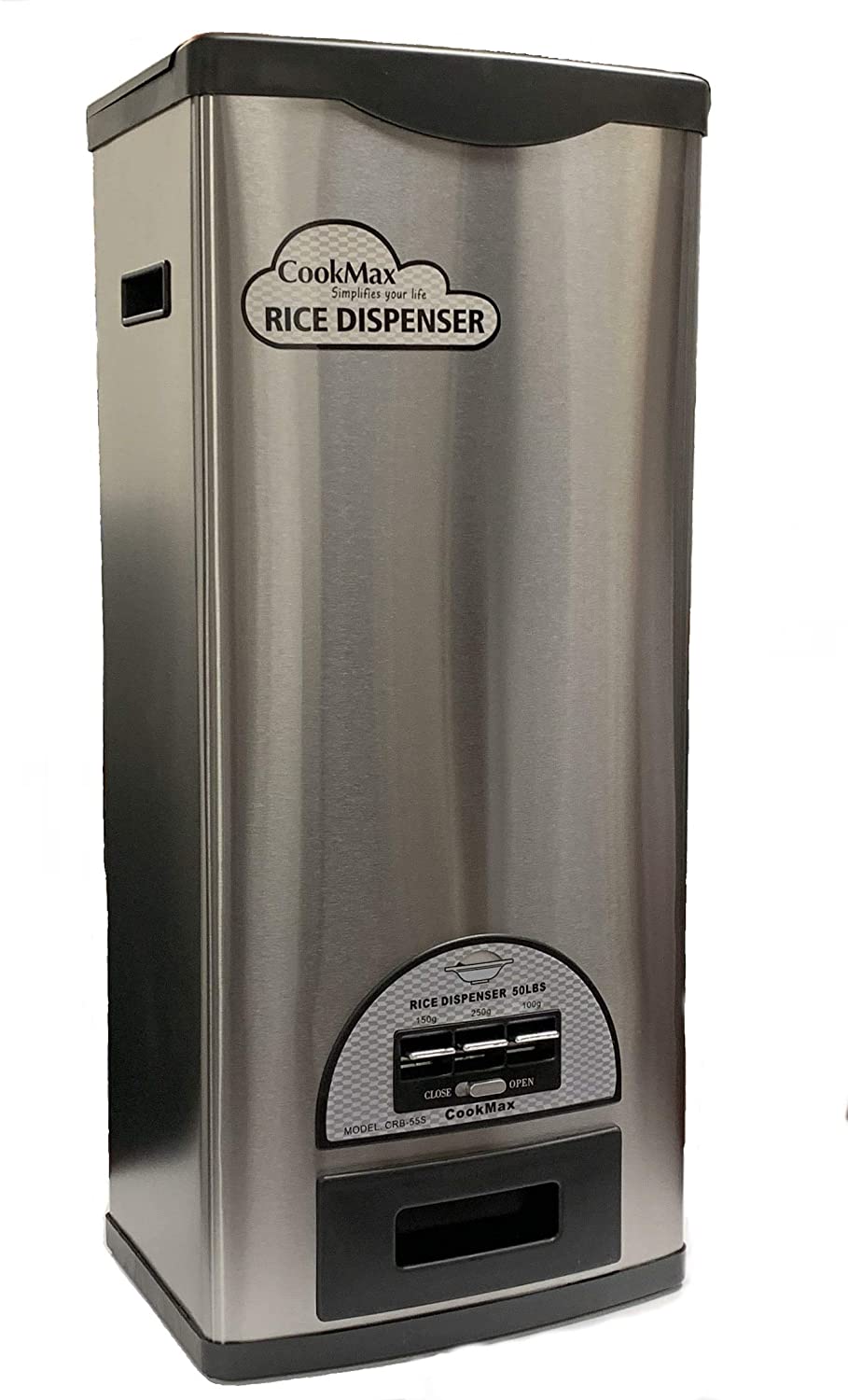 Another great option for those who enjoy rice as a main part of their diets, the CookMax Rice Dispenser allows you to store up to 50lbs of dry rice. With a much more sleek look than many of its competitors, it may be significantly larger at 39.37 x 39.37 x 19.69 inches, but its silver and black accented stainless steel body makes it a stylish, contemporary addition to any kitchen. Pop it on top of the counter for easy access or keep it stored in a pantry or cabinet for less clutter, making use of its automatic rice dispenser at any time.
Offering more precise measurements than many other rice holders and dispensers, the CookMax Rice Dispenser has three different options for dispensing rice which is a real bonus. Programmed by the simple press of button, quantities of rice are preset at 100 grams, 150 grams and 250 grams, so you choose exactly how much rice you would like to retrieve. Making following recipes easier, it is also a feature that kids will love using too, encouraging them to help out in the kitchen and get involved.
Not just useful for storing rice, the CookMax's 50lbs of no-spill storage can be used for storing beans, lentils and lots of other small foods. Whether you are keen to use more than one for different goods or want to rotate dry products, the CookMax dispenser will mean saving on unsightly packets messing up cupboards, as well as trips to the shops for top-ups! Made up of less components than other models, it is not only an aesthetic, practical utensil but is also arguably better at keeping bugs and damp out too. This also comes with the added advantage of needing zero assembly upon arrival, as it is already prefabricated.
With a slightly higher price tag than other contenders, the CookMax dispenser may put some people off, but is a good investment for those looking for a fun, sleek, contemporary storage solution that provides exacting measurements.

Sunpentown 22lb Rice Dispenser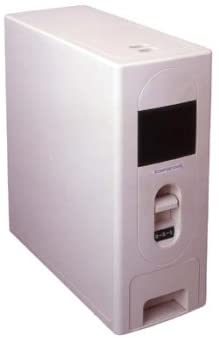 Established in 1993, Sunpentown International Inc. was founded to distribute well-trusted appliance brands "that offer innovation, value and quality". As such, they have remained a popular brand and many of their rice dispensers find themselves in homes across America. One model we particularly like is the Sunpentown 22lb Rice Dispenser. Along with the Aroma ARD-125 Rice Dispenser, the Sunpentown has the smallest capacity of the rice dispensors in this list, but is still a popular choice for those who don't have significant storage needs.
At 7 x 17 x 17.5 inches and only 8 pounds, this is a really lightweight solution to rice storage that still provides a valuable upgrade on regular packets and containers. With durable steel construction material and a funnel dispensing system that ensures a smooth and continuous flow of rice without jamming, it's really easy to use and made to last. Simply remove the top lid to fill up the container and use the outside lever to release rice into the bottom drawer (one press of the lever is approximate to one cup of rice). Although there are no automated amounts to choose from, this model's lever system is still a fairly effective way of reaping similar amounts of rice each time.
An added bonus of its 22lb capacity size is that it can be easily topped up with 20lb bags of rice without having any leftovers. With smaller 20lb capacity models, unless you use the whole amount of rice inside before topping up, you can never exactly fit the whole contents of a new bag inside as there is always some that won't fit. So, even though 22lb is still a modest size, it allows that greater bit of ease-of-use than smaller models. Additionally, like with other models, the Sunpentown 22lb Rice Dispenser also helps to prevent pests from getting inside, although there is no rubber seal around the top to make this 100% damp and insect-proof.
A relatively small rice dispenser, the Sunpentown 22lb Rice Dispenser provides effective rice storage and sports a design that will easily fit into any home.
Rice dispensers are a great way to declutter your home and protect dry foods from pests, damp and humidity. While each model has its own benefits and quirks, the array of products, styles and sizes means there is something for every home. Let us know in the comments which one you have, and why!

Conclusion
There's no doubt that if you use a lot of rice then a great rice dispenser is going to be beneficial to you. We think we've covered the best ones available but let us know in the comments which rice dispenser you have and what you love about it.