We already covered the best can openers for seniors but what about jars? Well we need a different gadget for jar opening but fortunately there are loads of great options here and all at really great prices too. Opening jars can be a source of frustration for anyone but as you get older and the hands become a bit weaker it can become more of an issue, so let's get stuck into all the great products that are available to make this task simple once again.
Jar lids are no match for the Kichwit, you simply place it on top of the jar and twist the handle until it grips the sides of the lid, then you just keep twisting that same handle and watch the lid pop right off.
This is a reliable and sturdy product and the manufacturer promises it won't rust. It is suitable for jars with lids between 1.2" to 3.7" diameter, which covers most standard lid sizes. You also get a free bottle opener with this product.
The handle is ergonomically designed so it feels great in the hand. You do need some functionality in your hands to use the handle but strength isn't required. If your hands are more limited in mobility then the electric version next on the list might be a better choice.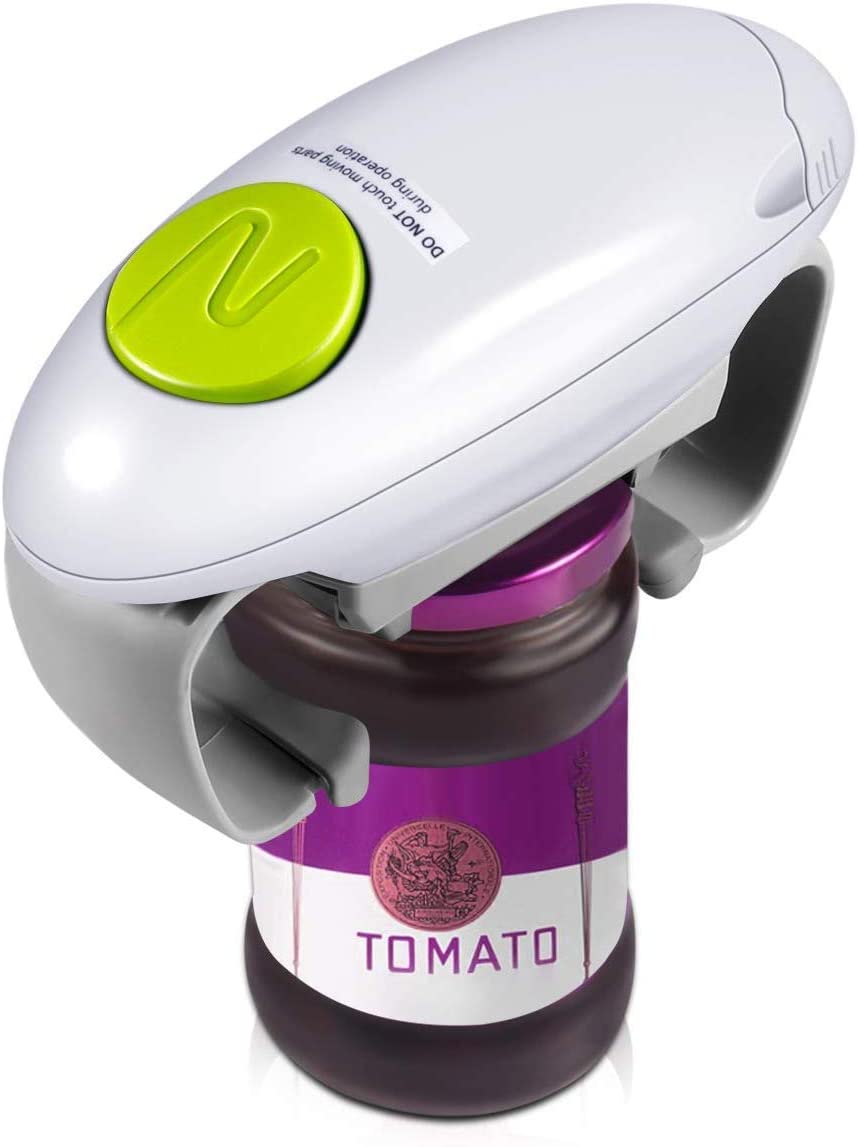 This is so simple to use and requires no twisting or turning from the user at all. Simply place the device on top of the jar and press the button, the machine does the rest.
This one opens lids from 30 mm to 88 mm (1.18 to 3.46 inches), which again covers most standard lid sizes. Although on the picture it looks quite a bulky item, it really isn't and will fit in your kitchen drawer easily.
Obviously with it being electric means it needs batteries (2xAA) but they last a really long time. The jar opener doesn't use much power on each use so a good set of batteries will keep you going for a good while.
We love this one for being so simple and effective while having no manual labor required at all. It's a little bit more expensive than the manual options but it completely removes any issues with hand strength. This product appears with various brand names attached to it but it seems to be the same product no matter which you go for.

Very simple yet very effective tool. This one opens caps and lids from 1 inch to 3.5 inch, so very similar range to the other items on this list.
It's made from plastic so easy to clean and you can even put it in the dishwasher if you wish. t has a handy hole in the handle so you can hang it up for easy access.
There isn't really much more to say about this one other than it works great. Again it does require some hand use so not a hands free option but this is perfectly suitable for seniors and those with weakened hands.
It has tons of great reviews on Amazon plus the price point is really great.

Hamilton Beach make one of the most popular electric can openers and they also have a great jar opener here. It is very similar to the Instecho but with one difference. This one can put lids back on as well as take them off.
Much like the product at number 2 on this list, it works with a push of a button and no manual labor is required. The same goes for re-tightening lids as well.
This one also requires 2xAA batteries and Hamilton Beach state that it can open 250+ jars on one set of batteries.  This one also has the greatest range in terms of jar size, opening lids from 1″ to 4″ in diameter.
This is made by a great manufacturer so the build quality is great. More pricey than the others but offers more functionality and great quality from a reputable brand.

An oldie but a goodie here. Many of you may be familiar with devices like this although they are less popular these days with the availability of electric openers.
This is a perfectly good jar opener but we found it the most fiddly to use. It's made from stainless steel so really durable. It opened any jar we tried it with really easily. It just requires that extra bit of dexterity to get it on the jar when compared with the others on the list.
The best ting about this one is the price. It's really cheap and easy to have in the utensil drawer. If you need something for an older person though there are better options available on this list.

Conclusion
Those are just five of many products available. There are many similar options available but these 5 cover the main styles of device you will come across. All make opening jars really easy which is of course what they are designed to do.
In our opinion the best options are the electric options at number 2 and 4 on this list. Whilst they do require batteries only these devices require absolutely no manual labor from the user, meaning even someone with the weakest hands will be able to use them.
The others on the list are great too but they do require a little bit more effort to attach them to the jar lid.
Our choice would be the Hamilton Beach at number 4. It is the most expensive but it is a really reliable and easy to use product, plus it re-tightens lids as well. We always have a great experience with Hamilton Beach products so this one gets our vote. The Instecho at number 2 though is another superb option, it just doesn't tighten lids like the Hamilton does.
Let us know in the comments below which jar opener you have and what you think of it.