Pizzelles are really hot right now for some reason. People are really loving making them and sharing recipes. They have been around for a long time but seem to have really taken off in popularity lately. Whatever the reason for this (probably because they are delicious!) it means that good Pizzelle makers are in demand. There are tons to choose from so knowing which are the best ones to look at can be a bit confusing. That is, of course, where we come in. We have done the investigating for you and have here a list of the very best available. Pizzelle Irons are pretty cheap so no matter which you choose it isn't going to break the bank. With that in mind, we haven't really given too much thought to budget here, they are all around the $40 – $50 mark so there's not really any point giving price much further consideration. So let's get going with the list!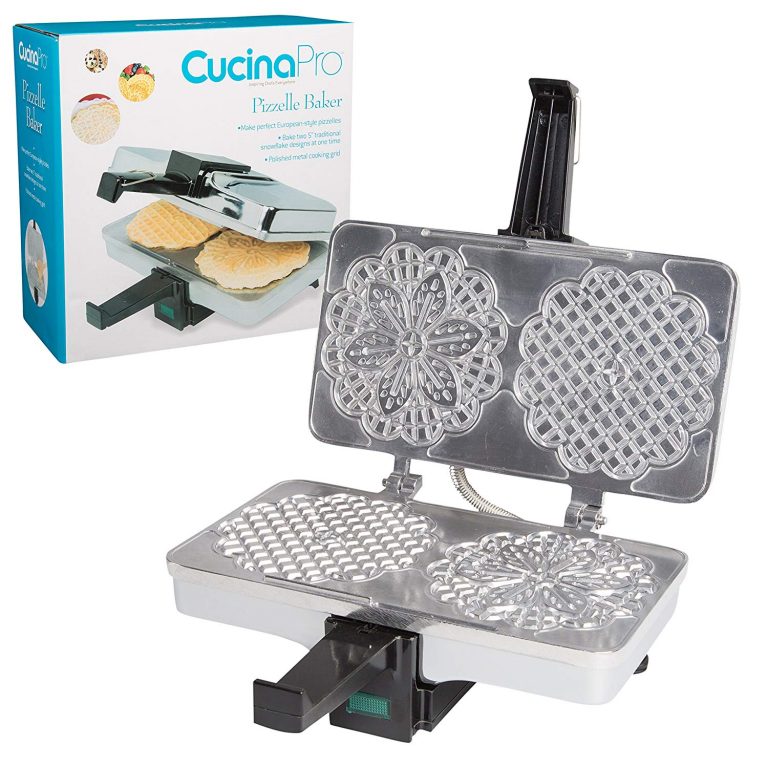 One of the main things to decide when choosing a Pizzelle Maker is whether to go for a polished metal or a nonstick surface like Teflon. This model comes in either so you can choose whichever you like best. We looked at the polished version here, we know people can be wary of chemicals in nonstick surfaces. There is some curing required here to keep the surface in pristine condition but it really isn't much of a chore.
As you can see on the image it can make 2 at once with a nice pattern. The Pizzelles produced are nice and crispy, just how you would want them to be. Makes 5″ pizzelles.
There's not a lot of controls on the machine itself, on and off is as complicated as this gets. A timer would have been nice but very few Pizzelle irons actually include one. Overall this is an excellent iron that produces great results.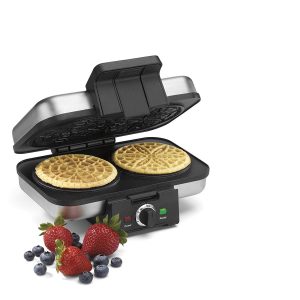 Cuisinart continue to make excellent products no matter what they turn their hands to and this is no exception. This is a nonstick iron and even though we don't really think pizzelles are that sticky, this one does its job and the cookies come away cleanly without breaking apart.
This iron makes two 4″ pizzelles, so slightly smaller than the CucinaPro which makes them at 5 inches big. Unlike the CucinaPro though this one has a temperature control or browning control, as they call it. This gives you more control over the finish you get. It also has 2 lights on the front that indicate ready to bake and ready to eat. This really is a great feature as it lets you know when the iron is up to the correct temperature and then it lets you know when they are done cooking so you don't have to keep peeking at them.
This iron comes with a measuring scoop, rolling dowel, and a recipe book. So you get everything you need to start making Pizzelles. For that reason, it makes a great gift.
The nonstick plates remove for easy cleaning. Overall this is a superb choice and probably the best Pizzelle maker on the market right now.
So this one can make 3 pizzelles at once and it makes them fast. It takes about a minute to make a batch and then the machine is immediately ready to make more once they are done. There is no waiting period in between. The cookies are only 3 inches big so quite small compared to some of the other irons on this list but at the speed this produces them it really doesn't matter that much.
A color select control allows you to choose how brown you want the resulting pizzelle and it has convenient baking and ready lights so you know the status of the machine at a glance.
This one includes cannoli rolling form, spoon and recipes so it makes a great gift.
This model was awarded "Amazons Choice" for Pizzelle Makers.
Another fantastic product from Cuisinart here. The thing that makes this pizzelle maker so good is its versatility. It makes crepes, tortillas, blintzes, pancakes and more as well as pizzelles. The plates are reversible here, a iron for pizzelle making on one side and a large flat surface for crepes and pancakes on the other side. AS well as being reversible, the plate is safe to completely remove and place in the dishwasher.
You can make 3 pizelles at once here, each one just under 3 inches in size. The controls on the front allow you to select what you are making and then how golden you want the finish. This level if control cannot really be found on other machines.
Includes measuring spoon, tongs, and mini ice cream cone roller.
It's a little bit bulky but it has been designed to be stored upright so it doesn't take up too much space when not in use. This is a little more expensive than a dedicated pizzelle maker but you do get a lot of options here for making other things.
The most expensive on the list at the time of writing but this thing is high quality. Really well made, solid construction and you can tell it is made in the USA. This thing is robust and will last a long time. It comes with a 10 year warranty which tells you how solid this thing is.
This is a simple design with two 5 inch plates. It doesn't come with any indicator lights or controls though so you really have to develop a feel for making pizzelles on this one. Not for the beginner.
It's a nonstick Teflon surface although we have seen better nonstick surfaces. We did encounter some sticking here.
This isn't the best pizzelle iron on this list but we've included it because it is made in the USA and is very good quality. It's just not that easy to use, unfortunately.
Conclusion
For us, the stand out performer here was the Cuisinart WM-PZ10 which features at number 2 on this list. It makes nice sized crispy pizzelles that come out exactly how you want them. With its extra controls, you get the result you want. Plus the indicator lights make it really simple to know when they are ready.
The Cuisinart CCP-200 was another excellent choice especially with its versatility but for a pure pizzelle maker the WM-PZ10 was the stand out performer.
Let us know in the comments which one you have and what you think of it.