If you are looking for the best ceramic frying pan then you are in the right place. We have listed 10 of the best here and there are some real bargains to be had. Ceramic pans are getting more popular because they allow you to have a great nonstick surface without using chemicals. So here is a list of some of the best available!
1. GreenLife Soft Grip Ceramic Non-Stick 7″ and 10″ Open Frypan Set, Turquoise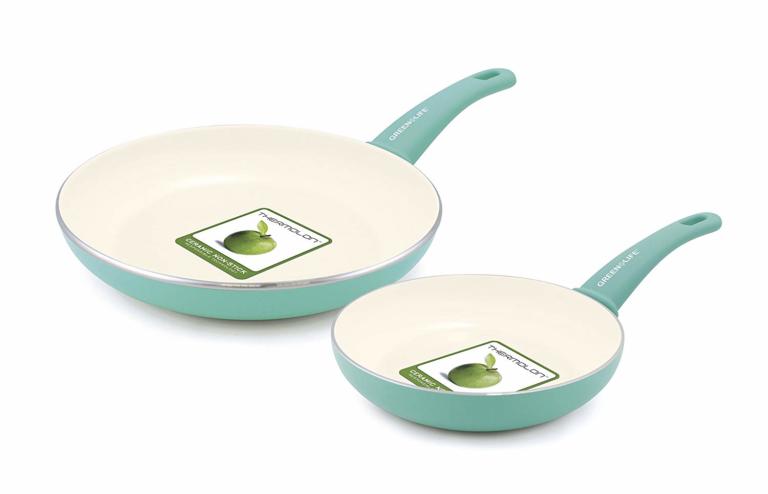 If you aren't familiar with GreenLife products then they are worth checking out as they make some pretty nice stuff. This ceramic frying pan set is a bit of a bargain as you get 2 great pans for a pretty low price. Despite their name these pans come in 3 different color choices, the standard GreenLife green, as well as a Burgundy and Lavender. You get a 7″ and a 10″ pan here.
GreenLife have set out to make healthy non stick cookware and these pans are a great example of their fine work. They were the first company to introduce ceramic coatings onto cookware. They call their coating Thermolon. Made from natural materials it uses no chemicals or toxins making it completely safe you to cook with. There are no  PFAS or PFOA chemicals here either.
These pans come with a stay cool Bakelite handle making them very easy to handle. They have a reinforced Aluminum body and there is no lead or cadmium used here so there are no worries about their materials at all. There are no  PFAS or PFOA chemicals here either.
They are oven safe to 350 degrees Farenheit and are dishwasher safe. These pans come with a lifetime warranty too.


2. Vremi Ceramic Nonstick Frying Pan – Large 1.7 Quart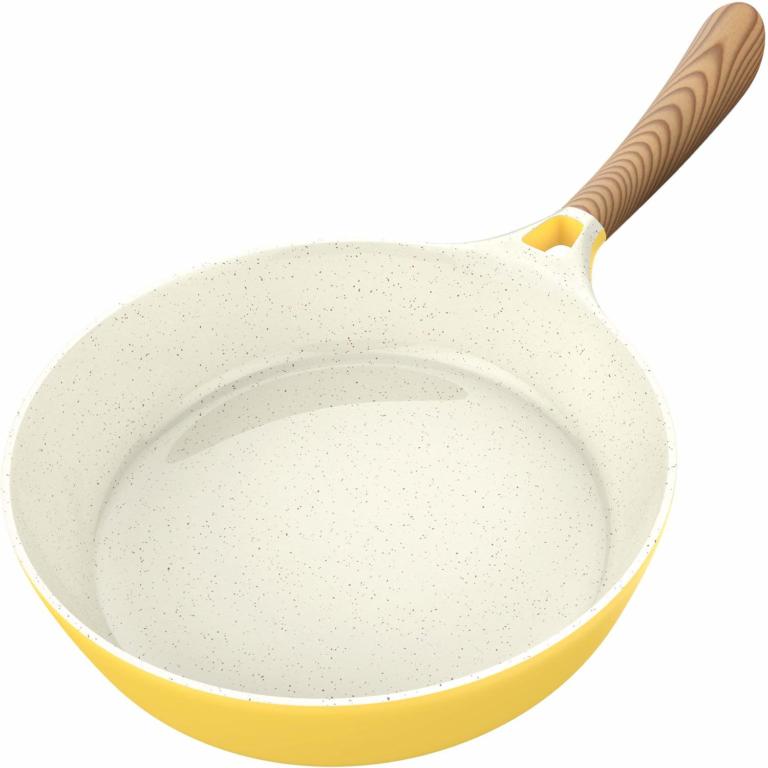 This yellow isn't for everyone but something about this pan really speaks to me! I just love the way it looks sat on my cook top.
As the name suggests this is a large pan, it measures 9.4 inches across and 16.6 inches from the tip of the handle to the edge of the pan. It is 4 inches at its deepest. This pan tapers back towards the handle meaning it's not as deep at that end. This gives the pan a nice ergonomic feel when you are moving things around in the pan. It feels great when making pancakes for example.
Despite this pans size it is very light due to its Die-cast Aluminum body. The aluminum body also makes for really even cooking. As this is a ceramic frying pan list the body does of course have a ceramic coating. It's actually a ceramic non stick marble which gives an outstanding non stick surface. It's non toxic, BPA free and scratch proof too.
The handle looks stunning too, made using Bakelite meaning it's heat resistant. In a white wood style it really looks gorgeous. This pan has been designed to be on display, everything about it is visually pleasing. We really like this pan!

3. Vesuvio Ceramic Coated Nonstick Frying Pan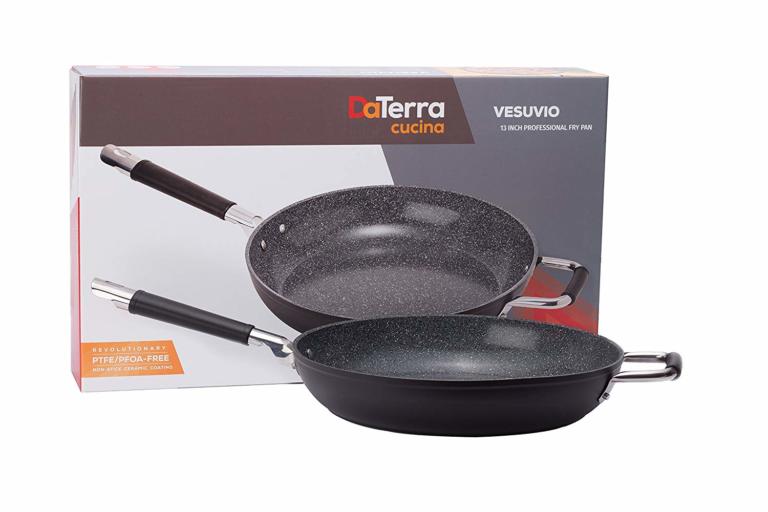 This is a professional grade pan and the price reflects that. Whilst not super expensive it is more expensive than most other ceramic frying pans on the market.
This is a big 13 inch pan so you can use it for pretty much anything. You know a pan is big when you see a helper handle! Despite it's beastly size this pan isn't that heavy and you probably won't need the helper handle unless you have got a heck of a lot of food on the go. The base of the pan is aluminum which keeps everything nice and light. The ceramic coating is PTFE-free, cadmium-free, and lead-free. These are the main culprits to look out for when shopping around for cookware. Try and make sure you get stuff that is free of all these things.
This pan is oven safe to 450 degrees F. The handle is a stay cool silicone.
You only get a 1 year warranty with this, which is pretty standard but obviously with the GreenLife you get a life time warranty. No doubting the quality here though, this is a gourmet quality pan that a pro chef would be proud to own.

4. Blue Diamond CC001598-001 Toxin Free Ceramic Frying Pan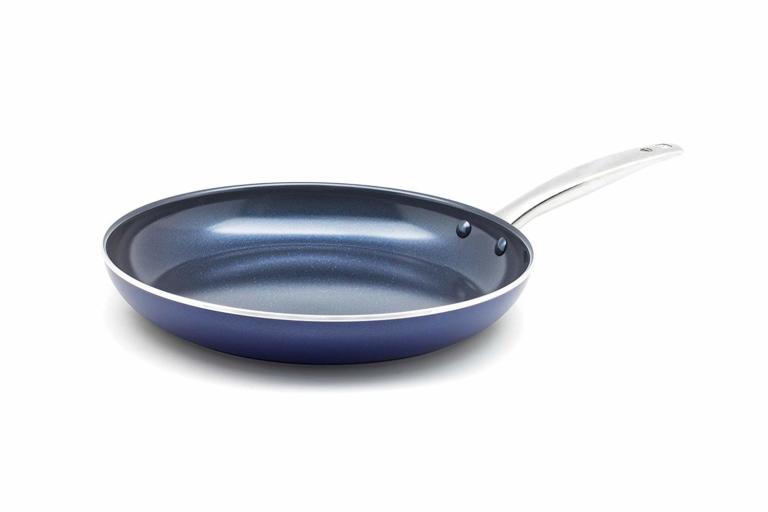 You may have seen Blue Diamond pans advertised on television before. Yeah, it's one of those products! However, these are actually pretty good. The big promise behind Blue Diamond pans is that you can use metal utensils and whisks etc without damaging the pan. This doesn't really stand up to testing in our experience but if you treat these pans like regular pans that aren't bulletproof then they are a decent buy.
Blue Diamond pans are "infused with millions of diamonds" that creates a durable and nonstick surface. These pans are less than 30 bucks at the time of writing so those millions of diamonds must be pretty small! These pans are pretty tough but my advice is to treat them with care and they will last much longer.
These pans have a good nonstick surface and are made without PFAS, PFOA, Lead or Cadmium. The ceramic surface is a striking blue that won't be to everyone's tastes.
Oven and broiler safe up to 850°F (yeah, I thought that was a typo too but apparently not). They are also dishwasher safe.


5. Ozeri Professional Series 10" Ceramic Earth Fry Pan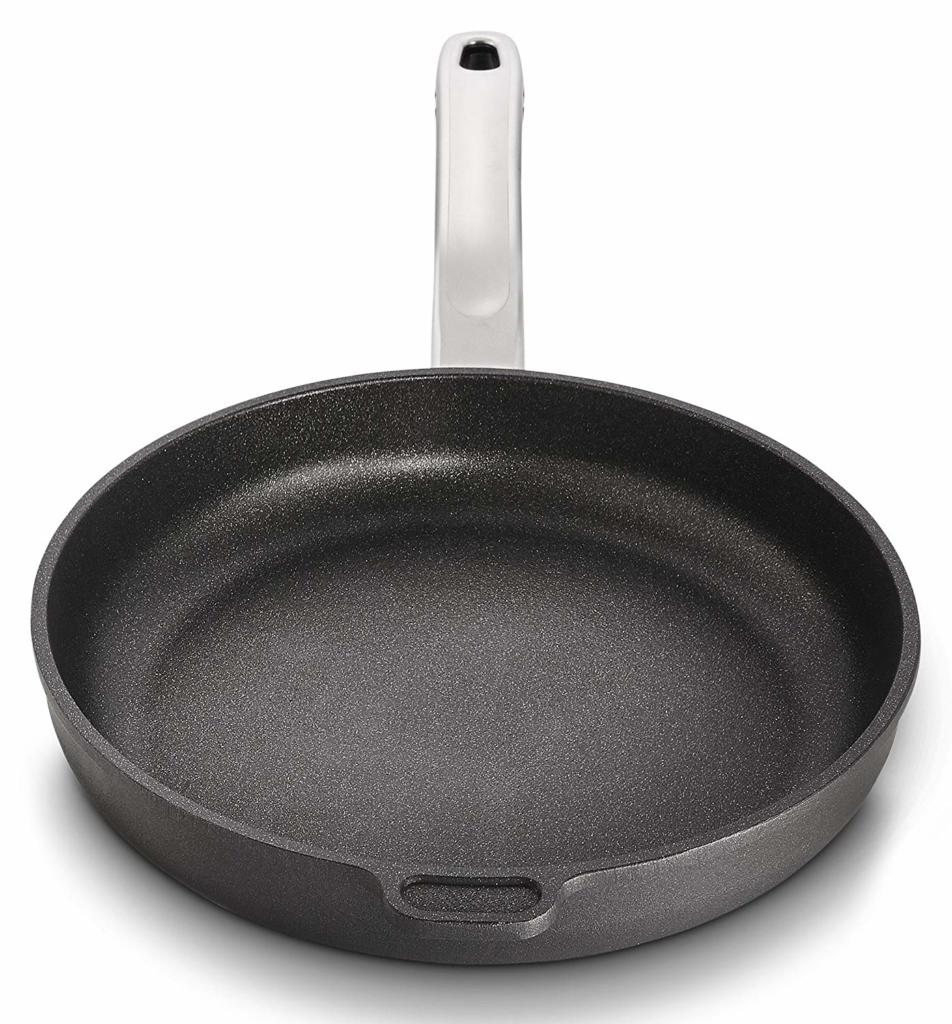 These are good, really good. Firstly they are hand cast, there's not a great deal of cookware you can buy these days that is hand cast. The focus is on high quality here and it is delivered. The pans are quadruple sealed with a professional ceramic coating that is 100% free of APEO, PFOA, NMP, NEP and BPA
Made with a 4-ply construction which offers amazing heat conduction and a magnetized layer means they work on all cooktop types including induction. This pan is quite weighty due to the 4-ply construction but not so much that it is difficult to use.
Oven safe to 500 F and has a heat resistant handle.
This is pretty much the only pan you can get in this range which is a shame but at 10 inches this is pretty versatile. It's definitely nothing fancy to look at but the nonstick on this pan is really excellent. It's a really sturdy piece that feels like it's going to last a really long time. The quality cannot be denied. These are definitely worth looking at closely.

6. T-fal C41205 Endura Granite Ceramic Nonstick Thermo-Spot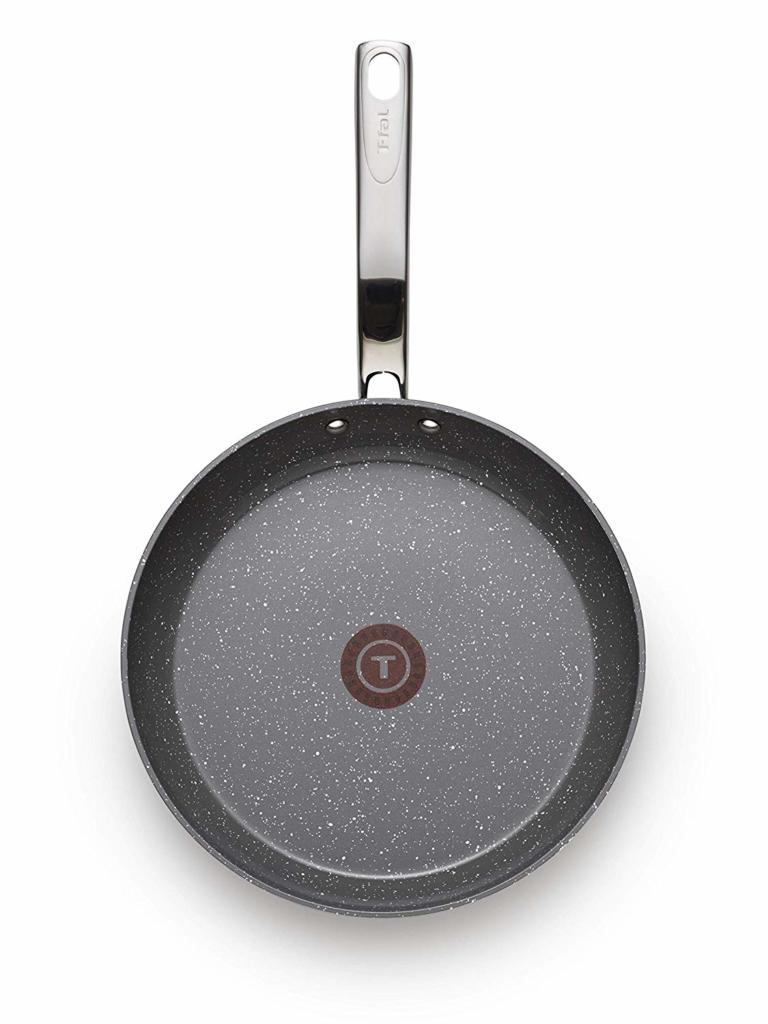 I'm sure everyone has heard of this brand. T-fal are well known in the nonstick pan game for delivering high-quality products at really great prices and they continue that trend with this fantastic pan.
The design is what T-fal are calling Meteor Style. That's pretty funny to us but we like that they are trying to be creative! As you can see its pretty much an all black pan with a little bit of sparkle so from a design point of view there isn't much to get excited about here.
This is oven safe to 500 degrees F and also dishwasher safe for an easy cleanup.
This is a budget pan and not up to the high standards set by some of the other products on the list however you are getting a good brand name at a very cheap price. The nonstick works really well too. If you are looking for something a bit more durable then look elsewhere bit for occasional use this will do you proud. This pan does come with a lifetime warranty which is really great considering how cheap it is.
Don't forget you get the famous Thermo spot with this pan too that tells you when the pan is at the right temperature to cook. A little thing but it's a nice feature.


7. CONCORD 3 Piece Ceramic Coated Copper Frying Pan Cookware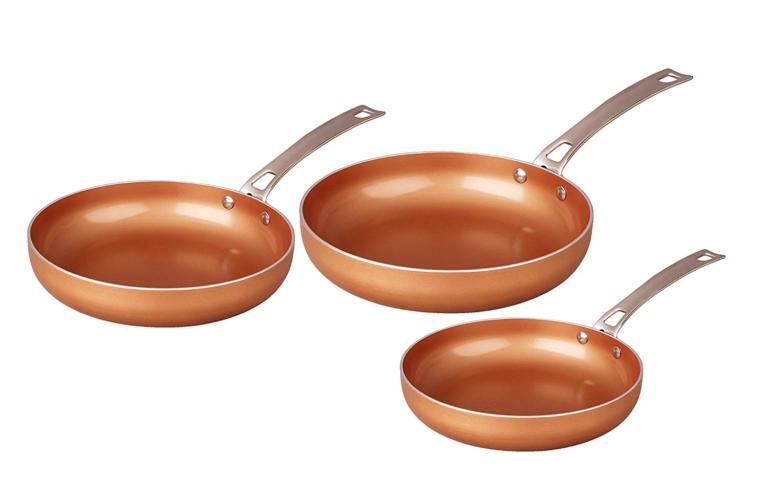 These pans from Concord are really highly rated and getting a 3 piece set at this price is a bit of a steal. These pans have a rather unique surface called Coppe-ramic. As you can probably tell by the name it is a combining of copper and ceramic. They are copper bodies with a ceramic coating, this gives you the best of both worlds if you are after a copper cookware set but the nonstick benefits of ceramic.
Concord Cookware makes a lot of different sets in this range so if you like these you can get a lot of other different types of cookware to match.
Set Includes 8″, 9.5″, and 12″ Frying Pans and they are compatible with any cooktop type including induction. There are no PTFE and PFOA chemicals used here. The handle is stainless steel. They are dishwasher safe too for easy cleanup but I would probably hand wash these if you want to keep them looking their best.


8. Almond Nonstick Ceramic Copper Frying Pan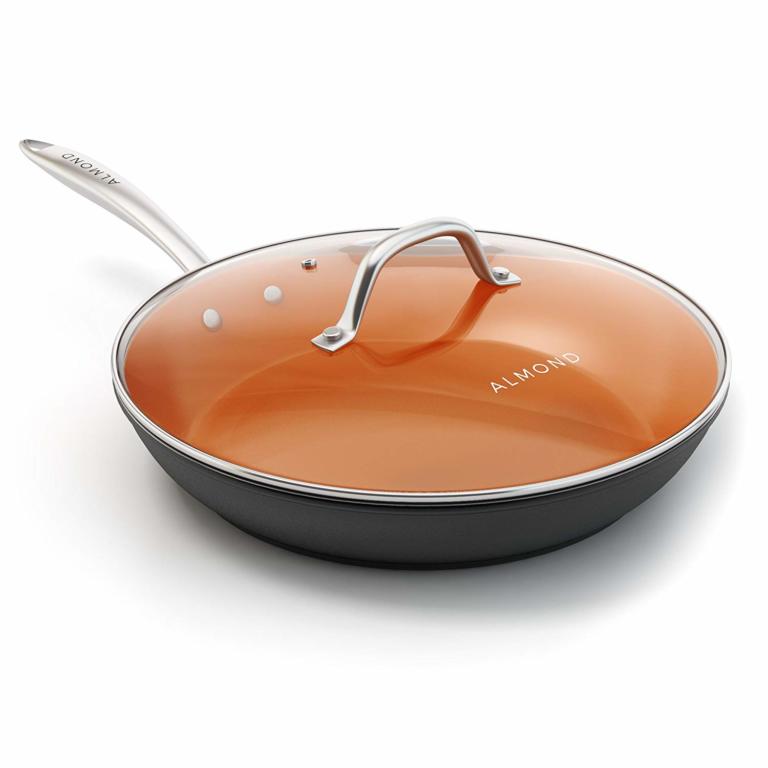 I was a fan of this one. Visually it pleases me, maybe it's because of the nice lid you get with it. It's becoming more common not to get lids with cookware these days which is a real shame ut happily with this pan from Almond we get a very nice lid.
This pan has that healthy ceramic coating we are looking for with no PTFE and PFOA used.
With a lot of copper cookware, you have to be really careful with them as they tarnish quite easily. This pan has been designed to resist that, no matter what cooktop type you are using. They are induction compatible too! The base of the pan is actually aluminum which makes the pan light and easy to handle. It also means you get great heat distribution and even cooking. Sometimes copper can be slow to heat up but by using an aluminum base there are no such problems here.
Oven safe to 420 degrees Fahrenheit and dishwasher safe. Almond claims they are free of tarnishing even when using the dishwasher. We haven't seen any reports of tarnishing even after long term dishwasher use either.
We really like the handle on this one too. It's been ergonomically designed to feel great in your hand and it really does. I'm not usually a fan of companies plastering their name on products but this has been done quite nicely and doesn't detract from the look or feel of the product.
These are really great. Definitely one to have a close look at.

9. Vremi 8 Piece Ceramic Nonstick Cookware Set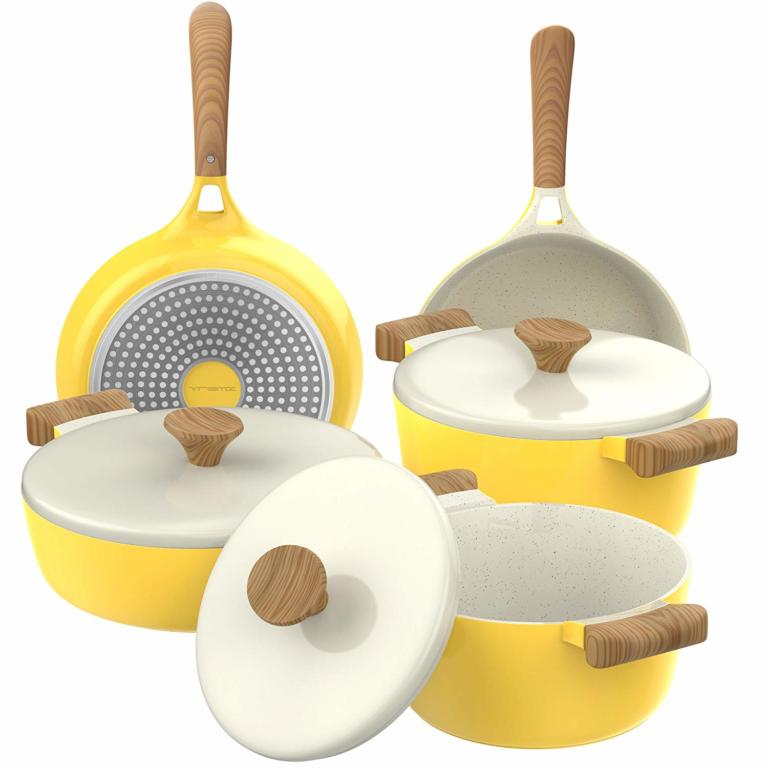 Looking for a full ceramic set? How about this stunner from Vremi! This is the same range as the single Vermi pan we mentioned earlier so there isn't much more say about the design and functionality of this range. It's really good and they look fab!
This set comes in 3 different colors; yellow, green and blue. We aren't too keen on the blue and green but maybe because we love that yellow so much!
With this full set you get the following pieces:
1 Small Dutch Oven with Lid, Diameter: 8.1 in
1 Large Dutch Oven with Lid, Diameter: 9.75 in
1 Shallow Casserole with Lid, Diameter: 10.5 in
1 Medium Angled Frying Pan, Diameter: 9.4 in
1 Large Angled Frying Pan, Diameter: 10.1 in
This set is dishwasher safe but it is not oven safe so if you need your pans to go on the oven then you need to look elsewhere.

10. GreenLife CW000531-002 Soft Grip Absolutely Toxin-Free Healthy Ceramic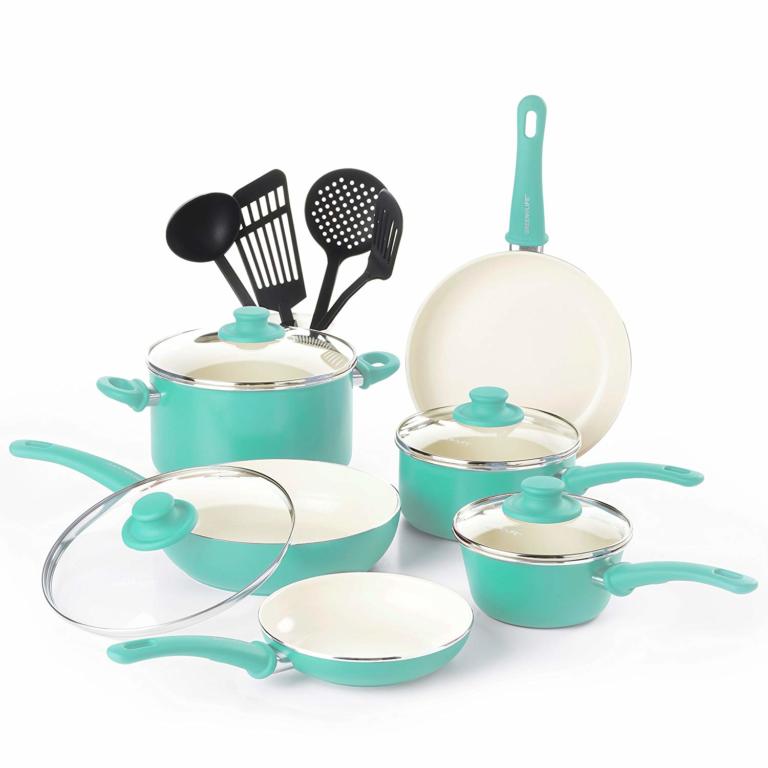 Last on the list is this stunning set from GreenLife. We talked a little bit about GreenLige cookware earlier but I have to say it again. This company is producing some really fantastic cookware right now and some amazing prices. This full set is well under $100 at the time of writing. This is a 14 piece set and you get:
7-inch and 9.5-inch open frypan skillet
1-quart and 2-quart covered saucepan
2.5-quart covered sauté pan
5-quart covered stockpot
4 multi-purpose black nylon cooking utensils that won't warp over time or scratch the pans
4 glass lids
It also comes in a slightly large 16 piece set. There are 6 different colors to choose from here so you aren't stuck with the green color that is generally associated with this brand.
They aren't as robust as some of the other pans on this list but you get a lot of stuff for your money here and the nonstick surface is really great. They are easy to clean, made without PFAS, PFOA, lead or cadmium. Oven safe up to 350°F. They are dishwasher safe but we recommend avoiding that with these pans to keep them looking their best for a longer period of time.


Conclusion
So there are tons of ceramic coated pans to choose from here. All your favorite brands will have a ceramic range. We have tried to pick the best here by looking at value for money, aesthetics, and functionality. All of them have a healthy ceramic surface that doesn't use chemicals.
It's really hard to pick our favorite but overall we think that the Ozeri Professional Series is a great buy. This a professional quality pan that will last you a long time and has a sensational nonstick surface.
Ceramic Cookware Pros
Nonstick surface – Calling them ceramic pans is a bit deceiving as the pans aren't made from ceramic. Most of them are made from aluminum or copper and then have a ceramic coating bonded to the cooking surface. This gives a really great nonstick surface without using chemicals. It also means you don't have to use as much oil or butter in your cooking making all your meals healthier.
Non Toxic – People are becoming more and more conscious about what products are made of and whether anything could potentially damage your health. Many nonstick surfaces are made using chemicals. Whilst these are deemed to be safe the long term effects are unknown and many people would prefer to cook without them. Ceramic surfaces are nontoxic and use no chemicals in their construction.
Easy to Clean – Usually ceramic pans are dishwasher safe meaning they are really easy to clean. We don't usually recommend putting any cookware in your dishwasher though as it can shorten the lifespan and cause fading. To keep your cookware looking and working great you should hand wash only. These are pretty easy to clean no matter how you decided to clean them.
Ceramic Cookware Cons
Durability – Ceramic isn't exactly known for being indestructible. The main issue with ceramic is that it can chip so you have to be more careful with it.
Not safe for metal utensils – This is an issue with many cookware types but you won't want to use metal utensils on ceramics. To keep them in the best condition use wooden or silicone utensils.
Can't use at high heat – This isn't really a universal truth for ceramics but many of them do not like really high temperatures and some will not be oven safe at all. However, we have included a few on our list that are oven safe to really high temperatures. So you just need to shop around a little bit more to make sure the ones you pick are oven safe.