Vitamix have a big reputation in the blender game and are considered by many reviewers and consumers to be the very best blender brand out there. The Vitamix A2500 is part of that legacy and if you are reading this review you are probably wondering whether it is worth the investment. This is a blender for the 21st century with some great technology that other blenders can only dream of.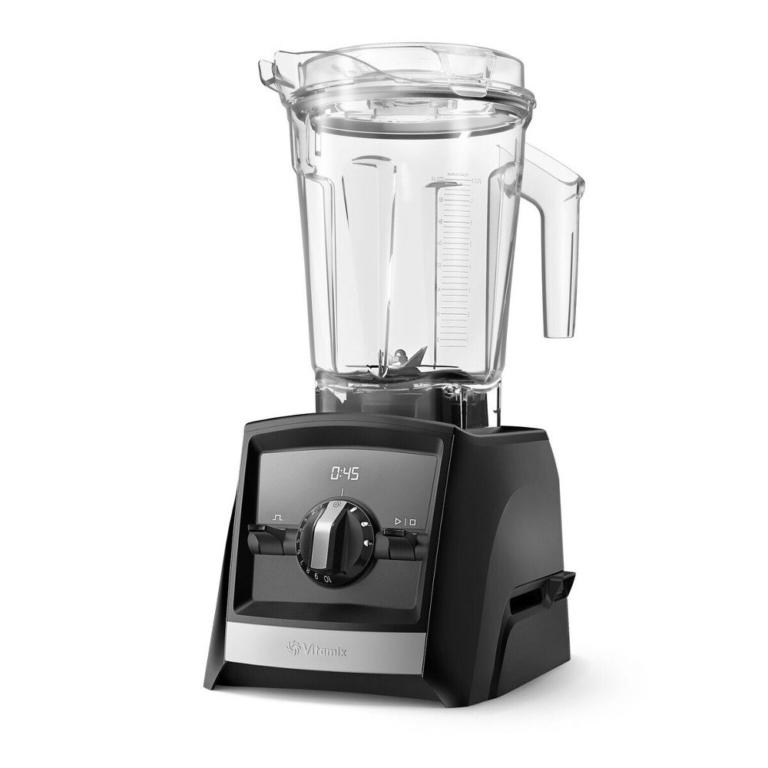 Long story short it is fantastic and definitely should be high on your list of considered blenders. Let's dig into it a bit more though and find out why it's so good. If you want to check out Amazon reviewers opinion you can click here. 
The Ascent Series
Firstly let's take a quick look at the Ascent series blenders that the A2500 is part of. This series was designed to incorporate the best parts of Vitamix blenders like the power and durability and put them into a sleek modern design that consumers are looking for in their homes. If you own a restaurant you may not care if your blender is a big ugly thing sat on the worktop but for home, we want something that looks good as well as delivering results. This is where the Ascent series comes in.
Customizable blending – The ascent series comes with a range of different jugs and containers so you can get the best container for the job. Not only that but the Ascent series blenders are intelligent and they know what container or jug is sitting on top of it. It uses this knowledge to automatically adjust the program and power so that everything is working in perfect harmony.
10 Year Warranty – For a product with so many moving parts and parts that are moving at extremely fast speeds a 10-year warranty is amazing. This shows the level of durability and quality you are getting from Vitamix. They are confident that these products will last a very long time. The warranty covers everything too from parts and labor right down to shipping costs to and from the manufacturer if you ever needed to send it for repairs. Previous mdoels only came with a 6 year warranty but such is the increase in quality with the Ascent series that they have upped this to a full decade.
Sleek Design – As mentioned the design of these blenders has been given great consideration. They look great and scream quality. There is more about the design of the A2500 further into this article.
You can find out more about the Ascent series blenders on the Vitamix website here.
Features of the Vitamix A2500
Programmable Settings
The A2500 has 3 settings for smoothies, hot Soup, and frozen desserts. In conjunction with whatever container/jug you using these programs automatically adjust the speed and duration of the blend to give you a consistent result from your blending. The A2300 does not have this feature so while that model is a little cheaper you are missing out on this ease of use.
Control
With variable speed and a pulse control button you can get really accurate results from your blending. Some recipes require a really specific texture that can be difficult to achieve with a standard blender. The advantage of this is that you can get the exact consistency you need every time.
Built-In Wireless Connectivity
We mentioned this earlier in the Ascent features section but the A2500 takes advantage of wireless communication between the motor and the jug. As the base knows what jug is sat on top of it, it can automatically adjust the settings to get the best result. The standard jug that comes with this item is a 64-ounce jug but there are many other options available to buy.
Digital Timer
A built-in timer might not seem that important but the advantage of this over using a regular egg timer or something is that the machine stops when the timer is done.
Vitamix Perfect Blend App
You can get an extra 17 programs for your blender by downloading the app available for free on the app store. It also comes with 500+ recipes. Available on iOS and Android devices.
Other features:
Stainless Steel laser-cut blade
BPA free 64-ounce container
Digital display and interface
Lid plug doubles as a measuring cup
Jug is dishwasher safe although we recommend handwashing rather than risking it getting broken in the dishwasher.
10-year warranty
Ten Variable Speeds
Pulse Button
Transparent Lid
BPA Free Container
Design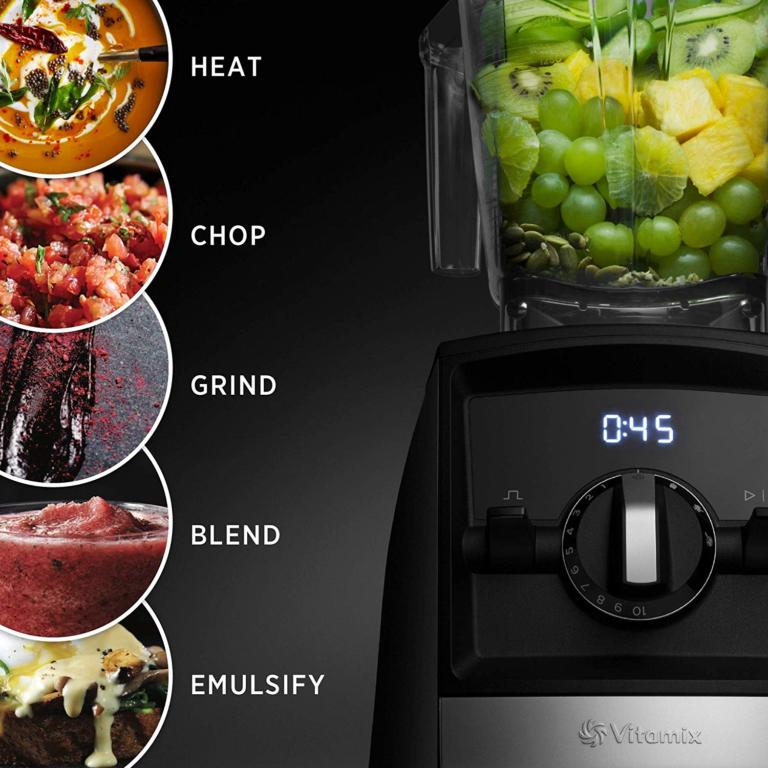 The A2500 comes in four colors to choose from (black, red, slate and white). They all look fantastic and we love it when companies give us color options.
The controls couldn't be simpler too, despite this blenders range of capabilities, Vitamix have made the controls really simple yet flexible. There is a pulse button, a simple on/button and then the dial in the middle. The dial has all the speed settings on so you can pick whatever you like but it also has the 3 preprogrammed settings here. Simply turn the dial to your choice and press start. Everything feels nice in the hand when you are using this. The controls are solid and you definitely don't ever feel like you are going to break this thing just by using it.
The Vitamix Ascent A2500 blender looks really stylish. No matter what design or look you have gone for with your kitchen this blender is going to look smart sitting on your worktop. Of course, if you don't want it sitting out all the time it isn't so big that you can't put it away if you wish.
Vitamix have really upped their game from their previous models with the ascent range. Even the container has gotten some attention. It is tapered so you can blend really small amounts if you wish. The 64oz jar is obviously pretty big so you can blend a large batch at once but the tapered design means you get quality and consistent results even with small amounts of food. The jug has markings for millimeter, ounces and cups for your convenience.
Something you might not notice off hand is the fact that the lid is transparent as well as the jug. Previous vitamix blenders had black lids meaning you couldn't see what was happening if you were stood over the blender. Vitamix have listened to feedback from customers and implemented a transparent lid so now you can see exactly what is going on. The lid snaps firmly and securely into place too, leaving you in no doubt about whether it is correctly attached.
| | |
| --- | --- |
| Pros | Cons |
| Powerful | Noisy |
| Flexible controls | Price |
| Easy Clean Up | |
| Choice of containers | |
| Consistent results | |
| Looks beautiful | |
| 10 year warranty | |
Conclusion
This blender is sensational. We honestly mean that. If you are reading this then you probably already know they are quite expensive but this is one of those cases where you get what you pay for. This is a professional level blender that gives results that no other blender can match. If you want consistent results and a blender that can handle anything you throw at it then the A2500 is what you need in your life.
It looks great and it's incredibly well made. We can't praise this product highly enough. You won't regret buying one of these for a second. A true joy to use.
CHECK LATEST PRICE AND REVIEWS