Induction cooking technology is still quite new and it currently isn't as widespread as electric or gas cooking. This inevitably means that not all your cookware is going to be compatible with this emerging technology.  There are 2 great ways to check if your pans are compatible. First look for the induction symbol on the bottom of your pan, or a statement telling you it's induction ready. Second you can stick a magnet to the bottom of your pan, if it sticks you are good to go. If your cookware isn't ready for induction not all is lost. Replacing your cookware with all new is one option but obviously this is going to be expensive, in the long term this might be a good idea though if you are looking to fully embrace this energy efficient tech.
If you are on a budget though or just can't justify the expense of replacing all your pots and pans you can buy a induction interface or induction converter disc as they are sometimes known. Unfortunately there are a lot of poor products out there looking to cash in on this consumer need so we are going to look at 5 of the very best you can buy. You want one that is sturdy, will last the test of time and have a strong magnet so that it bonds well with your induction cook top and is therefore safe to use.
This piece is made up of 3 layers of metal, the outer layers are stainless steel, whereas the middle is aluminum which means you get excellent heat distribution. An essential feature of any converter is to have a handle so you can easily remove it from the cook top. The handle stays cool on this so it is safe to handle. This converter also works great on a gas cook top and ensures you get the even heat distribution and cooking that you get from an induction hob on your gas cooker.
It comes in 2 sizes with a 7.5″ and a 9.25″ available
| | |
| --- | --- |
| Product Dimensions | 2.9 x 9.8 x 15.6 inches |
| Item Weight | 2.5 pounds |
| Shipping Weight | 2.5 pounds |
| Manufacturer | Designer Habitat Ltd |
See reviews on Amazon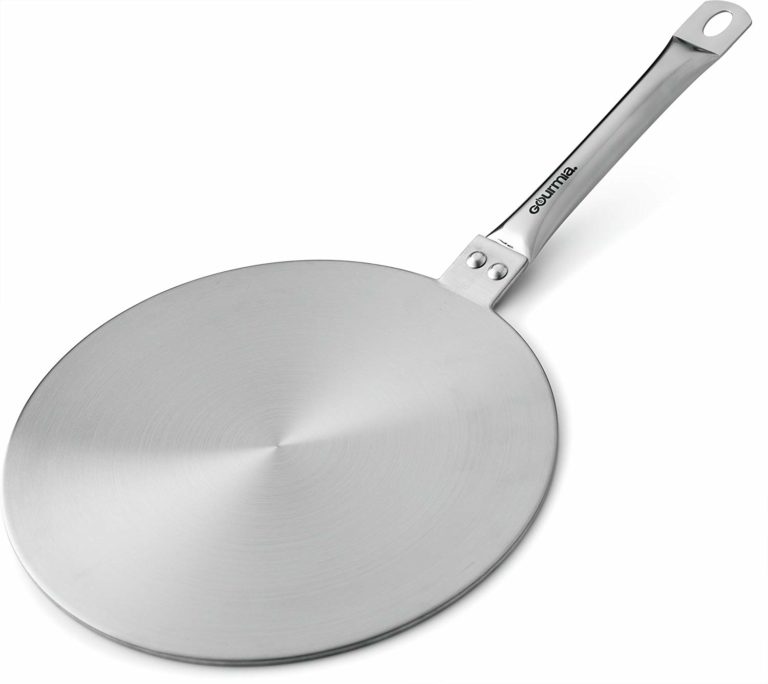 Similar to the VonShef this one comes with a generous diameter of 9.5 inches. It is entirely stainless steel so is easy to clean. There are no coatings or strange materials used here so there won't be a smell when in use. This is one of the best selling induction converter discs currently on the market.
| | |
| --- | --- |
| Product Dimensions | 9.4 x 16.9 x 1.3 inches |
| Item Weight | 1.72 pounds |
| Shipping Weight | 1.8 pounds |
| Manufacturer | Gourmia |
See reviews on Amazon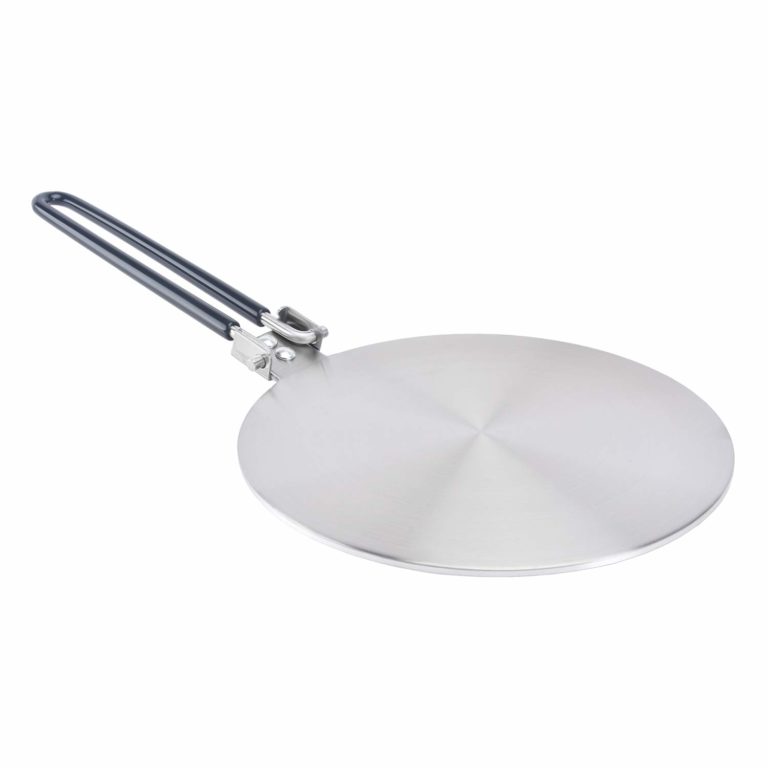 Made from stainless steel with an aluminium core this converter gives great heat distribution as you would expect. The folding handle is a nice touch and makes it easier to store when not in use. At 9.25 inches in diameter there it gives a fairly large surface so will suffice for all but the largest of pans.
| | |
| --- | --- |
| Shipping Weight | 1.79 pounds |
| Manufacturer | Runzi |
See reviews on Amazon
This is a high quality piece from Concord and it's also made in the U.S.A. As soon as you pick this one you can immediately tell it's of a high quality. It's heavy and feels good in the hand. At 11″ it is larger than some of the others on the list so will be ideal for the extra large induction cook tops that are becoming popular.
Stainless steel again so easy to clean and maintain. The heat doesn't transfer to the handle. Available in 3 sizes: 7.5″, 9.5″ and 11″. All three sizes are available together in a set for better value as well as being available individually.
This is one of the best.
| | |
| --- | --- |
| Shipping Weight | 4 pounds |
| Manufacturer | Concord Cookware |
See reviews on Amazon
With a slightly different look than the others this one has some visual appeal with its red silicon handle. This one is also unique in the way it conducts heat, instead of being a flat plate it has 3 bolts on the bottom which protrude and conduct the heat.
This design aims to improve the evenness of the heat transfer and therefore give you more even cooking. In our tests though it fared no better than the discs without this design. However it did mean it could be used more effectively on the work top as a trivet.
| | |
| --- | --- |
| Product Dimensions | 13.5 x 7.4 x 1.1 inches |
| Item Weight | 1.4 pounds |
| Shipping Weight | 1.4 pounds |
| Manufacturer | Gas One |
See reviews on Amazon
Conclusion
We feel that any of the above would be a great choice but our favorites were the Gourmia and the Von Chef. The most popular seller though is the Gourmia. All would be a great choice as an alternative to replacing your cookware set and as they can be used on normal cooktops as well for more even cooking, they are quite versatile devices.