If you are designing a new kitchen you might want to think about getting a cooktop that doesn't need a unsightly hood, especially if you want a cooktop on an island. Ventilation hoods generally use up a ton of space and they just aren't attractive at all. There are alternatives though and downdrafts are getting more and more popular as they are either part of the cooktop itself or they completely retract out of sight when not in use. Either way they leave your kitchen looking a lot tidier without having to sacrifice the functionality of a cooker range hood.
Induction cooktops are becoming more and more popular but there still aren't that many to choose from with a down draft built in so unless you are happy with the limited choices available you may have to consider installing a separate downdraft. Cooktops with downdrafts and seperate downdraft units can be tough to install so make sure you know what you are doing before you buy one. Or count on the extra cost of a handy man to install it.
Here are a few possible solutions you might want to check out.
First let's take a look at some stand alone downdrafts. Choosing one of these means you can have any cooktop you want and are not restricted to the very few cooktops that have a downdraft built in.
Broan 273003 30″ Stainless Steel 500 CFM Downdraft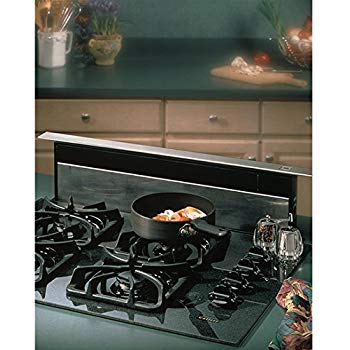 If you want to stick with induction then a separate downdraft unit may be the best course of action.
This unit raises into position at the touch of a button and disappears flush with the counter again when you are done using it. It's pretty much completely invisible when not in use. This model is compatible with nearly all self contained cooktops providing you have the space for it.
The blower can discharge to the left, right or downwards meaning you should be able to install this no matter what your kitchen setup is.
There is an adjustable speed control on the side of the unit that sits completely flush. This unit has great power at its disposal so you won't be disappointed with the performance.  These units can be hard to install yourself but for a kitchen fitter or handy man it will be a simple enough task.
I love that this can be used with pretty much any cooktop and the styling means it doesn't look out of place no matter what style your cooktop is. Ideal for use with an induction cooktop.

Best D49M30SB Downdraft Ventilation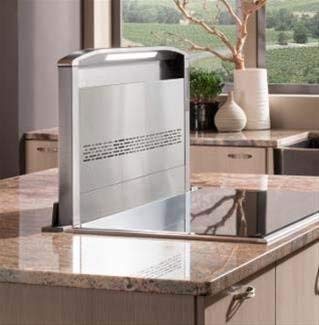 This is one of the only units that works with a slide in stove.
It raises a lot higher than the Broan but again it rises and retracts at the touch or a button. It is 18″ high when fully extracted, this extra height helps to more effectively remove odors as you cook.  It has a 4 speed touch control and the power here is more than enough to deal with any type of cooking.
You can even get a remote control for it, although I haven't seen anywhere selling these. You may have to contact the manufacturer for more information on the remote, not that there is much need for it.
On this one there is a LED light which lights up your cooktop really nicely. It's a nice touch as a light is something you get with a traditional hood and hasn't really been thought about with most downdrafts.
A bit unsightly when fully extracted but a very solid unit.

Let's take a look at some cooktops with built in downdrafts now. There are no induction options at the moment, if any come onto the market again I will update this list. The very few induction models that are for sale seem to be out of stock everywhere I look so I'm guessing they aren't making them anymore.
GE PP9830DJBB 30 Inch Smoothtop Electric Cooktop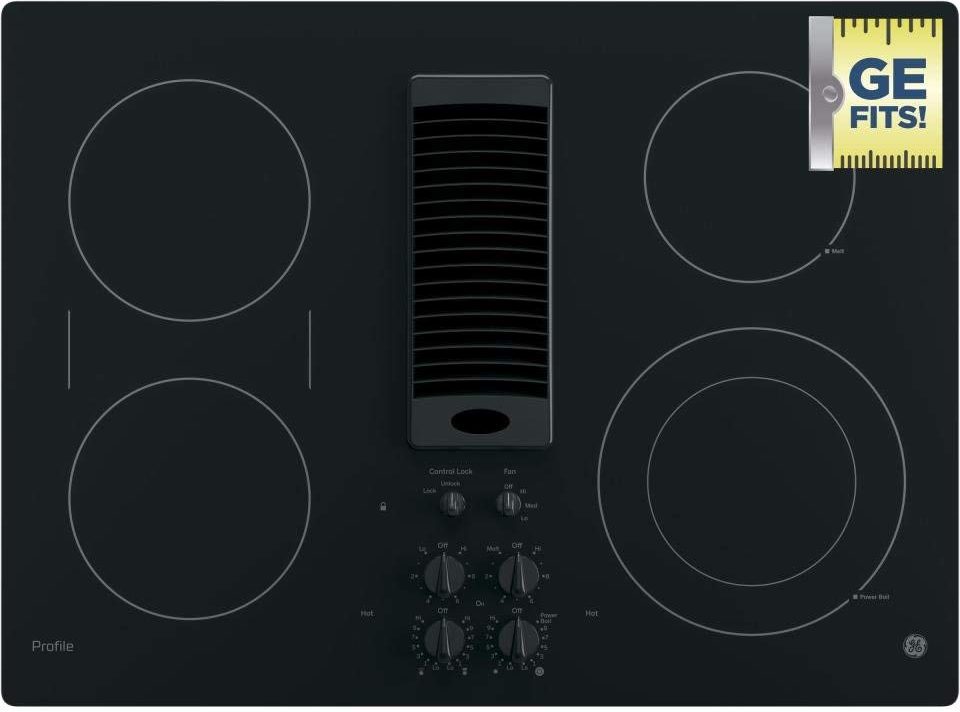 Whilst not an induction cooktop this shouldn't be overlooked as it is one of the few modern looking cooktops with a built in down draft.
With great safety features like control locks to prevent unintended activation this is an ideal choice if you have small children. There are also hot surface indicator lights so you know when it is safe to touch. It also has lights to let you know when the cooktop is activated.
The 2 rings on the left have a bridge element allowing this to turn into 1 large cooking space as opposed to 2 separate rings. The rings heat up very fast so if you are coming from the instant heat of a gas cooktop you won't be getting any frustrating wait times with this one.
The downdraft has 3 power levels but it is unlikely you will ever need to go past level 1. It's a pretty powerful fan and does its job very well indeed. The cooktop isn't the easiest to clean but with the right cleaning products it should stay looking new for a long time. This unit is also available in white here.

KitchenAid KCED600GBL 30 Electric Downdraft Cooktop with 4 Elements Black Glass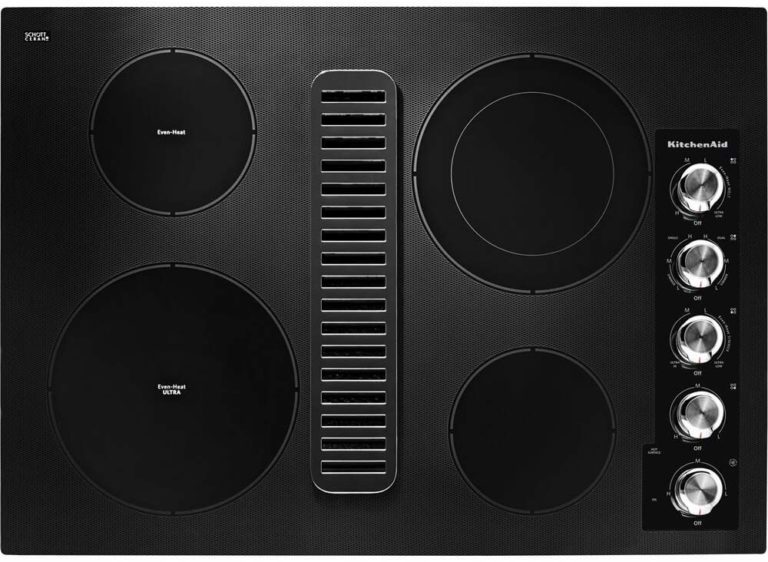 We have been huge fans of KitchenAid products for as long as we can remember. With their unique and sturdy designs all their products seem to have a premium feel when you get them in your hand. This cook top certainly has some of that magic about it.
This is an extremely tidy looking unit and even the downdraft sits nicely without overly protruding from the cooktop. The surface itself is very sleek and beautiful and encompasses a Cookshield finish that helps prevent scratches. The stainless steel knobs carry that unique design KitchenAid products always have, modern but traditional at the same time.
This cooktop has 2 EvenHeat rings. This is a unique technology that allows a wide range of heats but it specializes in low heat for things like melting chocolate without burning. It also has a simmer setting which is really useful when a recipe requires you to simmer! I always struggle to find the right temp as I move between different cooktops but here its really easy.
Again the downdraft as 3 speeds and there is no shortage of power. This downdraft will take care of everything you need it to with consummate ease.
Similar safety features to the GE with warning lights for when the unit is on and when it is still hot.
This unit also comes in larger 5 burner unit which you can find here.
Really high quality cooktop this from a great brand.

GE Profile 30″ Built-In Gas Downdraft Cooktop PGP9830DJBB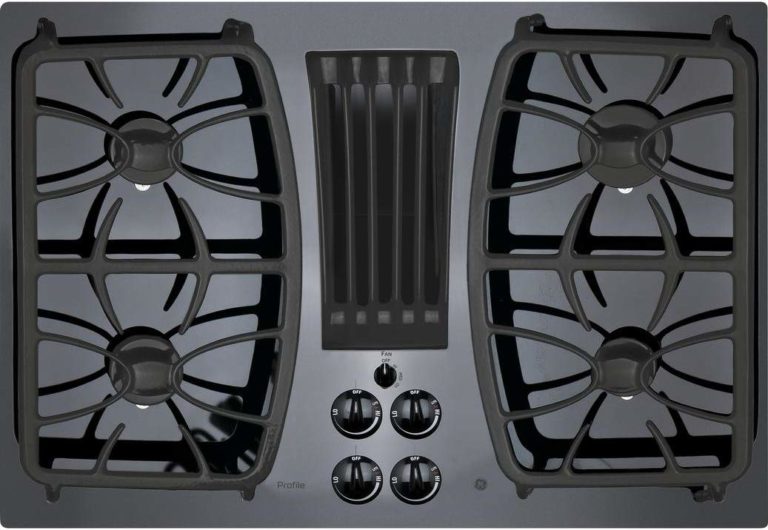 A very smart looking gas option from GE here. Everything looks a little bulky after looking at the electric units but that is the nature of gas and many people prefer this more traditional cooktop look and feel.
The surface on the unit is a very sleek black and it's quite easy to clean. The 4 burners are what you would expect, delivering a varied range of heat for their size.
The controls are simple as you would expect from a gas burner. The fan has 3 settings that operates from a simple dial. The downdraft itself it quite large and sits up quite a lot on the cooktop but it blends well with the styling of the rest of the unit so doesn't look out of place.
This is well worth a look if you are after a gas cooktop with a downdraft.

KitchenAid KCGD506GSS 36 5 Burner Downdraft Stainless Steel Gas Cooktop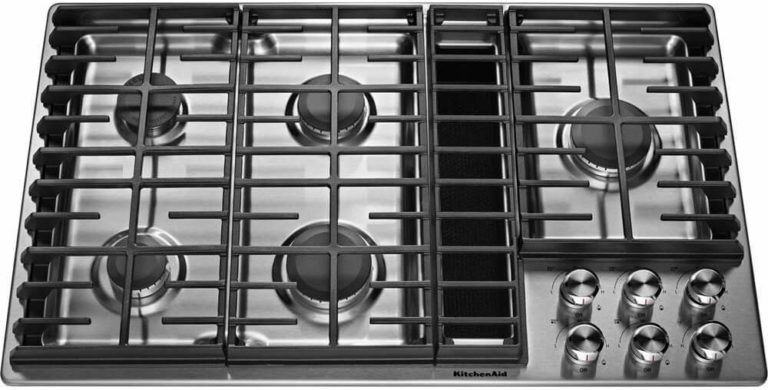 Gas cooktops and KitchenAid seem to be a match made in heaven when it comes to design. The chunky fittings of KitchenAid compliment a gas cooktop perfectly and this is a bit of a stunner.
This is the 5 burner unit but it also comes in a regular sized 4 burner unit. You can find that one here.
The 5 burners have a heat range of 5K – 17K BTU and of course come in the varying sizes you would expect. There's something for every pan size here. The 5K BTU ring allows for really pricise simmering and melting and gives a similar functionality to the EvenHeat tech on the electric cooktop. The 15K BTU ring can reach really high temperatures so it makes short work of boiling and searing.
The downdraft is even more sleek that the electric one that's if it wasn't underneath the chunky grates. Speaking of the grates they are continuous cast iron pieces that look and feel great as you would expect from KitchenAid.
The downdraft has 3 speed settings and again it's more than up to the job in terms of power. This model is convertible to a duct free ventilation system with the use of a converter kit (not included). This allows a bit more flexibility if you have specific needs on your install. It also comes with a LP conversion kit if you wanted to go that route.
Overall a superb gas cooktop that is really high quality and looks amazing.

Conclusion
It's pretty disappointing that there are so few, if any induction cooktops with a downdraft. However that doesn't mean you can't have both in your kitchen. I think the best course of action if you want induction and a downdraft is to pick the induction cooktop you want and then take a look at the separate downdraft units that are available. Again there aren't many of these to choose from but the ones that are available are very sleek and the fact that they completely disappear into the counter makes them a really nice option. It also adds a nice modern touch to your kitchen.
Remember that fitting both a standalone downdraft or a cooktop with one built in can be a tricky job so you may need to consult a professional.
Let us know in the comments if you have a downdraft and what type of cooktop you are using it with.