If you've got an RV and are looking for a way to cook when you are on the road then induction is the only logical choice. It uses less power and is far safer than traditional cooking methods such as gas and electric. Not only that but there are a lot of really compact units available meaning you don't need to take up much room in an already limited space. Another bonus of induction is that there is no heat transference to the room, the RV won't get really hot because you have the stove on.
Keep in mind that you will need induction compatible cookware or an induction converter disc so you can use your existing cookware.
Click here if you want to be taken straight to our number 1 pick!
So which are the best induction cooktops for an RV? Well, we are glad you asked because we have looked at some of the best, so let's get started.
1. Duxtop 8100MC 1800W Portable Induction Cooktop Countertop Burner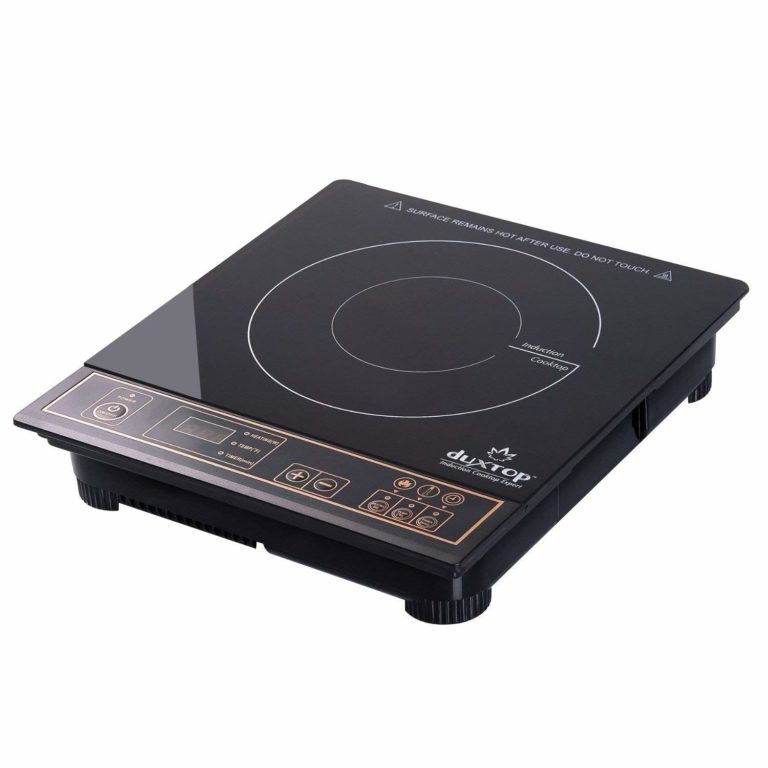 This is a class when it comes to portable induction units. It's been one of the biggest selling items in this category for years and there is a good reason for that, it's just a superb little unit and reliable as they come.
It runs on a 120V, 15amp electrical outlet and with adjustable power levels from 200W to 1800W, it's extremely versatile but doesn't use much power. This equates to 140°F to 460°F cooking temperature.
Built-in safety features mean the unit won't activate unless it detects a pan and once cooking has begun it will automatically shut off after 60 seconds if a pan isn't detected. A built-in fan makes sure any residual heat is quickly taken care of. As well as this the unit knows what size pan you have placed on the unit and automatically adjusts power to make sure the correct amount is used and none is wasted. Perfect for RV's where power may be limited at times.
It also has a built-in count-down digital timer with 1 min increments up to 170 minutes.

2. iSiLER 1800W Sensor Touch Induction Cooktop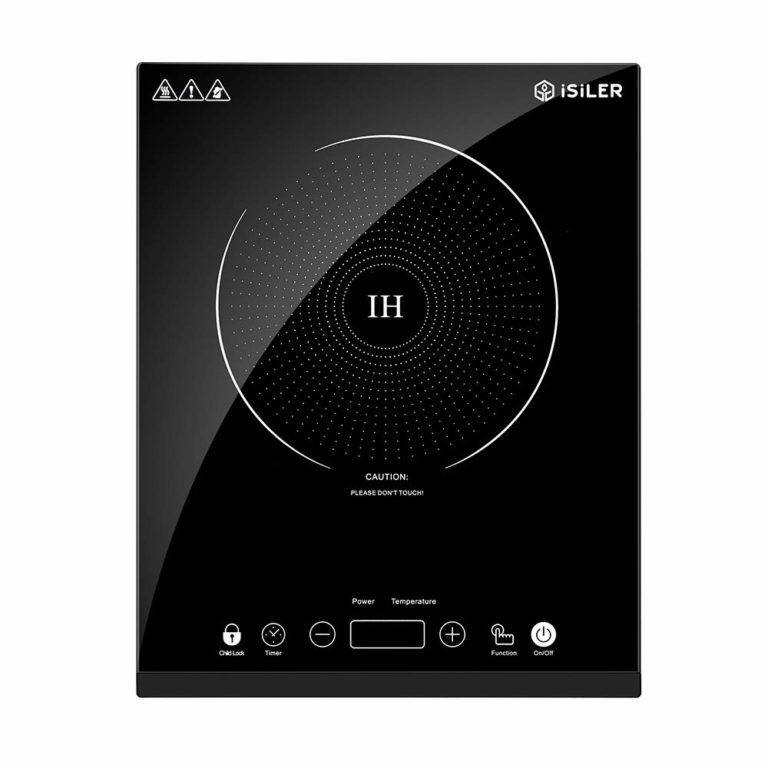 This is another top seller and currently holds the prestigious Amazon Choice award for "portable induction cooktop". That is because it continues to get top reviews everywhere it goes.
With this unt the power goes as low as 100W but again like the Duxtop it rises to 1800W, giving you incredible versatility while allowing you to limit power usage. The cooking surface measures a diameter of 6.7in (17cm) to fit frying pans with a diameter of 3.9-8.6in (10-22cm).
This comes with all the great safety features you would expect from a portable induction cooktop. It has an automatic shut off if the temperature gets too high for the ultimate peace of mind.
You will be stunned at how fast this unit can bring a pan of water to the boil. It blows traditional cooktops out of the water here.
Super easy to clean and maintain this unit is an absolute star. Highly recommended for RVs.

3. NutriChef Double Induction Cooktop – Portable 120V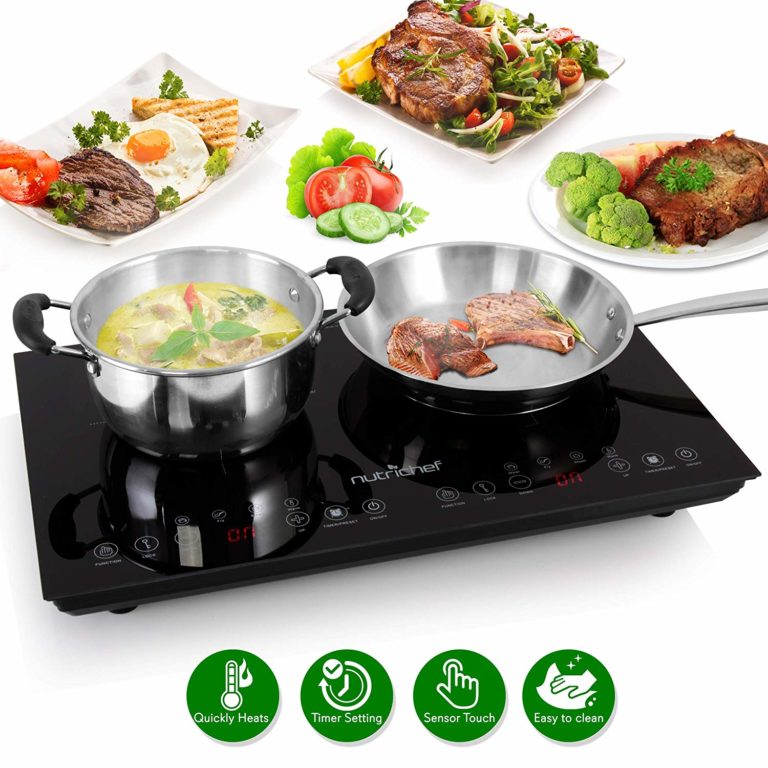 Looking for a double unit? This unit from NutriChef should be high on your list for consideration.
Super modern with a touch sensor surface meaning all the buttons are not physical but respond to your touch. Not only does this mean there are no physical parts here that will eventually break but it also means that food won't become stuck under any buttons. It's really easy to keep in pristine condition because of this.
It has multiple cooking modes and you can switch from one mode to another with just one touch. As well as having full manual controls the built-in cooking modes include fry, steam, & water mode.
Safety features include a child lock and pan detection.
Again this unit is 120V and has all the energy-saving benefits of the other induction cooktops. They really are ideal for an RV.
It can handle 2 pans with a diameter of 12 to 26 cm. It also includes a timer function. Unit Size (L x W x H): 14.2'' x 23.6'' x 2.6'' -inches.

4. Duxtop Portable Induction Cooktop, 9600LS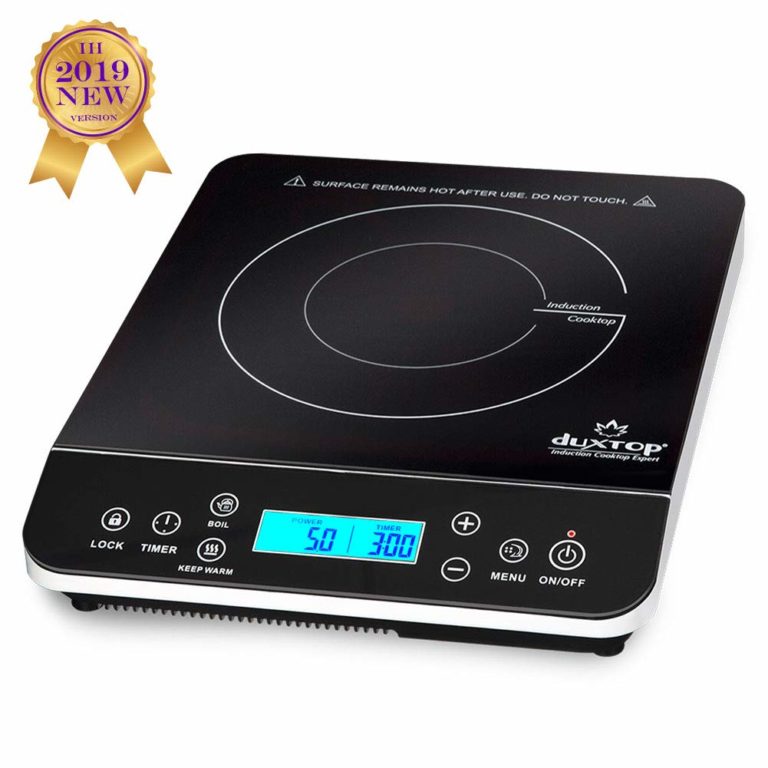 This is Duxtop's latest model and is brand new for 2019. It takes everything that the 8100MC did well and improved upon it. The result is pretty spectacular and this is one of the best portable induction cooktops on the market right now. It's more expensive than the 8100MC as would be expected from the new model. It does mean that the 8100MC is incredible value right now because of the release of this model.
The physical buttons of the old Duxtops models have been replaced with touch sensor technology. This makes it easier to clean and keep clean as well as allowing it to be a much slimmer and lightweight unit overall.
It's incredibly energy-efficient and again this model goes from 100W to 1800W for superb versatility. It's 120V as you would expect and will plug into any standard electrical outlet. You get a 5-foot cable on this one too so you should be able to place it anywhere you need within your RV.
Safety features include child lock, auto shut off if no pan is detected and low/high voltage warnings. This last safety feature might come in handy if you are tapping into an unknown electrical source while traveling. It will prevent your unit from getting damaged.
Looks great and works great!

5. Cuisinart ICT-30 086279096142 Induction Cooktop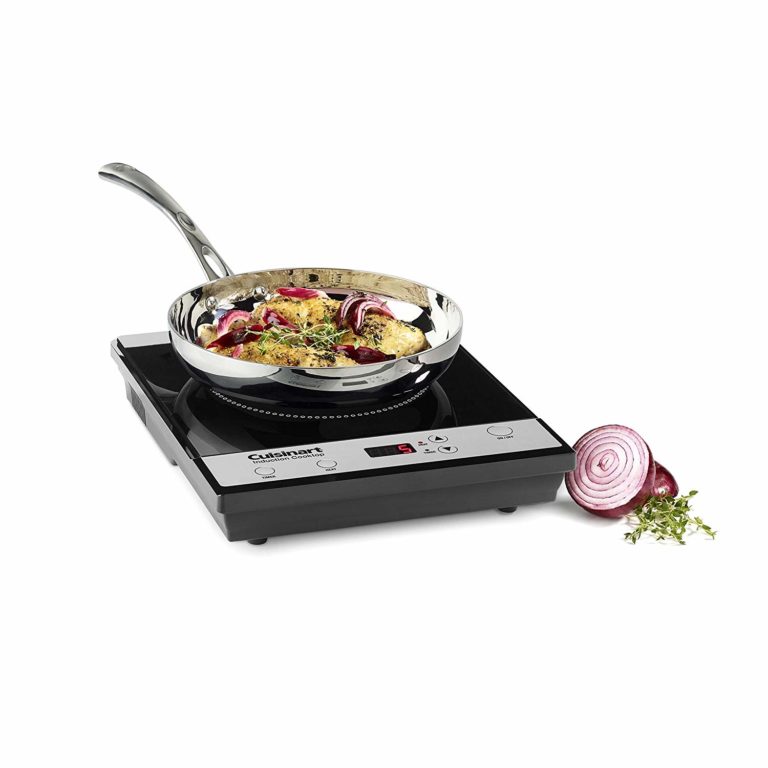 Cuisinart continues to produce excellent products at great prices. What we love about this one is that they have kept in super simple. There are no complicated settings or controls, it's just simple heat controls that are intuitive from the word go.
There is a heat button and a timer button as well as arrows to move the heat or time up and down. If you want to keep it simple then this could be an ideal choice.
8 heat settings, 150-minute timer and all the great safety features you would want like auto shut off.
Product dimensions are 4.2 x 13.5 x 16.5 inches. Even the manufacturer's description says this is ideal for a boat or RV.

6. Duxtop UltraThin Full Glass Top Portable Sensor Touch Induction Cooktop Countertop Burner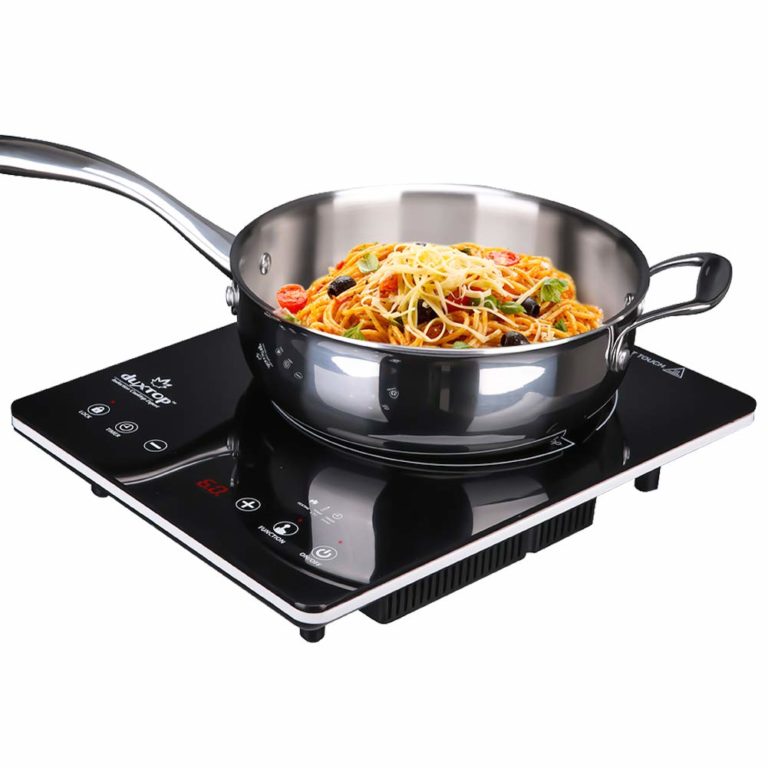 This is another superb offering from Duxtop. They really have some superb products in the portable induction range. The great thing about this one is that it is incredibly thin. It's actually 40% thinner than some of their other models so it really is a space saver. It's also very light when compared to other induction cooktops so it is much easier for handling and storing when not in use. Perfect for traveling.
With 15 power levels starting at 100W and going up to 1500W you have great energy-saving and versatility. Power-wise it's not as powerful as some other units on this list but it can reach the same temperatures of up to 460 degrees F so I wouldn't worry about that. It's unlikely you are going to be using it on full power anyway.
Like the 2019 Duxtop we talked about earlier on this list you get a 5-foot cord and the low/high voltage protection. Both these features are ideal for an RV situation.
Great safety features like auto-pan detection and auto shut off.
This too has sensor touch technology meaning it's really easy to use and really easy to clean. The top surface is fully flat and smooth, clean up is so easy.
Despite all these great features, this cooktop is pretty low in price. It's probably the biggest bargain on this list as well as being one of the most suitable RC induction cooktops we have seen. In my opinion, this should be the first unit you look at as it has all the features you will need for RV cooking.


Things to consider before making your choice
There are a few factors you may wish to consider before you make your choice. The main one being the size. RV's often have limited space so you need to make sure you have the counter space to put an induction cooktop before you buy. As these are all portable units they are quite small but they are a bit bigger than they look on the pictures so make sure you check the dimensions of the product before you purchase.
If you are renting an RV for your holiday and aren't sure what amount of space you have then get in contact with the rental company and ask them for countertop space dimensions. The last thing you want to do is buy something that you can't use.
You might also want to consider power requirements. All of these units use 120V mains power with a regular plug. Chances are this isn't going to be an issue but you might want to check there is an electrical outlet near where you want to place your cooktop. If there isn't you may need to buy an extension cable before you travel.
Conclusion
All these cooktops are great and would serve you well in an RV or other confined space. The stand out choice for me was the UltraThin Duxtop at number 6 on this list. It's overall compact size and light weight make it a stand out choice. When you combine that with it's low price and it having all the features of the other models it makes it the logical choice.
Let us know in the comments below which induction cooktop you have and if you have used yours in an RV, boat or other confined area.