If you are looking for a 2 burner induction cooktop then read on as we have investigated and tested some of the best products currently available. There are a few things to consider before you buy which we will go over as well towards the end of the article.
Induction cooktops are amazing, they cook food fast and are really energy efficient. So it's not hard to understand why they are so popular. We've reviewed a lot of induction cookware on this site in the past as there are so many different sets to choose from. That is one thing you need to be aware of before you convert to induction, you will need compatible cookware, although you can get induction converter discs that are a pretty good alternative.  If you are unsure if your cookware is induction compatible then try sticking a magnet to the bottom of your pans. If it sticks they are probably compatible.
So with your double induction cooktop, you will need to decide whether you want a portable one or a fitted unit in your kitchen worktop. We will take a look at both although there is far more choice in the portable range. For counter fitted units people tend to go with 4 burners but there are some 2 burner options so we will take a look at those.
So let's get going with the best double induction cooktops that are available right now!
1. Duxtop 9620LS LCD Portable Double Induction Cooktop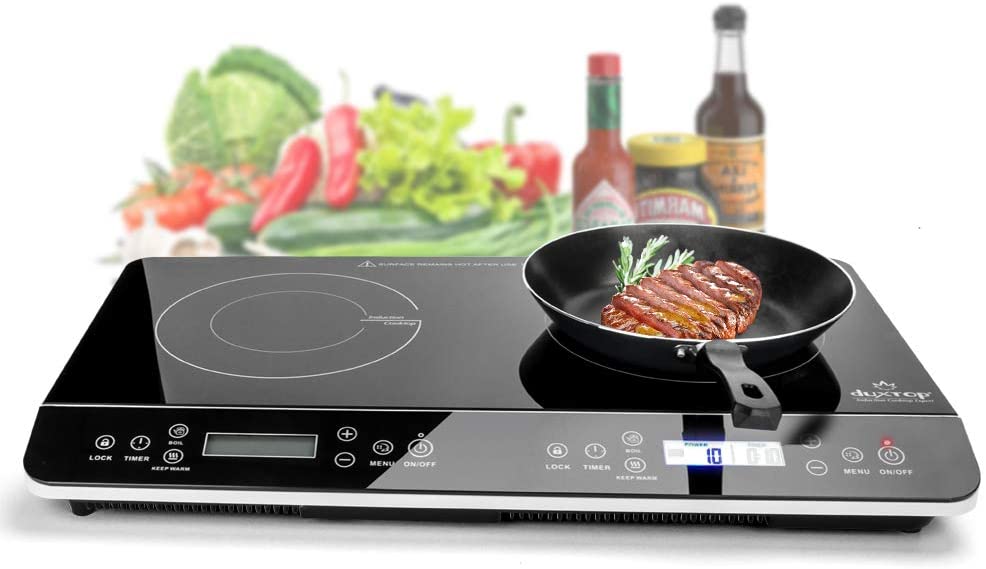 First up is this very popular model from Duxtop. Duxtop are one of the leading manufacturers of induction cooktops so there is no surprise that they have one of the best double burner options. It's sleek and modern and has all the features you would ever want from a cooktop.
Of course it has 2 independent heating zones that can be controlled individually. There are 2 modes for heating, they are power mode and temperature mode. Power mode is used for keeping food warm, cooking sauces and quickly boiling water. Temperature mode is used for cooking tasks like frying, steaming and sauteing. Each of these modes has 20 heat levels to choose from so there is quite a bit of flexibility here, this allows you to go between 100℉ and 460℉. The left ring has a 1800W burner and the right ring is 1000W.
The unit is controlled with touch buttons that are easy to use and with them being touch it means there are no physical buttons that might go wrong or get food stuck around them. It's easy to wipe down after use and it looks great even after long term use. Child safety features allow you to lock out the buttons to stop anyone accidentally activating the buttons. Other safety features include auto pan detection so the burner doesn't activate unless there is a pan on the cooktop, this is pretty much true of all induction cooktops though. It also has a 10 hour timer.
The device measures 23.9 inches wide by 14.2 inches deep. It is 2.4 inches high. The power cord is 5 feet 4 inches.
The bigger ring is 8 inches in diameter but you will be able to use larger pans comfortably with 1800W of power. Note that the 1800W power is shared between the 2 rings.
This unit gets the Amazon Choice award for double induction cooktops. It's a brilliant unit, from a reliable manufacturer, that will serve you really well.

2. NutriChef PKSTIND48 Double Induction Cooktop – Portable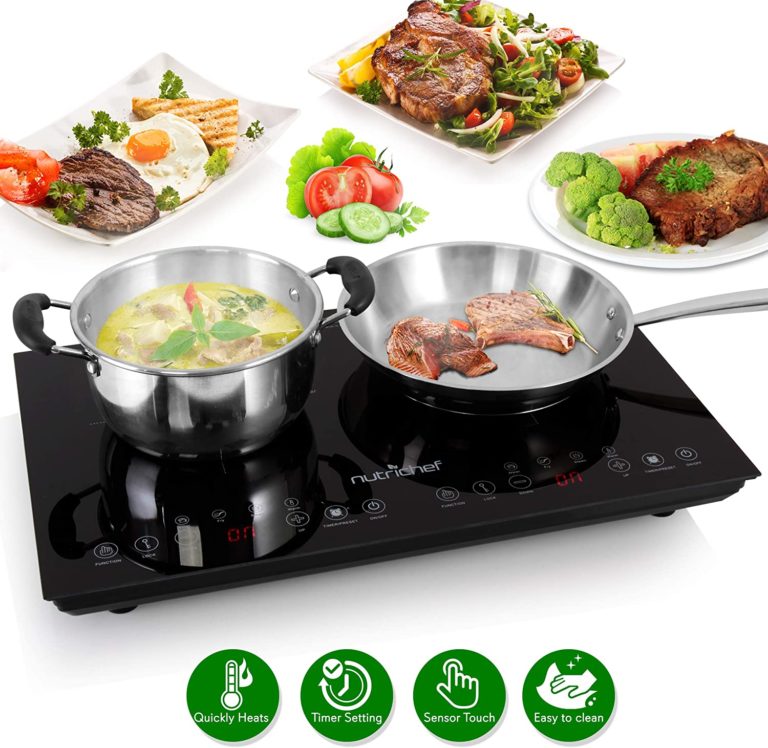 Another popular product is the NutriChef PKSTIND48, not the easiest model number to remember but it is a good product.
This one comes with two 1800W burners which can be controlled independently. Each "heat zone" or ring size is 6.7 inches but you can use larger pans quite happily as there is plenty of heating power. Pans up to 10 inches will work just fine here.  Keep in mind though that you cannot use both rings at 1800W, if you had both on at max the power would be shared so 900W each. I wouldn't worry too much about this though as 900W is more than enough power for most tasks. If you need the extra power then you will need to switch over to just 1 ring.
There are handy 1 touch buttons for common settings like water, fry, steam and warm. The touch panel is built into the top of the surface meaning all the settings are very handy and again it is very easy to wipe down and keep clean.
This unit comes with a 4 hour timer and a child safety lock. You really need to ensure you get one with a safety lock if they are touch buttons as they can be activated accidentally.
Unit Size (L x W x H): 14.2'' x 23.6'' x 2.6'' -inches. The power cord is 4.9' ft.
There is a lot to love about this model, it looks beautiful and works brilliantly.

3. Warmfod Electric Induction Cooktop Countertop Burner – 1800W Digital Double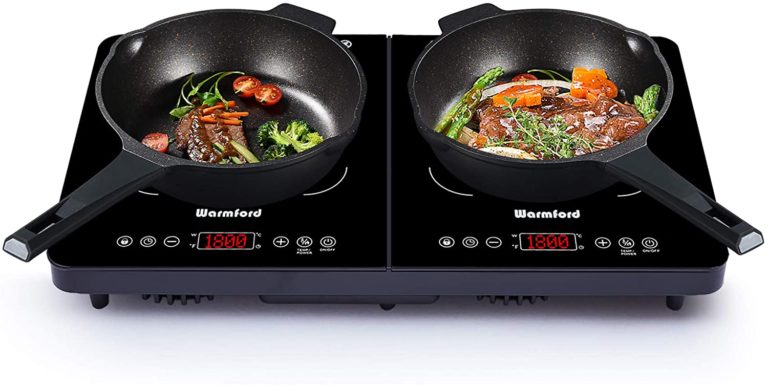 This is a neat little option from Warmfod. Again it comes with 1800W of total power between the 2 rings so it has all the power you will need for most types of cooking. Touch sensitive controls are neatly display under each ring, it's very easy to see at a glance which button you need when using this product.
There is slightly less power control with this one but with 10 power settings going from 140°F to 460°F there should be more than enough versatility for most cooks.
Safety features include a child lock, auto pan detection, over heat protection and a high/low voltage warning system. So it protects you and it also protects itself from damage. It's simple to use and easy to clean. We really liked the look and feel of this model. It was sleek but solidly built and feels like it has been made to go on the road in an RV.
Unit size: 20.1 x 11.8 x 2.6 inches

4. Trighteach Portable Induction Cooktop (Double Countertop Burner) 2200W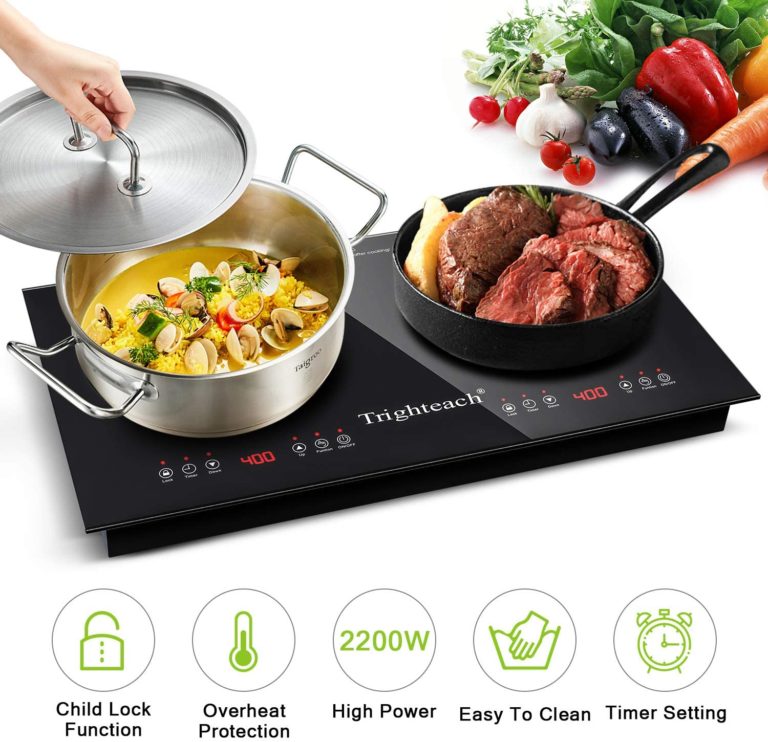 Let's start by saying I am not a fan of the way the logo has been used on this. It's too big and unnecessary but it doesn't of course affect how it works or how good it is. With 2200W of power this is the most powerful product on our list. Standard power settings range between 200W and 1800W but it has a high power mode that takes it up to 2200W. Again this power is shared between the 2 rings.
Very simple touch controls are underneath each ring. There are no pre set features but it does come with a timer. It has 10 adjustable power levels and you move between them with an up button and a down button. Very simple to use and understand. The temperature is clearly displayed on the LED screen.
The rings will support pans up to 10.2 inches so should cover most of your pans. This is pretty standard for these 2 burner induction cooktops.
Safety features include a child lock, auto pan detection and a range of product protection features that detect incorrect voltage and short circuits.
Unit size: 15 x 3 x 26.7 inches. The power cord is 47 inches long.
A solid product that works really well. Just a shame about that big logo on the surface.


5. NutriChef PKSTIND52 Dual 120V Electric Induction Cooker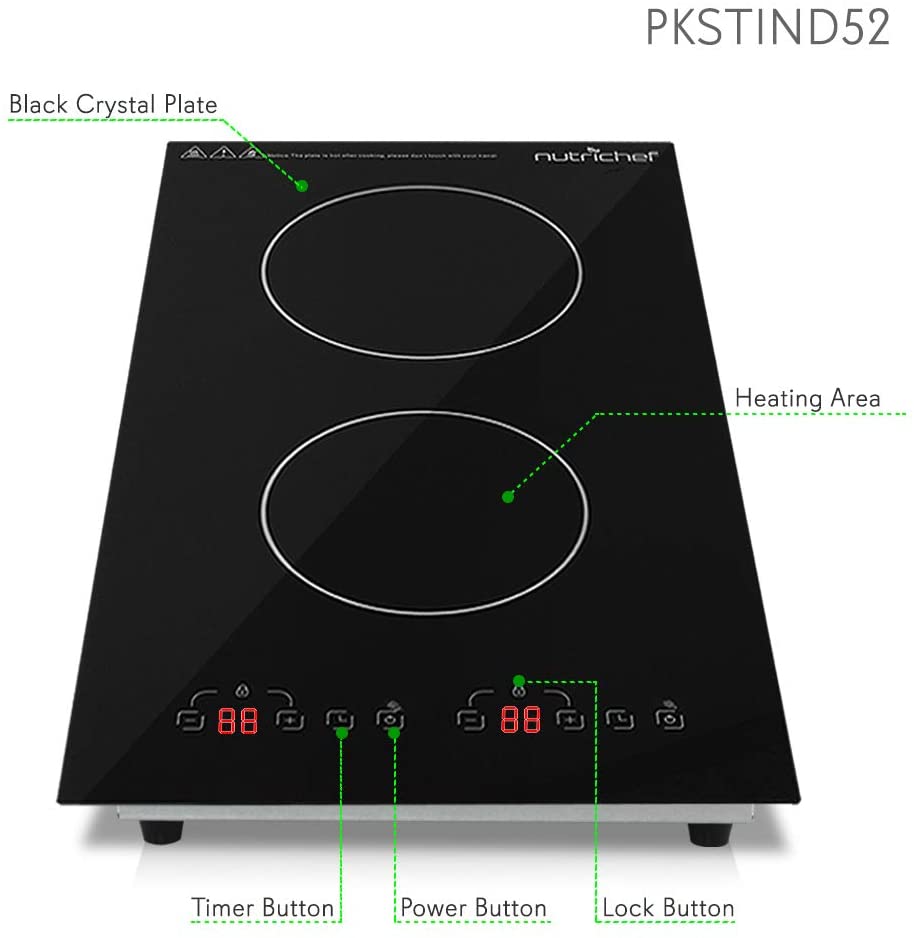 Here's another great option from Nutrichef. The great thing about this one is it has a space-saving design but still has the 2 burners we are looking for. The product is only 11.42 inches wide and 20.47 inches high. So this is perfect for travel as it won't take up as much counter space as some of the other units on this list. It also ha a really long power cable at 4ft 9inches so you can place it a good distance from the outlet.
Again we have 1800W of power shared between the 2 rings, each of the rings is 5.9 inches in diameter but of course, you will be able to use larger pans on this.
This unit has a timer but a relatively short one at 1.5 hours. Some of the others have much longer timers but it's not really a feature I would ever use. I don't like to leave my cooktop unattended, so don't see a need for a timer, but I know many people do use this feature.
All the controls are touch and are right on the cooktop surface so very easy to access and control.
Definitely worth considering if you are looking for a space-saving device dual burner.

---
Many of the portable devices above are capable of being fitted into a worktop if you cut out the correct sized hole. However please make sure that the model is compatible with that before you buy. If you decide to fit one of these yourself ensure that you leave adequate airflow where appropriate and follow the manufacturer's instructions.
Another thing to consider before you make that choice is that portable devices are not made to standard sizes so if you cut a hole in your counter you might be stuck with your cooktop for a long time as you may not be able to find another one with the same dimensions!
Now let's take a look at some of the units that are made specifically to be fitted into the counter.
6. Empava IDC12B2 Horizontal Electric Stove Induction Cooktop – 12 Inch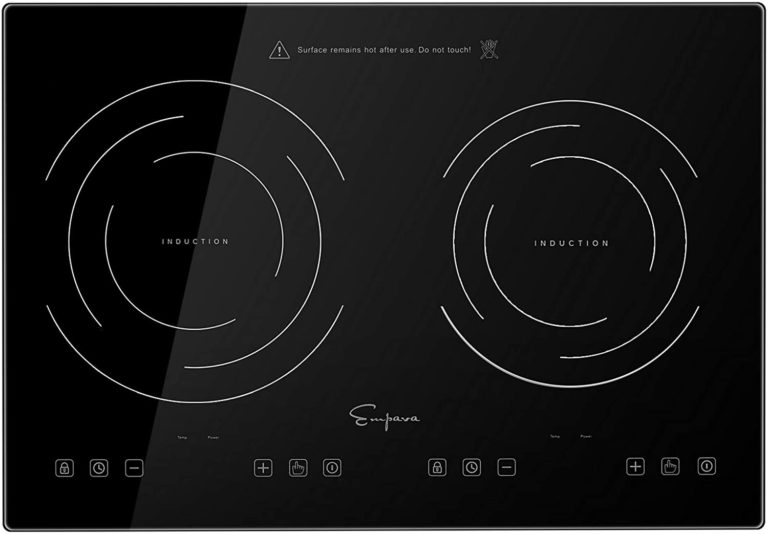 This double cooktop from Empava can be fitted into the worktop or sat on top of it. It comes with 4 rubber feet that screw into the base to give you the option of both.
This is a really thin cooktop making it look really modern and is ideal for kitchens that don't have a lot of space under the counter. It looks super sleek and modern which we absolutely love.
It has 9 temperature settings ranging from 120°F to 460°F and 8 power level settings ranging from 300W to 1800W on the left burner. The right burner is not as powerful with a power range of 300W to 1300W. The power is shared so to get the full 1800W on the left burner you will need the right one turned off.
This one has a 179-minute timer, a bit strange they didn't take it all the way to 3 hours but we will let them off with that missing minute!
Safety features include a heat warning light on the surface so you know which rings are hot.
Product dimensions are 20.5 inches wide by 14.12 inches deep and 2.12 inches high. Cutout Dimensions are 19.5 inches wide by 13.5 inches deep. This product comes in larger sizes with 24, 30, and 36-inch models available but they do of course have more than the 2 burners we are looking for.
Empava also does this product in a vertical design for even more space-saving, you can find that model here. 
It's easy to use, easy to clean, and looks fantastic. It is also very reasonably priced at the time of writing.

7. True Induction Mini Duo MD-2B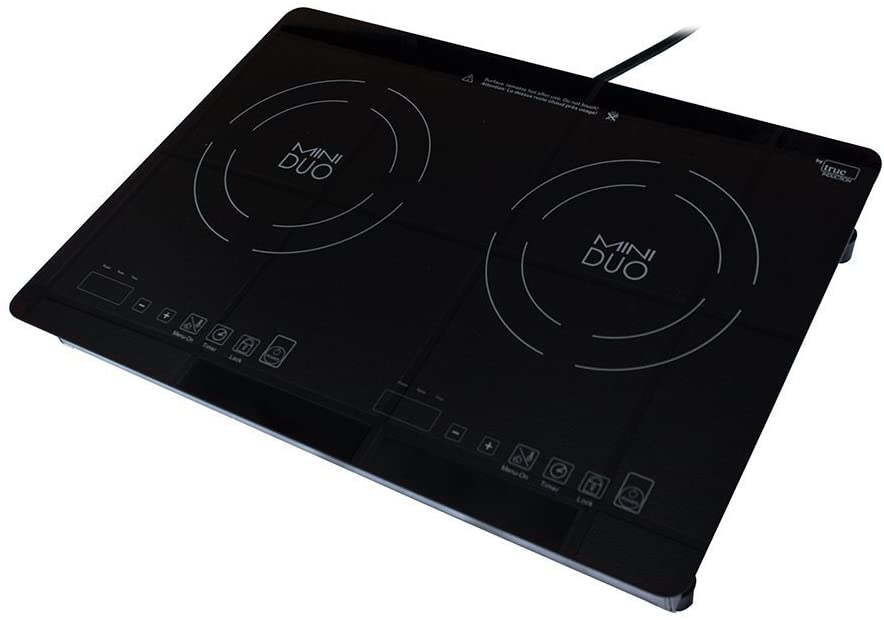 This product is also capable of being fitted into the counter or used as a portable device. It comes with feet so the choice is yours. It isn't the most aesthetically pleasing though if you decide to use the feet, the edges of this device are not finished and it has clearly been designed to be installed into the counter. The top of the device is very smooth and sleek with a modern black design much like all of the products on this list. It definitely looks great fitted into the counter just not so much sat on top of it.
Again it is 1800W of power shared between the 2 rings. You can get 100% of power out of 1 ring if the other is off.
It has all the usual safety features like pan detection and a child lock. The rings are a little bit smaller than some of the other products on this list and the biggest pan size you can use here is 8 inches.
Product dimensions: 20.5 x 14 x 2 inches.
Overall this is a decent cooktop but out of this and the Empava, the Empava gets my vote every time.


---
Things to consider before you buy
If you want your unit installed in the counter then make sure you get one that is designed to do that. Also, I would advise getting a trained professional to do the installation as you need to consider airflow with some of these products.
Keep in mind that these 2 burner units are quite small so are ideal for small kitchens, RV's and motor homes but for larger kitchens, you will probably want to look at a 30-inch induction cooktop. Also, nearly all of these devices have 1800W of power which will be enough for most people but for some cooking tasks more power may be needed.
Make sure you have cookware that is induction compatible. An easy test is to stick a magnet to the bottom of your pan, if it sticks then you are good to go. You can get induction converter plates that allow you to use any cookware but it is better to have proper induction cookware.
Conclusion
There isn't a huge amount of options when it comes to double induction burners but there are some very good options none the less. For a countertop or portable option then it is really hard to look past the Duxtop at number 1 on this list. It is an excellent product from a trusted manufacturer. It has all the features and power you will need.
If you need a little more of a space saver then the NutriChef PKSTIND52 at number 5 on this list is definitely worth checking out. The vertical design allows you to save a lot more counter space.
For a counter installed unit then take a close look at the Empava at number 6 on the list. It comes in both horizontal and vertical designs allowing us to get the same great product no matter the amount of space we have available. It was also a very easy to use and super performing cooktop.
Let us know in the comments which 2 burner induction cooktop you have and what you like or don't like about it.