Rice cookers often come with a Teflon coating to stop the rice sticking to the pot. You might think is great because it makes getting the rice out the pot so much easier and of course, it does, BUT what if that Teflon coating is unhealthy for you? There's been a lot of research done into Teflon coatings and whether they are safe to use. It's all a bit inconclusive and many people just want to avoid using chemicals when cooking anyway. We already know about the dangers of toxic ceramics in slow cookers and rice cookers work in a similar way so we really want to avoid ceramics here as well as Teflon. As well as that we want to avoid any aluminum as that comes with its own health worries. That leaves us with stainless steel. Luckily for us, there are a few stainless steel rice cookers to choose from so we can still have the convenience of modern rice cooking without any potential health risks.
So let's get started and take a look at some of the best non-toxic rice cookers!
1. Aroma Housewares NutriWare 14-Cup (Cooked) Digital Rice Cooker and Food Steamer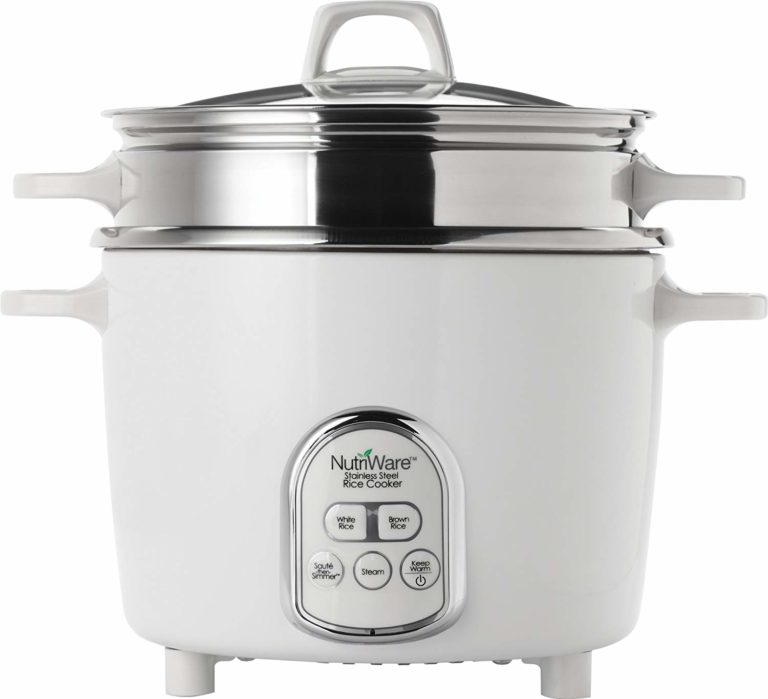 This one is a bit of a star so we thought we would write about this one first. Firstly it is the best looking rice cooker on this list by far, in our humble opinion. It just has a more modern and sleek look to us.
It can cook 14 cups of uncooked rice which is 28 cups of cooked rice. We found it was a bit less than this but it still cooks a huge amount of rice in one go.
It comes with a removable 100% surgical grade stainless steel cooking pot with a tempered glass lid. It's a really high-quality pot and because it is removable it makes clean up so much easier.
It has 5 modes: White Rice, Brown Rice, Steam, Saute-Then-Simmer and Keep-Warm. We love that you can steam with this one as it really gives it so much more flexibility.
It also comes with some accessories including a Stainless Steel Steam Tray, Rice Measuring Cup and a Serving Spatula. You get a 2 year warranty here too.
This rice cooker is an abolsute bargain. You get so much for you money here, it really is great value.


2. Instant Pot IP-DUO60 7-in-1 Programmable Pressure Cooker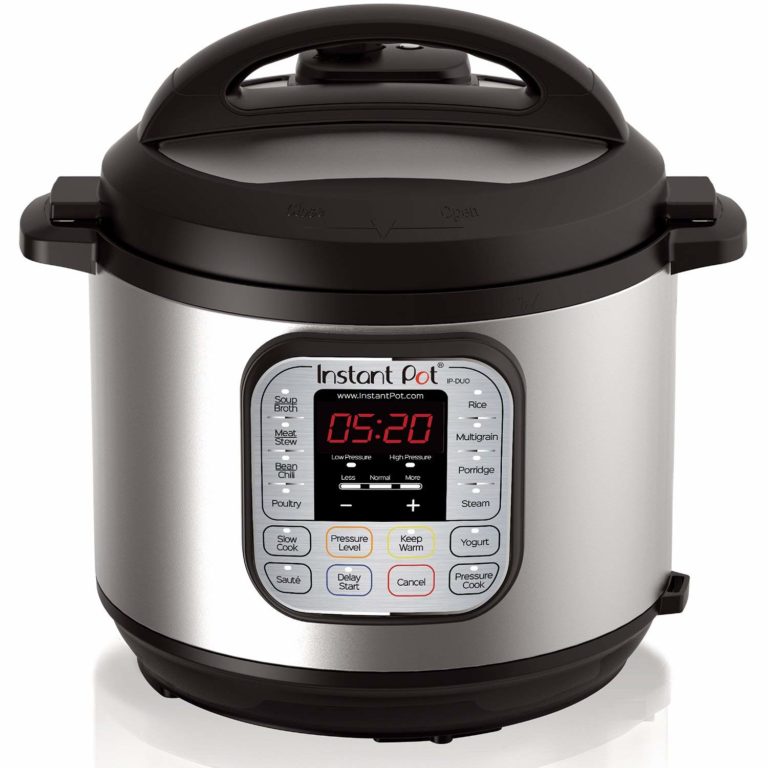 Instant pots are the star of the show right now and are quickly taking over as the must-have kitchen appliance. They are incredibly versatile and can cook pretty much everything. This isn't a specifically designed rice cooker but it can cook rice the same way a rice cooker would and it does have preset programs just for rice.
It is a Pressure Cooker, Slow Cooker, Rice Cooker, Saute/Browning, Yogurt Maker, Steamer & Warmer. They literally do everything.
The pot is 3-ply bottom stainless steel cooking pot so definitely eligible for our list.
Instant Pots are incredible if you haven't heard of them before then you need to check them out as they really are amazing. This should feature heavily in your decision-making process. The only downside to these is they are a lot more complicated than some machines. If you only want something to cook rice then this is a bit overkill as it can do so much more. Having said that Instant Pots are so simple to use it seems crazy not to get one of these instead of a rice cooker. You are getting so much more for your money especially when these are priced i cheaper than some cookers that do nothing but rice!
With easy one-touch controls, they are very simple to use. You might find you replace a lot of your kitchen appliances by getting an Instant Pot.
They have thousands and thousands of 5-star reviews so don't just listen to us on this. Check them out here.


3. Aroma Simply Stainless Rice Cooker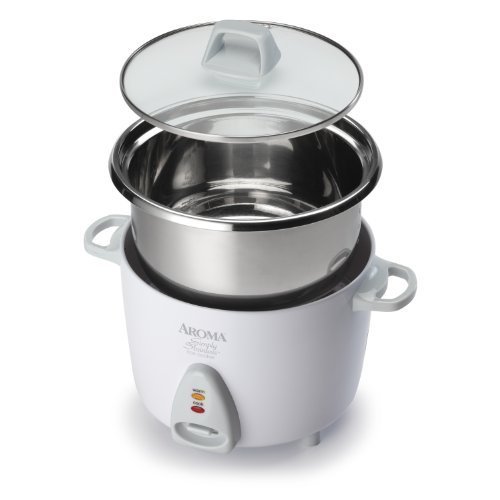 This is one of the most popular sellers right now for stainless steel rice cooking. It's a nice little cooker that does a great job of cooking rice and a whole host of other foods. It's small enough to pop into the cupboard when not in use too. This small size obviously means it doesn't cook a lot of rice, it cooks 3 cups (3 cups uncooked which is 6 cups of cooked rice) to be exact. If you need to cook more than this then you might want to get the bigger 7 cup version (again 7 cups uncooked, 14 cups of cooked).
The inner pot is perfect for our list as it uses food grade 304 stainless steel.
It's very simple to use with a one-touch design. Simply turn it on and forget about it until the rice is ready. Once the rice is ready it automatically switches to keep warm mode, keeping your rice in perfect condition until you are ready for it.
Clean up is easy as the inner pot comes out of the cooker so you can easily wash it or put it in the dishwasher.
Aroma are a very environmentally responsible company too. They have made great efforts to make sure their packaging is made from recycled materials and is bi-degradable.

4. Tatung – TAC-11KN(UL) – 11 Cup Multi-Functional Stainless Steel Rice Cooker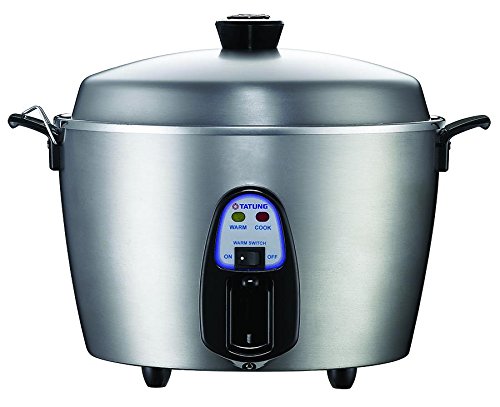 With a durable 18/8 (food grade 304) stainless steel inner pot this cooker is perfect for our list. No Teflon and no ceramics.
This rice cooker can handle 11 cups of uncooked rice which is 22 cups of cooked rice. That is likely going to be enough to feed even a very large family. It has 4 modes to choose from when using this cooker. Braise mode – for lightly frying food. Steam mode – you can fill the outer pot with water to steam your food. Stew mode – for making soups and stews. Keep Warm mode – for keeping your food warm once it is cooked. So this one has a bit more flexibility over the Aroma model listed above (number 2 on the list).
This extra options and the extra size mean it's a bit more expensive than the Aroma too.
This is a great rice cooker though and the extra options mean you can do so much more with this than cook rice.

5. Lotus Foods Gourmet Stainless Steel Rice Cooker and Steamer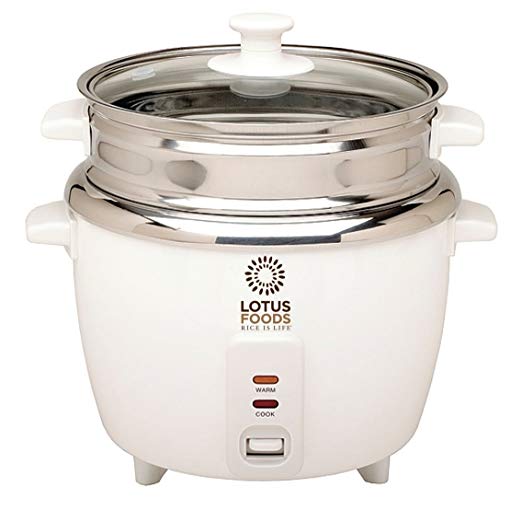 This is a 12 cup (uncooked) capacity cooker. It comes with a cooking pot and a steaming tray which gives you a lot of flexibility on how you cook your rice or whatever else you might choose to cook in this.
This is another really simple to use machine. It has 2 modes, cook and keep warm. That is pretty much all you need for cooking rice so that is all it has. Great if you are buying this just for rice but not very flexible if you would like to use the pot for other cooking ventures.
This is an excellent no frills rice cooker and is priced right down the middle when comparing to the other cookers on this list.
We aren't huge fans of the design but we haven't really seen anybody come up with a really beautiful looking rice cooker just yet. We live in hope though.


Conclusion
There are some great products available to choose from here. Despite us being quite limited because of the material restrictions we still have a couple of real gems here. The Instant Pot is a star product and gets rave reviews everywhere it goes. It does rice and so much more. Really it is hard to look past this product, especially when they are so cheap.
Alternatively, if you want a machine that does rice and nothing else then go for the Aroma model at number 1 on this list. You won't regret this purchase and it comes with a 2-year warranty for that extra peace of mind.
If you are worried about Teflon and other chemicals leaching into your food then you should have no problems finding alternative products. We are sure there some other great cookers out there that we didn't get a chance to try out. Let us know in the comments if you have a great rice cooker you think we should include on this list.