We've looked at many American made products in the past as we think it's really important to support home grown industries and companies, we recently looked at the best dinnerware sets made in the USA. So we want to continue that by looking at the best coffee makers made in the USA. Coffee is a huge part of our daily lives and the difference between a great cup of coffee and a bad one can often come down to the way it was made. If we are using a coffee machine then obviously the machine needs to be able to produce the best cup possible. We drink so much of the stuff that we should be making sure each and every cup is delicious.
As there are many different types of coffee machine we have looked at the best from each category.
1. Keurig K-Classic Coffee Maker, Single Serve K-Cup Pod Coffee Brewer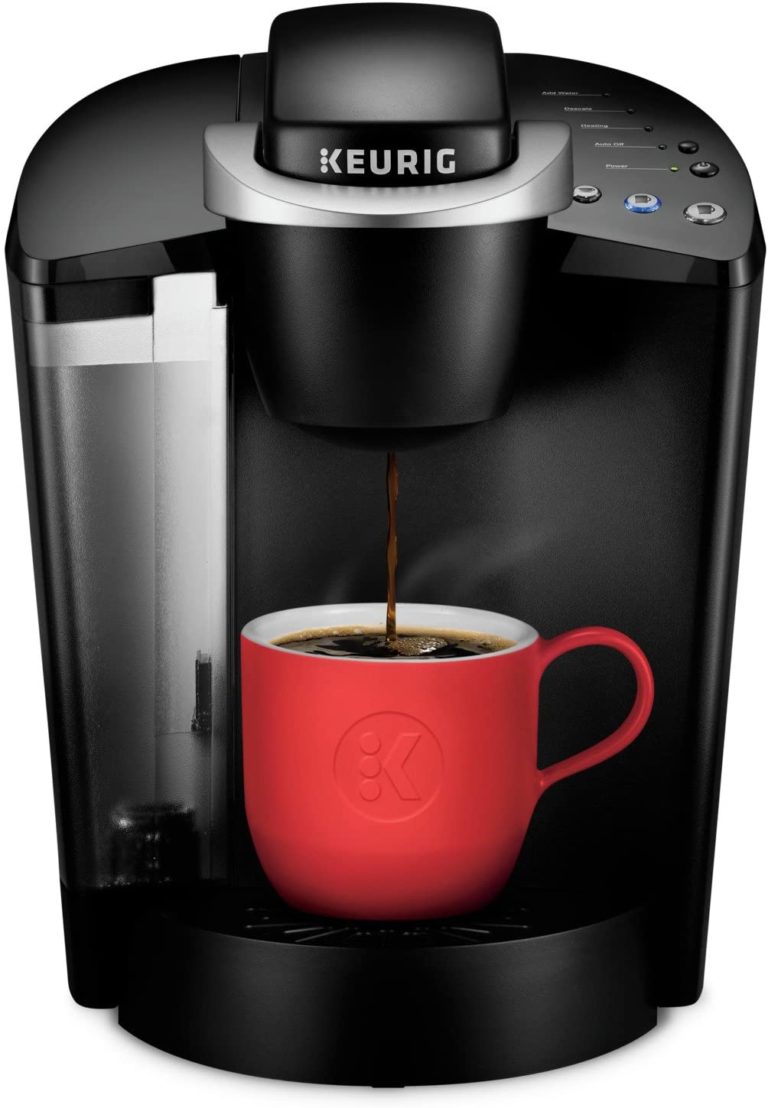 If you are looking for a pod coffee machine then check out the offerings from Keurig. They have a huge selection of pods available for their machines so you can make pretty much any type of coffee with one of these. They are fast and convenient too.
Keurig are an American company known as Keurig Dr Pepper and they are responsible for some of the great American brands we all know and love. Check out their full list of brands here, from Krispy Kreme, Schweppes, Panera Break and of course Dr Pepper. They operate out of Burlington, Massachusetts.
One of the great things about this pod machine is that you can choose how big you want your beverage to be, with 6, 8 and 10 ounce all available. Choosing the 6 ounce option will give you the strongest cup.
A large 48 ounce reservoir means you can brew 6 cups before you have to refill. When you do need to refill the container simply lifts off for a really easy refill. It also has energy saving features and will turn off after 2 hours if it hasn't been used in that time. The descale feature allows this annoying task to be completed with much greater ease.
After you pop your pod in you can make a cup of coffee in less than a minute from start to finish.
There are loads of Keurig pod machines to choose from but this is probably the best all rounder and the price point provides excellent value. This model has been one of the best sellers in this category and it has almost 20,000 reviews on Amazon.

2. BUNN GRB Velocity Brew 10-Cup Home Coffee Brewer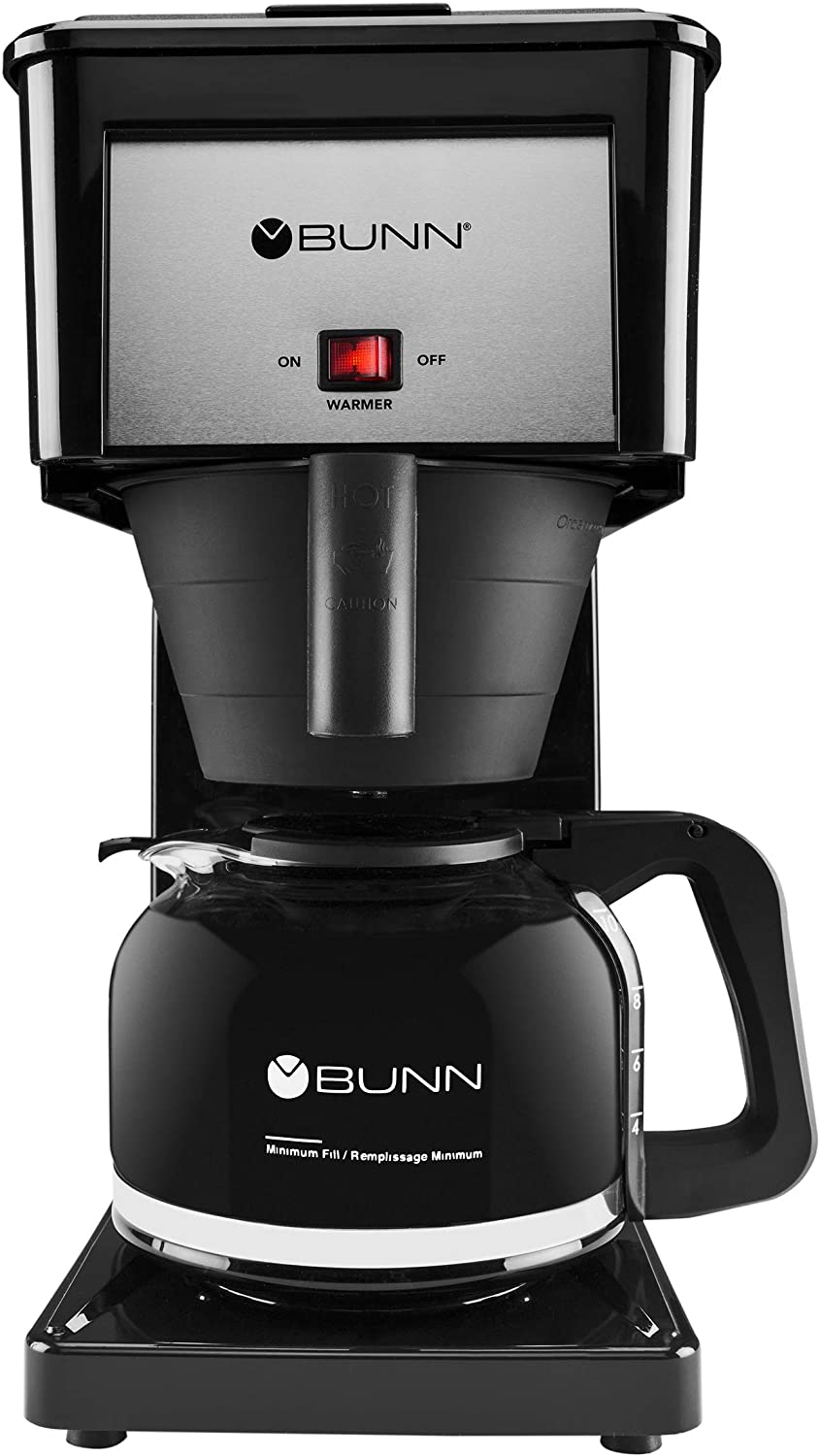 If you are more of a drip style coffee fan then you will do well to get better than a BUNN. All BUNN products are designed and assembled to the highest standards at BUNN HQ in Springfield, Illinois. Most of the parts are also US made but for full transparency there may be a few that are not. However all the products are put together in America. Company founder George Bunn made it his goal to create a fast brewing and great tasting coffee machine and that tradition continues today.
This machine is incredibly fast and can brew a full pot of coffee in around 3 minutes. A full pot is enough for 4 to 10 cups of coffee, around 50 ounces in total.
What we really liked about this one was the drip free carafe. With some of these coffee machines the carafes are pretty poor and they can make a mess when you pour them. Here though the carafe has undergone careful design to make sure it is completely drip and mess free.
You get a three year warranty with this product and if something does go wrong you can contact the BUNN customer services team who are also located in Springfield, Illinois. Drip coffee machines tend to have a reputation for breaking down but that is usually becuase they are in use all day every day and like anything else they give up after a few years of heavy usage. BUNN products are generally very reliable though so you should get a good few years out of this machine.

3. Chemex Pour-Over Glass Coffeemaker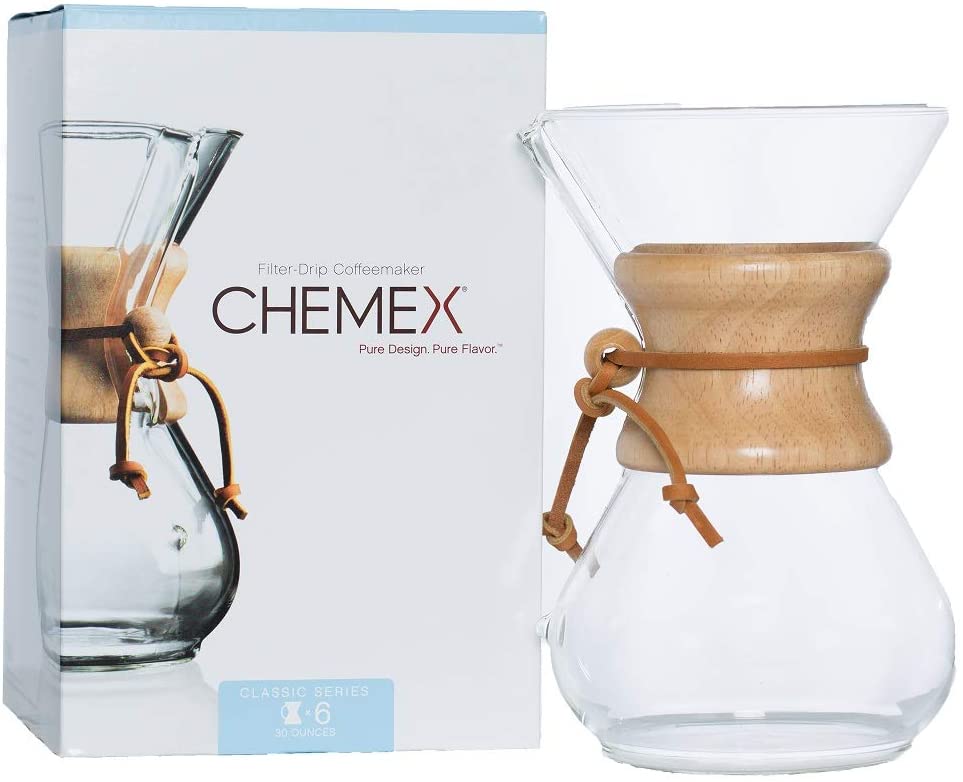 Another American company that makes pour-over style coffee makers is Chemex. Chemex are a family owned company operating out of Western Massachusetts. The first Chemex coffeemaker was made in 1941 and the company has continued to make them ever since.
As Chemex use non-porous Borosilicate glass for their products they give a superb tasting coffee. This is because the glass will not absorb any kind of odour or chemical. Amazingly this also allows you to refrigerate your coffee and reheat it later without any flavor being lost at all.
They are incredibly easy and fun to use as well. These make an excellent gift for coffee lovers who like to take the time to prepare their coffee and enjoy a pure taste.
You can keep the coffee warm by placing the Chemex on the stove at a low heat. Obviously this isn't as convenient as the BUNN if you want instant coffee but you get all the joy of coffee making with this product. They are definitely worth looking at as a gift as they are really reasonably priced.
Chemex make really beautiful pieces so check them out!

4. AeroPress Coffee and Espresso Maker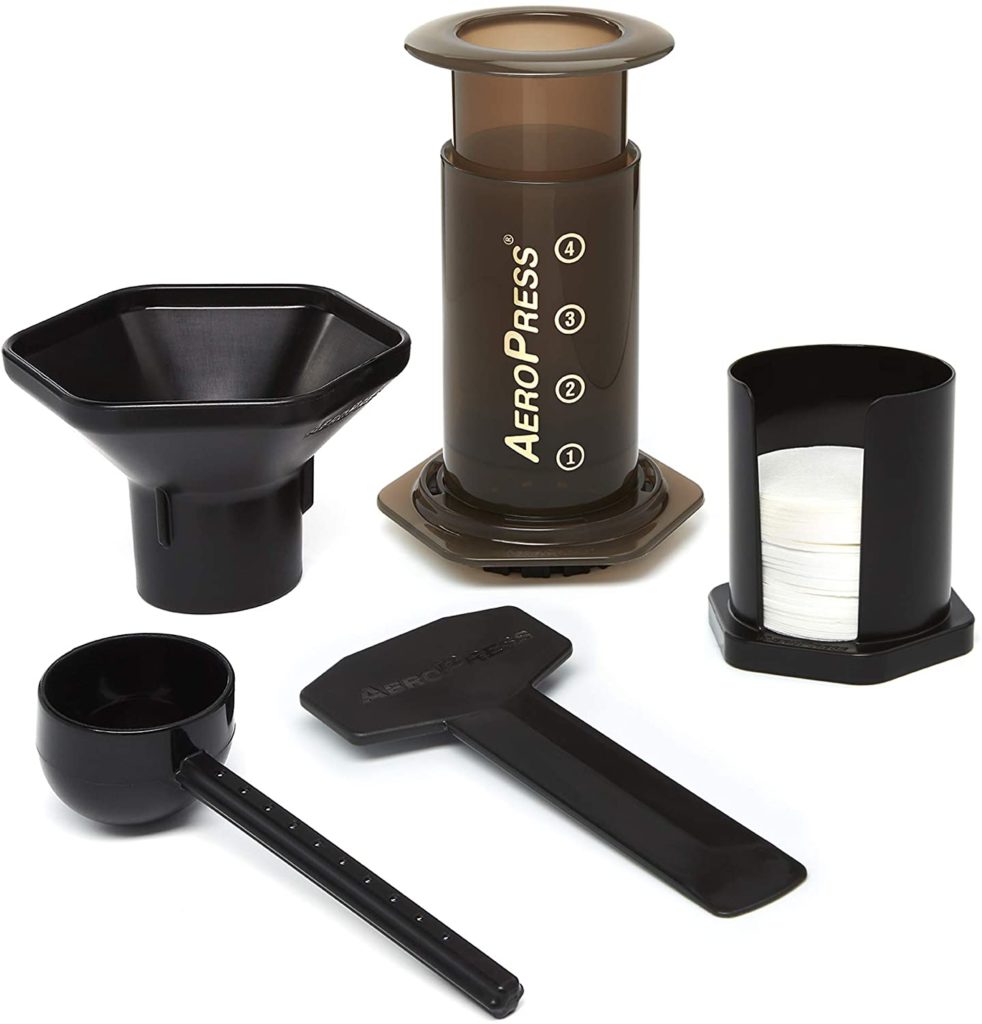 We've done a whole article on portable espresso makers and Aeropress definitely fall into that category. They are incredibly popular and have received almost universal acclaim for their design and the ease of use they provide. The company was founded by American inventor Alan Adler who is well known for inventing many instrumentation systems for military aircraft, nuclear reactors, and submarines. His most famous invention though is the Aerobie Pro flying ring. Aeropress operate out of Los Altos, California.
The Aeropress coffee maker is renowned for making delicious coffee with very low acidity. Typical French presses require a long steep time that leads to high acidity and a bitter taste, the Aeropress removes this requirement meaning you get a great taste and a smooth result. It uses a micro-filter as well meaning you get no grit or residue making it into your cup.
This is something that is absolutely amazing to have in the house for making delicious coffee but because it is so lightweight and compact it makes the ideal travel companion as well. You can have the most delicious coffee you ever had anywhere in the world with this thing.
If you have a French press then it might be time to update to one of these as they really do blow French presses out of the water. I must admit they aren't the most attractive thing to look at and it definitely doesn't look as nice as my dainty French press sat on the counter but the coffee produced by this thing blows my French Press away.
They are also really cheap. These are a brilliant gift and a must for coffee fans anywhere.

5. Keurig K-Mini Plus Coffee Maker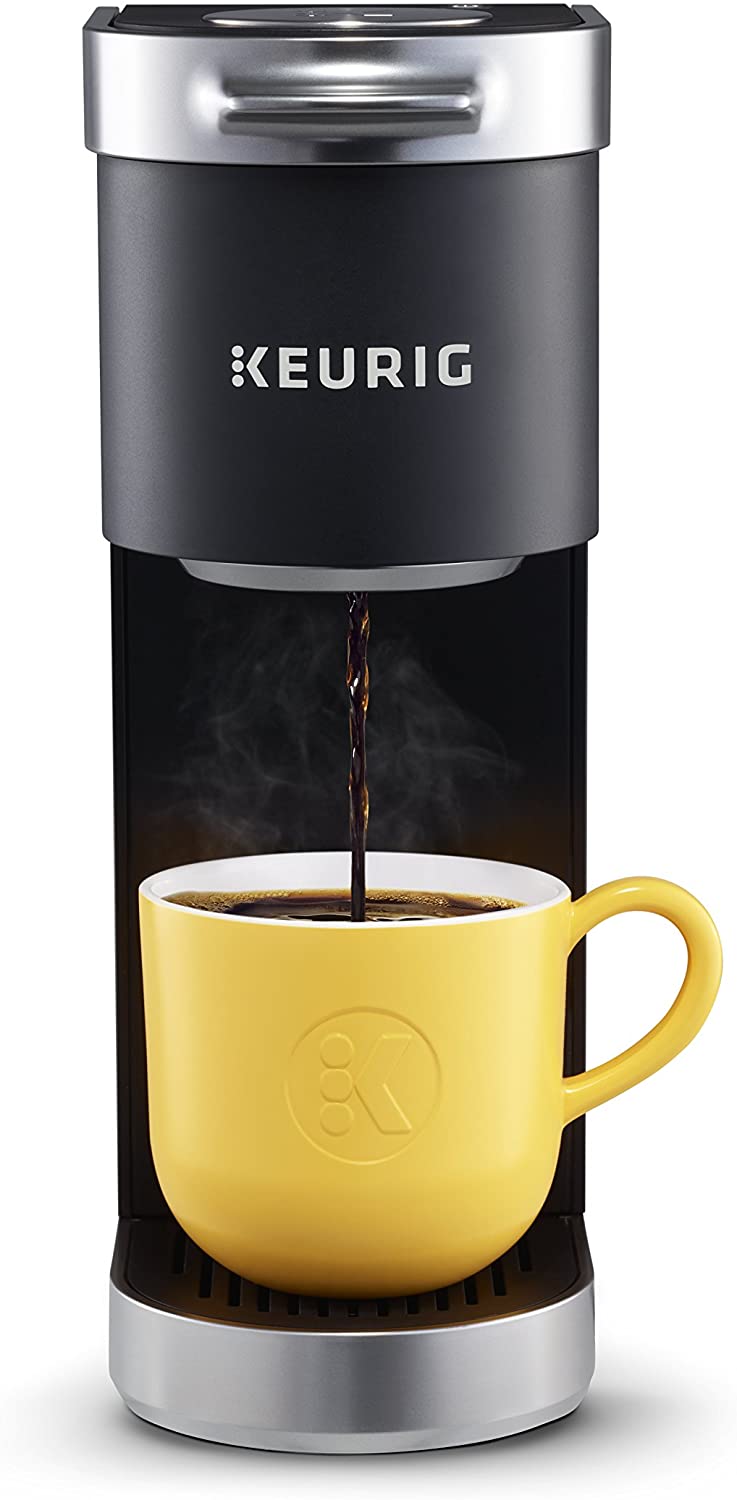 I know we've already had a Keurig machine on this list but I am completely obsessed with this model. The sleek modern design makes this model stand out from the crowd and it's ideal if you are limited on space or a minimalist. This machine is only 5 inches wide making it one of the slimmest coffee makers anywhere.
This is the 'Plus' model and while it is a little bit more expensive than the standard model I think it's probably worth the upgrade. The Plus model comes with a removable water reservoir which makes a huge difference in the convenience of this product. Because the product itself is so small the reservoir is also small and it's pretty much one cup at a time with this device, it's a little bit of a shame that you can't more out of it but it's not really a deal breaker for me.
It also comes with pod storage for up to 9 pods and a 'Strong Brew' button. The strong brew is exactly what you think it is, its just a stronger cup of coffee, you don't get this on the standard version so it's a nice option to have if you like your coffee strong.
Another great design feature on this machine is its ability to accommodate a travel mug up to 7 inches tall. I found this really convenient as I could put my travel mug straight onto the coffee maker and then dash out the door with fresh coffee.
Energy saving features include a auto shut off 90 seconds after the last brew. The machine itself takes barely anytime to start working again so it isn't the type of machine you'd need to have constantly on for convenience. This model is also compatible with the 'My K-Cup Universal Reusable K-Cup Pod Coffee Filter', if you aren't familiar with these then they are worth checking out. They allow you to make ground coffee using your Keurig pod machine so this opens up infinite possibilities for coffee making with your Keurig. It really removes the limitations of being restricted to pods.

Conclusion
It's difficult to find products like coffee makers that are made in the USA these days. The production costs are so much lower in China that a lot of companies are moving their production there. That is a great shame but fortunately there are still a few great companies out there who are US based and continue to make their products right here in America. Keurig and BUNN are two of the best in the business and their products have that homegrown quality we all love to see in our electronics. Keurig machines are absolutely fantastic if you are looking for a pod machine and BUNN are the best in the business at drip coffee makers. There are also a few smaller companies making amazing and innovative products here as well, check out the Aeropress which is taking the coffee world by storm.
I don't think you will be disappointed if you go for any of the products on this list. Choose which one suits your needs best. For me the Keurigs ability to do pods and ground coffee with the filter add on makes them incredibly flexible and convenient. Let us know in the comments which coffee machine you have and why you like it. Also let us know if there are any other companies here in the United States that are making great products for us to review.