If you are looking to get more eggs into your diet or smarten up your poaching game, then egg poachers will be a great addition to your home. Nutrient rich, just one single egg contains 40% of your daily dose of Vitamin D, 25% of folate, 12% of Vitamin B2, 20% of selenium and also include Vitamins A, E, B5, B12, iron, iodine and phosphorus. That is a lot of goodness from one little egg!
Coming in a range of styles and sizes, we've put together a list of the 5 best egg poachers on the market for you to consider. Helping you to get plenty of protein, good cholesterol, and omega-3 in your diet in a form that is tasty, filling and easy to throw together, these kitchen wonders will transform your mealtimes throughout the day and help you stay healthy and glowing. Oh, and we're pretty sure new egg skills will impress your buddies too.
1. Norpro Stainless Steel Egg Poacher/Skillet Set, 10″, Silver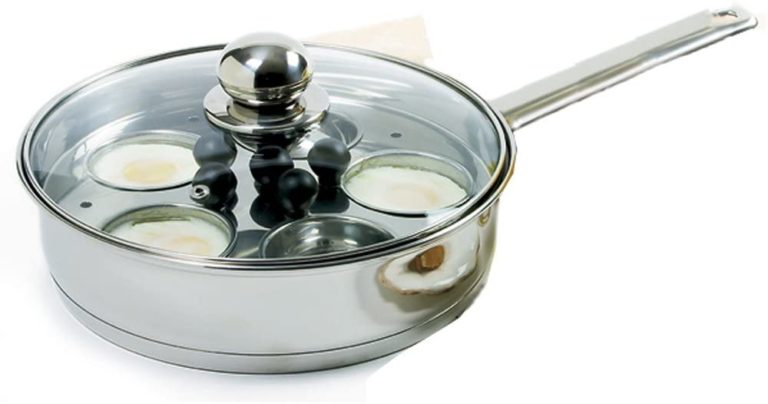 Kicking off our introduction to the best egg poachers in the USA is the 10" Stainless Steel Egg Poacher/Skillet in silver made by Norpro, a well-established supplier of kitchenware located in the Pacific Northwest and founded in 1973. Making it much easier to prepare delicious poached eggs, this model comes with five removable egg poacher cups – a really useful feature if you are showing off your culinary talents to groups of friends or are preparing meals for your family. Multi-functional, this egg poacher also doubles as a frying pan and sauté skillet which makes it a handy all-rounder and a worthwhile investment for everyday use.
A slick piece of equipment, the Norpro Stainless Steel Egg poacher has a tri-ply encapsulated base, which includes two layers of stainless steel with an aluminum core layer. A solid construction that is oven safe to 400F, this design enables increased heat conductivity and even heat distribution for increased cooking efficiency. With protection from hot spots, you don't have to worry about burning your eggs and the subsequent task of trying to clean charred egg off the bottom of your poacher either. Although the pan is non-stick as such, some people prefer this as it avoids nasty non-stick chemicals eroding after long periods of time and potentially contaminating your food.
Topped with a tempered glass vented lid and non-conductive handle that stays cool, this reasonably priced egg poacher is an understandably popular choice.

2. Cooks Standard 4 Cup Nonstick Hard Anodized Egg Poacher Pan with Lid, 8-Inch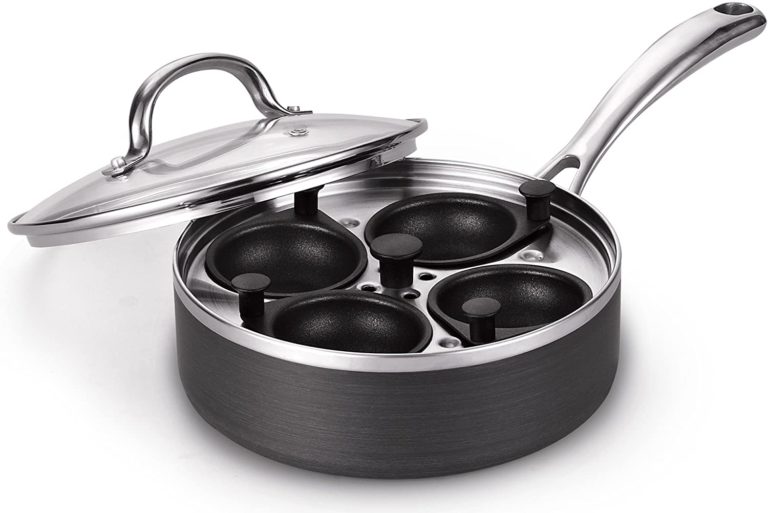 The Cooks Standard 4 Cup Egg Poacher is another great option for egg-lovers looking to enjoy daily doses of eggy goodness. Cutting down on the faff of poaching eggs free hand, this poacher allows you to quickly and efficiently poach eggs ready to serve with your favorite dish. A non-stick edition, the poacher's four 2fl.oz. cups with plastic handles easily cook and release eggs, but extra care should be taken to avoid scratching the casing. Like with all non-stick equipment there is a product lifespan, but most non-stick cookware is generally expected to last between 3 to 5 years depending on how well they are maintained during that time.
Cooking up to four eggs at a time, the Cooks Standard model's turnover is just shy of that of the Norpro Stainless Steel and it is also slightly smaller in size and lighter too – although this may be more suitable depending on your needs. Easy to use, all you have to do is fill the pan with water, pop your eggs in the provided cups and cook to desired firmness. Complete with a see-through, tempered glass lid that helps to improve cooking quality and a stainless-steel handle that is riveted for strength, you can keep an eye on your egg's progress and dish up when ready.
Not induction compatible, this egg poacher works on gas, electric, glass, halogen and ceramic tops and is an efficient, inexpensive choice.

3. RSVP International 6-c. Endurance Egg Poacher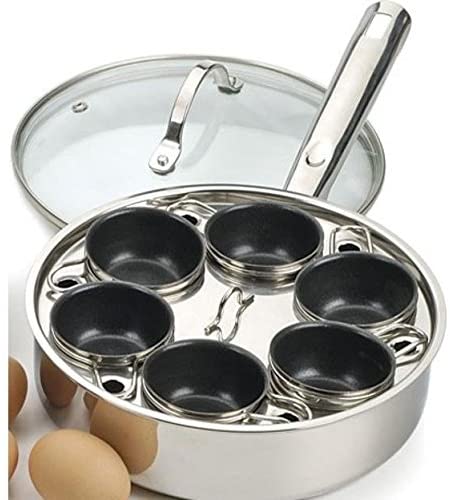 How do you like your eggs in the morning? Well, if the answer is poached, you might be interested in the RSVP International 6-c. Endurance Egg Poacher. A useful piece of culinary equipment for both domestic and commercial use, this large 10 x 12 x 8-inch pan has an impressive six cup capacity that allows you to cater for large groups in a single go. Made of stainless steel, this model comes with a center-handled insert tray for easy removal, and the egg cups themselves are lined with Teflon so that the eggs don't get stuck as you try and take them out.
Featuring an encapsulated tri-ply base, a long handle so you don't have to get your hand or arm anywhere near the heat, and a tempered glass lid for effective monitoring, this is about as simple to use as it gets. As well as the long handle on the pan, each egg cup also comes with its own mini handle so you can remove each one individually when they are ready. Like with other egg poachers models, one of the great things about the RSVP International 6-c. Endurance Egg Poachers is that it enables you to put together a really neatly presented ensemble, ideal for perfectionists and special occasions where you need to impress.
Easily broken down into separate components, this dishwasher-friendly egg poacher is a breeze to clean and each set includes directions and recipes too.

4. ExcelSteel 6 Cup Egg Poacher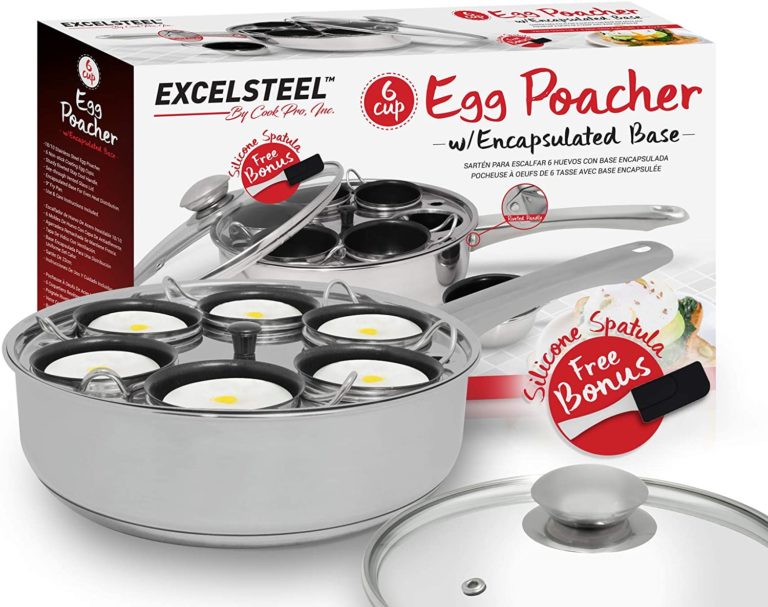 A bit harder to get your mouth around the eggs it helps you to cook, the ExcelSteel Non-Stick, Easy-Use, Rust-Resistant Induction Cooktop Egg Poacher has a whole raft of benefits. Made from stainless steel, it is a great option for those with greater cooking needs and comes with six individual non-stick egg cups (with mini handles) that can all be used at the same time. Whether you are setting up the whole family with a hearty, nutritious breakfast, cooking up a mouth-watering brunch for a group of visiting friends or settling down for the night with your loved ones for some feel-good comfort food, this piece of kit will easily keep up with even the hungriest of mouths.
Boasting a durable anti-rust frame, the ExcelSteel egg poacher has an encapsulated base and a stay-cool riveted handle. Not just great for precision poaching, the 9-inch pan also doubles as a frying pan for multi-functional use and is ideal for saving on storage. Simple and effective, it is brilliant for whipping up perfect Eggs Benedict, Sardou eggs and breakfast muffins, and once plates have been mopped clean, its wipe-clean surface takes the hassle out of washing up too. That said, if you'd rather give your poacher a deeper clean, all parts are dishwasher safe too.
One of the cheapest egg poachers out there, this eggstremely popular model includes detailed maintenance and care instructions for long-lasting use (available in three languages).

5. Eggssentials Poached Egg Maker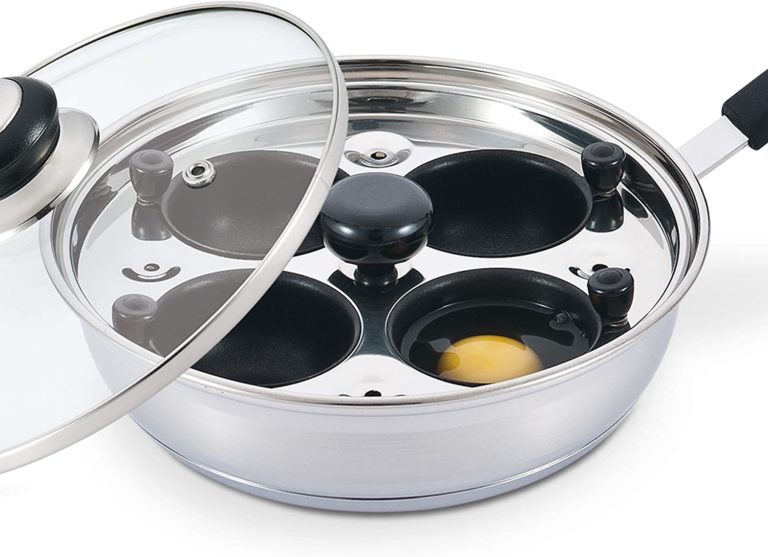 The Eggsenstials Poached Egger Maker boasts "perfectly poached eggs every time". A stainless-steel egg poacher with PFOA-free, non-stick egg poaching cups, it is a strong contender for the best egg poacher available. Even though it is only able to cook four eggs at a time, which may be a drawback for some people, it has the added advantage of being one of the few egg poachers that can accommodate jumbo sized eggs thanks to its 75ml cups. Double coated using a non-stick coating from the USA, this is a great advantage and one that will appeal to those looking for quality, American-made products.
Supported by a heavy stainless-steel body, the Eggssentials Poached Egg Maker is suitable for use with all stove types, including induction – another attractive bonus. It has a tri-ply aluminum encapsulating bottom that allows for quick, even heat distribution and features polished stainless-steel cups that are easy to remove, easy to clean and are dishwasher-friendly. A feature that is popular amongst other models, the pan of this particular egg poacher also doubles as a sauté pan, allowing you to make the most of your investment and save on space. For safety, this edition has been upgraded with an extra thick tempered glass lid with quick-cool Bakelite knob, offering a secure, safe fit and vent-lock system for the best cooking results.
This egg poacher is great for those with fewer mouths to feed and is surprisingly easy on the wallet too. That said, if you would prefer being able to cook more eggs, there is also a 6-cup option too.

Conclusion
Egg poachers are a brilliant way to cook several eggs at a time, achieving well-cooked, tasty and professional results. Perfect for egg fanatics, large families, flat-shares and hospitality businesses like hotels and B&Bs, they take the pressure out of cooking and can be used to create a variety of nutritious meals. Worth investing in a little extra, you can enjoy a well-made, durable and efficient poacher for a really reasonable price. Quickly reaping the rewards, your egg poacher will become an essential part of your kitchen set-up for many years to come.
Let us know in the comments which egg poacher you have and if its any good.