Cooking brown rice can sometimes be a pain. It takes longer and it's usually harder to get it tasting just right. Luckily there are loads of rice cookers on the market that have a brown rice function meaning we can enjoy healthy brown rice much more easily and quickly. Now because there are so many on the market picking the right one can be a bit of a headache. To simplify this we have taken a look at some of the most popular items and come up with a list of what we think are the best options.
1. Zojirushi NP-HCC18XH Induction Heating System Brown Rice Cooker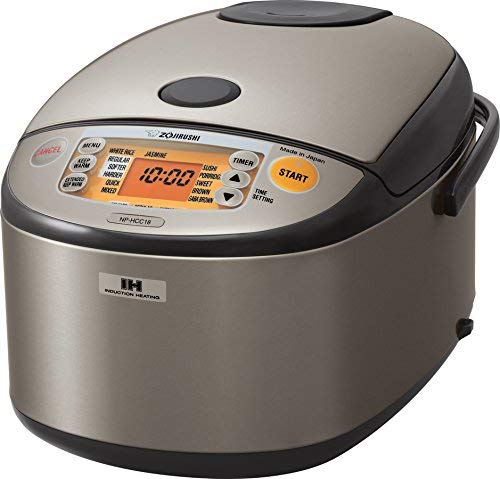 The induction heating technology in this cooker means that this brown rice cooker is really efficient and the cooking is very even. The heat comes from the sides, bottom and lid so your rice is getting cooked from all angles. Not only does this mean it is fast at cooking but it means every grain gets the same treatment and the taste is consistent throughout the batch.
Zojirushi is a huge brand that originally comes from Japan and this cooker is made there too. They make some amazing products and their rice cookers are really first class.
Of course this product not only excels at brown rice but at all kinds of rice including white, mixed, sushi rice and gaba rice. The key factor here though is that it has a brown rice setting that means we have simply push that and not have to worry about anything else.
It comes with a timer and that all important keep warm setting too. The extended keep warm setting will keep rice warm and ready to eat for up to 8 hours. The controls throughout are really simple you just push to select your rice type and then hit the start button. You can adjust the settings if you wish or just leave them at the default.
The bowl and lid are detachable which allows easy serving and easy cleaning. This is a first class rice cooker that produces amazing brown rice.


2. Panasonic 5 Cup Rice Cooker with Fuzzy Logic – SR-DF101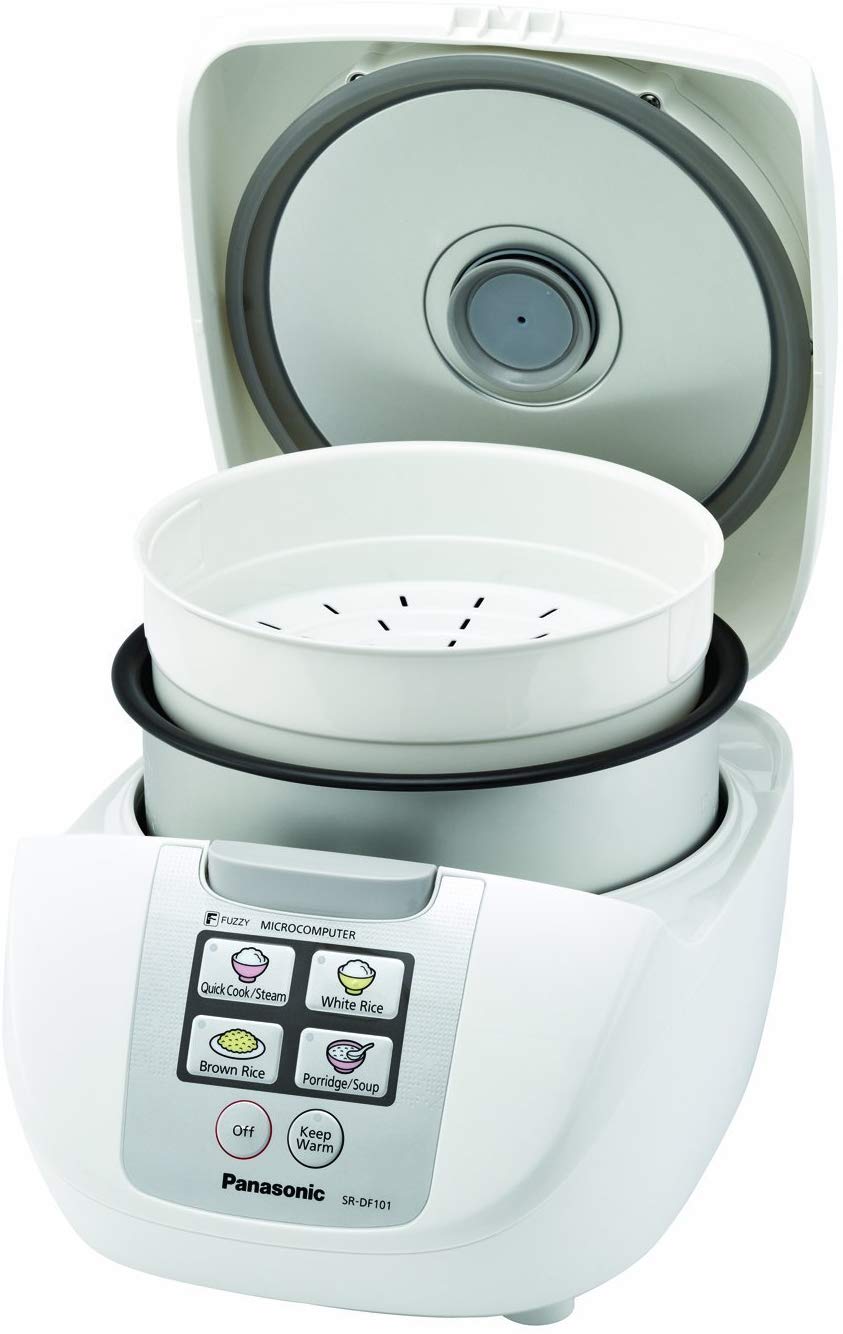 This Japanese style rice cooker is another really nice option. It uses fuzzy logic which is a new technology that analyses the type and condition of the rice as it cooks and then automatically adjusts the cooking time and temperature. Many of the best Korean rice cookers have this tech on them and they tend to be industry leaders so it's nice to see it starting to be more widely available.
It also has one touch settings to make this cooker incredibly easy to use. Just hit that brown rice button and everything else is taken care of. Perfect for busy families who don't have time to look up what settings to use. Even better it has a nice big brown rice button right on the front so we don't have much work to do in order to get our brown rice cook underway.
The keep warm function on this device goes one step further by automatically switching to this mode when cooking is done. This automatic switch over means you avoid over cooking and that your rice is perfect for you when you are ready for it. This cooker can keep your rice warm for up to 12 hours.
It comes with a measuring cup too so you always get the perfect amount of rice. If you are anything like me you will always end up making to much or to little rice so the measuring cup is an ideal bonus item. It also comes with a little steaming basket so you can steam something else while the rice is cooking.
The domed lid design stops the water from getting back into the rice when you open it up. Little features like this often get missed but Panasonic have really put a lot of thought into their design here. With a nonstick pan it's really easy to clean . This cooker does much more than rice like most of these devices but it is of course rice where it excels. A superb brown rice cooker.

3. Aroma Housewares ARC-6206C Ceramic Rice Cooker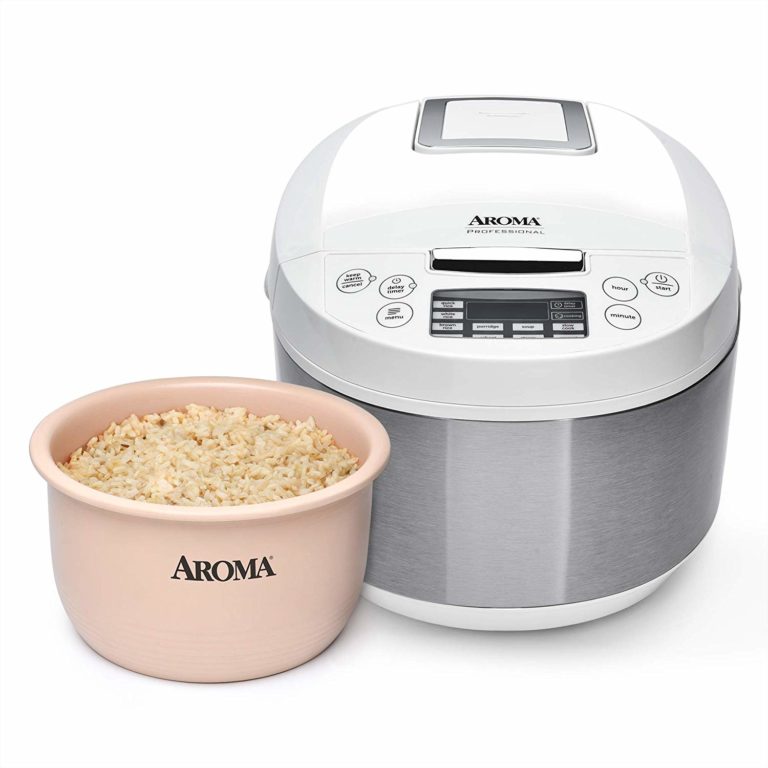 Aroma rice cookers are really popular right now and it's not hard to see why when you get this fantastic little cooker in your hands.
The inner pot on this rice cooker is ceramic so there are no worries about chemicals entering our food here. It still provides a non stick surface which is a life saver with rice but it does it in a natural way.
This is a really versatile device too. It can cook a huge range of foods like soup, vegetables, porridge, cakes, yogurt and much more. Of course it is designed to cook amazing rice first and foremost and we are happy to report it does that very well. It also has that essential brown rice setting that we are looking for to not only make life a bit easier but to ensure that the rice is cooked in an appropriate way.
The outer surface of this cooker stays cool to the touch when in use so this is ideal if you have children running around who may inadvertently touch your rice cooker. You get a few bonus items with this one too. It comes with an inner pot, steaming tray, rice measuring cup, soup ladle, plastic rice paddle and bamboo rice paddle. The steaming tray opens up more cooking potential as you can of course use this to steam vegetables and other foods while your rice is cooking.
This cooker also comes with an automatic keep warm setting that will kick in when the cooking is complete. The delay timer makes it easy to plan ahead as well.
Overall this is a really superb option and the stylish and clean looking design makes this a winner on looks as well as functionality.

4. COMFEE' Rice Cooker, Slow Cooker, Steamer, Stewpot, Sauté All in One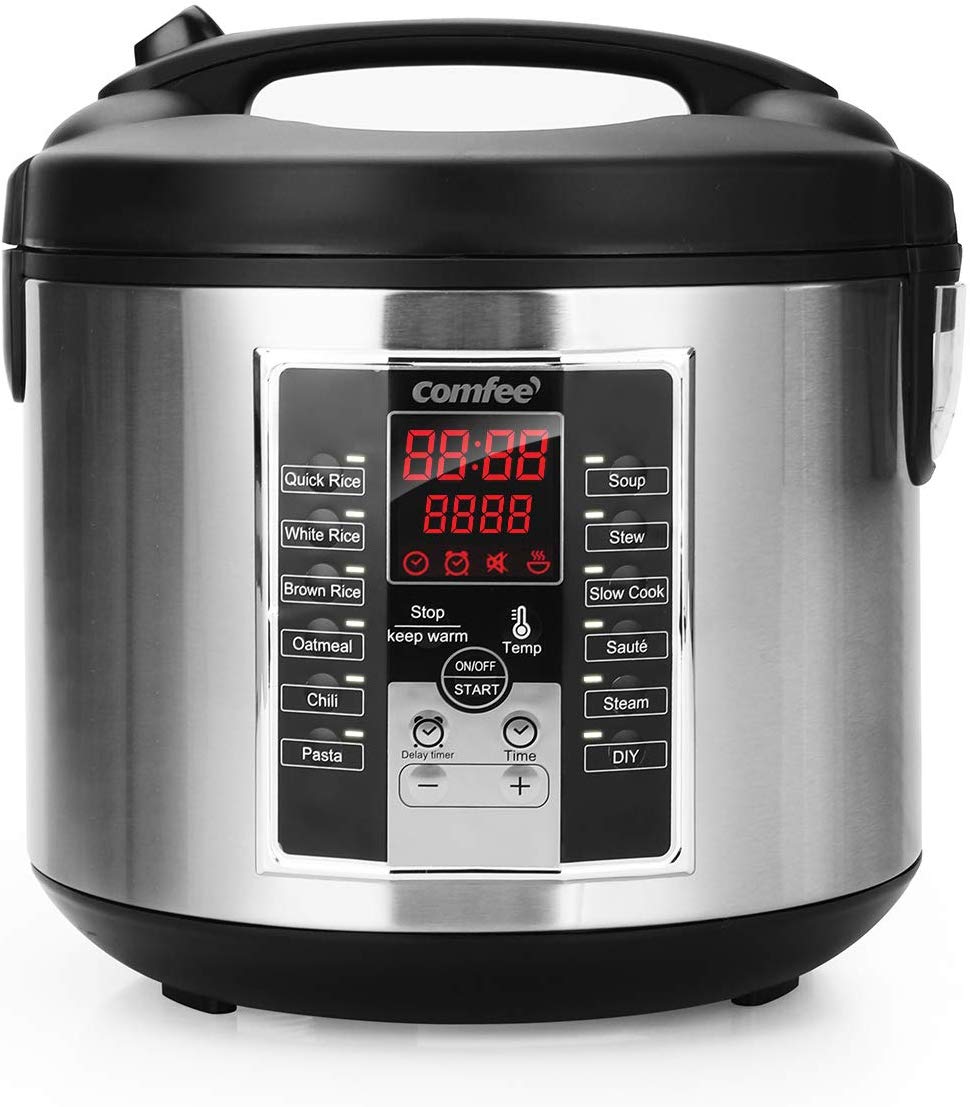 This looks and operates very much like an Instant Pot but crucially it has a brown rice setting. It has many preset options right on the front of the device including brown rice but it can do so much more than this. It can cook pretty much anything and the controls are extremely flexible to allow a huge range of cooking possibilities here.
Focusing on the rice cooking though it can cook 20 cups of cooked rice so the capacity is quite large here. It takes around 40 minutes to cook 20 cups of rice. It also has the automatic keep warm function and can keep rice warm for up to 12 hours if needs be. This allows you to have hot rice ready to eat all day long!
The pan is non stick and BPA free. It's easy to clean. It comes with a nonstick inner pot, rice paddle, ladle, rice measuring cup, steamer tray. All these pieces are dishwasher safe too.
One of the most amazing things about this device is the price. It's really cheap and considering how much versatility you are getting it's a real bargain. If you are looking for something that does more than rice then check this out.
5. Tiger Corporation JBV-A10U-W 5.5-Cup Micom Rice Cooker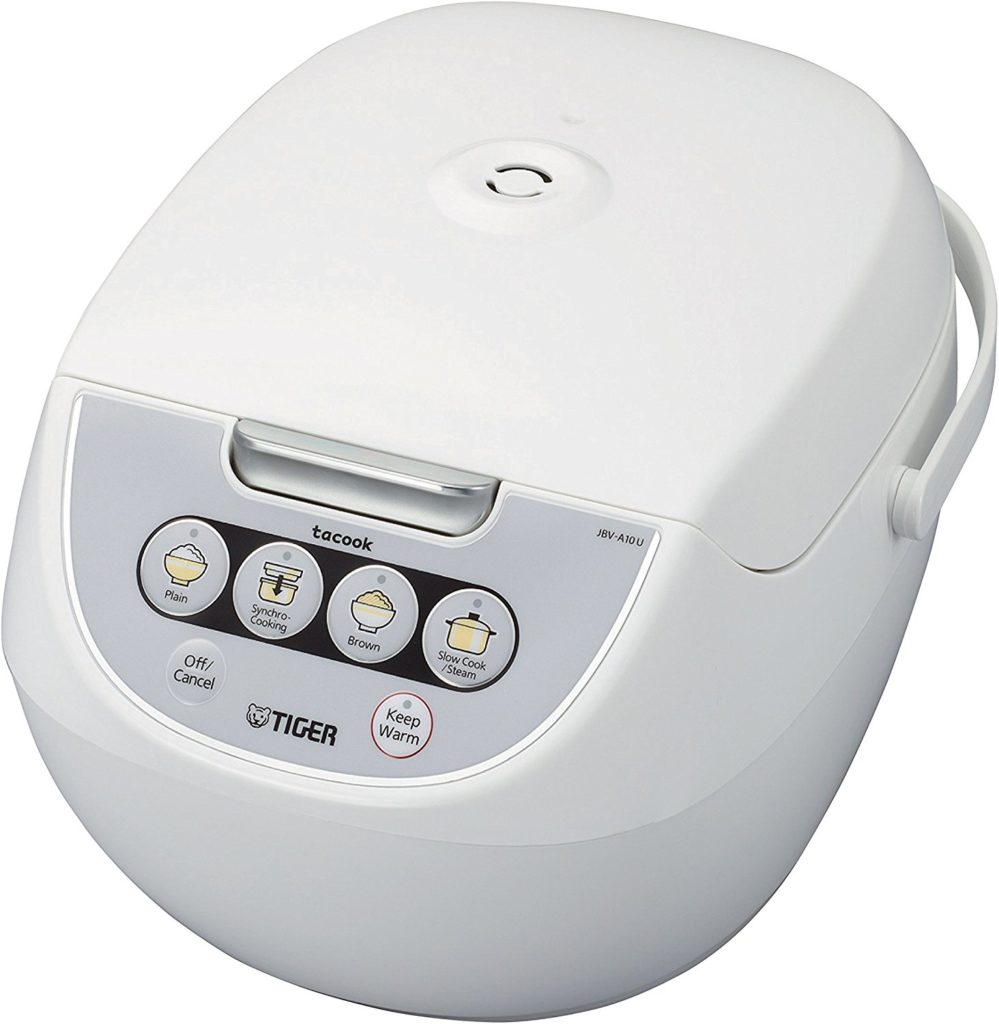 This rice cooker from Tiger has an Amazon choice award for rice cookers in its price range. It is also really well reviewed by customers.
This is a really simple rice cooker in both functionality and design. If you want a simple and easy to use rice cooker then it doesn't get much more straight forward that this one. There are 4 big buttons on the front for plain rice, brown rice, steam and syncro-cooking. You just press the button and you are off. It also has a keep warm button.
Behind the scenes is where the magic happens as this cooker actively monitors the rice and adjusts the program where necessary to make sure the end result is perfectly cooked rice.
The cooking plate on this device has also been specially designed to ensure that nothing that comes into contact with the rice will affect the taste. It's also BPA free. The inner pot is also non stick and really easy to clean. The inner pot is quite easy to scratch so make sure you use the paddle that comes with it to avoid this.
It comes with a non-stick spatula, cooking plate, measuring cup a and cookbook for using "Synchrony-cooking" function. The Syncro fucntion allows you to cook 2 things at once. So you can cook your main dish at the same time as your rice.
This is a really nice rice cooker at a really nice price. Not the best looking on the list but it's a great little cooker for brown rice.


6. Cuckoo CRP-DHSR0609FD Induction Heating Pressure Rice Cooker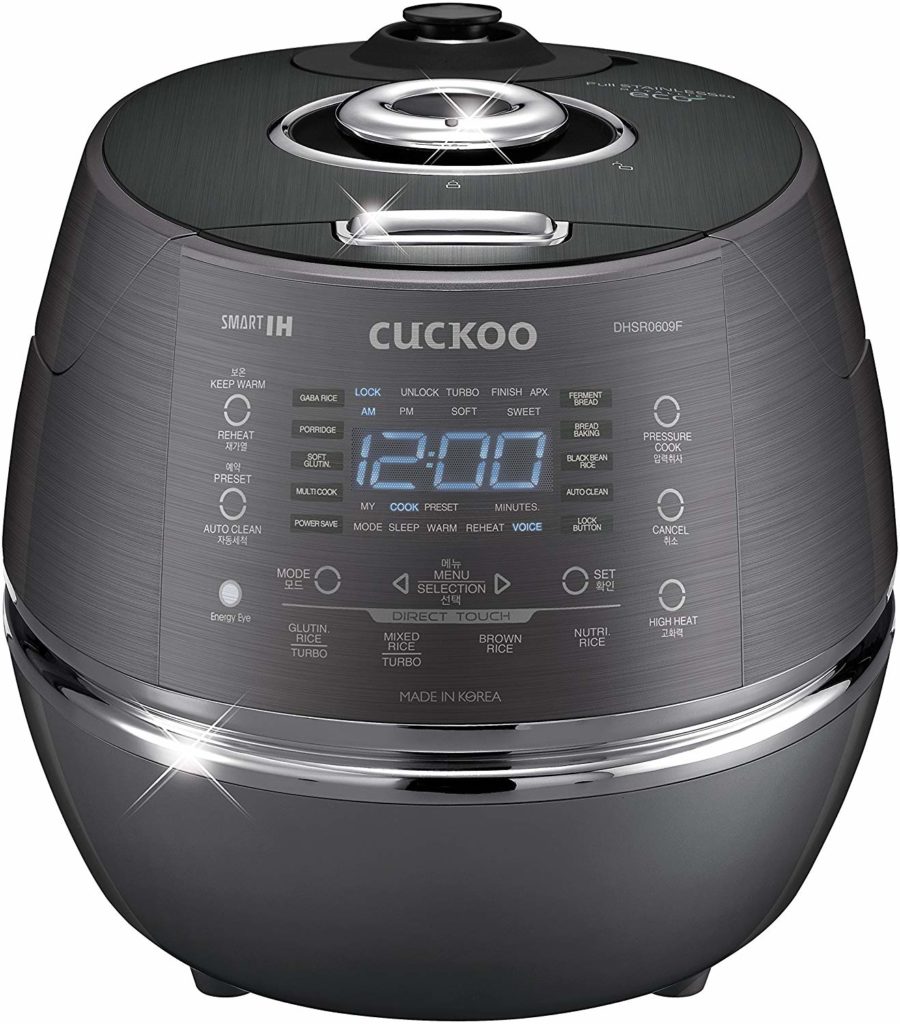 This is one of the most expensive rice cookers around but it is also one of the very best. From Korean manufacturer Cuckoo this really is up there with the best rice cookers anywhere in the world.
There are a huge range of options with this cooker and of course it has a brown rice setting. It also uses the fuzzy logic technology we mentioned before. It automatically detects what type of rice you have put in the cooker and sets the program accordingly. It's next-level stuff. Then it sets the time and temperature and gets to work. Of course, you can manually adjust all this if you wish but for pure ease of use, nothing really comes close to this.
As well as that this rice cooker guides you through the process by speaking to you. A voice assistant keeps you on track as you navigate the menus. There are quite a lot of options here so the voice guide makes it super easy to keep on track. It will speak Korean, English and Chinese. Everything here is touch sensing as well, there are very few physical buttons. It makes it really easy to wipe down and keep clean plus there are fewer moving parts to wear out.
This thing is packed with safety features too from steam emission protection to auto lid locking, auto temperature control and an alarm for overheating. It also has a self-cleaning mode where hot steam is released into the device to make sure it is completely sanitary and ready for its next use.
The price here is high but you really do get one of the best rice cookers available to buy. It's got all the features and functionality you could ever want from a rice cooker including a brown rice button.

Conclusion
If you have cooked brown rice in a pan you will know that it can be tricky to get right and it takes quite a while to cook. So a good rice cooker is a pleasure to have around the kitchen, especially if you eat a lot of rice.
Rice cookers are really popular items all over the world and this popularity has seen an explosion in the number of products on the market. It has also pushed the features and functionality to the highest level. With there being so much choice and competition the prices have come down a lot so it is a great time to buy a rice cooker.  Obviously here we are looking for a rice cooker that is great for brown rice so the first thing I suggest you look for is one with a brown rice button. It just makes it so much easier. All the items on this list have that feature.
The next thing to consider is whether you want to spend a little bit more and get one with fuzzy logic technology. This will automatically adjust the cooking program time and temperature to make sure the rice is cooked to perfection. It makes a huge difference to the rice that ends up on your plate especially with brown rice.
All the rice cookers on this list are first rate so no matter which one you go for you will be happy. The Zojirushi and Aroma are amazing machines considering the price range they are in. If you want to go for the top of the range then check out the Cuckoo at number 6 on this list. Cuckoo makes a lot of different rice cookers and they are one of the world leaders in this market. They are pricey but they are incredible as well.
Let us know in the comments which rice cooker you have and what you like about it. Let us know if you cook brown rice in yours and what kind of results you are getting.