Stainless steel rice cookers are becoming more highly sought after as people start to move away from Teflon and other potentially harmful surfaces. Stainless steel is a great choice because it is safe to cook in and it won't react with food to alter the taste in anyway.
There are so many rice cookers out there right now that picking the right one to suit your needs can be a bit of a challenge. There aren't actually that many products out there that have a stainless steel inner pot. Most are using some kind of non stick surface that we are looking to avoid. One thing to look out for is that the description might mention that it is stainless steel but it may be talking about the outer body. Make sure it states that the inner pot is stainless steel, that is what comes into contact with the food. The outer body material isn't really that important.
Here are some of the best stainless steel units available right now.
1. Aroma Simply Stainless Rice Cooker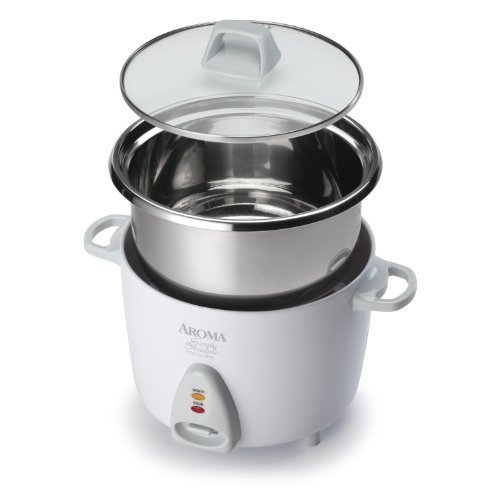 We have talked out Aroma rice cookers before on our non toxic rice cooker article. We love it then and we still love it now. Aroma are producing some great products at really low prices right now and we of course love them for that!
This rice cooker keeps it simple with one touch operation. There are no fancy settings here. Once your rice is cooked it will automatically move onto keep warm mode to keep your rice in perfect condition until you are ready for it.
Of course the inner pot is stainless steel, in this case it is 304 food grade stainless steel. The only part of the cooker that comes into contact with the food is the inner pot so although this has a plastic body it does qualify for the list. The pot is completely removable for easing serving and cleaning.
This version cooks 3 cups of uncooked rice but there are larger models available too. This can cook much more than rice and is particularly good for soups, jambalaya and chili.
It comes with a measuring cup and a bamboo serving spatula. Use the measuring cup to get great results every single time.


2. Tatung – TAC-11KN(UL) – 11 Cup Multi-Functional Stainless Steel Rice Cooker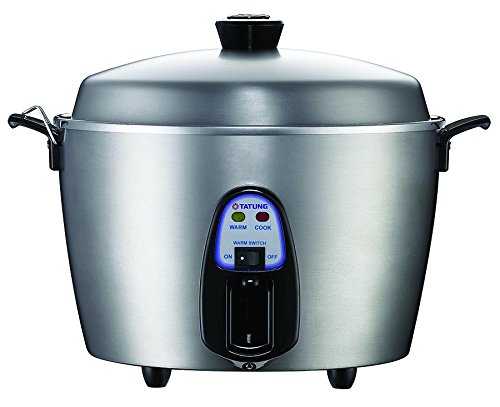 Both the inner and outer pot are stainless steel on this Tatung model. Again it is food grade 304 stainless steel so perfect for healthy cooking. This rice cooker is a hell of a lot bigger than the Aroma and can cook 11 uncooked cups of rice which equals 22 cooked cups of rice. That is a lot of rice!
Simple controls allow you to switch between cook and keep warm with the touch of a button. Like the others it will automatically go to keep warm mode once the rice is cooked.
This cooker has a steam mode too, because it has an outer pot you can fill with water. You can use this mode for cooking rice if you wish but it opens up a huge amount of cooking possibilities as well. It also has a braise mode and a stew mode. So you can do a lot with this cooker.
Tatung are renowned for their long lasting and durable products. It's a bit more pricey than some of the other rice cookers on this list but as an investment this is a pretty good deal. With proper care this product should last you a very long time.

3. Instant Pot DUO60 6 Qt 7-in-1 Multi-Use Programmable Pressure Cooker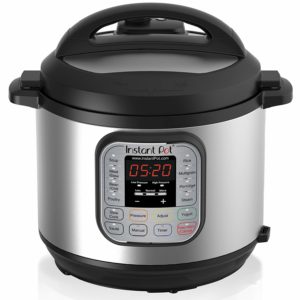 I'm sure by now you have heard of Instant Pots. These things are truly superb and a revolution in cooking. They have been huge sellers and pretty much universally praised by anyone who has tried one.
Instant pots make superb rice cookers but they can cook just about anything. They definitely warrant your attention especially when they are so well priced. Instant pots are cheaper than some dedicated rice cookers but they do so much more.
The inner pot is stainless steel and so is the outer body. The results you get from this machine are consistently excellent and the pre programmed rice mode makes things super easy. We could rave on about instant pots all day. You will end up using this for all your cooking if you decide to get one. There are many different versions of the instant pot and some have more features than others. If you are just wanting this for rice then you can pick any model but the Duo 7-in-1 is the cheapest model. It's also the best selling model but it has been around a lot longer than some of the newer models.
Another great feature of instant pots is how fast they cook your food. They can be up to 70% faster than other cooking methods. They really are a game changer in the kitchen if you want great food fast.

4. COMFEE' MB-FS5077 Japanese, Professional 17-in-1 Multi Cooker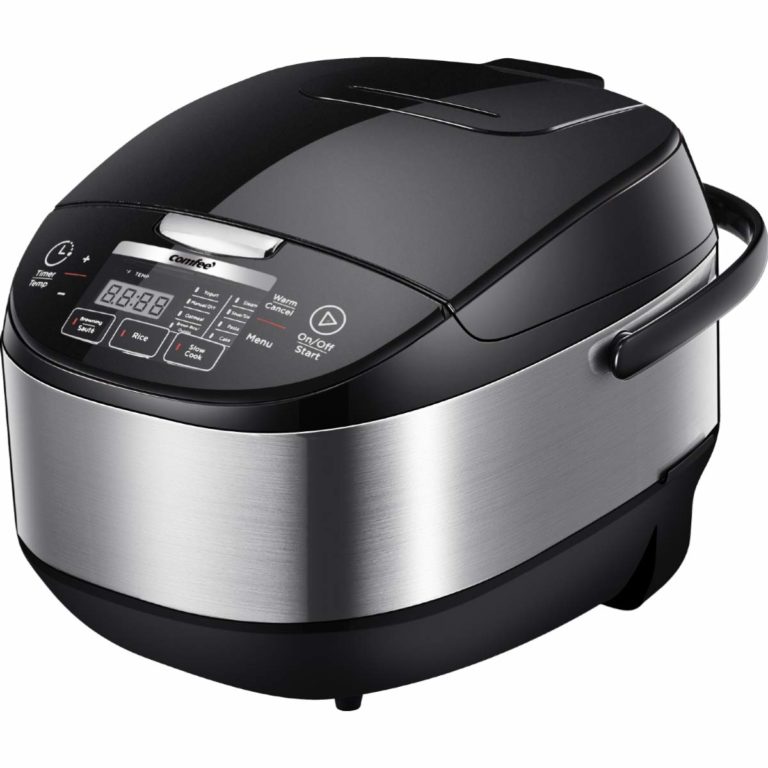 This rice cooker is really good considering the low price. Comfee have developed a unique way of cooking rice that takes advantage of a steam valve, it locks in steam as well as using heat to cook the rice. The result is lovely fluffy rice.
This cooker has 17 built-in programs that cover all kinds of foods from vegetables, soup, cakes, yogurt and much more. It's a really versatile unit but it really excels when it comes to cooking rice.
24-hour timer delay means you can be quite flexible with your planning. Set the machine up and it will start when you want it to. With a large 5L capacity it can cook up to 20 cups of cooked rice.
It is made of BPA-free food-grade Tritan and comes with a measuring cup, a steamer basket and a rice spatula. The inner pot is stainless steel.

5. OYAMA Stainless 16-Cup Rice Cooker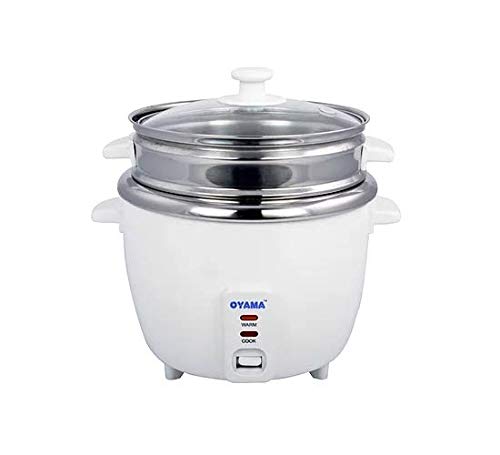 Another really simple rice cooker here that comes with a stainless steel inner pot. It comes with a free steamer tray like some of the other products on this list. This steamer tray is stainless steel as well. We should mention that not all steamer trays are stainless steel, quite often even if the inner pot is stainless steel the steamer tray is plastic. Not here though so it's a nice little bonus to go with our cooker.
It comes with a tempered glass lid and there was no water spattering going on when we tested this unit. We know that is something that can irritate people about rice cookers. Some of them are so messy spurting water all over the place, that wasn't an issue here.
It also comes with a measuring cup and a rice paddle. Measuring cups are pretty essential with rice cookers. You can, of course, buy your own but it's nice when they are included and are marked with the cup measurements you will need to get portions correct.
This unit only works with 120V power so bear that in mind if you have a 240V supply. Not really an issue for most people but people outside the US should take note.

Conclusion
There aren't very many rice cookers to choose from that have stainless steel pots, unfortunately. The ones listed above are the best ones available and there are some really good choices there but it would be nice if there were more big-name manufacturers taking this into consideration.
I mentioned this earlier but I think it is worth mentioning again; some units will advertise as being stainless steel when they are not. They are referring to the outer body of the unit. We really only care about the inner pot being stainless steel so please watch out for that when you are shopping around. Another thing to check is if you want a steamer tray with your cooker that it is also stainless steel as a lot of them are not.
Let us know in the comments below what rice cooker you have and whether you think it being stainless steel is important or not.