If you are looking for a Korean Rice Cooker than you have come to the right place. There are quite a few to choose from that are readily available here in the United States so we decided to take a look at the best. Taking a look at design, usability, functionality and of course, a taste test we have picked out 5 that we think are worthy of your consideration.
1. Cuckoo CR-0631F Rice Cooker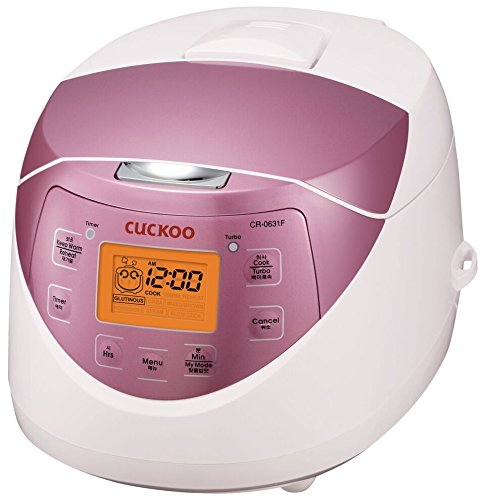 Cuckoo are one of the leading electronic brands in Korea and have made a really excellent rice cooker here. This one has been awarded the Amazon choice award in the cuckoo range.
You can use this device for all sorts of cooking but it unsurprisingly really excels at cooking rice. One of the great features we love about this is the "turbo" mode which allows you to cook a batch of rice in 10 minutes.
This rice cooker is made in Korea and the build quality is extremely high, as soon as you start using this you can tell it's a high-quality item and not cheaply made.
The display is available in both English and Korean and the buttons are clearly labeled in both languages as well. With a timer and keep warm mode, you can be sure your rice is cooked to perfection and kept that way until you are ready for it. It is really well insulated so the rice really does stay warm for quite a while. The steam collection cup at the back of the device keeps things nice and tody and stops water getting all over your worktop which can happen with some rice cookers.
This is a first-class rice cooker that produces excellent rice and it certainly passed the taste test. The pink color of the item might not to be to everyone's tastes but they do have a slightly different model available in red which features next on this list.

2. Cuckoo CR-0655F Rice Cooker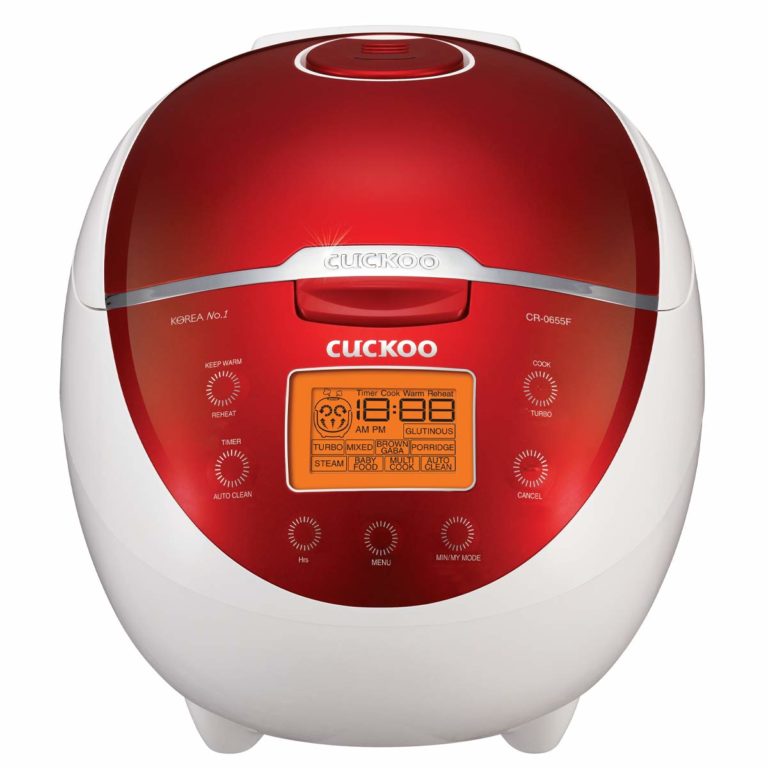 This is the newer model from Cuckoo that comes in a slightly more modern-looking design and with a few more options to play with. The buttons on this one are only in English but the digital display has multiple language choices. The instructions also feature both Korean and English.
The great thing about this rice cooker is that you can select pre-programmed options for many different kinds of rice like White, Gaba and mixed. It also has programs for baby food, porridge, and steam. The biggest feature here though is the ability to select how you want the rice cooked with "My Mode". You can choose the degree of 'softness' and 'glutinosity' by adjusting the level of soak and heat. This really lets you get your rice exactly how you like it.
Like most rice cookers it has a keep warm mode and a timer to allow you to plan your meals to perfection. Another great feature of this rice cooker has is its auto-clean function. When activated a strong jet of steam is released into the interior of the device to make sure it is completely sanitized.
Cuckoo really are experts when it comes to rice cookers and we absolutely love everything about this one. From the lush red body to the amazing features and preset programs. This cooker has everything.

3.Cuckoo CRP-AHSS1009FN Electric Induction Heating Pressure Rice Cooker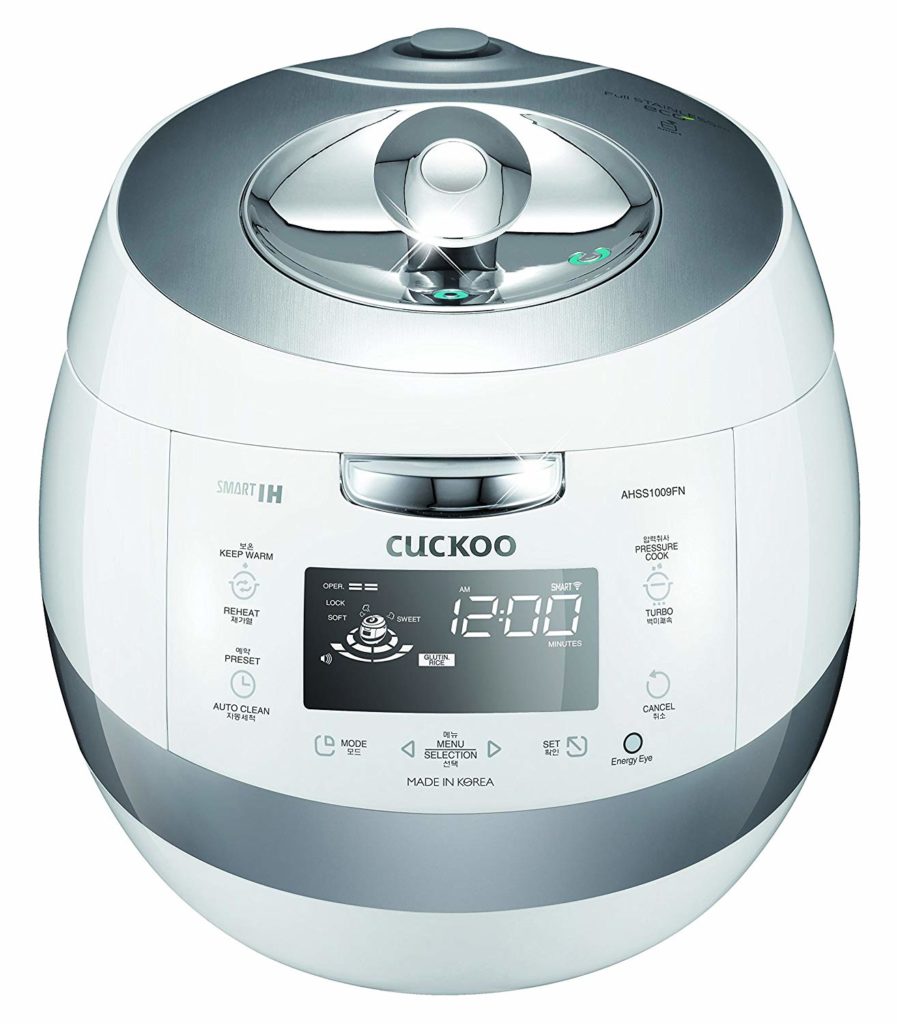 You might be noticing a pattern with all the Cuckoo models we are including on this list, but that is because they are just so good at making rice cookers. They have so many great models to talk about and this one is up there with the best rice cookers anywhere in the world. Made in Korea this is one of the finest Cuckoo models we think we have ever seen.
At first sight of this item, you will notice how modern the design is, it really is a thing of beauty. We love the clean design with white and stainless steel. The digital display even seamlessly blends with the aesthetics.
We said it was modern and we weren't kidding around, there is a mobile app for this cooker (currently Android only) that allows you to program the cooker from your phone. It uses intelligent cooking algorithms to detect what type of rice you have put in the cooker and then automatically adjusts the temperature and cooking time to give you the perfect result.
It's also incredibly easy to use with clearly marked buttons and presets to choose from. All the buttons are touch buttons which mean there are no physical buttons that might break or get food stuck around them. This makes it really easy to clean the exterior and the interior has the auto cleaning function that is seen on some of the other cuckoo models. A jet of steam is released into the interior to sanitize the cooker.
As well as that thing Korean rice cooker actually speaks to you! It has a voice-guided menu that has 3 language choices including English and Korean.
Because this cooker is induction, the bottom, the sides, and even the lid generate heat meaning that the rice is cooked from all angles for an incredibly even cook. This results in truly fantastic rice. I could go on and on about the features of this rice cooker, it is amazing and definitely one of the very best available to buy in our opinion.

4. Cuchen Multi Pressure Rice Cooker 10 cup CJS-FD1001RVUS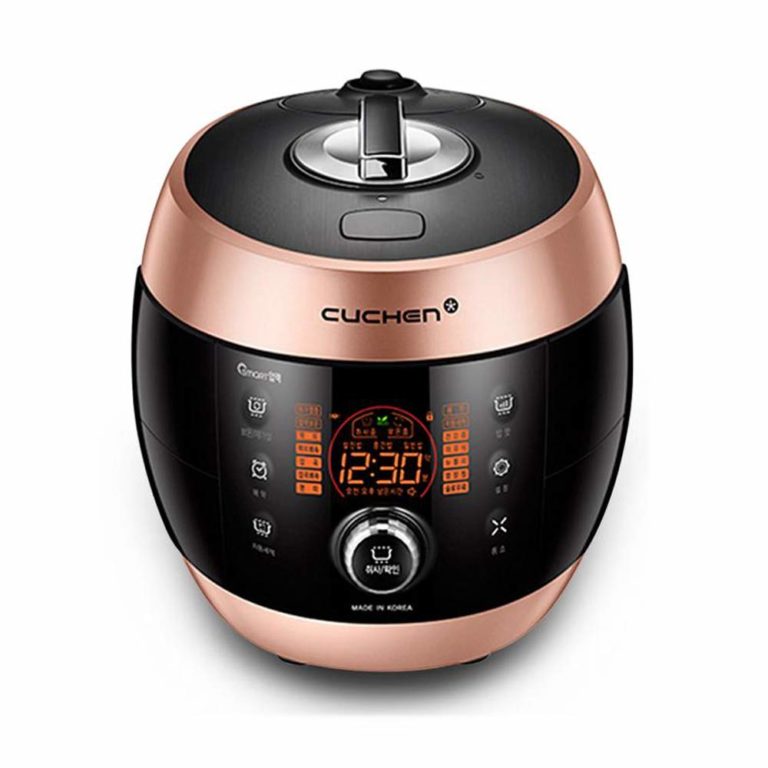 Another nice Korean brand is Cuchen and they also make some pretty amazing rice cookers. This one is quite neat and comes in 3 different color options, Rose Gold, Ruby Red and Silver.
Whilst all the buttons on the front are in Korean this model also comes with a voice navigation system that speaks English, Korean and Chinese. So it's actually pretty straight forward to use.
It comes with a rice taste control option that gives you three pressure options. This allows you to get the rice just how you want it every single time. Whether it be sticky, medium or regular style rice.
IT also comes with some nice preset modes for plain, mixed, brown, and nurungji. A timer and a keep-warm function is available here. Everything is easily selected and controlled with the dial on the front making this very easy to use.
This is an extremely well-built rice cooker that feels high quality in every department. The rice it produces is first class and this Cuchen rice cooker rivals all the cuckoo models in the taste department. Not to be overlooked!

5. Cuckoo CRP-P0609S Rice Cooker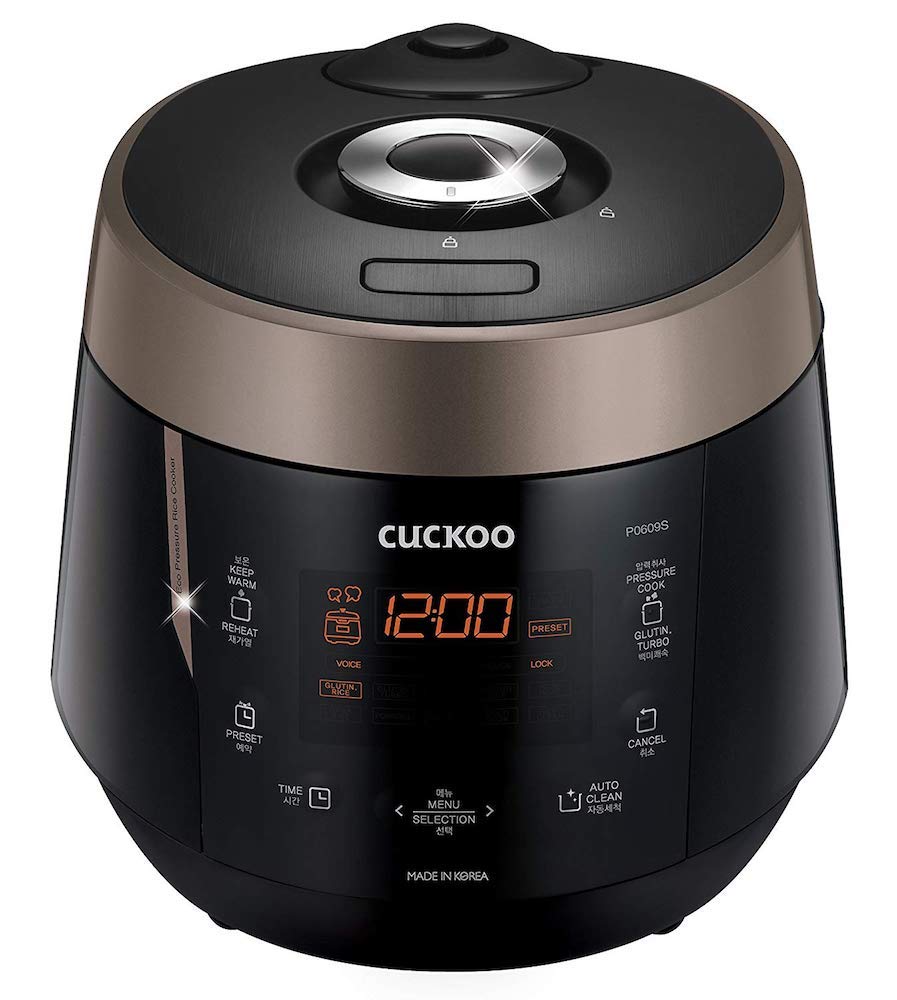 Here is another really nice looking design from Cuckoo. This one has been made with the American consumer in mind so everything is in English by default but it is still made in Korea and comes with all the great functionality of the other Cuckoo rice cookers.
This device comes with a 'X-wall diamond coated inner pot' which means the inner pot is non-stick and it works really well. This makes everything much easier to clean as well as to serve. All the water gets collected in a pot to the rear of the cooker.
It has a doubled layered packing to prevent steam escaping, this keeps everything tidy on your counter and ensures the rice is really evenly cooked and tastes great because it helps to seal in the flavor.
This model also has voice navigation for that truly modern feel and of course, it makes it incredibly simple to use. This too has the auto clean function we mentioned earlier, releasing steam into the interior to make sure everything is sanitized for the next use.
There is one flaw with this cooker that you need to be aware of and that is the fact that the lid opens really fast. It could potentially topple the cooker over. If you are aware of it, it isn't really a huge issue but the first time we used this we got quite a shock as it flew open at high speed!
Like all the other Cuckoo models it feels really well made and you get that quality feel from this product. Well put together and should last a long time.

Conclusion
Whilst there are a lot of really well made Korean Rice Cookers on the market it is hard to look passed Cuckoo and Cuchen in terms of brand. Both are producing fantastic rice cookers and any of them would be a fantastic choice. We really got on well with the Cuckoo models which is why so many on this list are that brand. They are just really well made, feature-rich and designed so well. Little features like the water collecting trays, the auto-clean function and voice navigation really set them apart. Although the Cuchen models do have some of these features as well I preferred the aesthetics of Cuckoo overall.
Which to choose overall is a hard choice but the stand out performer for us was the Cuckoo CRP-AHSS1009FN which features at number 3 on this list. It has a huge amount of features and the rice it produced was amazing. The fact that is can detect what kind of rice you put in and then cook it appropriately blew our minds and it consistently produced fantastic rice. The overall look and feel was really nice too and I could see this sitting in pretty much any kitchen without looking out of place. We recently wrote about small/one person rice cookers so make sure you check that out if you are in the market for something portable.
Let us know in the comments which Korean rice cooker you have and why you love it!