Looking for a small, compact rice cooker? Then you have come to the right place! Whether it is for home use or travel our list of mini rice cookers showcases the best that are currently available to buy.
Ideal for students, seniors or anyone with a limited amount of space. You can still have superb rice cooked to perfection whether it be at home or at work.
So let's get going!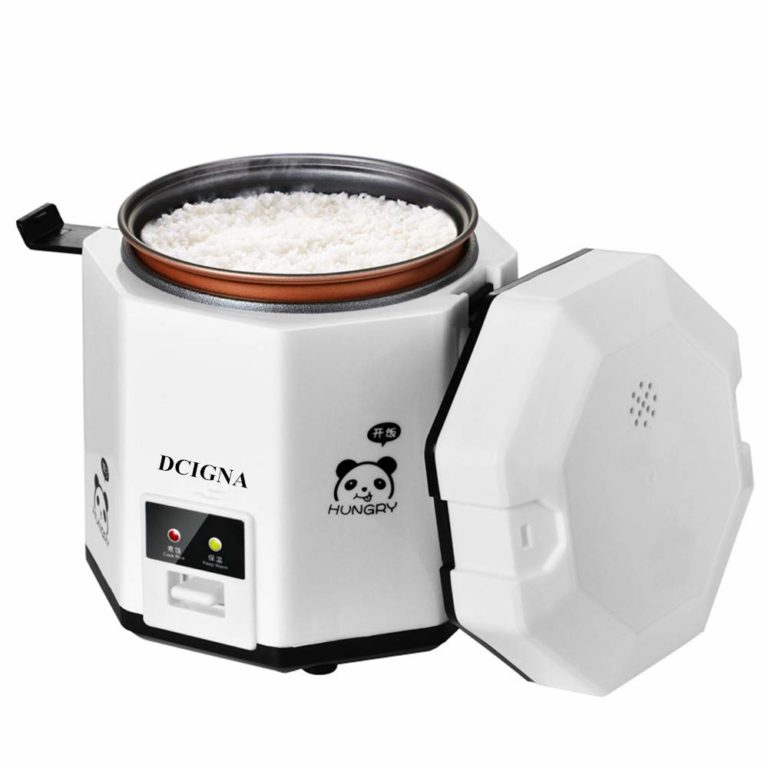 First up we have this really nice little ricer cooker from Dcigna. It has a 1.2L capacity and can cook more than enough rice for 1 person, 2 at a push.
It takes around 30 minutes to do its thing and the results are pretty damn good. The rice was soft, fluffy and tasted great.
Most of these mini rice cookers are devoid of functionality and this one is no different. You get a cook feature and a keep warm feature but that is all you really need. If you need to do more than this with a rice cooker then consider something a bit bigger like an instant pot.
There's a little handle on this cooker which makes transporting it around pretty simple. The handle isn't part of the lid either so you can carry this around easily for serving too.
The inner pot is removable which makes cleaning a breeze. It also has a PFOA-free nonstick coating which means the rice doesn't stick like it can on some rice cookers. 
Nice and simple and works beautifully. You even get a cute panda smiling at you!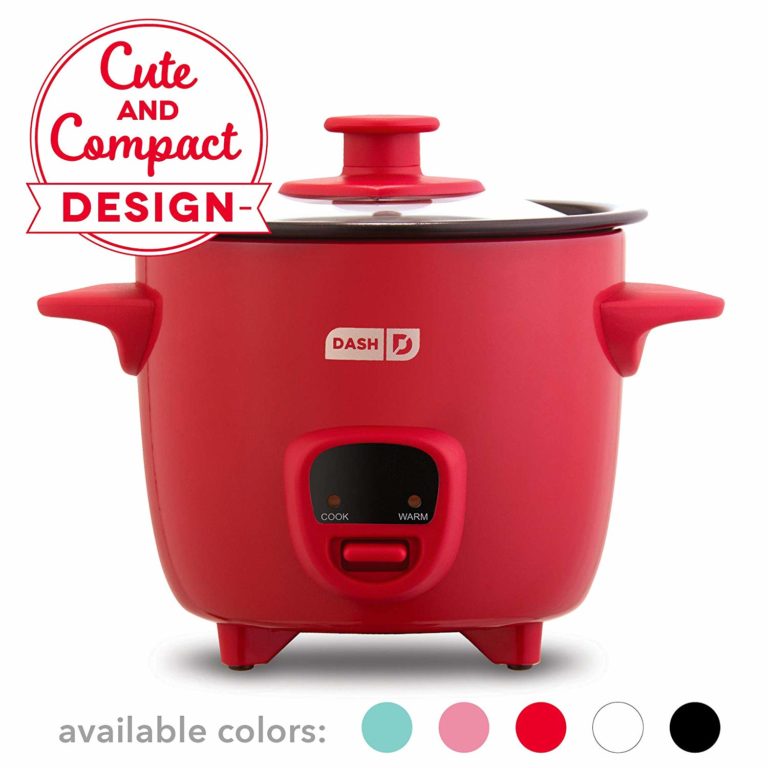 This little beauty from Dash is next on the list. We love the design on this one and there is a range of colors to choose from which always goes down well with the guys here at CookLogic.
It's a bit quicker than the Dcigna, making rice in only 20 minutes. The results were just as good too after we got to grips with it. It comes with a little measuring cup that tells you how much rice and water to put in to get the best result, however, we found that the rice was coming out quite soggy every time. At first, I thought it was just a lame product but after a bit of experimenting, I realized that I was putting way too much water in and by reducing what the measuring cup suggested I was getting amazing rice. I guess it's all down to personal preference on how you like your rice but once you get the measurements to where you like them this little rice cooker will reward you again and again with perfect rice.
You can do more than rice with this too but that is true of all these devices. They are just little steamers after all so you can cook other things in them if you want. This one happily comes with a little recipe book though that shows you all the different things you can make in this like soup, pasta and vegetables.
It's got a keep-warm function much like the Dcigna. It can cook 2 cups of rice at a time.
This little product is an absolute winner!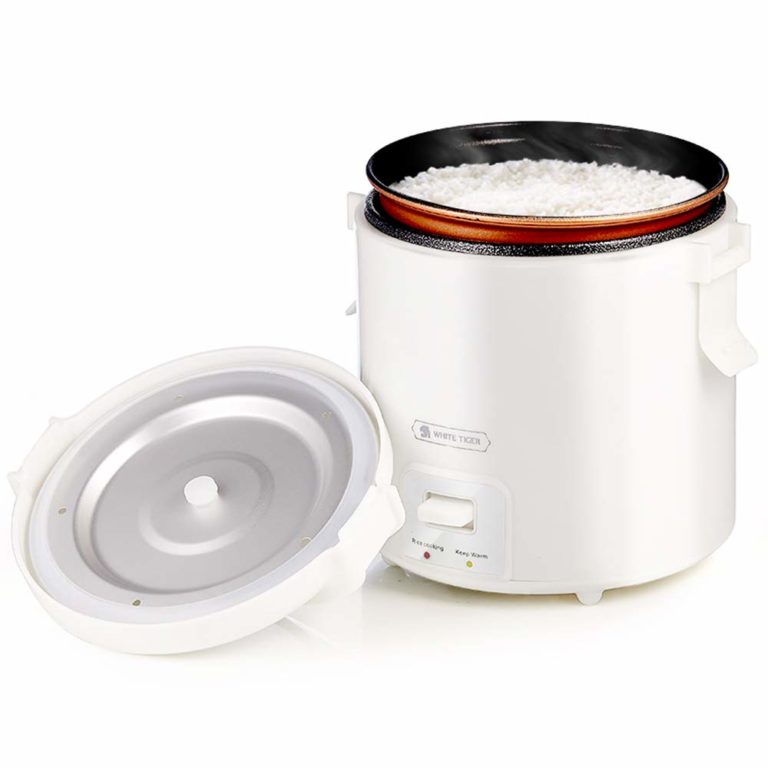 This one is slightly smaller than the Dcigna at only 1L capacity. It's still enough for 2 people though.
Again this device tells you it can make oatmeal, pasta, yogurt, cakes, etc but all we really care about is whether it can make rice. Fortunately, it can do that just fine. This is one of the quicker rice cookers out there as well. Rice was ready in just under 15 minutes which is pretty darn quick. This makes it perfect for use at the office where you will probably have a limited time for your lunch break.
This too keeps it simple with a cook mode and a keep warm mode. Don't underestimate the importance of a keep warm feature with these things though. Once the cooking is finished they will automatically go into keep warm mode meaning your rice doesn't get overcooked and is in perfect condition when you are ready to eat it.
This too has a PFOA-free nonstick coating removable pot. Clean up is nice and easy because of this.
This is a well built little rice cooker that has a real feel of quality about it despite its small size. We couldn't fault the rice it produced, it was perfectly cooked every time.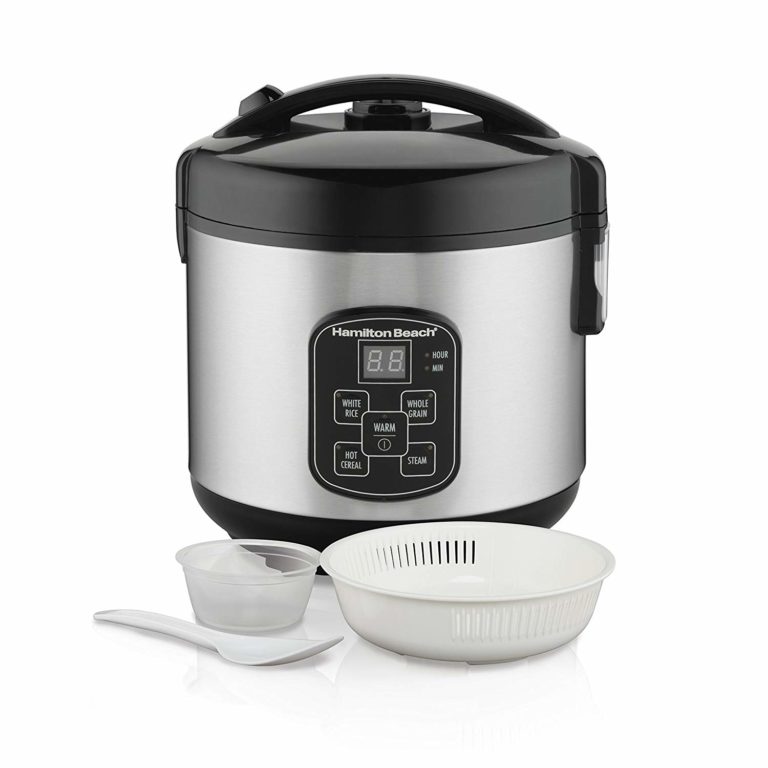 This one is slightly bigger than the others on the list. It can cook 8 cups (4 uncooked) of rice at a time. You also get a few more options with this one. Most travel options are quite simple with a cook and stay warm feature but this one has a bit more to it. However, the size of the unit does suffer from having these options and this is the biggest product on this list.
This unit can steam food as well. It comes with a little basket for steaming so you can put your veg or whatever in there and have this steam cook. Now we are only really interested in its ability to cook rice here but what is cool about this is that the steaming basket sits above the rice so you can cook rice and steam some food at the same time. This means you can prepare a nice little meal quite quickly!
It has specific options on it for rice, wholegrain, hot cereal, steam and warm. Hot cereal is such a weird option to have but for some reason, it is there.
It's a bit slower to cook rice than some of the other items on the list, heading towards 20 minutes but the more you cook the longer it will take.
Overall this is a nice little versatile unit. Only really to be considered if you want a slightly bigger capacity or a few more cooking options.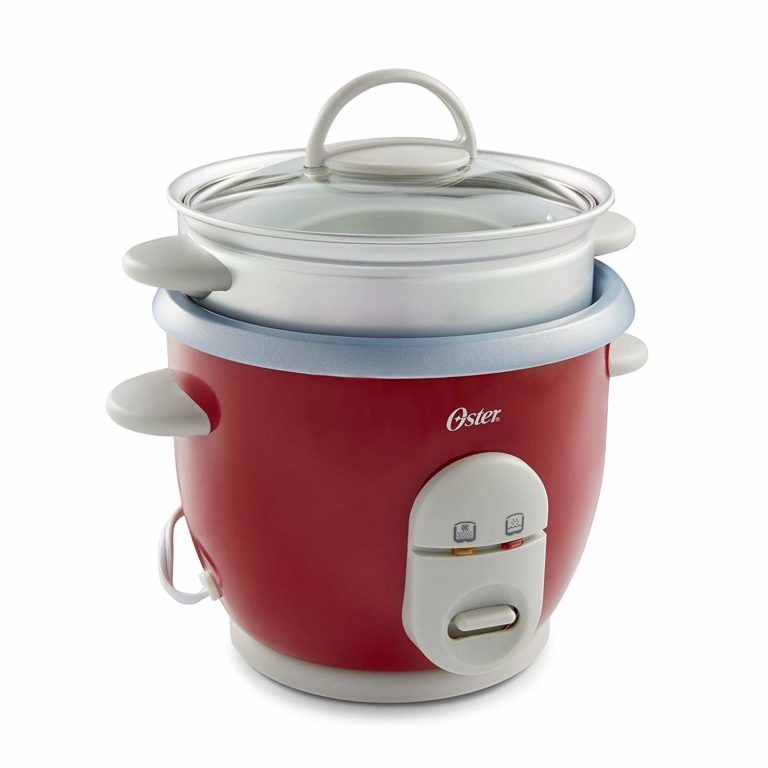 This one has been a really big seller and straight away you can see it's a great looking product. We loved the design of this one and it's available in both black and red colors.
This will produce 6 cups (3 cups uncooked) of beautifully fluffy rice. The rice that came out of this cooker was just about perfect. This unit also has a steaming tray that sits above the rice. We have found ourselves using this more and more lately. When cooking rice it seems rude not to throw a few vegetables in the tray to accompany the rice. It's so quick and easy.
Everything comes apart too so it's really easy to clean. You get a little measuring cup and a spoon.
It automatically goes to keep warm mode once the rice is done so you can't overcook it and rice is perfect for you when you are ready to eat. If you are making food to go with the rice then this feature is pretty handy as your food and rice won't always be ready at the same time.


Conclusion
There are loads of these little rice cookers to choose from and they are so simple you really can't go wrong with any of the choices on our list.
We were sent a few others to test that didn't make this list and one of the most common issues was the lid. Some of them don't have a hole in the lid for steam which meant sometimes the water would bubble up and spill over the side making a mess. This was a little bit irritating but the rice was still ok. So that is something to look out for if you do decide to buy one we haven't listed here. The hole isn't always necessary but that in combination with design seemed to result in spillage with some units.
Make sure you get one with a keep warm feature too as this means you can set it and forget about it and still have perfectly cooked rice every time. Plus if you are cooking other food in the oven or wherever you don't have to worry about getting your timings perfect. The rice will just sit there for a while on keep warm mode waiting for you to be ready.
Overall we really loved the Oster and found ourselves using this one for our own meals during the week. If you want something a little smaller, then the Dash at number 2 on the list, was also excellent.
Let us know in the comments which rice cooker you have and what you like about it.